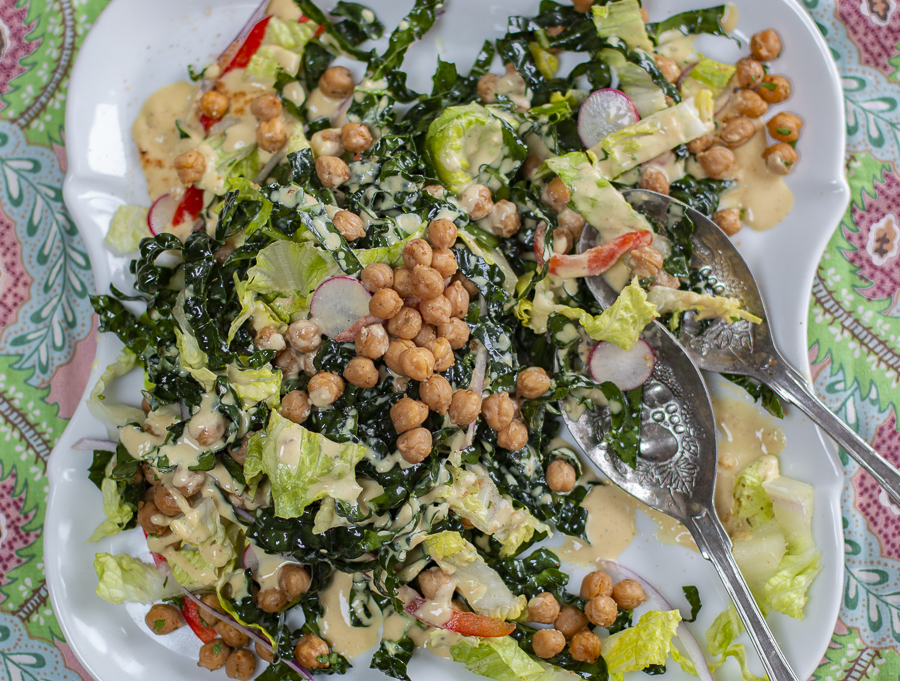 The Ultimate Kale, Romaine and Chickpea Salad with Roasted Garlic Tahini Dressing
Chock full of antioxidants and complementary flavors! The Roasted Garlic Tahini Dressing is a game-changer for every cook, full of zesty-robust tang. I enjoy serving with spiced grilled chicken for a main course salad.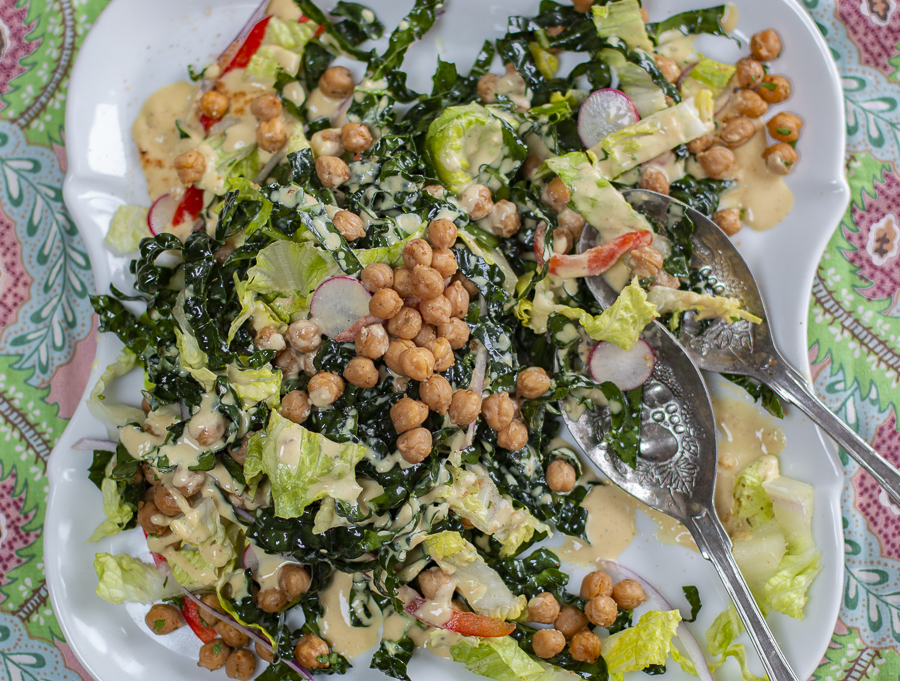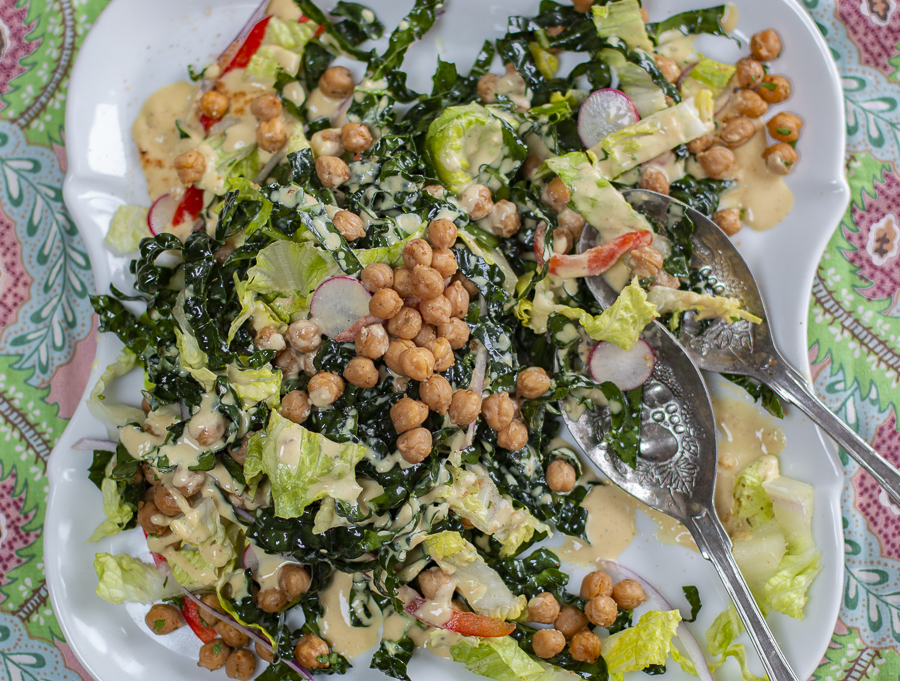 Ingredients
3 cups lacanito kale leaves* (preferably organic)
1 teaspoon extra virgin olive oil
2 pinches sea salt
3 cups romaine lettuce leaves (preferably organic)
¼ cup red pepper, very thinly sliced
¼ cup red onion, very thinly sliced
2 tablespoons radishes, very thinly sliced
1 recipe Roasted Chickpeas (one can Organic Chickpeas) See recipe below.
1 recipe Roasted Garlic Tahini Dressing (see recipe)
Instructions
1
To Roast Chickpeas:
Drain chickpeas and dry well with paper towels. Leave to air dry as well.
Preheat oven to 375 degrees.
Add 2 teaspoons of extra virgin olive oil to a rimmed baking sheet.
Add seasonings: 1/2 teaspoon cumin, 1/2 teaspoon granulated garlic, 1/4 teaspoon sea salt and 1/2 teaspoon smoked paprika.
Rub in and roast for 15 minutes until crispy around the outside, bur still tender inside. Set aside to cool.
2
Make Roasted Garlic Tahini Dressing.
3
Finish the Salad:
Discard thick stems of the kale leaves. Wash and dry.
*Slice the kale into 1/2″ pieces, place in a large bowl, rub in 2 teaspoons olive oil and two pinches of sea salt. Don't miss this step – rubbing in the oil will tenderize the leaves. Slice the romaine lettuce into 1/2″ pieces. Add to the kale bowl with the red peppers, red onions and radishes. I chose Lacinato Kale (also known as Dinosaur Kale) for it's smooth, not curly leaves. Packed with nutrition and cancer fighting properties. Kale is high in manganese, as well as vitamins A, C and K, this vegetable is often referred to as a superfood.
4
Add all to a serving bowl or individual bowls/plates.
Top with the Roasted Chickpeas.
Drizzle all over with the Roasted Garlic Tahini Dressing.
Serve with extra dressing on the side… it's delicious!!
Karen Sheer