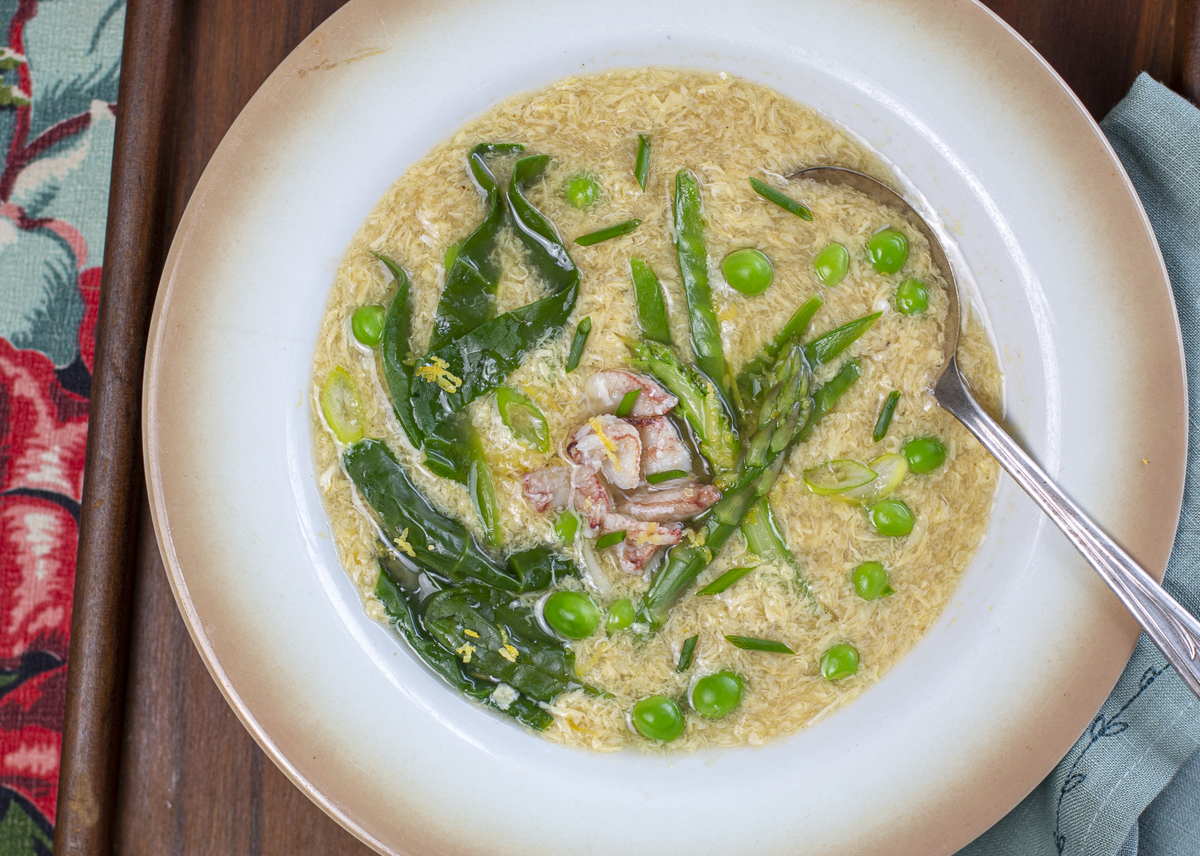 Spring Egg Drop Soup
Classic Egg Drop Soup gets a healthy overhaul with Spring Veggies and a topping of Fresh Crab.
Spring Produce is popping up everywhere – so I'm using glorious green vegetables and enhancing the classic Egg Drop Soup – I think for the better!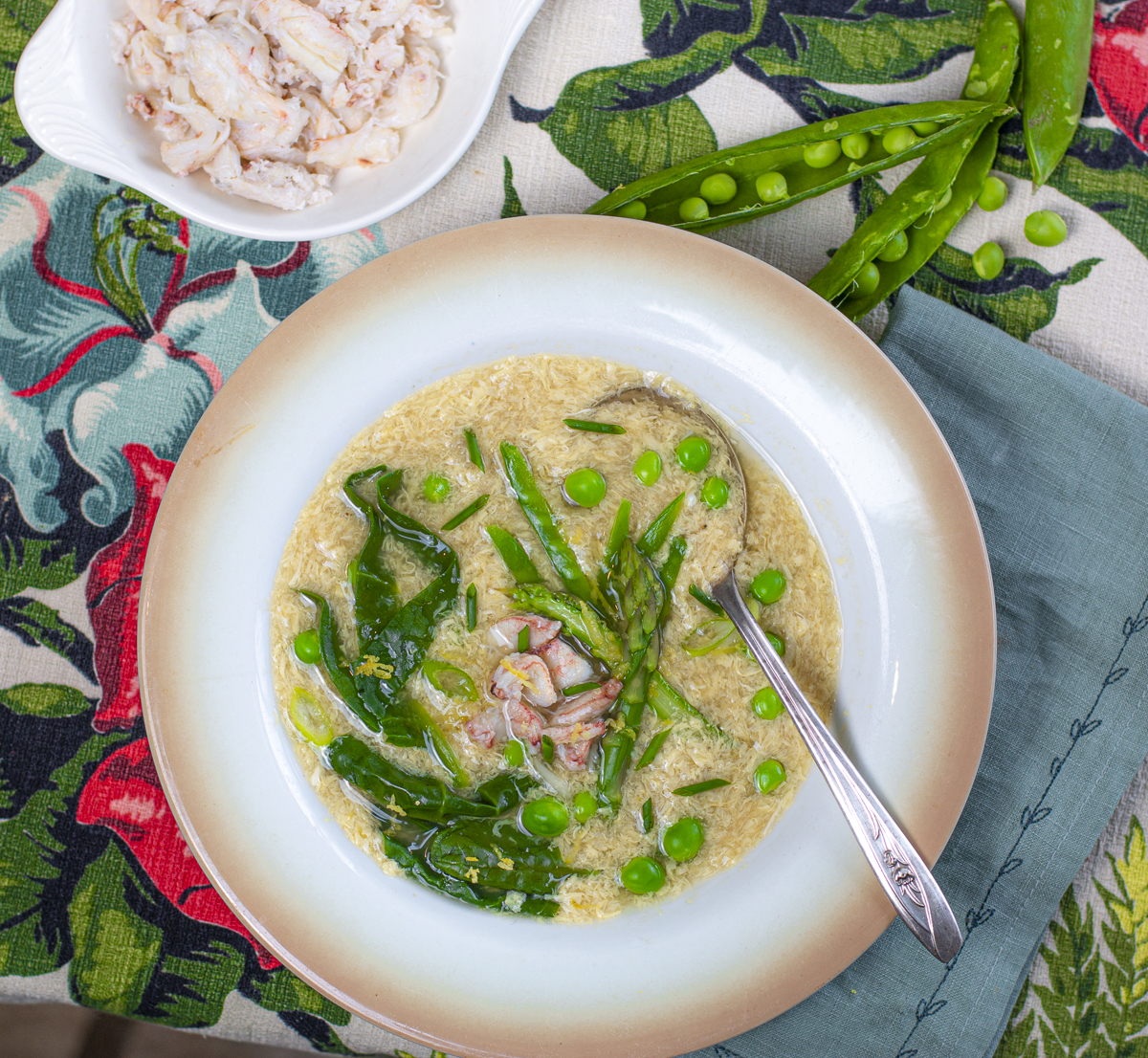 The crab is optional, yet adds a lingering sweetness and a pop of color… fresh shrimp would be wonderful too.
I bought this crab from The Local Catch which sells their seafood at my local Greenwich Farmers' Market.
I love to redux recipes!
Take a classic and update with fresh flavors and introduce new ingredients.
Remember egg drop soup? In my childhood before the main courses at a Chinese restaurant – the soup choices were wonton, hot & sour or egg drop soup. The broth is usually over salted and not necessarily made from scratch.
Egg Drop Soup is actually very healthy! It's also called egg flower soup.
Here's how it's done ~ pour beaten eggs in a steady stream over simmering chicken broth, and the eggs will set in beautiful, decorative strands.
Like ribbons floating in the soup! That was easy!!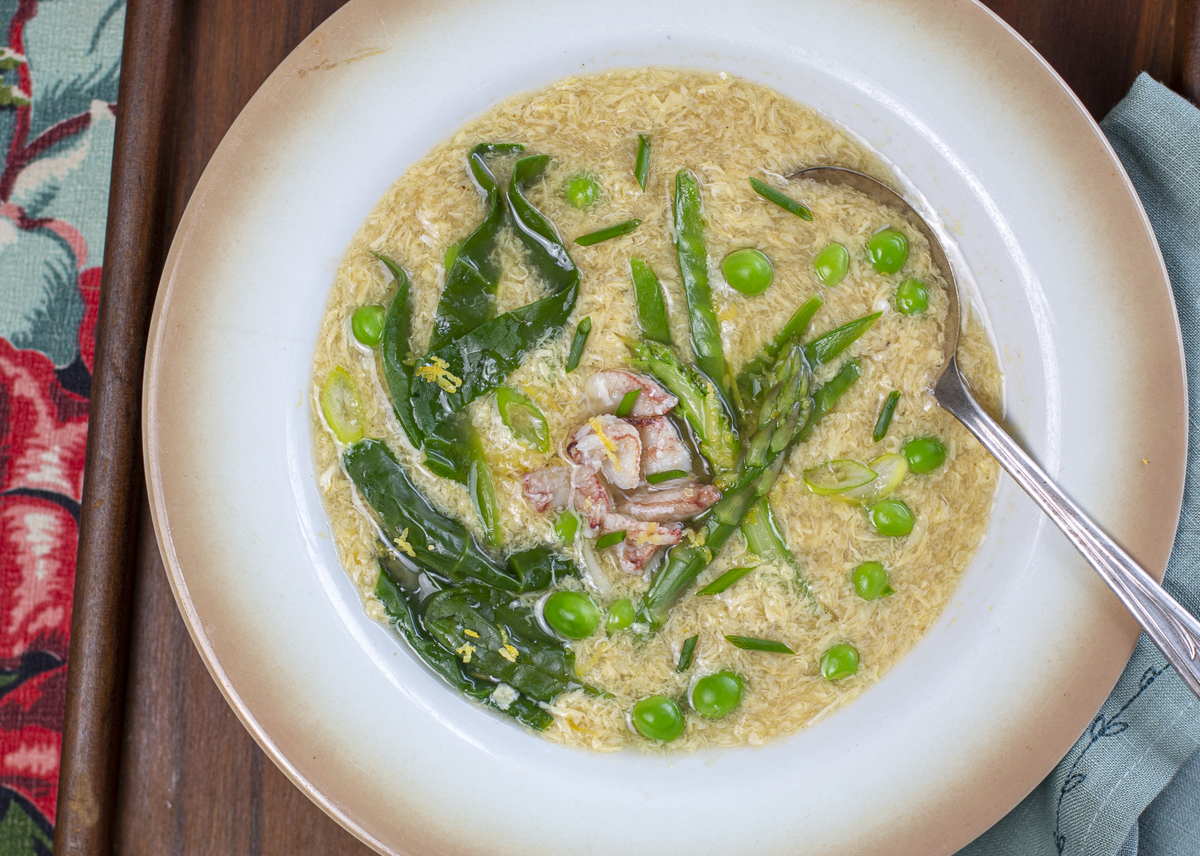 So with 2 MAIN INGREDIENTS – to make the most flavorful soup choose the best ingredients. I use Homemade Chicken Broth (I make a big batch and freeze in 2 cup containers) and pasture raised eggs. Making your own chicken broth is essential for flavor and minimizing the sodium content. So many broths in supermarkets are laden with "natural flavorings." Read labels! Like I have exclaimed many times, these are chemicals added for a specific flavor.
I think Pasture Raised Eggs taste better! And you gotta love the look of the yolk; it's more orange than yellow.
Pasture-raised eggs are laid by hens that spend their days outdoors roaming the pastures as they please. Cage- free eggs have only some access to the outdoors.
Said to have significantly more omega-3 fatty acids and vitamin D than eggs from caged hens. Free range hens have larger minimums of feet per hen of pasture, so they are more expensive to raise. I think this is money well spent.
Adding Spring "Greens" to the egg drop soup is super-simple.
Fresh peas are coming to markets! Best way to buy them is IN THE PODS!!
I have tried shelled fresh peas in a package, and they are mostly disappointing and lack flavor.
I like these veggies tender-crisp, so cut them small and poach in the soup for just a few minutes.
Lemon juice and rind adds a ton of zesty flavor!
I'm adding fresh peas, asparagus, snow peas, spinach, scallions and chives.
Use the greens you love or have on hand.
My Method:
Add ginger root to broth to flavor it, then remove.
Thicken the soup while whisking with cornstarch & water.
Add beaten eggs to simmering soup, whisking – will become beautiful "ribbons."
Add your green vegetables, lemon juice & rind. Cover – simmer until they are tender-crisp.
Garnish with fresh crab (if using) and chopped chives.
Enjoy!

Spring egg drop soup with many green vegetables in a vintage bowl – here without crab 
See how I make Chicken Broth here: Chicken in the Pot Soup with Many Vegetables, Rice Noodles and Fresh Ginger
New Format!! New "RECIPE CARD" on bottom!
This design will make it easy for you to scale the recipe & print. Place your cursor over the serving amount – and easily scale to serve a larger amount! You can also Jump to the Recipe with a click.
Nutritional information is helpful too. I hope you enjoy this format and hope you will try the recipe – rate it, and send me your comments.
This new recipe card will follow blog/post information.
Enjoy,
Karen
Spring Egg Drop Soup
Classic Egg Drop Soup gets a healthy overhaul with Spring Veggies and a topping of Fresh Crab. Spring Produce is popping up everywhere - so I'm using glorious green vegetables and enhancing the classic Egg Drop Soup - I think for the better!
Print Recipe
Pin Recipe
Rate this Recipe
Ingredients
5

cups

chicken broth, preferably homemade

1,

2" knob

fresh ginger

cut in half

2

teaspoons

soy sauce

I used gluten free

5

teaspoons

corn starch

2

tablespoons

filtered water

3

large

eggs

I use pasture eggs

1/2

teaspoon

lemon rind

finely grated

1

tablespoon

fresh lemon juice

1/2

cup

fresh peas

4

spears

fresh asparagus

trimmed

1/4

cup

fresh snow peas

strung

1/2

cup

fresh spinach

cleaned

2

tablespoons

scallions

thinly sliced

1/3

cup

fresh lump crab

I have used Jonah crab

1

tablespoon

fresh chives

chopped
Instructions
Add chicken broth and ginger to a 3 quart non-reactive pot.

Bring to a boil, then cover and simmer 5 minutes.

Remove ginger.

Uncover, add soy sauce. Mix cornstarch with water in small bowl.

Bring soup to a boil, stream in the cornstarch slurry, whisking all the time until thickened.

Whisk the eggs in a small bowl. With the soup simmering, add the eggs in a stream as you swirl the contents of the soup - creating ribbons of eggs.

Eggs will be cooked in less than one minute.

Cut the aparagus in half lenthwise, then into 3" lengths. Cut snow peas into thin strips.

Add the vegetables: fresh peas, asparagus, snow peas and spinach. Add the lemon rind and lemon juice.

Cover and simmer over lowest heat to poach and cook the vegetables al dente.

After 5 minutes, uncover, add scallions.

Taste for salt (this depends on the saltiness of your broth.)

Serve soup into individual bowls and top with crab meat in the center, sprinkle with fresh chives.

Option: swirl in 2 teaspoons of roasted peanut oil or sesame oil.
Notes
These vegetables are suggestions. Use Spring vegetables to your liking. Delicious too without the crab topping. 
This recipe may not be reproduced without the consent of its author, Karen Sheer.
Nutrition Facts
Spring Egg Drop Soup
Amount per Serving
% Daily Value*
* Percent Daily Values are based on a 2000 calorie diet.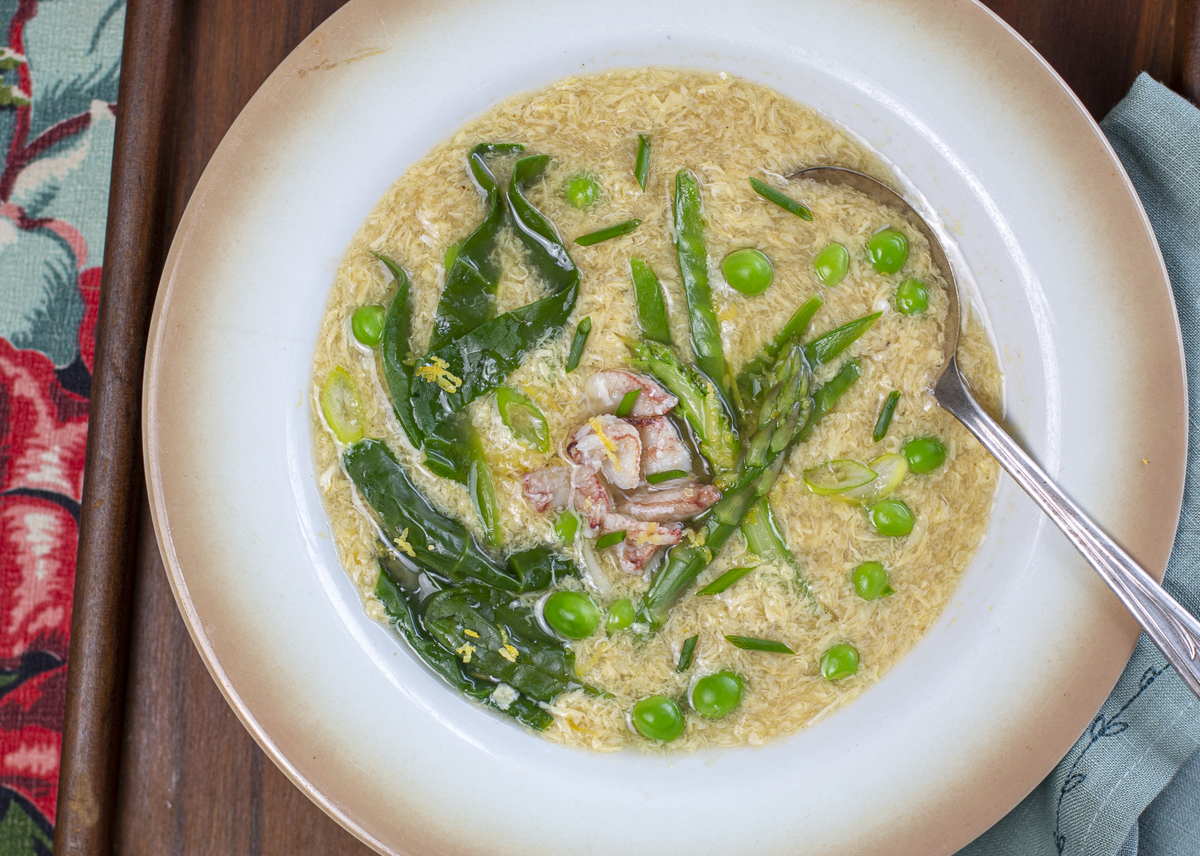 Karen Sheer