Spinach, Kale and Sunchoke Kugel-Soufflé – Perfect for Passover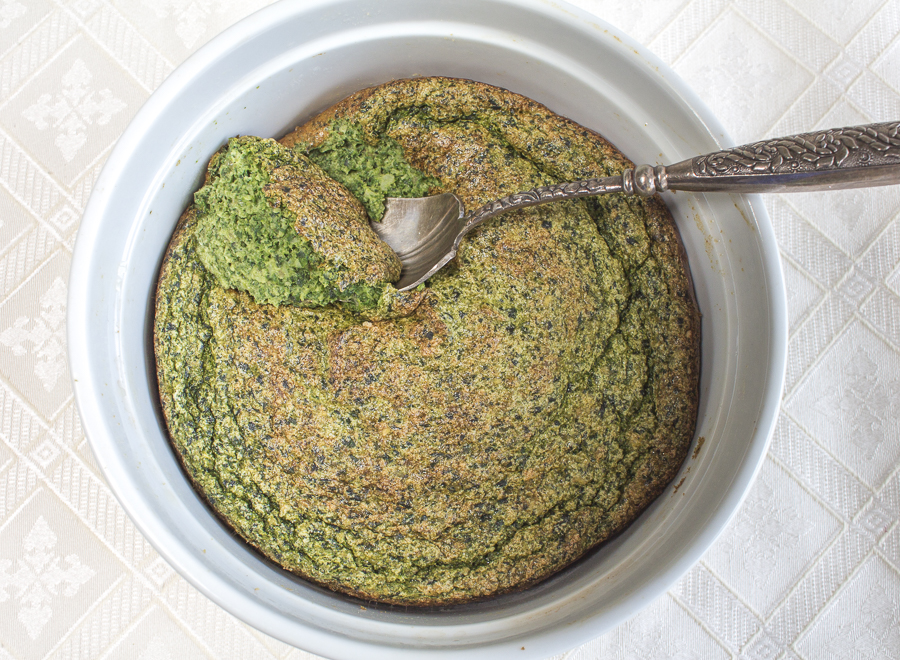 Description
A healthy and light Passover Side Dish – a flavorful addition to your Seder table
Ingredients
1

 

tablespoon 

unsalted butter, organic

½

 

large

 

onion, peeled, medium chop

3

 

medium

 

fresh garlic cloves, peeled, medium chop

5

 

medium 

sunchokes (jerusalem artichokes) peeled, medium chop – 1 3/4 cups

2

 

tablespoons 

filtered water

5

 

large

 

kale leaves, organic, stemmed, large chop

6

 

ounces

 

fresh spinach leaves, organic, cleaned and dried (about 5 cups)

½

 

teaspoon

 

sea salt

⅛

 

teaspoon 

freshly ground pepper

5

 

large

 

eggs, cage-free, separated (room temperature)

⅓

 

cup

 

matzo meal, can use gluten- free (see blog for tips)
Method
Preheat the oven to 350 degrees. Butter a 8″- 6 cup capacity soufflé dish, or an 9″ x 13″ baking pan.
Measure matzo meal – 1/3 cup. Take out 1 1/2 tablespoons, add to buttered dish, swirl to coat. Reserve remaining matzo meal.
Heat a two quart pot to low-medium heat, add butter. When melted add the onions and garlic. Stir and cook for 5 minutes until softened, but not colored. Add the sunchokes and water, reduce the heat to low, stir well and cover. Cook until softened, 10 minutes.
Add the kale, spinach, salt & pepper and stir until it starts to wilt, then cover until fully wilted, but still bright green. Remove from the heat. Cool slightly. Add to a food processor and pulse until puréed – but with some texture.
Add 5 egg yolks and the remaining matzo meal to the food processor, pulse to just combine. Remove the contents to a large bowl with a rubber spatula.
Beat the egg whites until firm and glossy. Add them to the large bowl in three additions, gently combining.
Pour into the prepared pan and bake in the oven for 30 minutes, or until just set.
Crack open the oven door, and let the Kugel-Soufflé stand for 10 minutes. Cool on a trivet.
Serve, or cover tightly with plastic warp and refrigerate. Rewarm gently when needed. Can make a day or two ahead of time.
Cuts into perfect wedges or squares when very cool. Delicious cold too!!