Skillet Balsamic Chicken with Strawberries & Tarragon
An easy skillet dish – Tender Chicken, Crispy Skin with a Hearty yet Light Pan Sauce with Plenty of Strawberries and Garnished with Tarragon Leaves. Irresistible!
Balsamic Vinegar's home turf of Modena is a small city in northern Italy located in the Emilia-Romagna region, which is also the birthplace of Parmigiano-Reggiano cheese. See below for more information on the real stuff!
This easy ONE skillet dish – cooked in a seasoned cast iron skillet is a healthy alternative main course meal.
Chicken is browned on both sides and a balsamic pan sauce only contains shallots, garlic and aromatics, balsamic vinegar, vintage port wine and chicken broth with no extra fat.
Strawberries are folded in only to soften & flavor and garnished with tarragon leaves (with a lingering licorice taste.)
Ahh! LOCAL Spring Strawberries form a Farmers' Market – these have a deeper rich ruby color and a rich strawberry flavor.
Compared to supermarket varieties – these are SUPERIOR!  See the interior color? Red through and through!
Some Reasons to Enjoy Strawberries:
Strawberries are a low-glycemic fruit, making them a tasty option for people looking to control or reduce their  glucose levels
They naturally deliver vitamins, fiber, and particularly high levels of antioxidants known as polyphenols — without any sodium, fat, or cholesterol
Strawberries  are among the top 20 fruits in antioxidant capacity and are a good source of manganese and potassium
Just one serving — about eight strawberries — provides more vitamin C than an orange! 
First cultivated in ancient Rome, strawberries are now the most popular berry fruit in the world
Strawberries specifically are low in calories and an excellent source of fiber and vitamin C – about 53 calories for an entire cup! 
Research shows that increased strawberry intake, as well as many other types of berries, show a strong correlation with a decreased risk of cardiovascular disease, hypertension, type 2 diabetes, and many other inflammatory diseases
Choose berries that have a bright red color, a natural shine and fresh looking green caps
Annatto Powder is derived from the seeds of the achiote tree, which is native to tropical regions of the Americas. The powder has an earthy, slightly sweet flavor with hints of nutmeg and pepper. Can substitute sweet paprika – but try annatto!
Chose the Right Balsamic Vinegar!
Balsamic Vinegar of Modena: (in Italian: aceto balsamico) is a very dark, concentrated and intensely flavored vinegar originating in Italy, made wholly or partially from grape must: freshly crushed grape juice with all the skins, seeds and stems. Balsamic vinegar has a sweet, harmonious and elegant taste.

Regulations:
There's an industry consortium in Italy that bestows a stamp of approval to balsamic vinegars that meet these precise parameters. They even decide what sort of bottle it can be packaged in.
Must be produced in Modena or neighboring Reggio Emilia in Italy
Must be made from Trebbiano grapes grown in one of those two places
Must be aged in wooden barrels for no fewer than 12 years
Most if not all of the balsamic vinegars that are commonly available are commercial grade products that don't meet one or all of the above criteria. They're just a completely different product.
DID YOU KNOW? Many Balsamic vinegars contain Caramel Coloring! Avoid bottles with this ingredient! An unnecessary ingredient used to mask inferior quality ingredients.
Caramel coloring is made by heating a sugar compound (usually high-dextrose corn syrup), often together with ammonium compounds, acids, or alkalis. Avoid!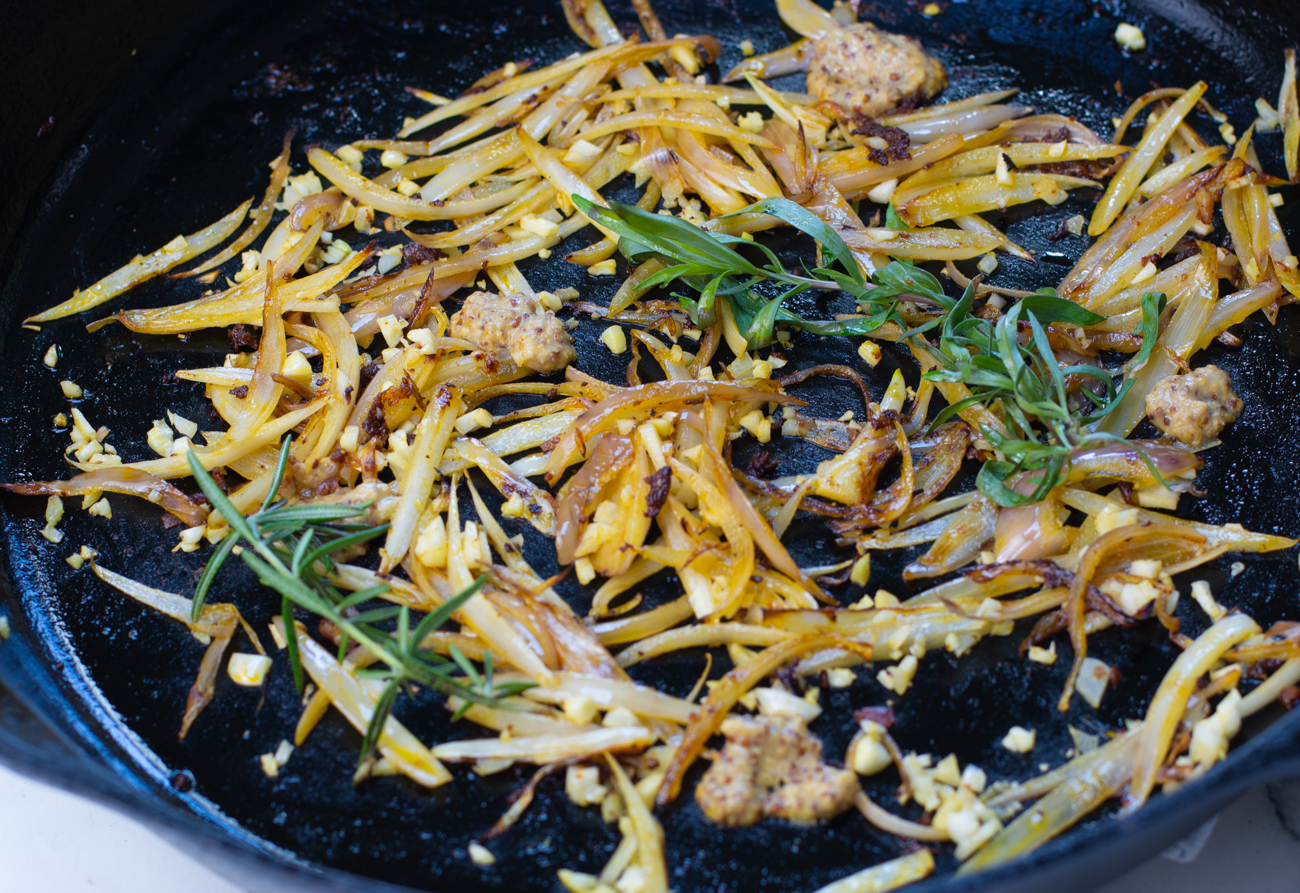 A delicious green leafy vegetable I bought at a Farmers' Market. Rich in nutrients with tender stems. Dark green leaves that are soft and pliable like spinach. After cooking, they take on a sweeter taste and lighten to a bright green color. Leaf spinach is an alternate substitute, and pairs nicely with the skillet chicken dish.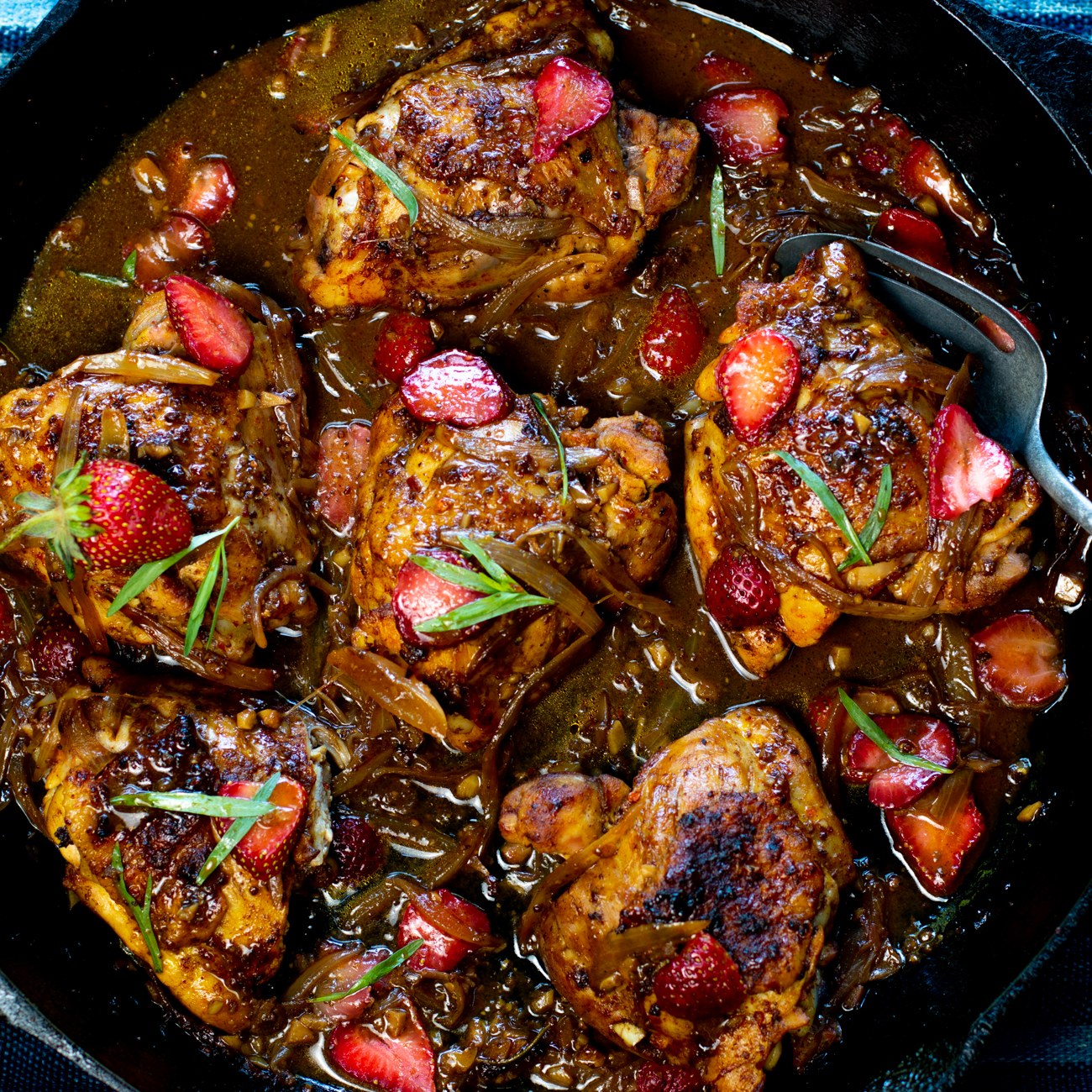 Not overly sweet with a wonderful pan sauce reduction with TONS OF FLAVOR – gluten free.
Enjoy this special skillet dish – choose local fresh strawberries for the best taste!
Let me know what you think!
Karen
Skillet Balsamic Chicken with Strawberries & Tarragon
An easy skillet dish - Tender Chicken, Crispy Skin with a Hearty Yet Light Pan Sauce with Plenty of Strawberries and Garnished with Tarragon Leaves. Irresistible! 
Print Recipe
Pin Recipe
Rate this Recipe
Ingredients
Season the Chicken:
6

large

bone-in chicken thighs

about 2 pounds

1/2

teaspoon

ground fennel

1/2

teaspoon

ground annatto

1/4

teaspoon

sea salt

1/8

teaspoon

freshly ground black pepper

1

tablespoon

extra virgin olive oil

(for sautéing)
All the Rest:
1

teaspoon

extra virgin olive oil

1

cup

shallots

peel; slice horizontally 1/4" thick

1

tablespoon

garlic

peeled, coarsely chopped; add some spring garlic if available

1 1/2

teaspoon

grainy mustard

1

sprig

fresh rosemary

1

sprig

fresh tarragon

1/2

cup

balsamic vinegar of Madona*

(does not contain caramel coloring)

1

cup

chicken broth

preferably homemade

1

tablespoon

vintage port

2

teaspoons

coconut palm sugar

(can use dark brown sugar)

1/8

teaspoon

Szechuan chili flakes

(or your favorite chili flake)

2

sprigs

fresh tarragon

leaves pinched off the stem

3/4

cups

fresh strawberries

washed, hulled, sliced
Instructions
Wash, dry and trim chicken of fat - add to a plate to hold. Add seasonings: fennel, annatto, salt & pepper and rub in.

Heat 1 T, evoo in a cast iron skillet to low-medium heat. (Do not cook over a hotter flame; chicken skin will stick.)

Add chicken skin side down - cook until golden - 4 minutes. Turn over with tongs, cook another 4 minutes until golden - remove to a plate to hold.

Add 1 teaspoon evoo, heat over low-medium heat. Add shallot and cook, stirring 3 minutes until softened, Add garlic, grainy mustard, rosemary and tarragon, stir up and cook 3 minutes.

Add balsamic vinegar - bring to a boil, cook 1 minute. Add chicken broth, port wine, coconut palm sugar and chili flakes, simmer the sauce until slightly thickened 2 minutes.

Add the chicken back to the pan, skin-side up and cover the pan.

Cook over a low simmer for 18 minutes until cooked through - will register 165 degrees with a meat thermometer. Note: I have used large chicken thighs.
For Crispy Skin:
Preheat broiler with rack 3" from the heat source. Carefully place the chicken on the rack and broil just until the skin is golden brown, bubbly and crisp - 2 minutes, watch carefully, pan will be hot.
To serve:
Before serving, add the sliced strawberries and stir into the warm sauce to soften and flavor them. Hint: Do not "cook" the strawberries in the sauce, just quickly warm through.

Garnish the chicken with tarragon leaves. Serve with Chinese Broccoli or Spinach and your favorite rice if you desire.
Notes
*Balsamic Vinegar of Modena: The real stuff from this region without "caramel coloring" additive.
This recipe may not be reproduced without the consent of its author, Karen Sheer. 
Nutrition Facts
Skillet Balsamic Chicken with Strawberries & Tarragon
Amount per Serving
% Daily Value*
* Percent Daily Values are based on a 2000 calorie diet.
Karen Sheer