The holidays are times to gather with family and friends ~ to bing cheer, and indulge with spectacular food.
Try my inventive and Special Appetizer Recipes which are made to be crowd pleasers!
Below are some of my favorite, well tested recipes for Holiday Hors d'oeuvres.
Many can be made a head of time ~ for ease of entertaining.
Natural ingredients… with creative flair!
See my notes underneath each as to why I'm loving the recipe.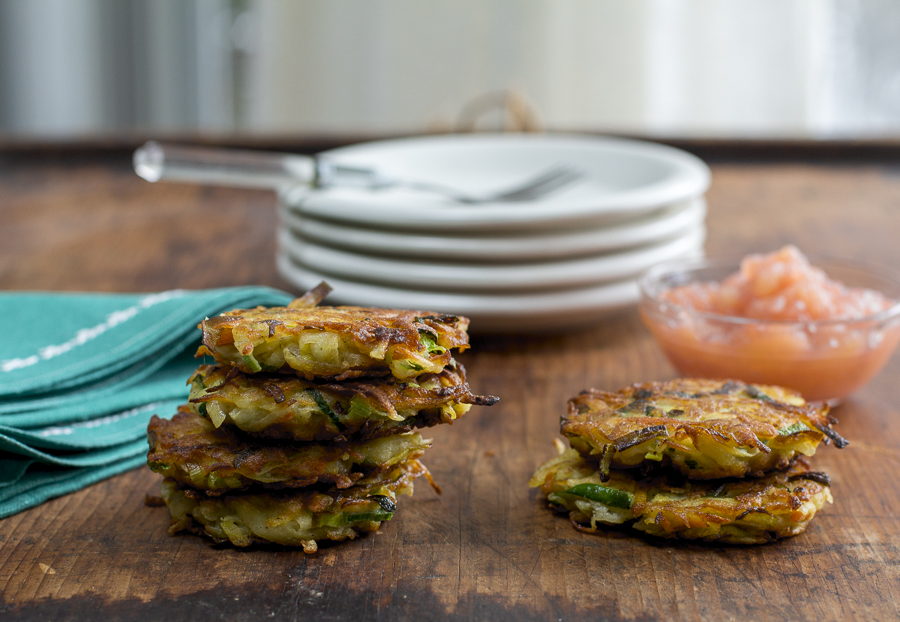 The perfect Latke recipe, crispy on the outside, tender inside. Serve with my homemade applesauce.
Not just for Chanukah ~ enjoy these treats anytime… a real crowd pleaser!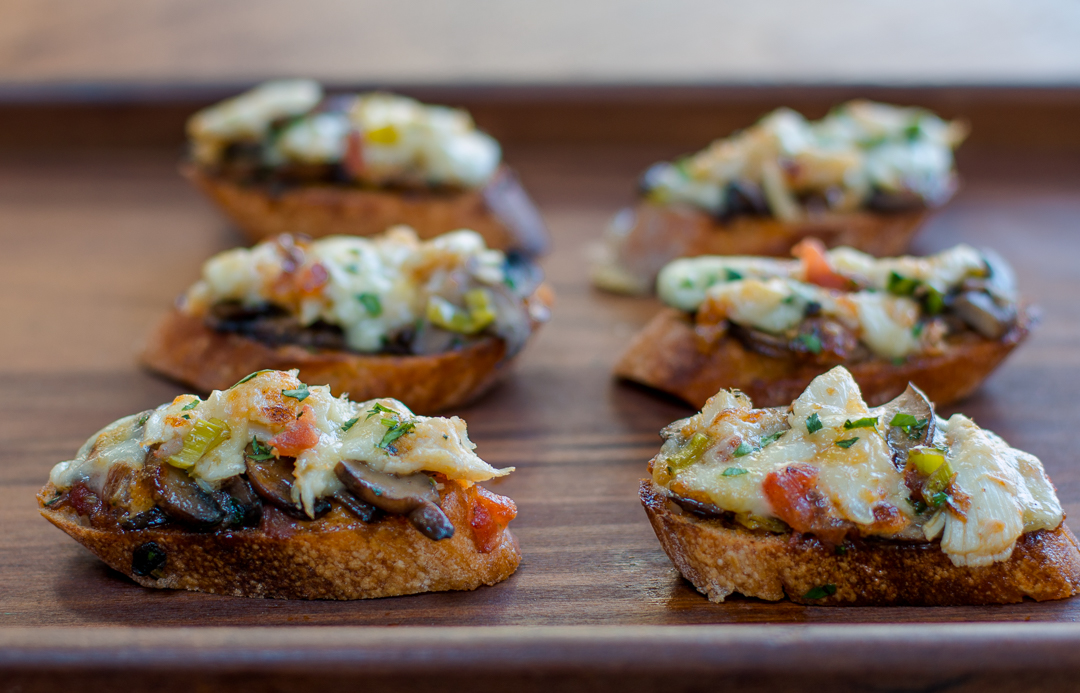 Tapas ~ little bites of tasty foods with bold flavors from Spain. Easy to prepare and easy on the budget. Filling & satisfying.
Crispy baguette slices covered with a quick sauté of mushrooms, spiked with sherry & brandy and topped with a delicious Spanish cheese until melted and bubbly.
No one will be able to resist these savory lollipops. Thin sliced, luminous smoked salmon around zesty cream cheese – the perfect pick-up appetizer for the holidays including New Year's Eve or New Year's Day. Purchase smoked salmon that has been hand-cut very thinly. Also see: Karen's Vegan Cream Cheese on recipe ~ it's delicious!
A twist on the Spanish "Tortita" ~ these vegetable griddle cakes are delicious.. you can't eat just one! With good-for you ingredients, chock full of zucchini, corn, scallions, jalapeño, feta, grated parmesan and a generous mound of fresh dill. Eat alone, with your favorite salsa, or, as my mother would do – sour cream. Nowadays, corn is available year round fresh on the cob.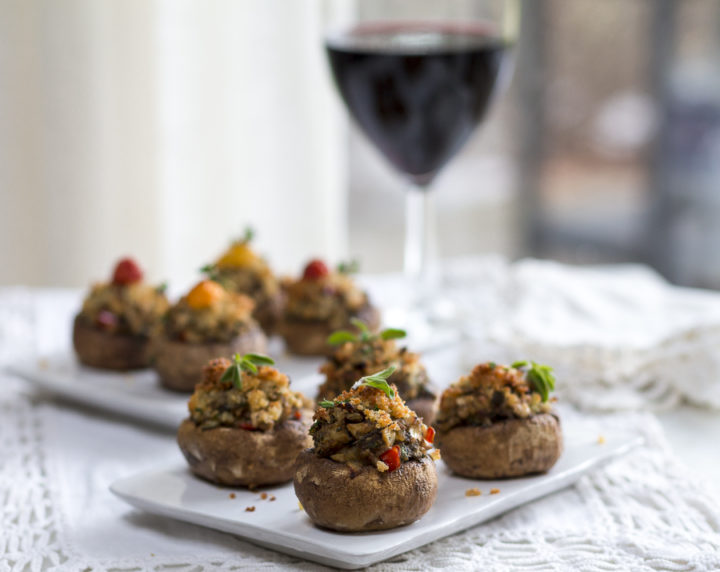 The pick up appetizer that's a party-pleaser, your guests will ask you for the recipe! Ring in the holidays & New Year with these make-ahead delicious morsels. A favorite party food – stuffed mushrooms are satisfying and these take on an Italian, Tuscan flair.  A hearty chicken, vegetable & cheese filling – you can also have as a satisfying entrée instead of an appetizer.
Dip into this home made treat that's simple to make – has a luxurious velvety texture and flavor with subtle and assertive flavors you'll love. Extra Virgin Olive Oil surrounds these delicious protein-packed yogurt cheese balls as does herbs, spices, lemon rind and crunchy walnuts. Serve with Pita Bread or Karen's Gone Crackers (below, gluten-free.)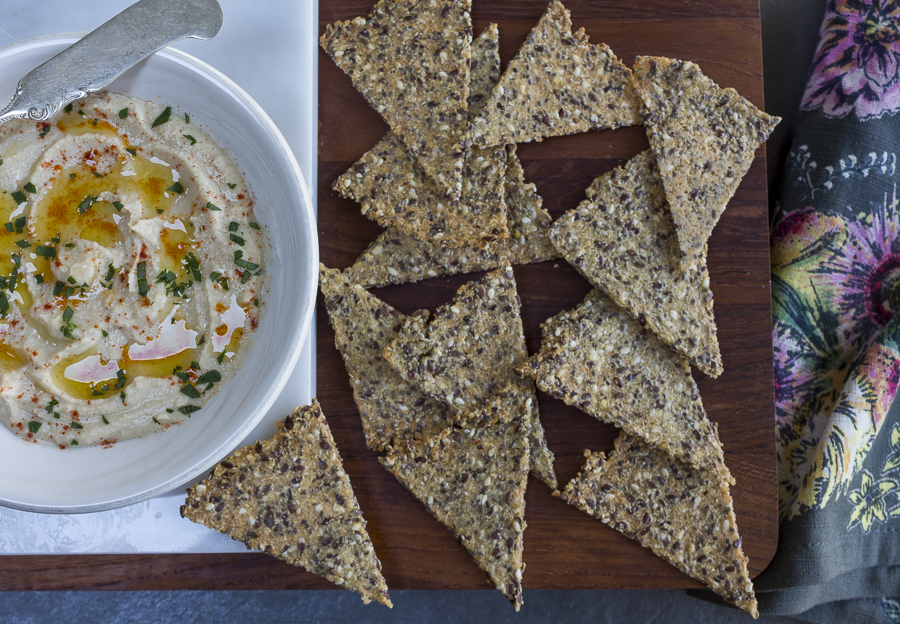 These homemade crackers are better than store-bought varieties with unwanted preservatives; plus, you can make them easily from your everyday pantry staples—and they're actually fun to bake. Serve with your favorite dips or just for snacking.
Pan fried and similar to a fritter, these pop-in-your-mouth treats are simple to make and well worth the effort. Indian seasonings add a punch of flavor – and they are Vegan and Gluten-Free!
This delicious warm dip is a perfect appetizer for the holidays or game day! Asparagus replaces artichokes for a flavor-twist. A bevy of vegetables keeps the fat content at bay. Fresh Asparagus is now available year round.
This healthy and delicious hummus uses carrots three ways – steamed carrots, roasted colorful rainbow carrots and carrot juice. Top rounds of toasted bread, or as a dip with crudités or crackers.
The Ultimate Appetizer with Southern Charm ~ Grilled Chicken with Pecans and a Maple-Bourbon Glaze on top of crisp Buttermilk Waffles and Sweet and Sour Sautéed Collard Greens. A special recipe ~ no fried chicken here! What a dynamic presentation.
No one will be able resist these! My Favorite Deviled Eggs: Grainy Mustard, Purple Scallions, Thyme and a Crisp and Lacy Baked Cheese Frico Makes Them Pungent and Zesty.
A Happy, Healthy & Tasty Holiday Season to All,
Karen
See RECIPES: