Seared Chilean Sea Bass in a Red Chard Leaf ~ Meyer Lemon Vinaigrette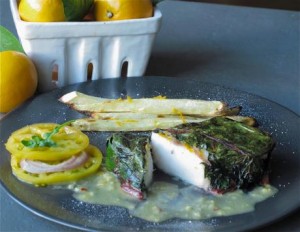 The seared fish is finished in the oven until it flakes perfectly inside. The Meyer lemon vinaigrette is an ideal accompaniment.
Ingredients
2 pounds chilean sea bass, fresh, cut the skin away
4 large red chard leaves, cleaned, use 8 if they are small
4 teaspoons dijon mustard
2 teaspoons lemon zest
1 teaspoon shallots, cut into thin rings
2 teaspoons fresh rosemary, or to taste
1 pinch salt and pepper, on each filet to taste
1 recipe meyer lemon vinaigrette*
Instructions
1
Blanch the cleaned red chard leaves (cut way the stems) – Immerse in boiling water for a moment, then refresh in cool water in a colander.
Lay the leaves out, flat side down. Cut the fish into 4 equal portions.
Preheat the oven to 350 degrees.
2
Place a piece in the center of a chard leaf. Top with the dijon mustard, lemon zest (preferably meyer lemon), shallot rings and fresh rosemary – smear evenly. Season with sea salt and fresh cracked pepper to your liking. Bring up the edges of the chard to enclose, and press closed with your fingers. Heat a grill pan (a cast iron one is nice) until very hot. Add a bit of neutral oil, and the fish packets, flat side down.
3
Cook until grill marks form and the chard sizzles, about 5 minutes. Turn over and cook just one minute. Place the fish packets in a baking pan (drizzle with some extra virgin olive oil if desired),
and bake until firm, and cooked inside, about 5 minutes. This time will depend on the size and height of each fish portion.
4
Serve the fish with Meyer Lemon Vinaigrette for the perfect, light entrée.
On the side in photo: Roasted White Sweet Potatoes; Heirloom Tomato Stack.
Karen Sheer