Rhubarb Granita with Infused Spices and Flavors – Cloves, Cardamom and Orange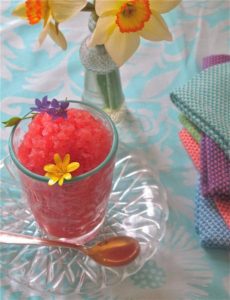 Ingredients
2 ¾ cups filtered water
¾ cup organic cane sugar
8 whole cloves
5 whole cardomom pods, crushed
½ broken cinnamon stick
2 small slices fresh ginger root
1 zest of blood orange, ½" wide X 2″ long
2 tablespoons fresh blood orange juice, or pomegranate juice
1 ⅓ cups fresh rhubarb, sliced 1″ pieces, cleaned  (one very large stalk)
¼ cup raspberries or strawberries, fresh or frozen
Instructions
1
Combine the first 8 ingredients in a medium sized pot (water through blood orange juice) and bring to a boil. Reduce heat to low, and simmer, covered for 5 minutes. This will infuse the flavors nicely.
2
Uncover, remove from the heat to cool. When cool (about 30 minutes) strain the infused syrup, pressing on the solids, then discarding them. Place the syrup back into the pot, bring to a boil. Add the rhubarb, cover and simmer just 5 minutes until the rhubarb softens (this happens quite quickly). Add the raspberries (or strawberries) and place all in a blender. Puree contents until smooth, low speed to high.
3
Strain through a medium mesh strainer into a metal, rectangular pan suitable for the freezer (about 8″ x 11″). Cover tightly with plastic wrap, then aluminum foil. Freeze until starting to firm up, about 4 – 6 hours. Scrape the granita with a fork to break up and form crystals. Place back in freezer, well covered. Repeat, scraping the ice until done. If not using immediately, gently place in an airtight container.
This recipe can not be reproduced without the consent of it's author, Karen Sheer
Karen Sheer