Description
A delicious Summery Peach Crisp that's lightened- up with a Crisp Oat Topping with Oats, Pecans and Coconut. A smile with every bite guaranteed!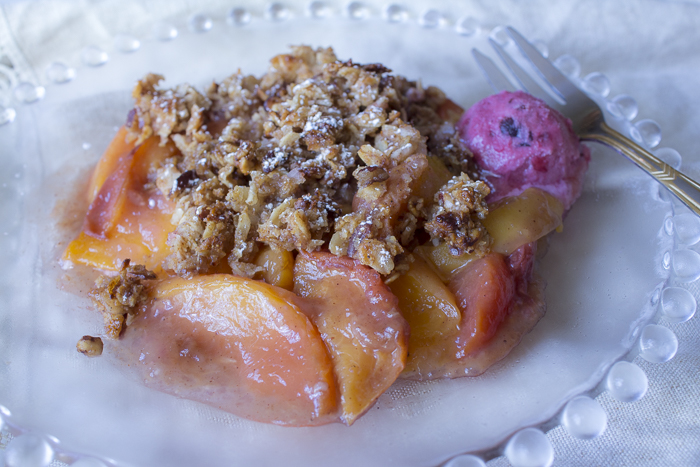 Ingredients
4

  

medium

 

ripe peaches, washed and dried

1 ½ 

tablespoons 

tapioca, ground fine, or tapioca flour

2

 

tablespoons 

raw honey

10 

tablespoons 

regular oats

3

 

tablespoons 

natural flaked coconut, (not sweetened)

4

 

tablespoons 

pecans, chopped

½ 

teaspoon 

cinnamon

⅛

 

teaspoon 

sea salt

¼

 

teaspoon 

pure almond extract, (not imitation)

3

 

tablespoons 

coconut palm sugar

2 tablespoons gluten-free flour

1

 

tablespoon 

virgin coconut oil, organic (melted if solid)

2

 

tablespoons 

melted unsalted butter, organic
Method
Preheat the oven to 350 degrees.
Butter a heavy round 8″ baking dish*
Cut the peaches into 10 – 12 even slices per peach, discarding the pit.
Add them to the baking dish with the tapioca and the honey. Gently mix all together.
For the topping: in a small bowl, add the next 8 dry ingredients (oats through flour.)
Mix together with a fork. Add the coconut oil and melted butter. Mix well with the fork.
Top the peaches with the topping to cover – do not press down, just pat into place.
Bake until very golden on top, about 30 minutes. When the color is good, and the juices are bubbling,
cover with foil and cook 10 additional minutes.
Remove from oven. Cool just a bit and serve warm.
* I use a enamel coated cast iron baker – it is a medium, not large sized dish.
Double the recipe for a 9″ x 13″ baker.
See the Vegan Bing Cherry Ice Cream Recipe in Mind Body Green:
http://www.mindbodygreen.com/0-20740/sweet-summer-recipe-vegan-black-cherry-ice-cream-cashew-brittle.html
This recipe may not be reproduced without the consent of it's author, Karen Sheer