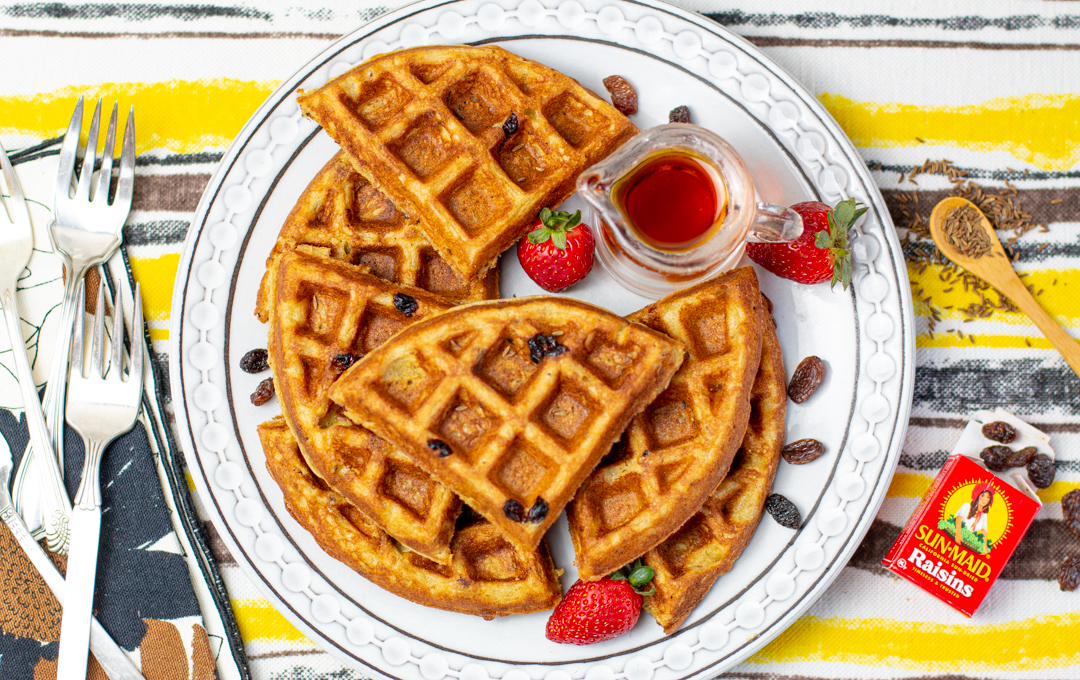 Karen's Irish Soda Bread Waffles
All the flavor and crunch of Irish Soda Bread – but delicious waffles!

Buttermilk based waffles with a boost of caraway seeds and raisins – great for breakfast, brunch, or the ultimate snack… I can't stop eating them!
Works perfectly with regular flour or gluten free!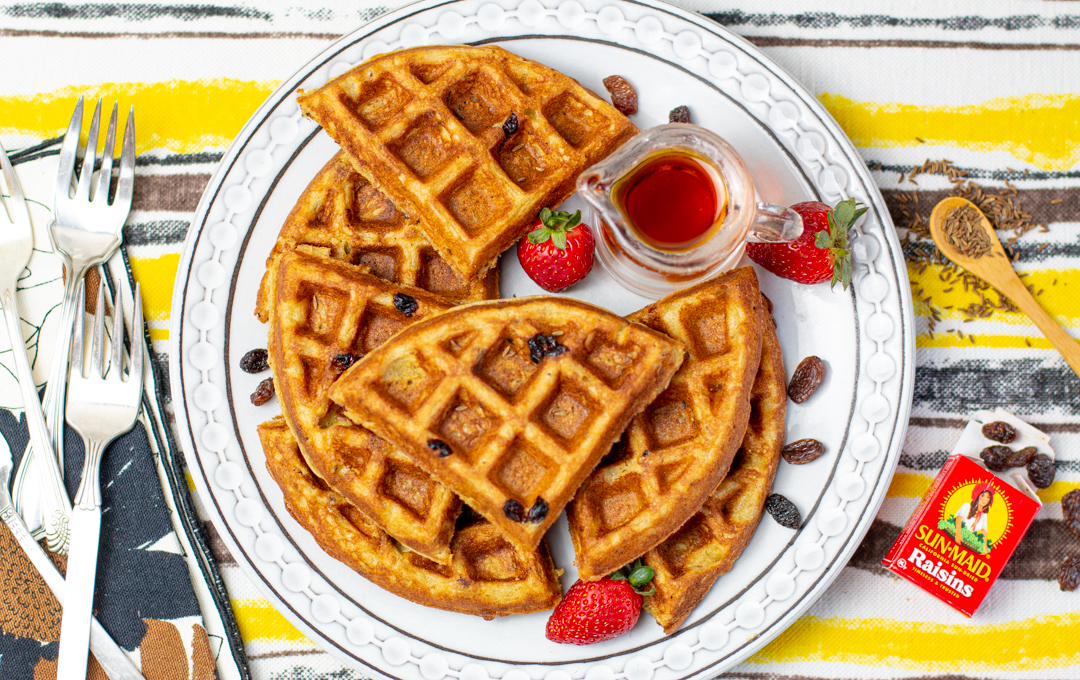 The batter is enriched with Raisins and Caraway seeds for a punch of Irish Soda Bread flavor.
A new Saint Patrick's Day tradition!
These heavenly waffles are begging for a good pour of Real Maple Syrup!
Grades of Maple Syrup:
Get to know the right level of maple intensity…
Golden: Lightest color with delicate, subtle flavor. Usually made at the beginning of the new maple season
Amber: medium intensity with rich maple flavor; light amber color
Dark:  Intense, a more robust maple flavor with a pleasing dark color
Very Dark: Darkest color of all with strong intense, robust maple flavor with a pleasing dark color, usually made at the end of the maple season.
Vermont Maple Syrup is said to have a lower water content and higher sugar content than other maple syrups.
All syrup produced in Vermont is 100% natural with nothing added.
Pure maple syrup is made by concentrating the slightly sweet sap of the sugar maple tree.

Who produces the largest amount of Maple Syrup worldwide?
Vermont consistently produces the most maple syrup in the United States, producing more than half a million gallons each year. Quebec, Canada is by far the largest producer of syrup in North America with production exceeding 6.5 million gallons.
Should we be being Organic Maple Syrup?
The real difference in organic maple syrup vs. non-organic is the assurance that an organic producer has treated his or her woods, not as a sap factory but as a living ecosystem. For us to be certified organic, we need to show we have maintained biodiversity in our forest. Organic maple syrup producers must ensure the presence of 15% companion species, which means at least 15% of the trees in their woodlot must not be maple. I have not purchased organic yet, but think it's worthwhile.
Still using Aunt Jemima Syrup? It's not maple syrup but "imitation syrup with an artificial maple flavor."
Think again – – Ingredients: Corn Syrup, High Fructose Corn Syrup, Water, Cellulose Gum, Caramel Color, Salt, Natural And Artificial Flavor, Sodium Benzoate And Sorbic Acid (Preservatives), Sodium Hexametaphosphate.
Switch to REAL Maple Syrup with ONE ingredient! The flavor is intense, you'll use less than the commercial stuff above.
Simple Pantry Ingredients ~ You will use: Buttermilk, Eggs, Flour (I've used Gluten Free Bob's 1 to 1), Melted Butter, Neutral Oil, Sugar, Caraway Seeds, Raisins (or currants), Vanilla, Sea Salt, Cinnamon, Baking Powder and Baking Soda.
"Wet ingredients are added to the bowl and whisked, then the "dry ingredients" are added and whisked as well.
The batter can stand while your waffle iron heats up.
The batter is made in just minutes – heat up your waffle iron and let the fun begin!
Just Like Irish Soda Bread – these waffles have a crusty exterior and hides a perfectly moist and fluffy crumb.
Tips for making and using a Waffle Maker:
Make sure your waffle maker is hot before adding the first ladle of batter
Clean your waffle maker before using! A damp q-tip works perfectly
Oil your waffle maker for ease of waffle removal – I use a pastry brush dipped in oil
Fill the waffle maker high with batter – this recipe make 4, 7″ waffles
Close the waffle maker and don't peak until you see brown edges – peak only after 3 minutes for golden waffles
Waffles can be reheated! Place on a foil topped pan and broil 6″ from the heat source until crisped
For more "raisin look" – and taste, drop some cut raisins into the waffle maker before the batter
Enjoy these waffles, a nice twist with Irish soda bread crunchy flavor,
Karen
Karen's Irish Soda Bread Waffles
All the flavor and crunch of Irish Soda Bread - but delicious Waffles! Buttermilk based waffles with a boost of Caraway Seeds and Raisins - great for breakfast, brunch, or the ultimate snack. Use Regular Gluten Free Flour.
Print Recipe
Pin Recipe
Rate this Recipe
Ingredients
2

large

eggs

I use pasture raised

2 1/2

tablespoons

pure cane sugar

3

tablespoons

neutral oil

such as expeller pressed safflower

3

tablespoons

unsalted butter

melted (I use organic)

2

cups

buttermilk

1/2

teaspoon

pure vanilla

2

cups

PLUS 2 tablespoons flour

I used gluten free Bob's Red Mill 1 to 1

2

teaspoons

baking powder

1

teaspoon

baking soda

1/2

teaspoon

sea salt

1/2

teaspoon

cinnamon

2

teaspoons

caraway seeds

3

tablespoons

raisins (or currants)

raisins; chop with oiled sharp knife
Instructions
Make the Waffle Batter:
ADD first 6 ingredients to a large bowl - eggs through vanilla. Blend well with a wire whisk until smooth.

Add the last 7 ingredients - flour through raisins to the bowl (if using raisins, cut into smaller pieces with an oiled knife.)

Blend with the wire whisk until a nice batter is formed. Does not to be all that smooth; no large lumps. Let stand while you heat up the waffle iron.
Make the Waffles:
If you like MORE raisins - add a few cut raisins to the waffle iron BEFORE the batter - the raisins will appear on top of the waffles... that's a nice look!

Make sure your waffle iron is clean. Brush liberally with oil - close and let heat up. Add a 4 ounce portion of the batter to the iron (I use a 4 ounce laddle.) Close and let the batter cook. Do not peak too soon, only when you can see they are golden. Cook until a nice browned color is achieved and the waffles seem cooked through. Remove to a paper towel lined plate.

Continue with the next 3 waffles, oiling the iron before each addition.

Serve the waffles with PURE maple syrup and enjoy.
Tips:
These waffles freeze well! Just wrap them tightly in waxed paper and seal in a plastic ziplock type bag or container.

Waffles can get soggy when they stand for long. Broil them 6" from the heat source on a foil lined tray until just crisped.
Notes
This recipe may not be reproduced without the consent of its author, Karen Sheer.
Nutrition Facts
Karen's Irish Soda Bread Waffles
Amount per Serving
% Daily Value*
* Percent Daily Values are based on a 2000 calorie diet.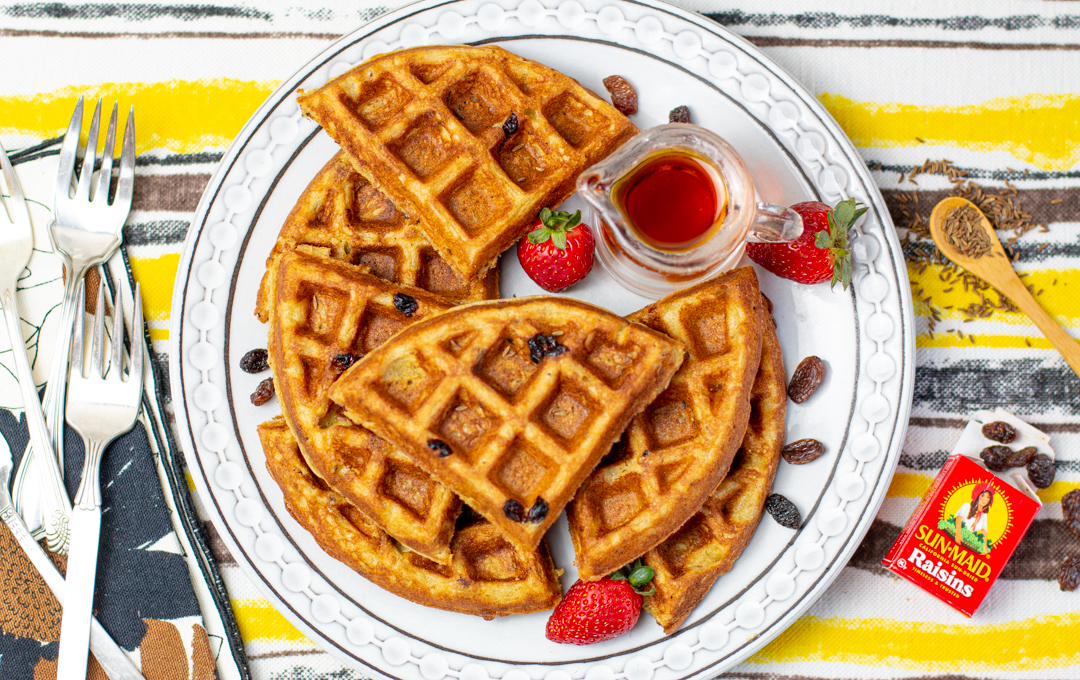 Karen Sheer