Karen's Arugula & Parsley Winter Pesto
A Vibrant Green Pesto with non-traditional ingredients but with all the bite and bursting with flavor. A brilliant pesto with a little peppery, spicy and nutty taste.
Anytime can be Homemade Pesto Time!
Use the best quality Arugula & Flat Leaf Parsley, I choose organic. 
Not just for wintertime – but brilliant in Spring and Summer months during their prime growing season.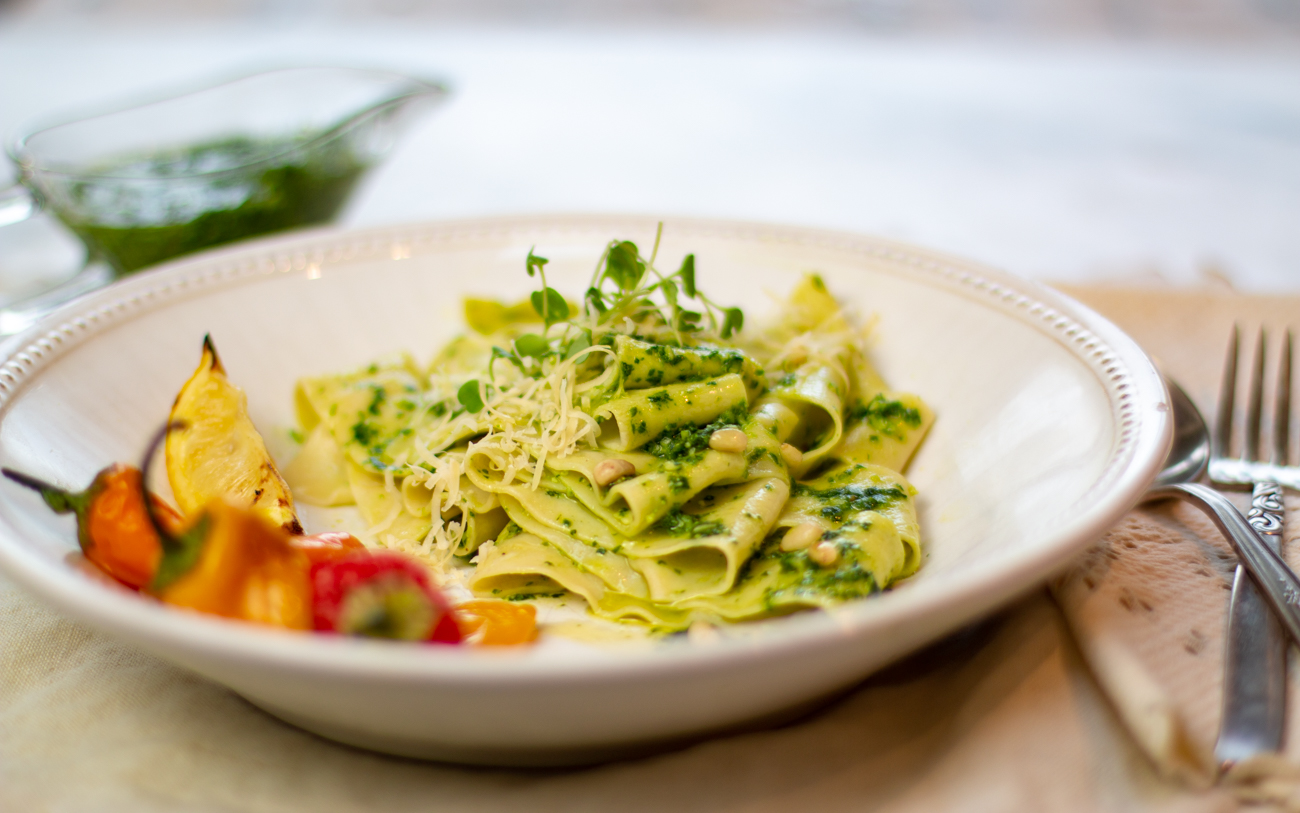 Slather the pesto on layers of pasta – add an extra grating of cheese and some toasted pine nuts.
Serve roasted lemon wedges on the side.
Yes, you can be creative with Pesto Ingredients! Today, there are endless combinations of ingredients.
Change up the greens, nuts and even the oil to create an unique pesto that's just to your liking.
Pesto is a sauce that originated around the 16th century In Genoa, located in the north region of Italy. Pesto Genovese is traditionally made with made from basil, pine nuts, garlic, olive oil, Parmigiano-Reggiano, and/or Pecorino Romano cheeses.
How to Use this Yummy Pesto:
No brainer – add to warm pasta, toss, eat immediately
Add to warm pasta – toss+ chill. Serve pasta salad with an extra swirl of pesto when serving.
The perfect condiment to dollop on proteins; fish, chicken, steak and tofu.
Add to softened butter for "compound butter" ~ add to waxed paper, roll up in a cylinder and freeze
As a flavoring agent to enhance mayonnaise, yogurt and sour cream
A schmear for bread and great on bruschetta
A nice addition to salad dressing, vinaigrettes and olive oil
Dollop some on soups, then swirl in

Ingredients for Karen's Arugula & Parsley Winter Pesto
Simple Ingredients: The Freshest Arugula and Flat Leaf Parsley, Toasted Pine Nuts, Prima Donna Cheese, Garlic, Lemon Juice (fresh or roasted), Anchovy Fillets (optional) and Extra Virgin Olive Oil.
Yes, I have used a cheese from Holland: Prima Donna, matura type. I usually have this one in my cheese bin, and is somewhat similar to Italian Parmesan, yet softer and creamier, a prominent aged flavor with this nice protein crystals.
The cheese maker's inspiration for Prima Donna was to create a hybrid of Parmigiano Reggiano and Gouda, and they seem to have found a pretty good balance between the two. Give it a try!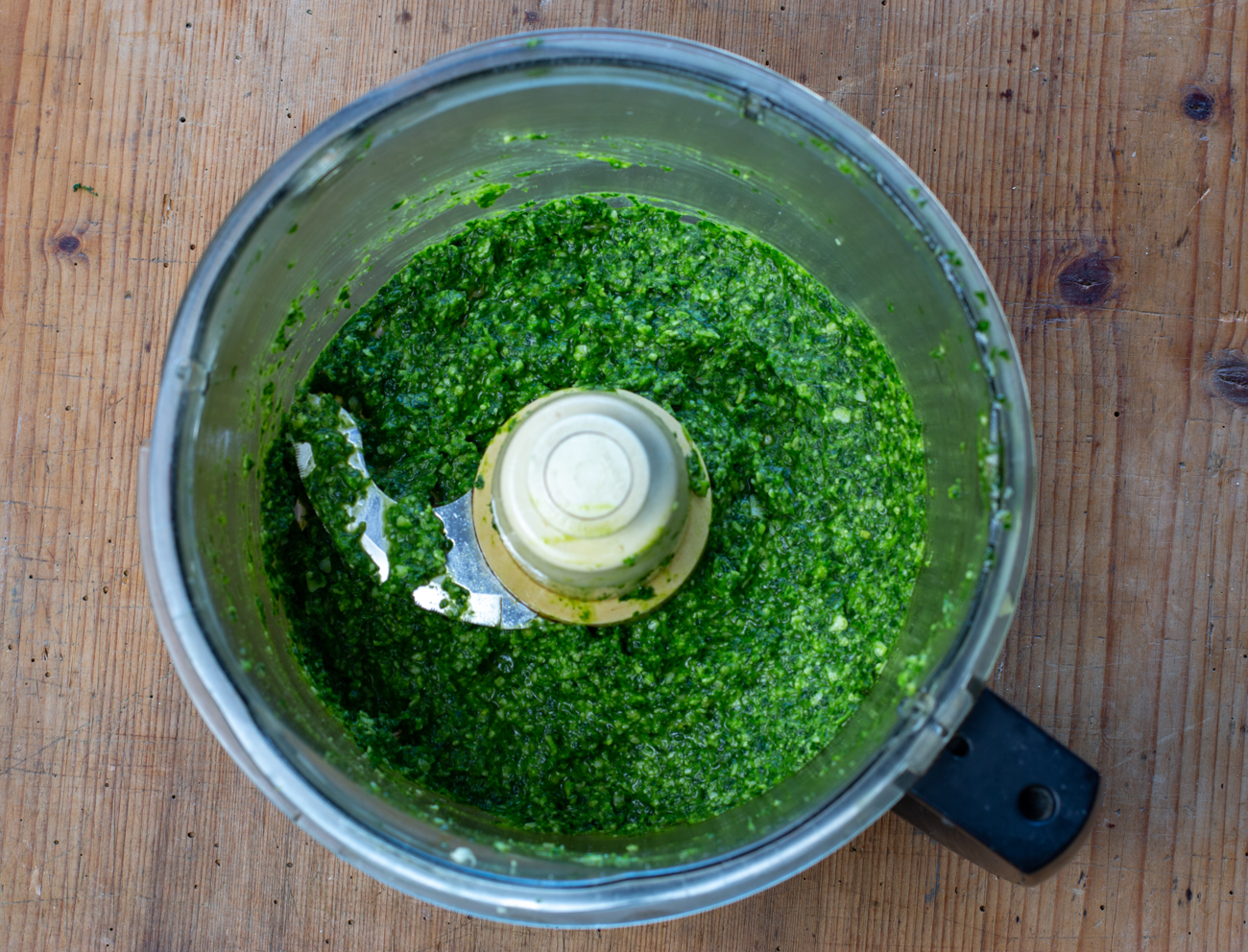 This Kitchenaid Food Processor is a game changer! The small – medium size with 3.5 cup capacity makes wonderful pesto, salad dressings, salsa, mayonnaise and more.
Why? The new top Drizzle Basin lets you drizzle in the olive oil into the other pesto ingredients. A powerful appliance – I use mine every day.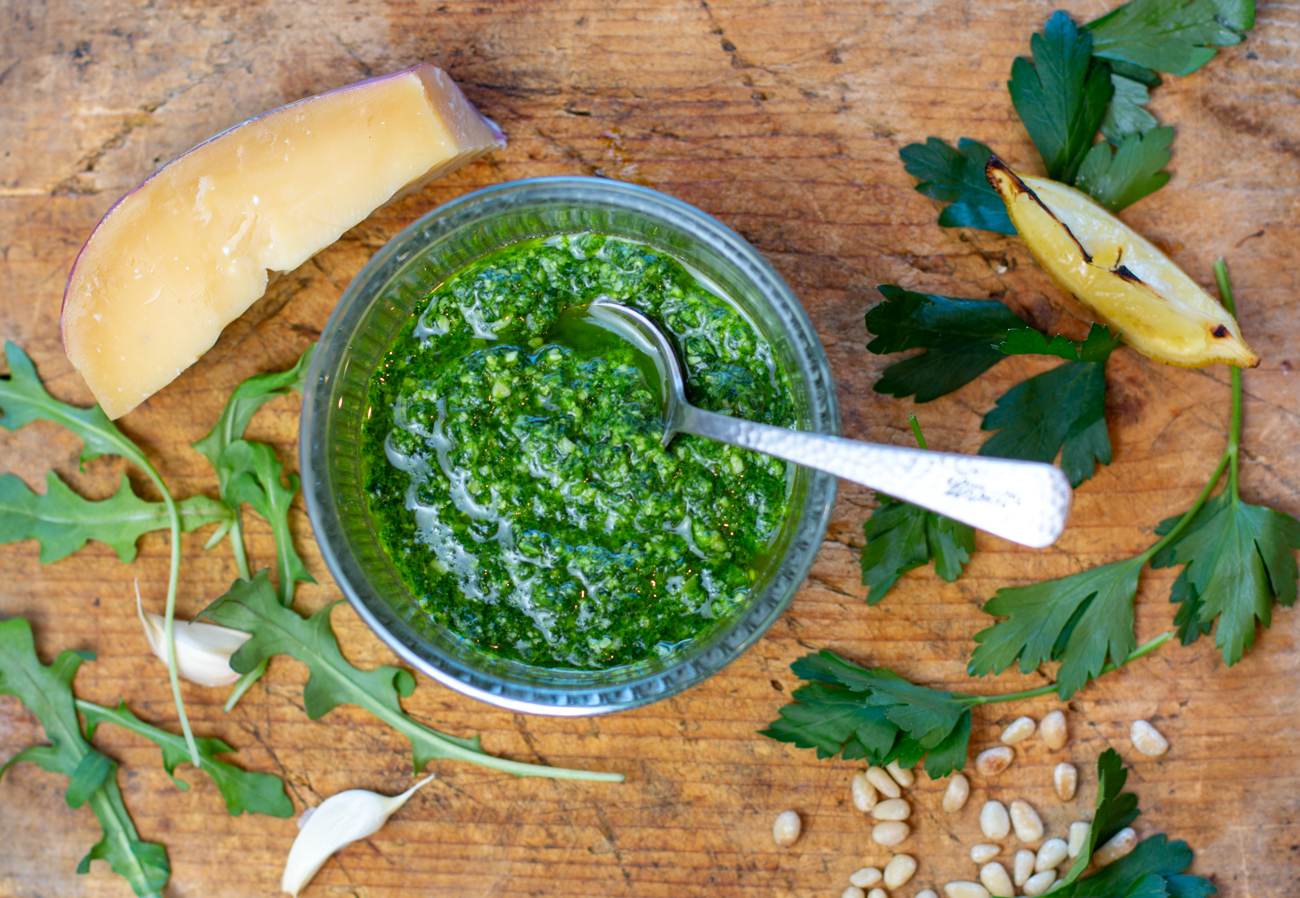 Storing Pesto:


Keep in the refrigerator in a glass container with a tight seal. Top with a layer of olive oil and place a piece of waxed paper (can use plastic wrap too) on top.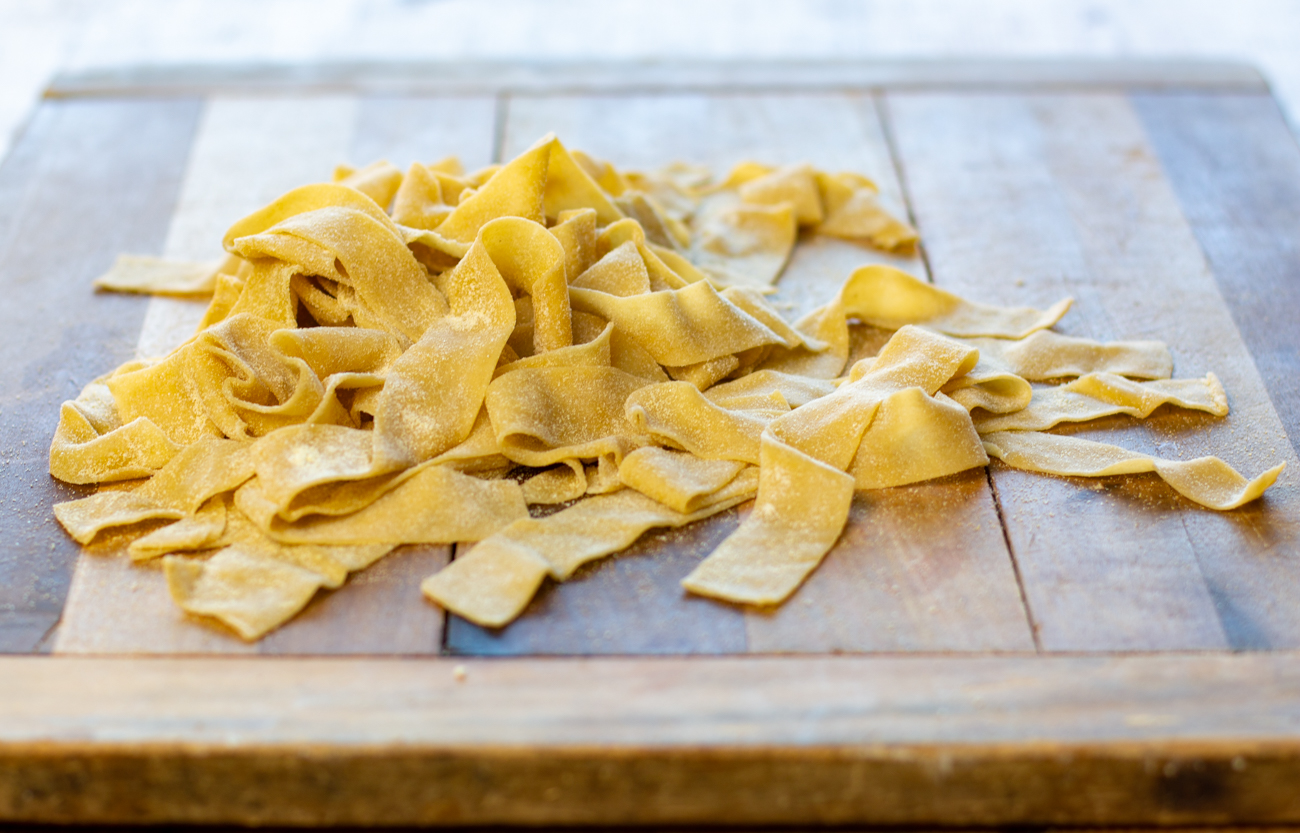 On a very cold and blustery winter day two weeks ago, when I did not want to venture outside – I broke out my pasta maker (it has been stored away for too long) and had fun making egg pasta. It was simpler than I remembered! I let the dough rest 30 minutes, cut it into 4's and stared feeding it into the machine, changing the dial 5 times until the pasta was to my liking, thin enough to lay on my work surface. I then cut my hand into nice 1 inch wide ribbons. I hoisted them up to dry out a bit, then cooked in lightly salted water for just three minutes.
I forgot how pleasurable homemade pasta can be, and the effort was well worth my time.
Cooking the pasta, saucing, and eating right away felt like a luxury. The strands of noodles were deliciously slippery, al dente with an assertive pesto with lots of garlic… just how I like it.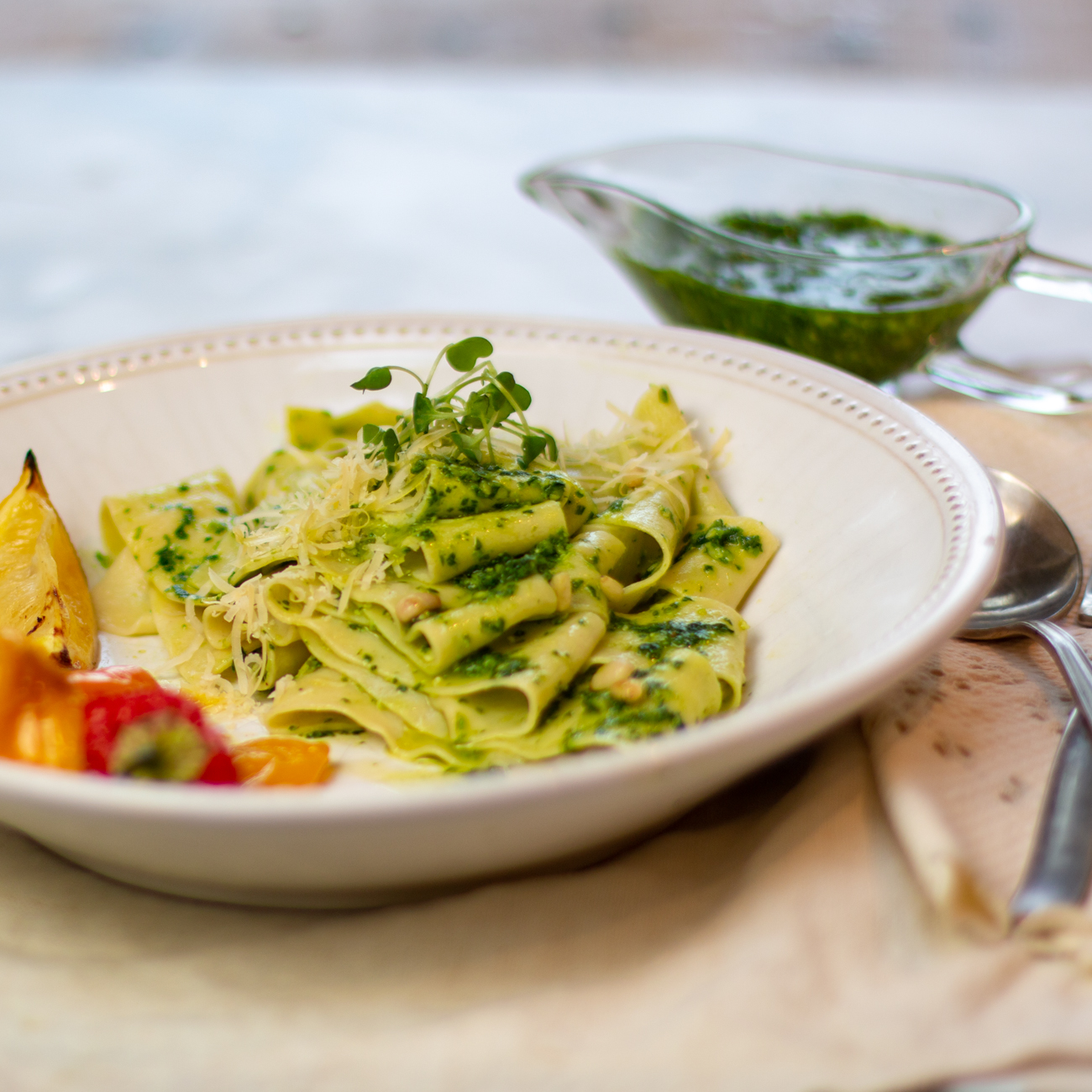 I hope you make and enjoy this pesto! Even in Summer – this one will be in my refrigerator.
What do you think? Will you make it? 
Karen
Karen's Arugula & Parsley Winter Pesto
A Vibrant Green Pesto with non-traditional ingredients but with all the bite and bursting with flavor. A brilliant pesto with bright, fresh taste. 
Servings:
10
1 1/4 cup; 2 Tablespoon servings
Print Recipe
Pin Recipe
Rate this Recipe
Ingredients
2

cups

fresh arugula

cleaned and dried

2

cups

Italian Flat Leaf Parsley

cleaned and dried

1

tablespoon

fresh garlic

peeled and coarsely chopped

2

small

anchovy fillets

(optional)

1/4

cup

pine nuts

gently toasted

1/3

cup

Prima Donna Cheese* (aged gouda)

coarsely grated (yes, you can use Parmesan Reggiano)

2

teaspoons

fresh lemon juice

(see method for roasting lemon)

1/8

teaspoon

sea salt

1/3

cup

extra virgin olive oil

more if desired
Instructions
Add all ingredients except oil in a food processor. Turn on and whirl until chopped, about 20 seconds. Remove top and scrape down the sides of the bowl. Place top back on. Measure oil.

Turn machine on and pour the oil in the feed tube slowly until all incorporated, about 30 seconds. Scrape down sides to the bowl again - add additional oil if desired, one tablespoon at a time. Taste for salt.
Make Roasted Lemons for lemon juice:
I like to roast lemon wedges for the lemon juice. Simple cut 1/2 lemon into large wedges and roast in a hot oven until golden, then squeeze juice.
HINTS:
Pesto should have some texture - not entirely smooth.

Store in a clean glass container with a good seal.

This pesto does not discolor like basil pesto!
Notes
*Prima Donna Cheese: The flavor is a lovely cross of Gouda and crumbly Parmesan giving this Gouda product a unique Italian Taste. The salt and protein crystals are also clearly visible, with the traditional taste of Parmesan cheese. I use Prima Donna maturo.
With Pasta: Toss Pesto with warm al dente pasta and serve with Grated Cheese. Top with Micro Greens and extra toasted Pine Nuts if desired. 
This recipe may not be reproduced without the consent of its author, Karen Sheer. 
Nutrition Facts
Karen's Arugula & Parsley Winter Pesto
Amount per Serving
% Daily Value*
* Percent Daily Values are based on a 2000 calorie diet.
Karen Sheer