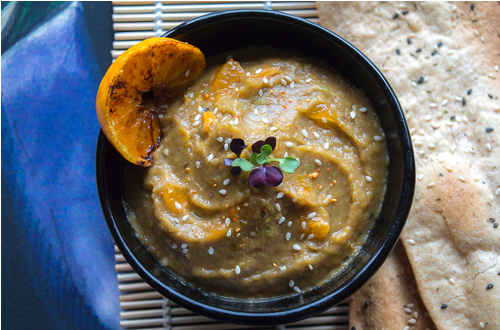 Japanese Style Eggplant Dip with Miso, Orange and Shichimi Togarashi Seasoning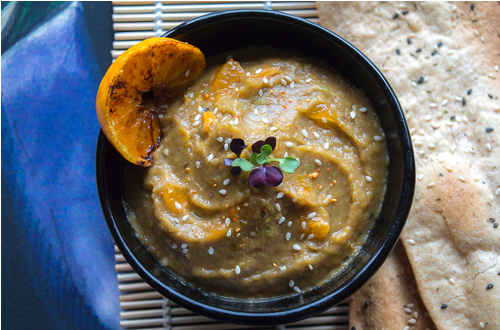 A wonderful and flavorful dip with hints of miso, orange, ginger and sesame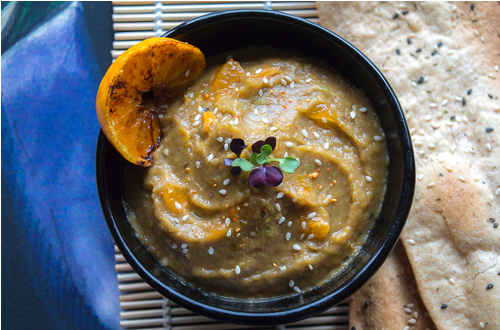 Ingredients
1 ½ pounds japanese eggplant, about 3 medium or 1 globe eggplant
1 teaspoon neutral oil*
1 teaspoon roasted sesame oil, expeller pressed
¼ teaspoon Shichimi Togarashi Seasoning, see note, more for finished dip
1 medium tangerine, peeled, cut in half horizontally
3 tablespoons white miso, organic (no gmo)
¼ teaspoon fresh ginger, peeled, finely grated
6 tablespoons tangerine juice, freshly squeezed
½ teaspoon orange rind, grated fine
3 tablespoons sake, or mirin
1 ¼ teaspoons raw honey
½ teaspoon roasted sesame oil
2 tablespoons scallions, cleaned and chopped
Instructions
1
Heat the oven to 400 degrees. Line a rimmed baking sheet with parchment paper or a silpat sheet.
Cut the eggplant in half horizontally. Cut a deep diamond pattern on the flesh side with a sharp knife. Add the orange, cut side down to the pan.
Combine the two oils and brush on the flesh side of the eggplants. Place cut side down and roast for 20 minutes until nice and golden.
Remove the orange, it will be roasted enough.
2
Meanwhile make the glaze:
In a small skillet, add the last 7 ingredients (miso through sesame oil). Whisk until simmering. Cook over low heat for 3 minutes.
3
Carefully turn over and brush with 3 tablespoons of the glaze on the eggplants. Roast until dark golden on top and cooked through, another 20 minutes.
4
Place the eggplant on a cutting board, and when cool enough to handle, scrape out the flesh and place in a food processor. (will have just over one cup).
Add the roasted orange, scallions and a pinch of Shichimi Togarashi (start with a pinch, can be spicy).
Process, pulsing until smooth. Taste for seasonings. No need for salt, the miso has enough salty taste.
5
Refrigerate the dip in a clean glass container.
Serve dip with sesame crackers and enjoy!
*with concerns about gmo's and processing of oils, use a vegetable oil which has not been chemically treated, this is called "expeller pressed".
This recipe may not be reproduced without the consent of its author, Karen Sheer.
Karen Sheer