Iraqi Seasoning Spice Blend with my Fabulous Iraqi Seasoned Grilled Chicken
Spice Blends adds zest & power-house of flavor and aroma – and totally transforms food from bland to fabulous.
Experience New Flavors with this versatile Spice Blend.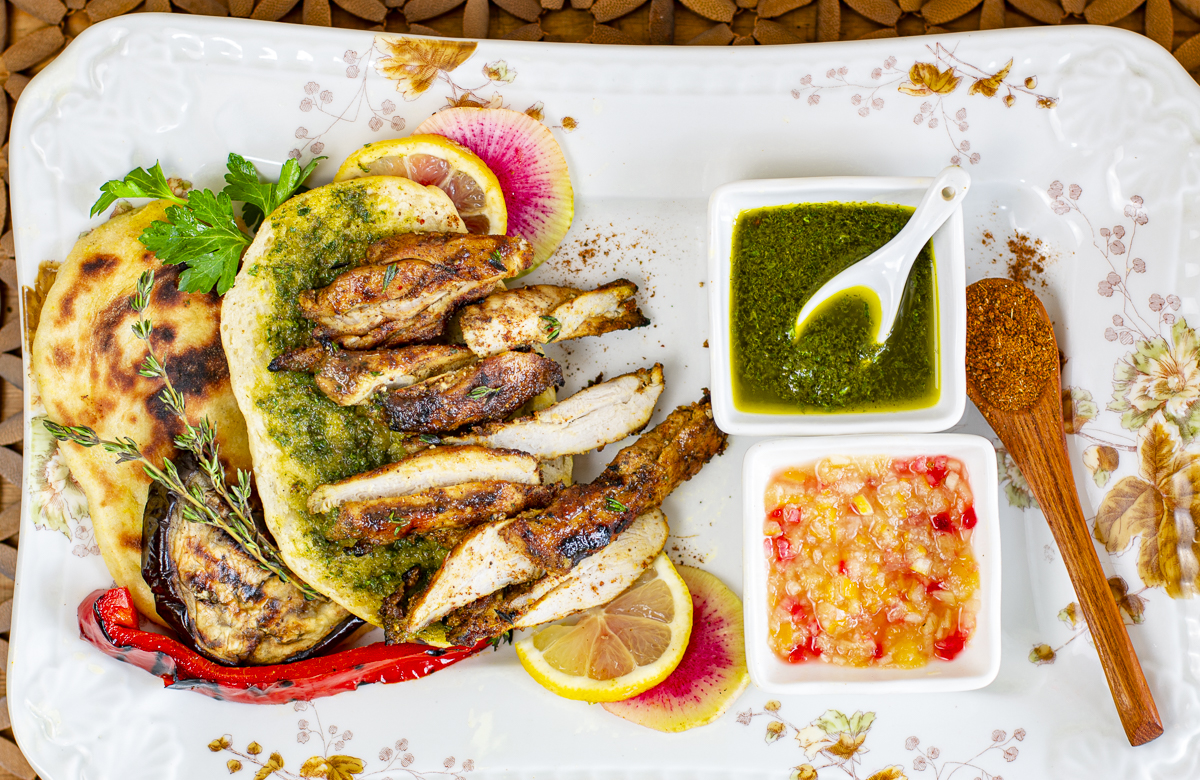 Are you passionate about adding flavor to foods?
Be adventurous with spices and elevate your cooking to a whole other level!
Spices allow you to be creative and adventurous with your cooking ~ by adding a range of flavors and contribute to amazing aromas when cooked.
Spice Blends are a short-cut to sensational flavor in any dish – enhances the taste of food without salt (some salt is added last in preparation.)
Iraqi Seasonings is the new quintessential spice blend to add immense flavor! Added to chicken and grilled, the essence explodes with warm and pungent notes. I'm serving the chicken over naan bread adding vegetables, Iraqi Pesto and a Preserved Lemon Relish.
My Iraqi Spice mix adds Earthy, Warm, Sweet, Spicy, Peppery, Bitter & Smoky flavors without salt.
Seasoning means to bring out or intensify the natural flavor of the food.
The heated fat helps these ingredients release addictive aromas and impart deep flavors into the dish that's being cooked.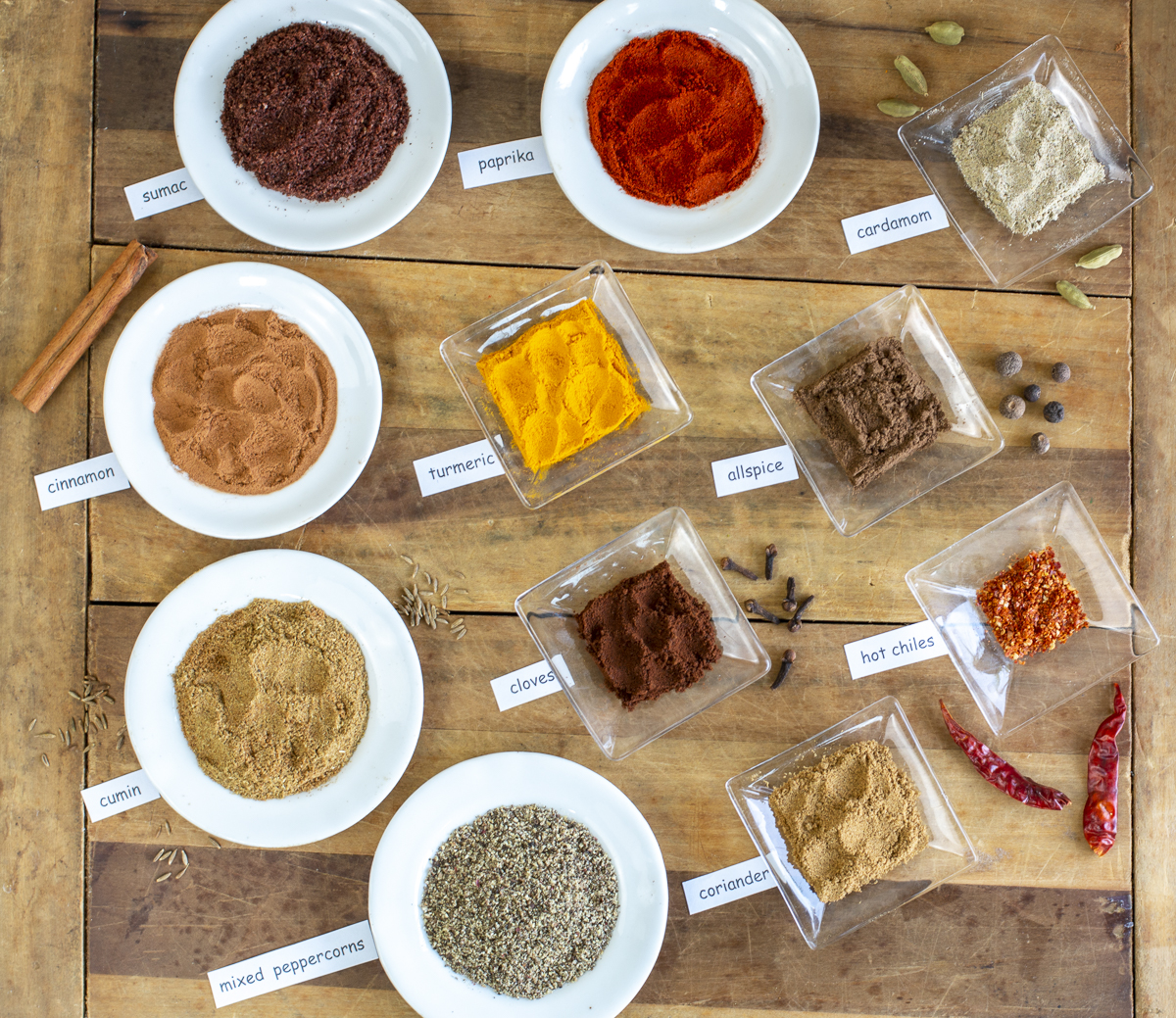 11 sweet and savory Spices make up this versatile Iraqi Seasoning Spice Mix.
My Iraqi Seasoning mix is similar to Baharat, but more complex and nuanced. Baharat is a spice mixture found in most Middle Eastern homes – a mix of: black pepper, coriander, cinnamon, cloves, cumin, cardamom, nutmeg and paprika.
It was 8 summers ago when I attended Saveur's Fifth annual Summer BBQ at the Boat Basin Café on the west side of Manhattan.
A culinary get-together with awesome foodie fragrances, people watching and loud music.
One dish I sampled (over and over again) was Iraqi Chicken – coated in a unknown layer of spices and grilled with a smokey finish. In my home test-kitchen – I blended, sampled and blended again until I found the perfect balance for this Iraqi Spice Mix.
My spice mix will "bloom" when comes in contact with heat.
Beneficial properties of Spices:
Herbs and spices fight inflammation and reduce damage to your body's cells," Moreno says. "That's because each one is rich in phytochemicals, which are healthful plant chemicals.
Adding herbs and spices to your diet has another benefit – they're so flavorful, they make it easier to cut back on less healthy ingredients like salt, sugar and fat.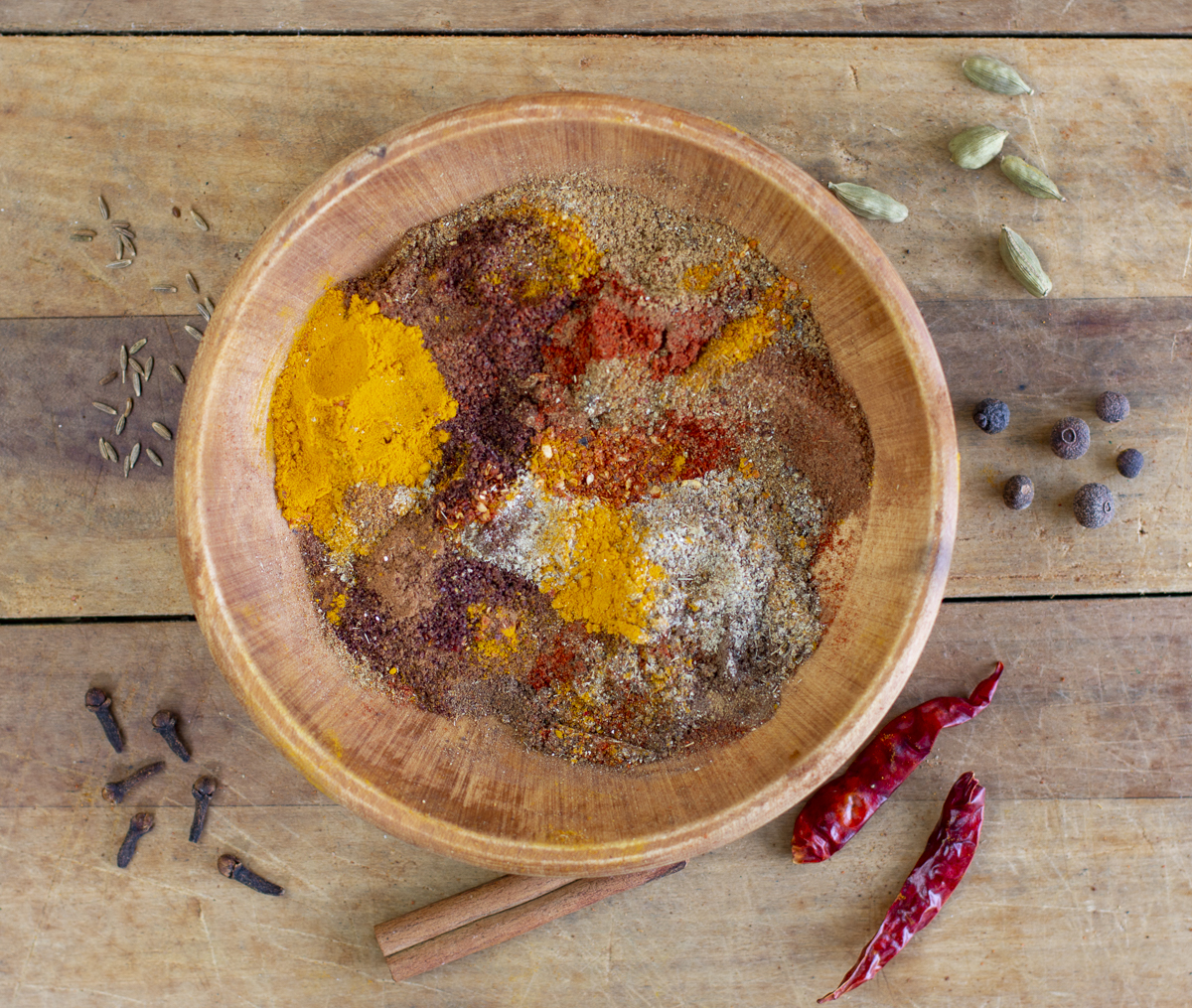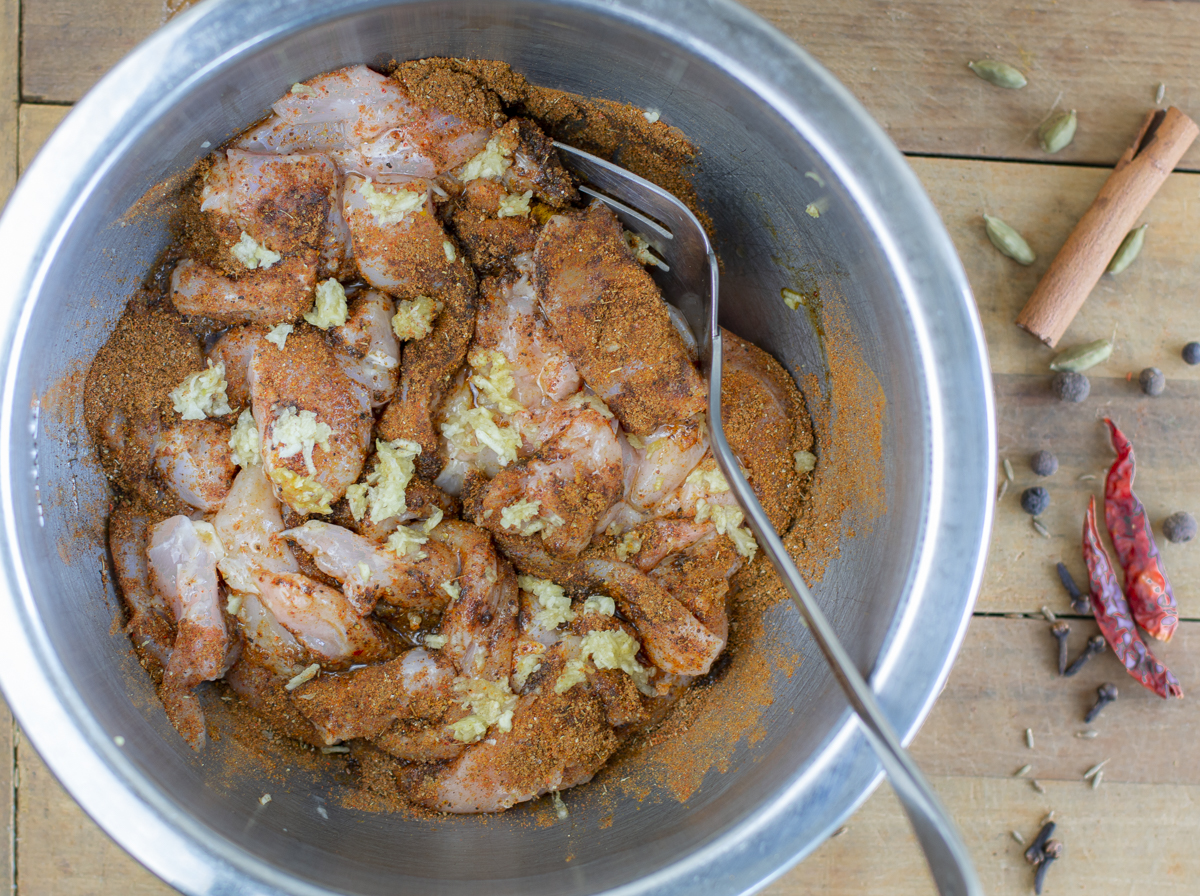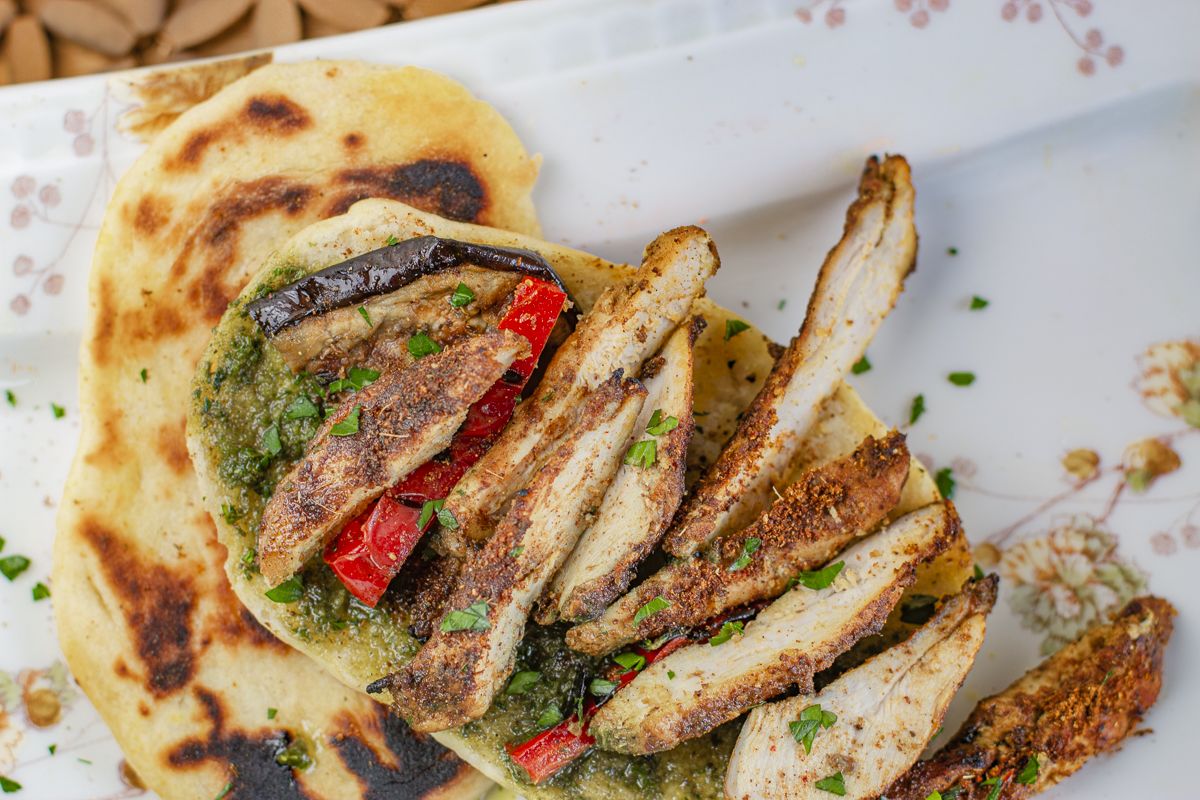 See Linked recipe: Fabulous Iraqi Grilled Chicken with Iraqi Pesto and Preserved Lemon Relish
Karen's Iraqi Seasoning Spice Blend
The most aromatic blend - combining sweet and savory spices with a hit of heat.
Grind your own whole spices for the freshest flavor!
Servings:
12
1 tablespoon portions
Print Recipe
Pin Recipe
Rate this Recipe
Ingredients
2

tablespoons

ground cumin

1

tablespoon

ground coriander

2

tablespoons

mixed peppercorns

ground

1 1/2

tablespoon

ground cardamom

1/2

teaspoon

spicy ground red chiles

such as Chiles de Arbol or Aleppo Chili (less spicy)

1

tablespoons

ground allspice

1

tablespoon

ground cloves

1

tablespoon

ground turmeric

1

tablespoon

ground cinnamon

2

tablespoons

sumac

1

tablespoon

paprika

mild or hot
Instructions
Look over the list of spices. Use whole spices for the best flavor and grind these fresh.

I grind all in my spice grinder (can use a good clean coffee grinder) except for the last four ingredients.

Combine the 11 spices and store in an airtight container (I like glass), in a dark cool place. Use within 2 months for best flavor, or up to 3 months.

This spice blend contains no salt. Add salt to taste.
Notes
This flavorful blend is a wonderful addition to many vegetables, rices, legumes, meats and vegan proteins. The flavor will bloom when the seasoning is activated when heated (think coating, then grilling.)
See linked recipe: 
Fabulous Iraqi Grilled Chicken with Iraqi Pesto and Preserved Lemon Relish
This recipe may not be reproduced without the consent of it's author, Karen Sheer.
Nutrition Facts
Karen's Iraqi Seasoning Spice Blend
Amount per Serving
% Daily Value*
* Percent Daily Values are based on a 2000 calorie diet.
Karen Sheer