Gluten-Free Buttery Tart Dough for: Raspberry Tart with Ricotta Pastry Cream – Gluten Free
Description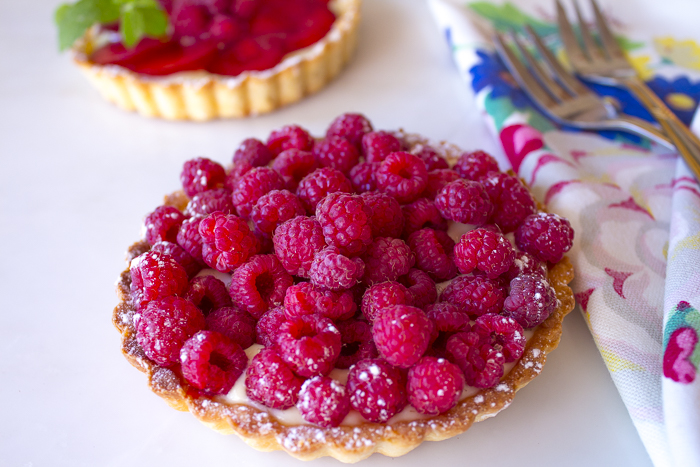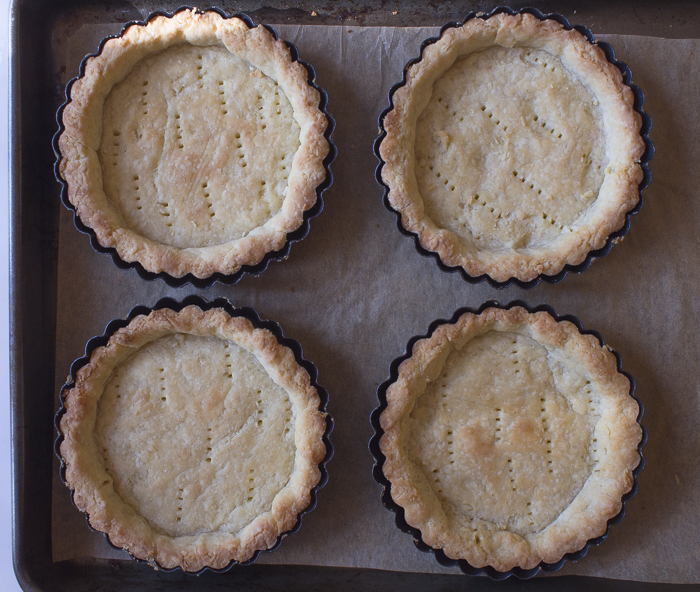 Ingredients
1 

cup 

gluten-free all purpose flour

¼

 

teaspoon 

sea salt

3 

tablespoons 

natural cane sugar

6 tablespoons 

unsalted butter, cold, preferably organic

3

 

ounces 

cream cheese, cold

1

 

whole

 

egg, whisked in a small bowl

2

 

teaspoons 

filtered water
Method
For this recipe use 4,  4 3/4″ tart pans (see them here).
Place the flour, salt and sugar in a medium sized bowl. Cut the cold butter and cream cheese into tablespoon chunks, add to bowl.
Use a pastry blender cut the butter and cream cheese into large bits, about 1/4″. Do not overwork.
Add the water to the whisked egg, blend into the bowl – mixing with a fork until it almost comes together.
– Veins of butter and cream cheese in the dough produce a flakier crust, do not overwork..
Quickly use your hands to bring the dough together into a ball.
Place on a floured work surface, cut the dough into 4 even pieces.
Roll each gently with your hands into a ball.
Place one ball on a lightly floured large sheet of waxed paper, cover with another sheet of waxed paper and quickly roll to 1/4 " thick – about a 6″ circle.
Repeat with the remaining 3 dough balls. Pat each dough circle evenly into the tart shells, making a nice edge*.
Place them on a rimmed baking tray, refrigerate for about an hour until the dough is cold – this step insures a flaky crust.
*(If dough seems too soft (warm kitchen) – refrigerate them on a tray in the refrigerator until firm.
To bake the tart shells:
Preheat the oven to 350 degrees.
Prick the dough a bit with tines of a fork and bake until very golden, about 15 minutes. Do not under-bake.
Cool completely before filling.
To Finish the Raspberry Tarts:
Remove tart shells from their rings.
Fill each tart shell with a portion of Ricotta Pastry Cream, smooth the tops.
Top the four tarts with 1/2 pint (or more) of raspberries. Dust with confectioner's sugar.
Use other fruits if desired.
Assemble before serving, or up to two hours prior (so the shells say crispy.)
SEE RECIPE for Ricotta Pastry Cream
This recipe can not be reproduced without the consent of it's author, Karen Sheer
Notes
Servings: Make 4, 4 3/4″ tarts. Serves 8.