French-Style Cod & Vegetable Chowder
A healthy chowder with vibrant French flavors and colors.
Loaded with vegetables and perfectly seasoned with French aromatics. Healthy & filling, yet light! Now, in Winter – this chowder really satisfies and tingles your tastebuds.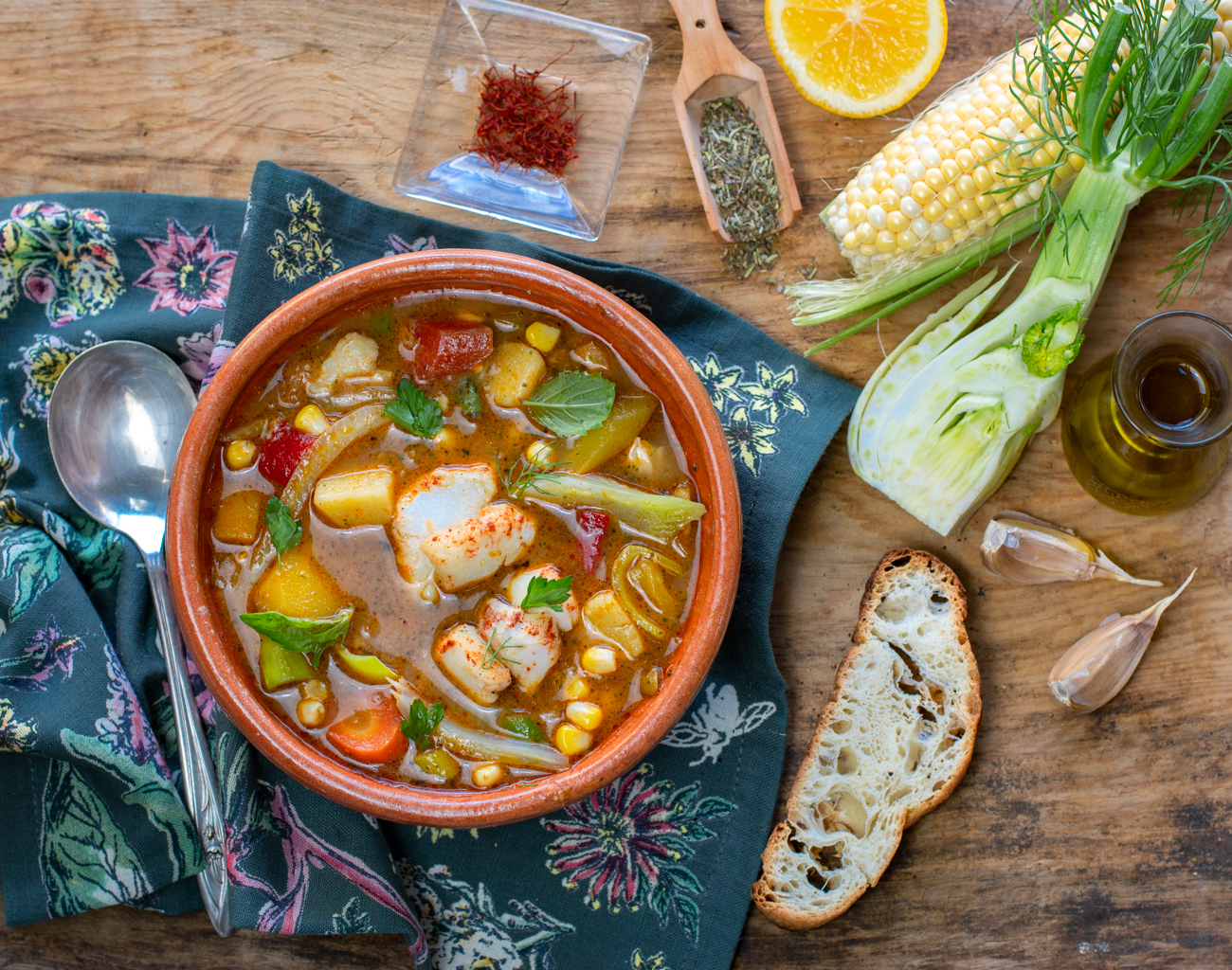 Atlantic cod is sweet-flavored fish that absorbs surrounding flavors in a dish.
So, most importantly we are going to season the chowder well with French Flavors: Herbs de Provence, Saffron and Bay Leaves. I've added ground chiles for color and a touch of heat.
The chowder is broth based – no dairy (milk, cream or butter) so the taste is light with chunks of vegetables and cod.
I love fresh corn kernels in the chowder – complements the sweetness of the cod and adds little crunch too. Not typically French – but definitely a "chowder" ingredient. 
Other key ingredients and flavors: floral saffron, sweet and anise-y fennel, and a subtle note of lemon.
You know me… I'm always adding that extra bevy of vegetables!
Here I'm loving freshly sliced Fennel, Colorful Heirloom Carrots, Leeks (these are baby leeks I found), Garlic, Yukon Gold Potatoes and Fresh Corn Kernels.
Added to the mix of veggies are Roasted Peppers (red & yellow) and canned Plum Tomatoes (I like San Marzano.)
For the liquid in the recipe – use a good quality Fish Stock, Lemon Juice and White Wine.
Let's Talk Spice! Cod has a mild flavor – so add a layer of gentle heat to the Chowder:
For heat ~ use and mildly spicy ground chiles you like! There are many options!
Piment d'Espelette from France is smoky, sweet and mildly hot.
Aleppo Pepper has fruitiness undertones and a moderate heat level. Used in in Turkish, Middle Eastern and Mediterranean cuisine.
Or – a combination of Spanish Paprika mixed with Cayenne Pepper.
I have used Kashmiri Chili Powder in this chowder, has a subtle sweetness and complex, moderately spicy heat. Imported from India ~ I love if for its universal flavor and fiery red color.
Cod loins are thick fillets cut from larger fish. They do not include flesh from the tapering tail and belly, and are widely viewed as superior to the standard fillet.
Easily found and all fish purveyors.
Atlantic Cod is a medium to large white-fleshed fish found in colder waters on either side of the Northern Atlantic coasts.
Reasons to LOVE Cod:
Cod contains 20 grams of protein per 4-ounce fillet
Excellent source of essential fatty acids, protein, minerals, and fat-soluble vitamins like vitamin A, E, and D
Atlantic Cod in the "best choice" section considering mercury levels in its flesh
Low in calories and saturated fats
A good source of vitamin-E, vitamin-B12, thiamin, and riboflavin
Seafood is low in saturated fat and higher in "heart-healthy" polyunsaturated fat, including omega-3 fatty acids
A sweet and neutral flavor that can be pan fried, poached or fried – takes on the many flavors you add to it
A somewhat affordable, plentiful fish – here one pound serves four
Traditional French foods and famous French food of the South of France include olive oil, tomato, onion, garlic and herbs de Provence. Fennel is grown widely in France and is used in many of their soups and fish dishes.

French-Style Cod & Vegetable Chowder – hearty enough for a main meal. Add some crusty bread and a nice composed salad on the side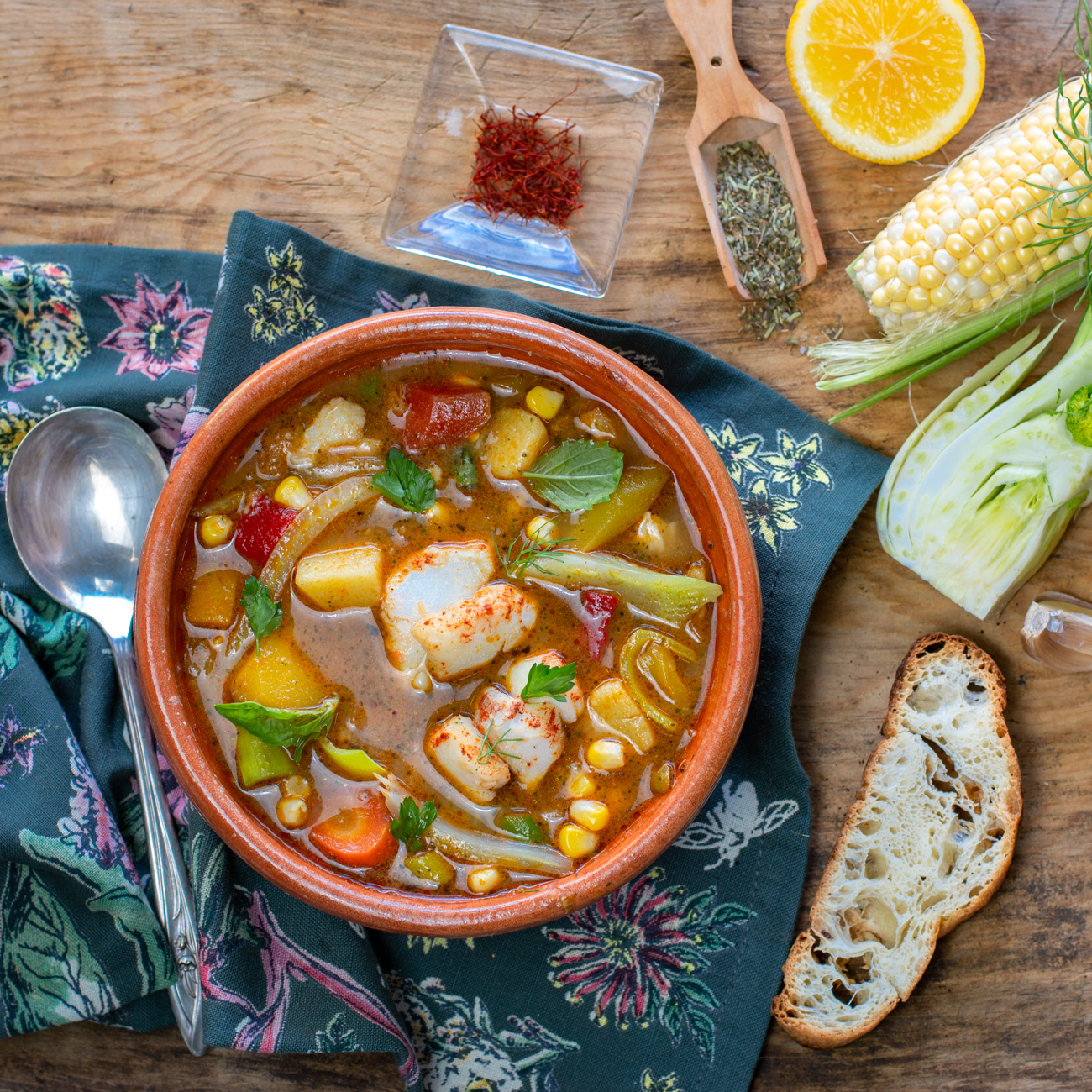 I use FALKSALT | Cyprus Organic Sea Salt Flakes as a finishing salt. Falksalt can be appreciated for its crunchiness, adding a sensual dimension, a distinct crispiness, to any meal. Flakes bring flavor explosion. A little goes a long way.  I do not over-salt my food and love the bright flavor and texture of this salt! Great for baking too! 
Enjoy this healthy chowder – chock filled with good stuff!!
Let me know what you think!
Karen
French-Style Cod & Vegetable Chowder
A delicious flavorful chowder loaded with vegetables and perfectly seasoned with French aromatic flavors. Healthy & filling, yet light!
Print Recipe
Pin Recipe
Rate this Recipe
Ingredients
1

pound

cod fillet

use: cod loins, thick fillets 

1

teaspoon

extra virgin olive oil

3/4

teaspoon

chili powder

divided, I use Kashmiri*

3

tablespoons

extra virgin olive oil

divided

1

cup

fresh fennel

sliced 1/4" thick

1/2

cup

leeks

whites & light greens, cleaned, 1/2" pieces

1

cup

yukon gold potatoes

peeled, 3/4" cubes

1

cup

carrots

peeled, sliced 1/4" diagonally, I use heirloom colorful carrots

6

medium

garlic cloves

peeled, thickly sliced

2

medium

bay leaves

1/2

teaspoon

herbs de provence

(can use Italian seasonings)

1/4

teaspoon

saffron

2

teaspoons

tomato paste

1/2

cup

diced tomatoes

(I use San Marzano type)

1/2

cup

roasted peppers**

(I use red & yellow)

1

tablespoon

lemon juice

2

tablespoons

dry white wine

2

cups

fish stock***

(can use clam broth if desired)

3/4

cup

fresh corn kernels

cut from one ear

2

tablespoons

fresh herbs

parsley, basil, thyme leaves - one or all!
Instructions
COD:
Wash and dry the cod. Cut into 12 even chunks, about 2" each. Place on a plate, rub in 1 teaspoon of evoo, sprinkle and rub in tops with 1/4 teaspoon chili powder. Refrigerate.
For the Chowder Base:
Add 1 tablespoon evoo to a large dutch oven. Raise heat to low and add fennel, leeks and potatoes. Sauté 3 minutes. Add carrots, garlic, bay leaves, herbs de provence and 1/2 teaspoon remaining chili powder - crush saffron between your fingertips - add to pot.

Cook over low heat for 2 minutes to blend all the flavors.

Add remaining 2 tablespoons extra virgin olive oil, tomato paste, mix in with a wooden spoon. Add the tomatoes and roasted peppers - cook for 2 minutes, stirring.

Add lemon juice and white wine - stir in.

Raise heat to high - add the fish stock and bring to a boil. Reduce immediately to a low simmer, stir well and cover. Cook for 15-20 minutes, until the potatoes are cooked and tender.

Uncover and nestle the fish pieces into the pot - they should be partially covered in the broth. Add the corn on top and cover.

Cook at a simmer until the fish flakes - about 5 - 7 minutes (depending on the thickness of the fish- corn will be tender-crisp.)
To Serve:
Remove Bay leaves. Taste for seasonings. Ladle the chowder into individual bowls. Add some flaky finishing salt to the cod if desired (it's delicious.) Garnish with parsley, basil or thyme (or all three!)

I love drizzling my Basil Oil over the soup - see below.
Notes
*Kashmiri Chili Powder has a bright red color, gives you chilli flavor without the extreme heat. **Roasted Peppers: I use Nestos roasted peppers (happily no preservatives): Cosco. ***Fish Stock: I use Bar Harbor Fish Stock... clean ingredients! BASIL OIL: Add 1/2 cup packed clean basil leaves to a pot of boiling water. Get ready an ice bath; small bowl with ice & water. Cook basil for 10 seconds only - remove to ice bath. When cold, wring out water and pat VERY dry. Add basil & 1/2 cup evoo to a blender - blend high one minute then strain. Toss solids - keep basil oil in a glass container oil the refrigerator. 
Nutrition Facts
French-Style Cod & Vegetable Chowder
Amount per Serving
% Daily Value*
* Percent Daily Values are based on a 2000 calorie diet.
Karen Sheer