Fantastic Fennel Parmesan
Perfectly sliced Roasted Fennel is getting topped with Garlicky Bread Crumbs, Tomato Sauce, Fresh Cut Tomatoes and topped with Shaved Parmesan. A Lightened-Up Veggie Parmesan!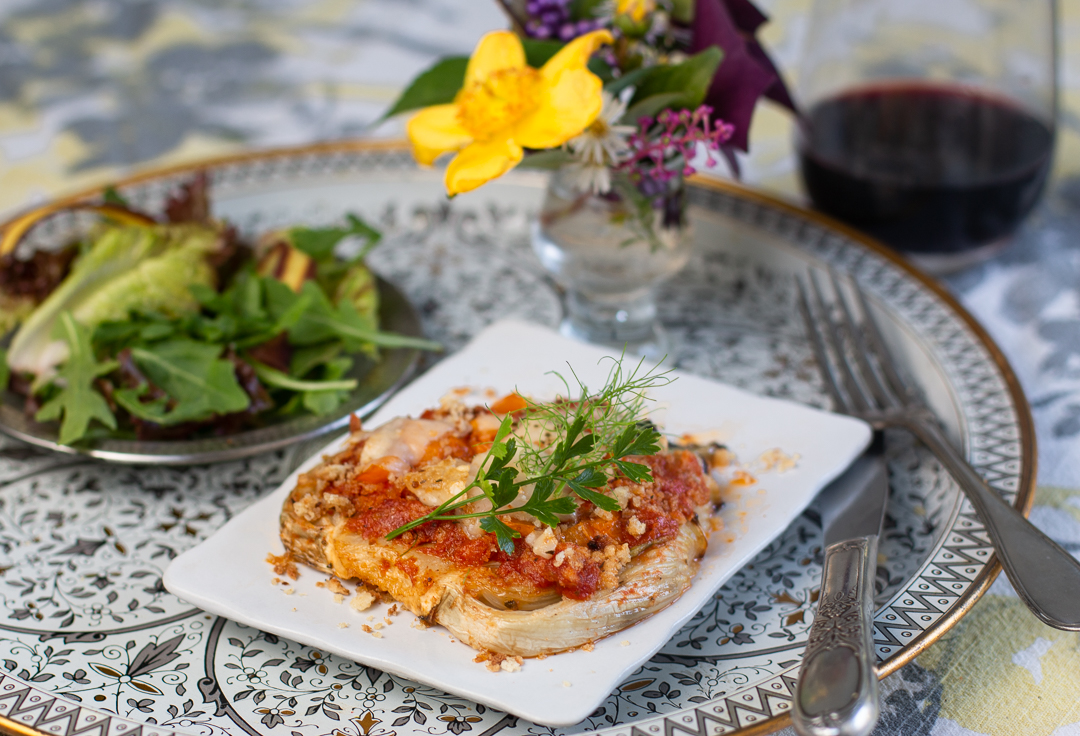 Fennel is delicious raw – thinly sliced and tossed into salads. When cooked, fennel softens, the flavor becomes sweet and mild with a luscious creamy texture.
Similar to anise, fennel has a mild licorice flavor and crunchy texture.
Anise is grown mainly for its seeds, while fennel has the bulb, fronds and seeds to offer.
Native to the shores of the Mediterranean, this popular vegetable is grown now throughout the world.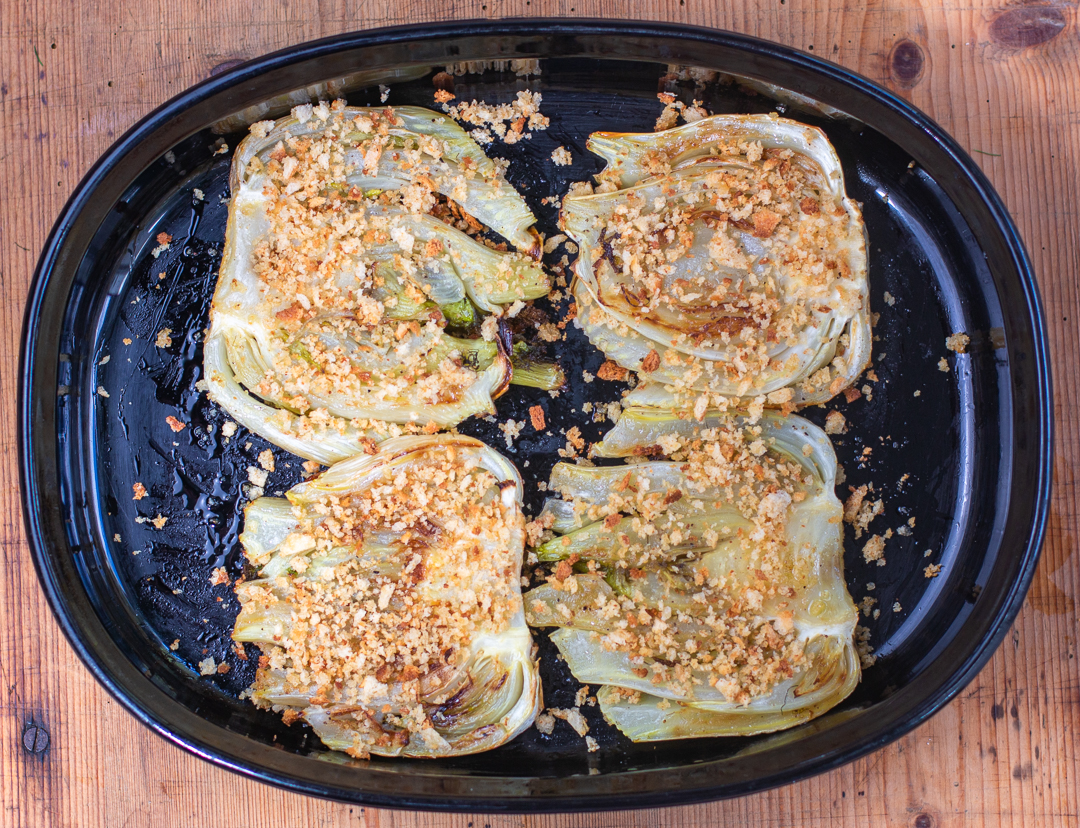 Instead of Frying ~ this Lightened-Up Method layers Homemade Garlicky Bread Crumbs on both side of the roasted Fennel. All the crunch & flavor with minimal fat!
This is the bottom layer on the casserole dish, followed by tomato sauce, chopped tomatoes, shaved parmesan reggiano and oregano.
In season right now – Fennel is at it's peak in the fall and spring. So, now you will see these beautiful bulbs that are crisp and fresh with beautiful green fronds (the feathery leaves.)
How to use Fennel:
Fennel features prominently in Italian cuisine, the bulbs can be grilled, roasted, stewed, layered in a gratin and makes a wonderful addition to an antipasto plate. Cooked eaten warm or room temperature.
Enjoy it raw ~ slice the bulbs with a mandoline or thinly shave with a vegetable peeler. Adds a little extra pizzazz and crunch to a salad.
Fennel seeds are harvested from the plant's flowers and then dried. I love adding fennel seeds to meatballs, Indian dishes, biscotti, scones and cookies – it lends an earthy, sweet taste to dishes that is very distinctive.
Yet, the flavor of the seeds is more potent due to their powerful essential oils.
Known to have anti-inflammatory compounds – I drink Fennel Tea; hot & cold!
Fennel Nutrition:
Fennel and its seeds contain fiber, potassium (more than a banana!), magnesium, and calcium. One cup of fennel has a mere 27 calories and 6 grams of carbohydrates.
Fennel can be used to relieve heartburn, stimulate appetite and is just an all round digestion saving champion.
Enjoy this recipe… my new favorite!
Karen
Fantastic Fennel Parmesan
Perfectly sliced Roasted Fennel is getting topped with Garlicky Bread Crumbs, Tomato Sauce, Fresh Cut Tomatoes and topped with Shaved Parmesan. A Lightened-Up Veggie Parmesan! 
Print Recipe
Pin Recipe
Rate this Recipe
Ingredients
2

large

fennel bulbs

about 3 1/2 pounds

3

tablespoons

extra virgin olive oil

2/3

cup

homemade garlic breadcrumbs

(see recipe)

2/3

cup

marinara sauce

such as Raos brand

1/2

cup

chopped fresh tomatoes

1/3" dice, I use yellow tomatoes

1/2

cup

parmesan reggiano cheese

(about 1.5 ounces) shaved with vegetable peeler

1/4

teaspoon

dried oregano

2

teaspoons

fennel fronds

for garnish

2

teaspoons

fresh parsley leaves

for garnish
Instructions
Make Garlicky Breadcrumbs (see below.)

Wash and dry the fennel. Cut away the white stems; keep the feathery fronds for garnish. Gently peel the outer white bulb.

Preheat oven to 375 degrees.

Slice the fennel bulbs horizontaly 1/3" thick. Lay the fennel on a rimmed baking pan (17 1/2" x 13") or large casserole dish. Some slices will not be connected to the stem; that's okay.

Brush tops and bottoms liberally with 3 tablespoons of evoo. Sprinkle tops with salt & freshly cracked pepper. Roast for 15 minutes, turn over the fennel and roast another 10 minutes until lightly golden and softening a bit.

Lower the oven temperature to 350 degrees.

When cool enought to handle, remove the fennel to a cutting board and layer with breadcrumbs: Add 1/3 cups of breadcrumbs on the rimmed baking pan. Place fennel on top in a single layer. Top the fennel evenly with the remaining 1/3 cup of bread crumbs.

Layer by adding marinara sauce over the the breadcrumbed fennel, then top with the chopped tomatoes. Finish by shaving parmesan cheese and add to the tops - does not need to cover completely. Sprinkle with oregano.

Cover with heavy foil and bake 15 - 20 minutes until the fennel is softened and very tender and the cheese is melted. Garnish with sprigs of the fennel fronds and parsley leaves. Serve an enjoy!

Serves 8 as a side dish; 4 as a main course
Notes
Garlicky Breadcrumbs:
 Preheat oven to 350 degrees. Use 2 slices of white bread, or sourdough, remove dark crusts. Place in small food processor and pulse until coarse crumbs, not too fine. Add then to a rimmed baking pan to fit. Finely grate 1 teaspoon of garlic, add to breadcrumbs. Add 2 teaspoons of olive oil and 1/8 teaspoon of sea salt. Mix well with your fingers until all in incorporated. Bake in the oven for 5 minutes; stir up and bake until the breadcrumbs are nice and golden and very crispy about another 5 minutes. Remove from oven and cool. Store any extra in an airtight container.
This recipe may not be reproduced without the consent of its author, Karen Sheer.
Nutrition Facts
Fantastic Fennel Parmesan
Amount per Serving
% Daily Value*
* Percent Daily Values are based on a 2000 calorie diet.
Karen Sheer