Description
A healthier version of Southern Dirty Rice ~ lightened-up!
Brown rice teams with Caramelized Onions, Garlic, Pattypan Squash, Bacon (I've used turkey) and Karen's Best Cajun Seasonings.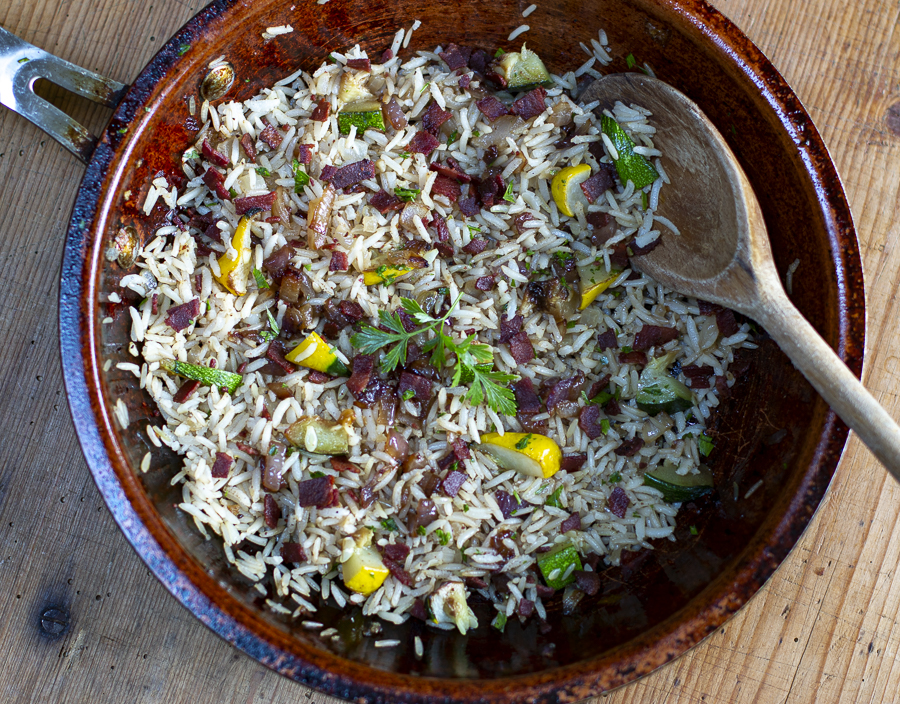 Ingredients
2 cups cooked long grain brown rice 

1

 tablespoon neutral oil*

3

 strips turkey bacon (can use regular bacon)

3/4 

cups

 pattypan squash, cut into 3/4″ pieces

1/2

 

cup

 

sweet onion (I've used half yellow and half red) cut into 1/2″ dice

1

 large clove fresh garlic, peeled and finely chopped

2 big pinches each: salt & pepper 

1/2 teaspoon Karen's Best Cajun Seasoning (see recipe)

2 tablespoons fresh parsley, cleaned, dried and chopped
Method
Cook brown rice, set aside (can be made a day before.)
Add oil to a 10″ skillet set heat to medium-low. Cut bacon into 1/2″ wide strips.
Add to pan, let brown, stirring from time to time until dark and crisp. Do not cook turkey bacon on heat which is too high, it will burn before it crisps through. Remove to a plate – leaving the fat behind.
Add the pattypan squash and cook sautéing until lightly golden and tender, remove to a plate. Add the onions to the pan, cook over medium low heat, stirring until caramelized, about 10 minutes (add 1 teaspoon oil if needed.) Add garlic and salt & pepper. Cook one minute. Add rice and Cajun Seasonings to the pan with the cooked onions and give a big stir.
Add the cooked bacon and pattypan squash to the skillet – stir all ingredients together and warm through over low heat.
Toss in parsley and serve.
* with concerns about gmo's and processing of oils, use a vegetable oil which has not been chemically treated, this is called "expeller pressed."
See BLOG for more photos, information and how to "blacken" fish.
This recipe may not be reproduced without the consent of its author, Karen Sheer