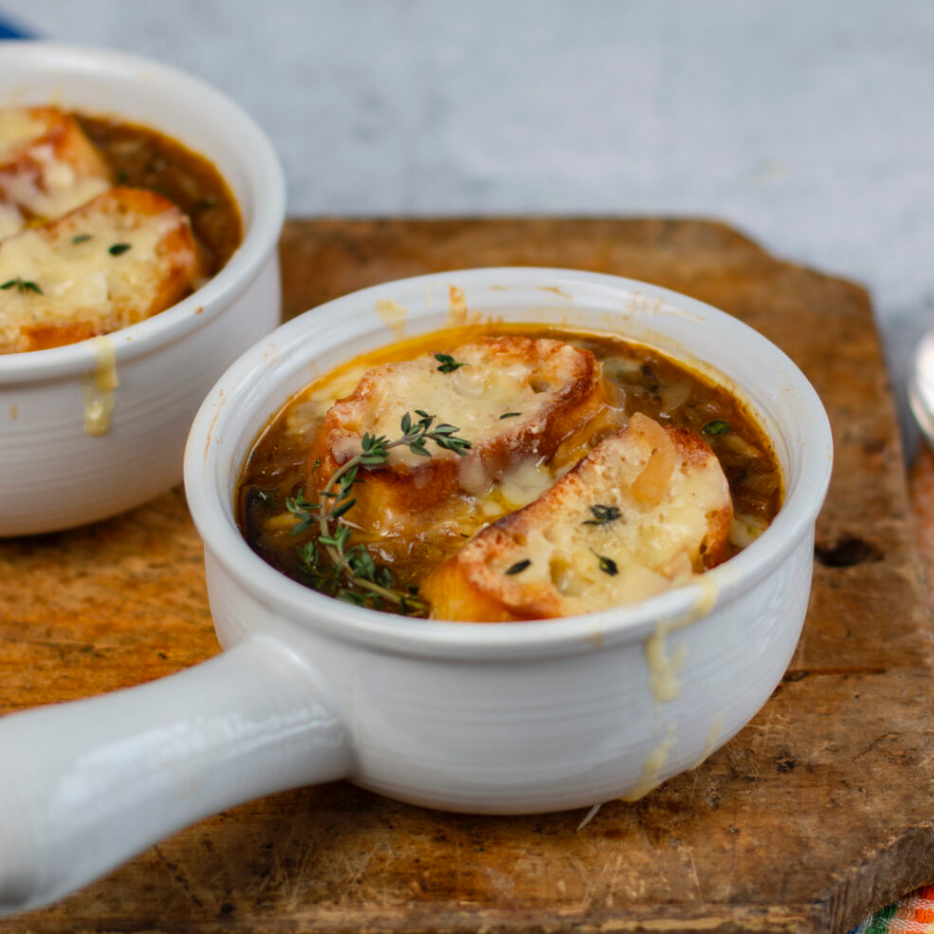 Classic French Onion Soup – Karen's Way
Oh-La-La ~ Warm up with a Classic Crock of Onion Soup with a Secret Ingredient – Shiitake Mushrooms! Using Vegetable & Chicken Broths – no beef broth.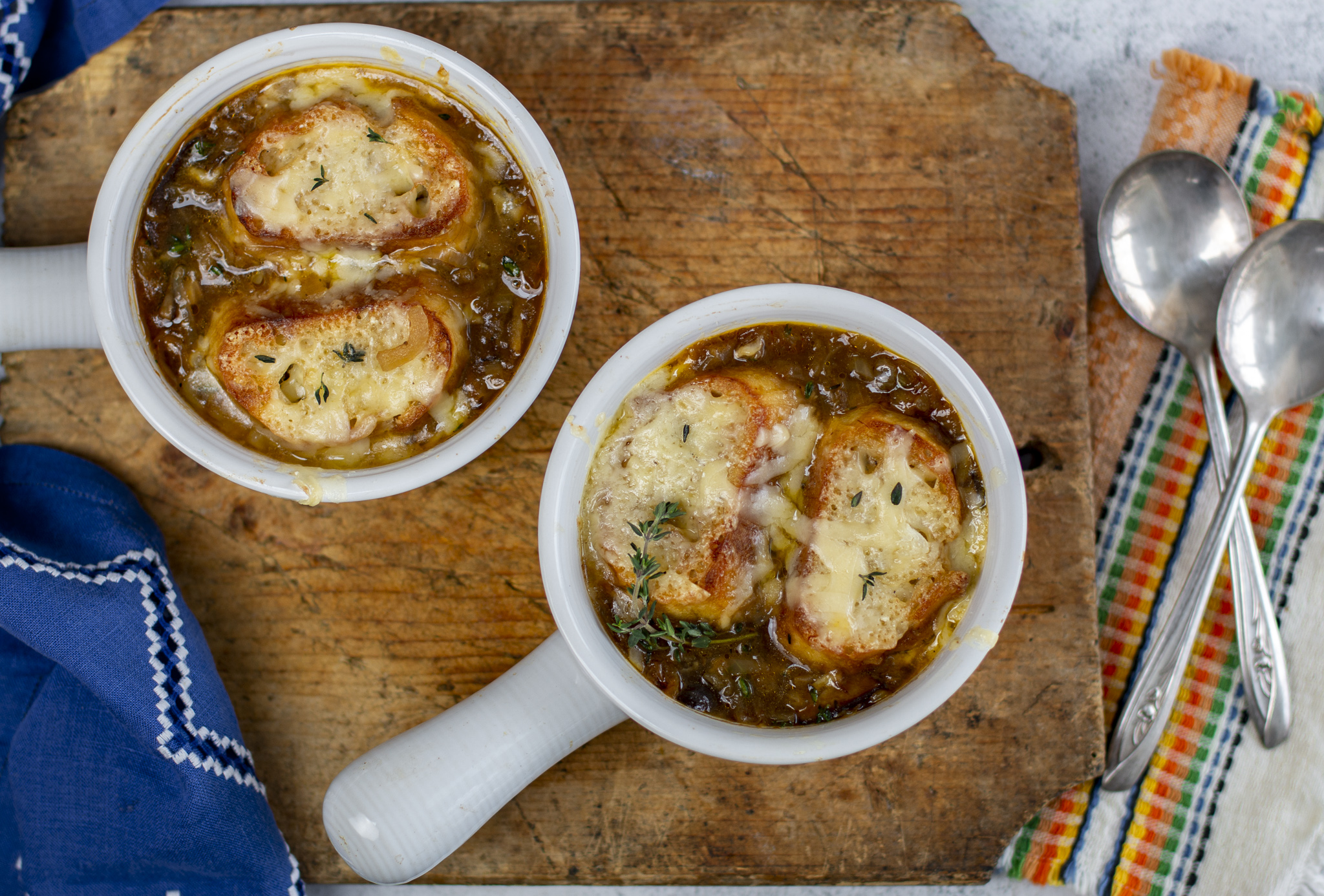 A delicious, hearty broth starts with good vegetable and chicken broths (no beef broth here) – added to perfectly caramelized onions and shiitake mushrooms.
The mushrooms add a nice earthy flavor that complements the soup.. just love that!
Toasted baguette slices – soak up the rich juices served gratinéed with Gruyère cheese.
The recipe is easily adaptable for gluten free and vegetarian diets.
Nothing like pushing a spoon through gooey layers of cheese, bread and hearty stock to a base of caramelized onions!
This soup is so satisfying as the onions, cook for a lengthy time – have all the natural sugar your soup will need once they are properly cooked down and caramelized (they taste incredibly sweet!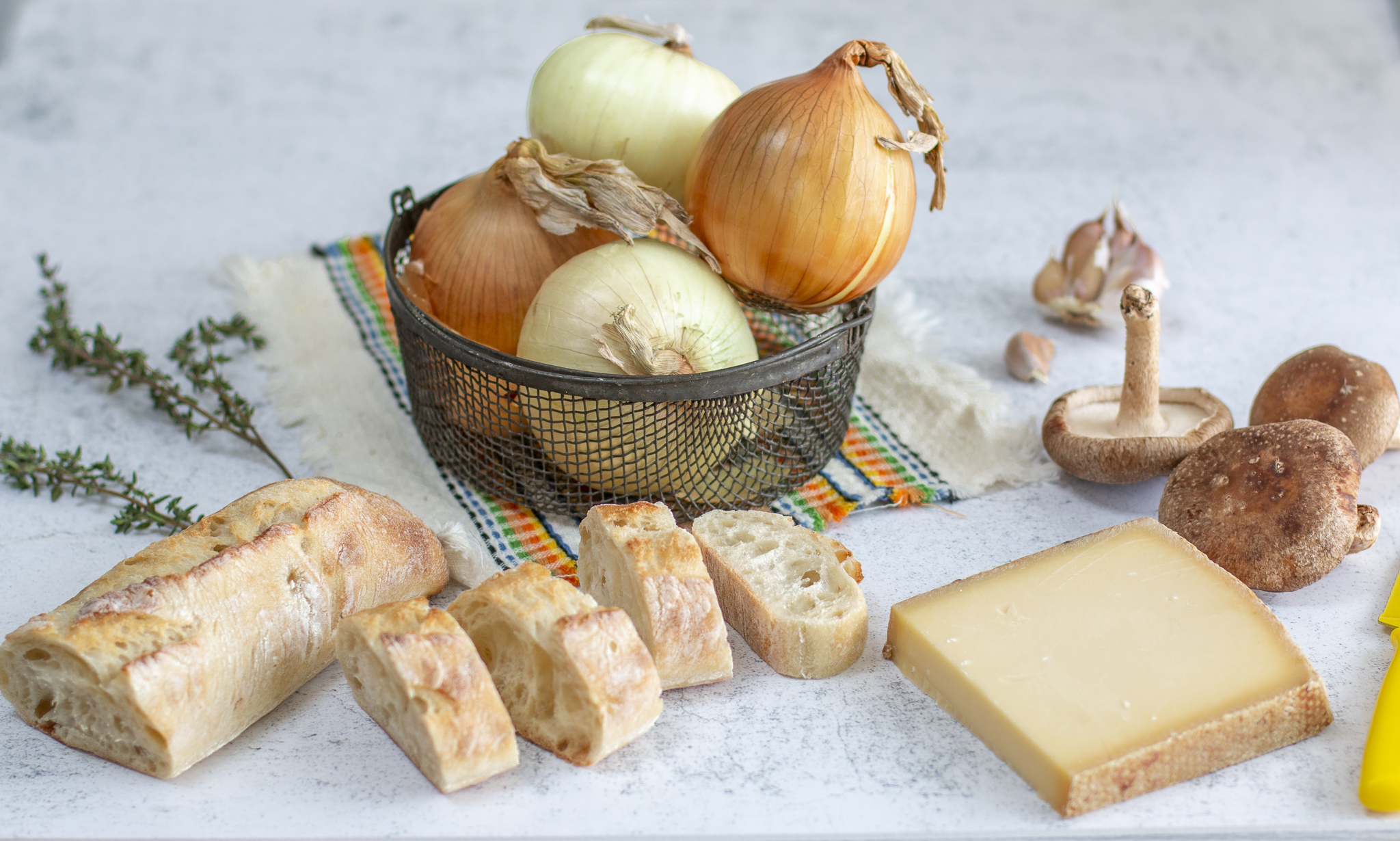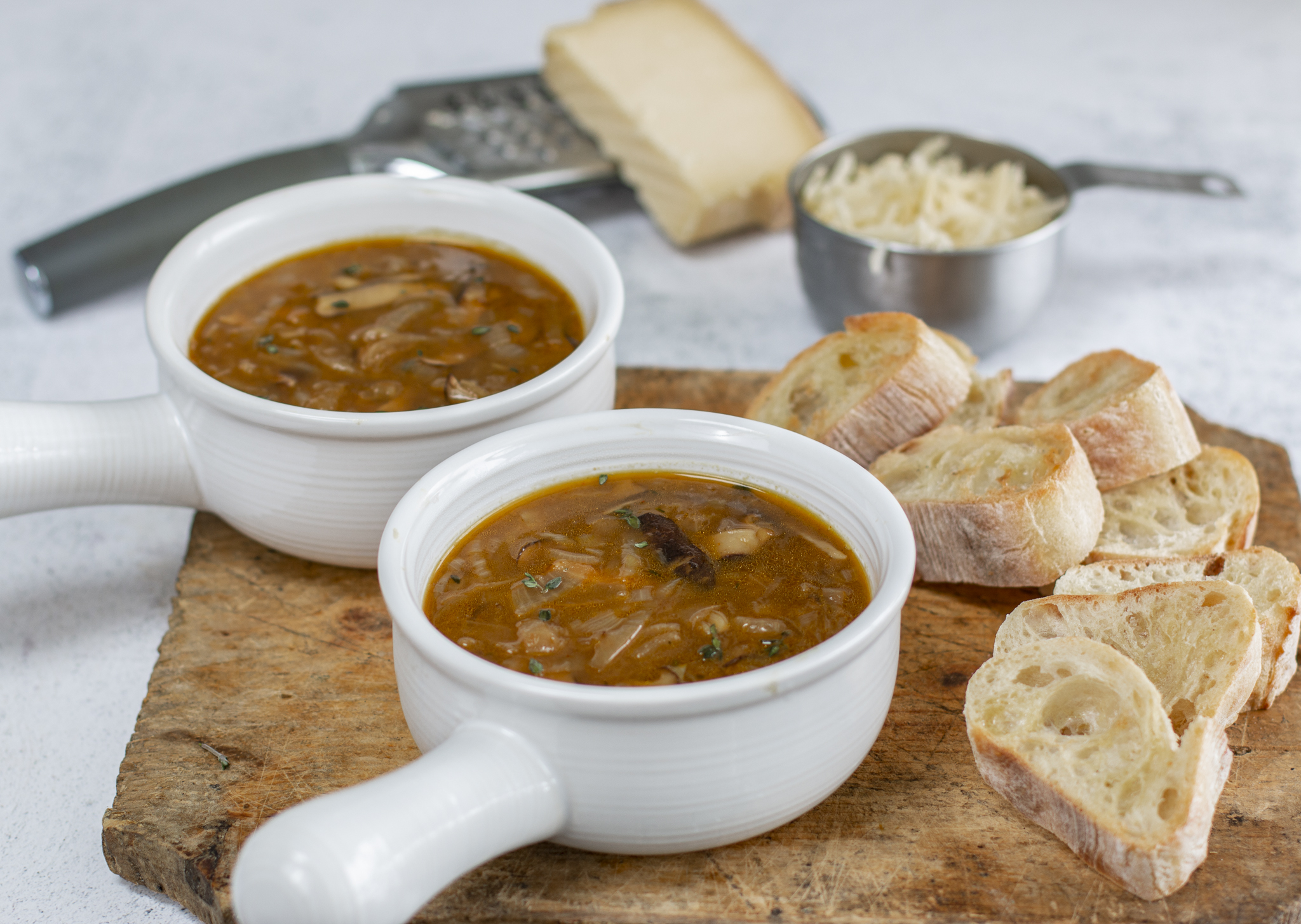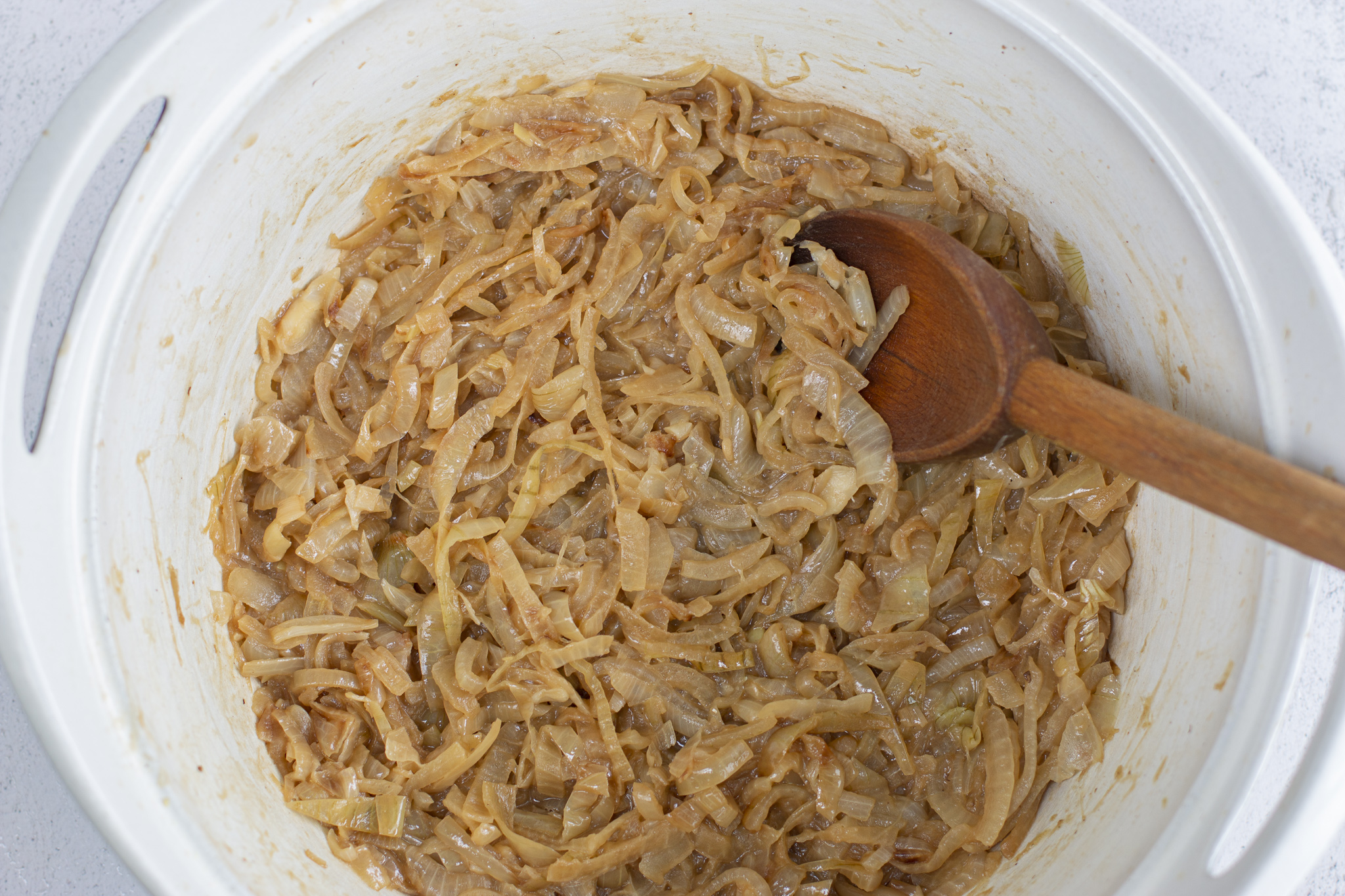 Onion soup gained much popularity in the United States around the 1960's. It was the trend du jour!
Why I love Swiss Gruyère cheese!
Swiss-made Gruyères must be brined or salted, smeared with cultures that develop their unique flavors, and aged for at least five months, allowing ample time for the cultures to break down and develop more-complex flavors and for moisture to evaporate and concentrate flavorful fat and salt.
The flavor: nutty, sweet, tangy, and slightly funky notes – that's a fine Gruyère!
Made of raw milk from cows grazing on the flower-speckled hills of western Switzerland.
And – is the consummate melting cheese.
French onion soup can be, in fact, a highly nutritious choice. Onions, as part of the Allium family, and contain Quercetin which is a powerful anti-inflammatory. To lighten-up the soup… if you must – add thinner pieces of bread and a less generous hand of cheese.
French Onion Soup can be a meal in itself – perfect served with a simple leafy-green composed salad.
A little French Onion Soup History & Interesting Facts:
Even though it originated as a humble peasant dish, French onion soup is nowadays regarded as one of the most prized dishes of French cuisine.
As you know it's a fixture on French Menus – and always in demand.
It was primarily known as a simple and hearty traditional dish.
The broth is simple, made merely with caramelized onions and stock – typically beef stock, but many modern cooks like me have used vegetable and chicken stock – or all vegetables stock for a vegetarian version.
However, the soup is distinguished by croûtes–pieces of crispy baked bread that are placed on top of the soup and are then generously covered with cheese, then melted.
Onion soups have been popular at least as far back as Roman times and has changed through history, establishing its final form in the 17th century.
A more modern version of this soup originates in Paris, France in the 18th century, made from beef broth, and caramelized onions. It was introduced to the United States by the New York restaurant of Henri Mouquin in 1861, where his wife Marie Julie Grandjean Mouquin was the chef.
Not until the late 19th century did the recipe include a rich broth or molten cheese – we now associate with French onion soup.
That style first gained popularity during the late 19th century in the brasseries and at soup stalls catering to the hungry workmen and hungover artists who rubbed shoulders before first light outside the markets.
In the 1960s, when French cuisine started to grow in popularity around the world, onion soup became one of its most famous representatives.
Onions were among the most common and easiest vegetables to cultivate, and from ancient times to today, many have assigned powers to onions and onion soup well beyond their remarkable nutritional value.
Enjoy this glorious soupe à l'oignon – well worth your time.
Bon Appétit!
Karen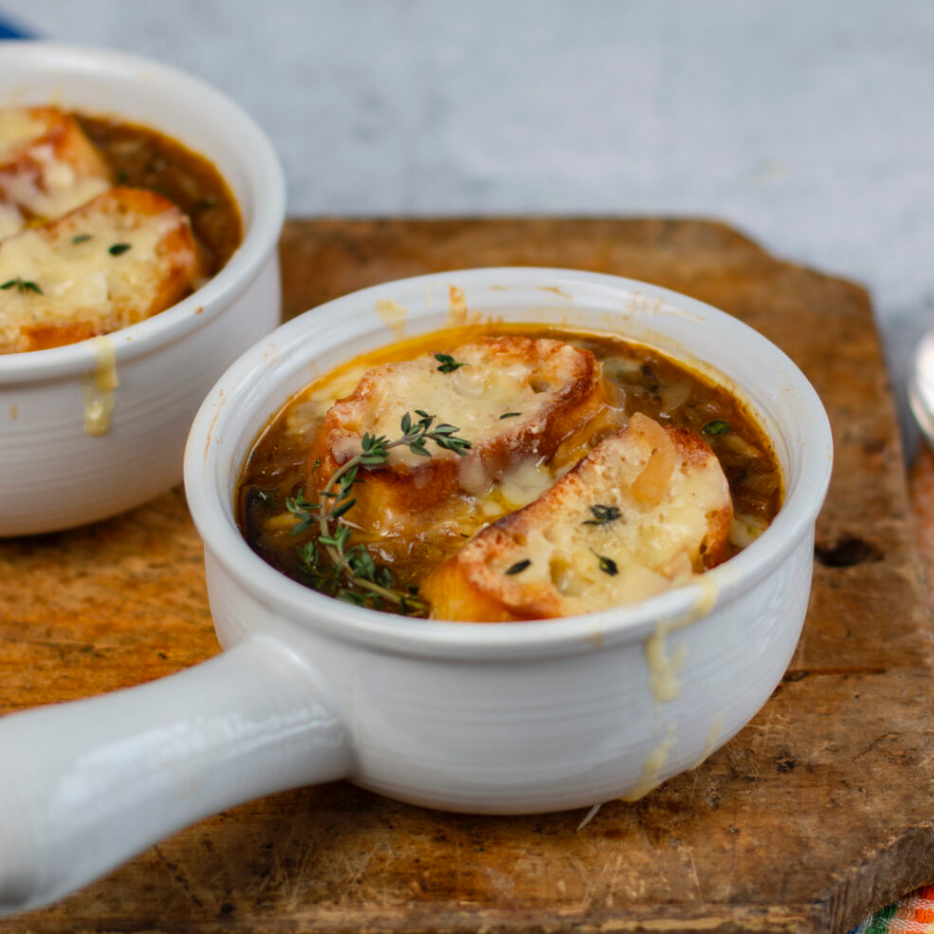 Classic French Onion Soup – Karen's Way
Oh-La-La ~ Warm up with a Classic Crock of Onion Soup with a Secret Ingredient – Shiitake Mushrooms. Using Vegetable & Chicken Broths - no beef broth. Nothing like pushing a spoon through gooey layers of cheese, bread and hearty stock to a base of caramelized onions!
Print Recipe
Pin Recipe
Rate this Recipe
Ingredients
5

tablespoons

unsalted butter

divided; I use organic

6

medium caps

shiitake mushrooms

cleaned and thinly sliced, about ¾ cup

4

large

onions

peeled and sliced thinly, I use half yellow and half sweet Maui - About 8 cups sliced

1

tablespoon

flour

use gluten free flour if preferred

1/2

cup

white wine

a good dry one

2

tablespoons

port wine

3

branches

fresh thyme

1/4

teaspoon

freshly cracked black pepper

3

cups

vegetable broth*

preferably homemade

2

cups

chicken broth

homemade is preferred; use all vegetable broth for vegetarian version

8

small slices

baguette

¾" wide, or 4 wider slices

1

medium

garlic clove

peeled, cut in half

1

cup

Gruyere cheese

coarsely grated, about 4 ounces
Instructions
Heat 1 tablespoons butter in a heavy soup pot (I use enamel coated cast iron) over medium heat. Add all of the shiitake mushrooms and quickly stir to coat them. Let the mushrooms brown, and stir once in a while until they are golden around the edges – about 5 minutes. Remove to a plate, set aside.

Add 4 tablespoons butter to the pot set pot to low heat. When hot and foamy add all the sliced onions and stir well. After 10 minutes until the onions will have started to wilt and become transparent. Continue to cook over low heat, stirring from time to time until the onions have caramelized and are a golden-brown color – for 45 minutes. Do not rush this process!

Add the cooked shiitake mushrooms to the pot and cook to combine over medium heat.Add the flour and stir to coat the onions and mushrooms. Add the wine – bring to a simmer and stir well as the mixture thickens.

Add the port, stir in.

Add 3 thyme branches and the pepper, stir in. Add the vegetable broth and chicken broth – raise heat and bring to a boil.

Stir well and reduce heat to a slow simmer. Cover and cook the soup for 30 minutes.

While the soup cooks – toast the baguettes. Heat oven to 350 degrees. Place baguette slice on a baking tray to fit. Option: brush with a little melted butter to coat. Cook for 5 minutes until slightly golden but not dry. I used 2 small baguette slices for each soup, or you can use 4 wider slices.

Remove from oven and rub the tops with the sliced garlic to flavor them, set aside.
Assemble the Soup:
Remove the thyme branches from the soup. Preheat the broiler (alternately you can heat in the oven at 400 degrees until bubbly.) Place 4 soup crocks on a rimmed baking pan to hold. Ladle the soup into the crocks, each about a 15-16 ounce capacity. Add 2 baguette slices and tuck them in to soak up the broth.

Add the gruyère cheese evenly over the bread. Can let it drip over the sides of the bowls. Broil 6 inches from the heat source until bubbly and just starting to brown.

Carefully remove from the oven. Top each with a few fresh thyme leaves and serve.

Be mindful that the crock handles are hot! Can place a folded napkin under the bowls if serving on a plate.
Notes
*Better Than Bouillon Seasoned Vegetable base is good, use Organic only.
This soup is easily adaptable Gluten Free:
Use an all purpose gluten free flour blend and gluten free baguette (or pieces of gluten free toast scattered on top.)
Vegetarian adaptable: Use all hearty vegetable broth.
This recipe may not be reproduced without the consent of its author, Karen Sheer.
Nutrition Facts
Classic French Onion Soup – Karen's Way
Amount per Serving
% Daily Value*
* Percent Daily Values are based on a 2000 calorie diet.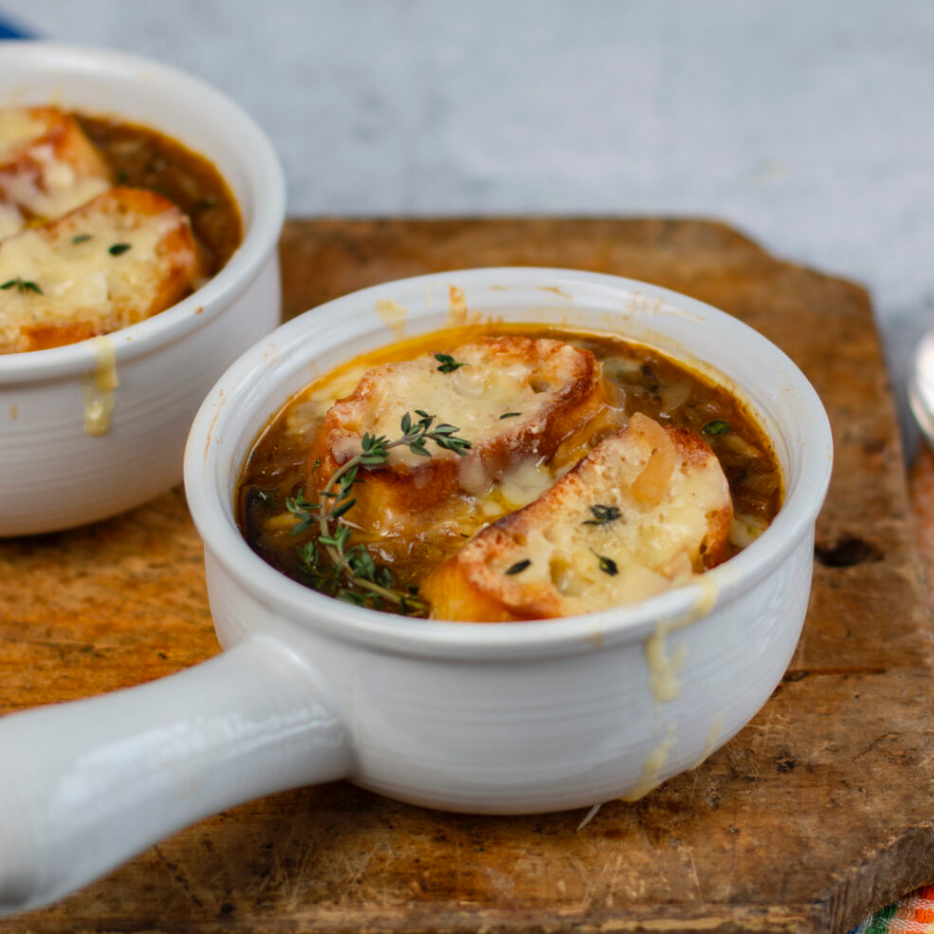 Karen Sheer