Cheddar and Herb "Pennies" ~ Savory Shortbread Crackers (yes, gluten free option too!)
Simple to make – roll mixture into a log – chill, slice & bake! Top with garden herbs for an elegant touch.
A revised recipe from the 1950's – these popular Cheesy Shortbread "Pennies" are the perfect little crackers with big flavor.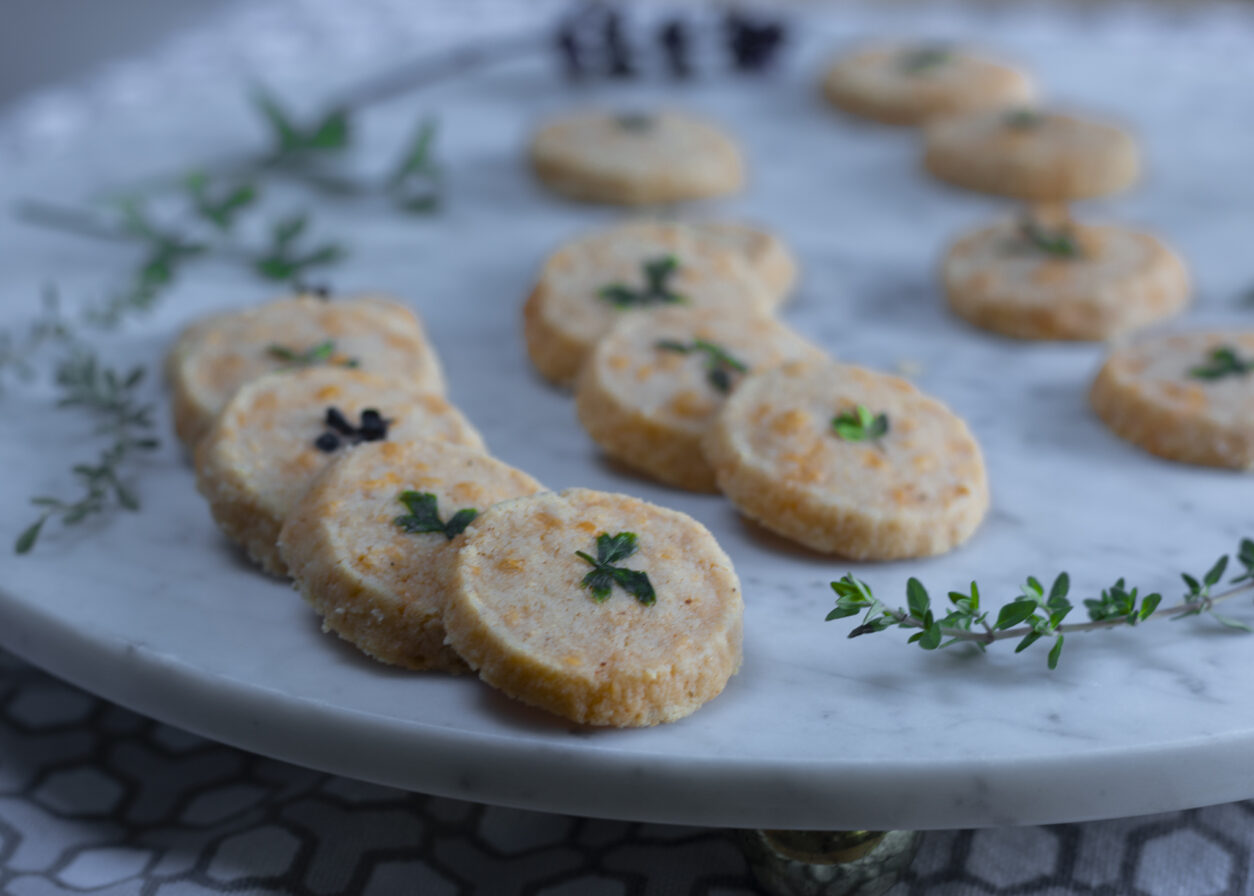 Fabulous for snacking and company! Crispy and full of flavor.
Aren't they beautiful? Ready to go in the oven with assorted herbs on top that bake into the "Pennies."
Use herbs that are growing in your garden, or varieties you like. I chose Chives, Rosemary, Thyme, Parsley and Basil Buds.
To make the best "pennies" use a great cheddar! I've used Black Creek 2 Year Aged Cheddar (bought at Whole Foods.)
Ingredients
1 stick unsalted butter, softened (I used organic)
¾ cup extra sharp cheddar cheese, grated 
1 cup flour – yes you can use a all purpose gluten free flour* (see below)
½ teaspoon sea salt
¼ teaspoon chili powder (can use smoked paprika)
1 pinch pepper (fresh cracked to taste)
2 tablespoons assorted fresh herbs such as chives, thyme, basil buds and rosemary 
Instructions
1
Cream the butter in a stand mixer (or by hand in a bowl) until light.
2
Add the remaining ingredients, and mix on low speed until the dough comes together, about 1 minute. Gather the dough on a 18″ wide* sheet of wax paper.
3
Roll into a tight 1  1/2 inch wide log. Wrap it up in the paper and refrigerate on a cookie sheet until very hard, about 1 hour or overnight.
4
Line a cookie sheet with parchment paper.
HINT: for very round pennies, re-roll the log so it is super round. When the log softens a bit; it will be able to roll nicely.
5
Cut the logs into 1/3  inch "pennies."
Place the pennies on the prepared pan, no need to grease.
Add a pinch of assorted herbs to the center of each (see photo.)
Place the sheet in the refrigerator for at least 45 minutes, until very chilled – this insures the pennies will not spread.
6
Preheat your oven to 350 degrees.
Bake on the parchment paper for 15 – 18 minutes until golden.
Store in an airtight container and enjoy.
*Using Gluten Free Flour: I have used King Arthur Flour's Measure to Measure Flour which contains some xanthan gum.
They taste delicious! Special "easy" handling required as lacking gluten. Follow recipe.
Make ahead of time?
Sure! The logs can be made and stored in the refrigerator for a few days, or frozen for about one month.
When you're craving them – slice, top and bake.
See BLOG for many more photos and a information about these "pennies."
This recipe may not be reproduced without the consent of its author, Karen Sheer.
Karen Sheer