Blackened Halibut with Cajun Seasonings and Caper Remoulade
Homemade Cajun Seasonings encrust Fresh Halibut finished with a Quick Caper Remoulade Sauce. Try with my Dirty Rice recipe too.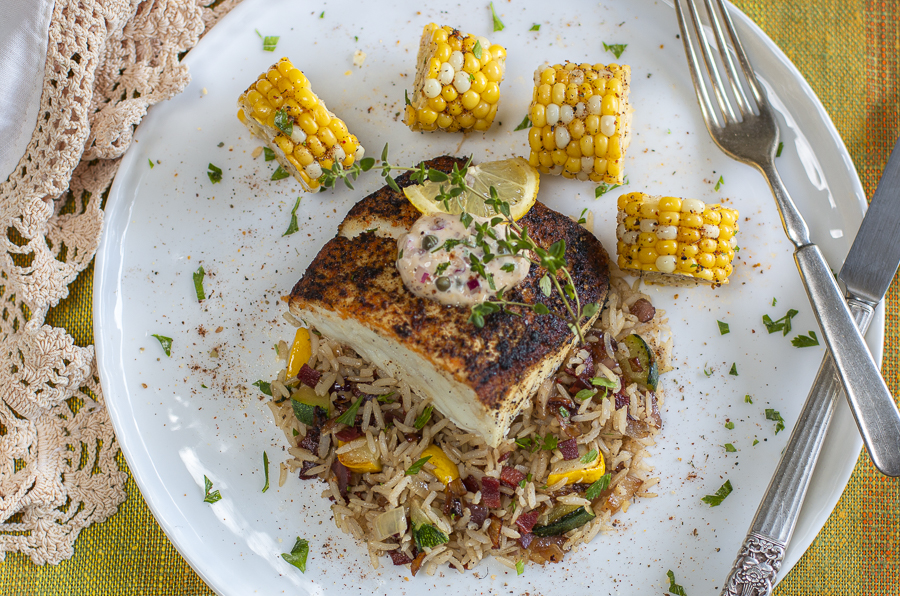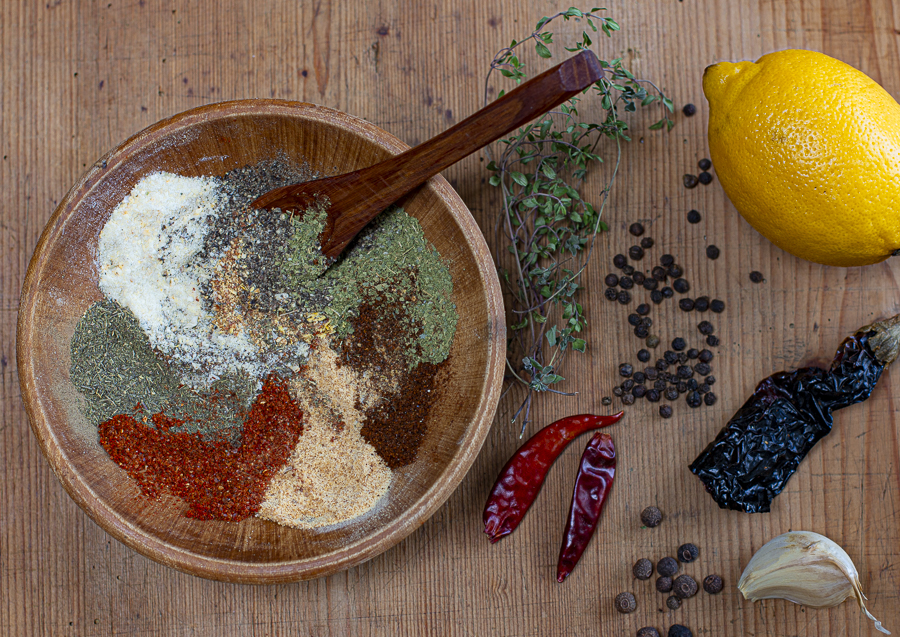 Ingredients
2 pounds fresh halibut, about 1″ thick
1 tablespoon unsalted butter (I used organic)
2 teaspoons Karen's Best Cajun Seasonings (see recipe)
2 teaspoons neutral oil* 
2 pinches sea salt (I used Himalayan) 
Quick Caper Remoulade Sauce
½ cup best quality mayonnaise (no "natural flavoring")
2 teaspoons capers, whole or chopped 
1  ½ teaspoons grainy mustard
1 teaspoon red onion, finely chopped  
½ teaspoon garlic, minced
1 teaspoon hot sauce
¼ teaspoon lemon rind, finely grated
1 teaspoon fresh lemon juice
¼ teaspoon Karen's Best Cajun Seasonings, or to taste
2 teaspoons fresh herbs, minced; such as parsley, dill or chives
Instructions
1
Make Quick Caper Remoulade Sauce and refrigerate until cold.
2
Blackened Halibut with Cajun Seasonings:Preheat the oven to 350 degrees. Clean and dry the fish. Cut into 4 pieces.
Brush tops of Halibut with the melted butter. Coat evenly with the Cajun Seasonings.
3
Heat a cast iron skillet with 2 teaspoons of neutral oil.
Raise heat to medium-high. When hot, carefully add fish to the pan; seasoned side down, skin side up. Cook until very darkly golden on the bottom (checking by lifting an edge of fish.) – 4 to 5 minutes. Turn over with a metal spatula, turn heat down to medium-low.
Cook for 3 minutes, until the skin has crisped a bit. Add the fish to a rimmed baking pan –
turning over so seasoned side is facing up.
4
Place in the oven until cooked through. This will depend greatly on the thickness of the fish. Will be done in 5 to 8 minutes. Do not overcook – fish will continue to cook slightly when taken out of the oven.
5
To Serve: Place on individual plates. Add some lemon slices and top with a dollop of cool Caper Remoulade Sauce. Garnish with a big fresh herb sprig – I've used fresh thyme.  Side Dish Ideas: Dirty Rice Cajun Style (see my recipe), Fresh Corn seasoned with melted butter and Karen's Best Cajun Seasonings. (See photos in BLOG.)
6
Quick Caper Remoulade Sauce: Combine all ingredients and place in a clean glass container and refrigerate for up to 2 weeks.
* with concerns about gmo's and processing of oils, use a vegetable oil which has not been chemically treated, this is called "expeller pressed."
See BLOG for more photos and information.
This recipe may not be reproduced without the consent of its author, Karen Sheer.
Karen Sheer