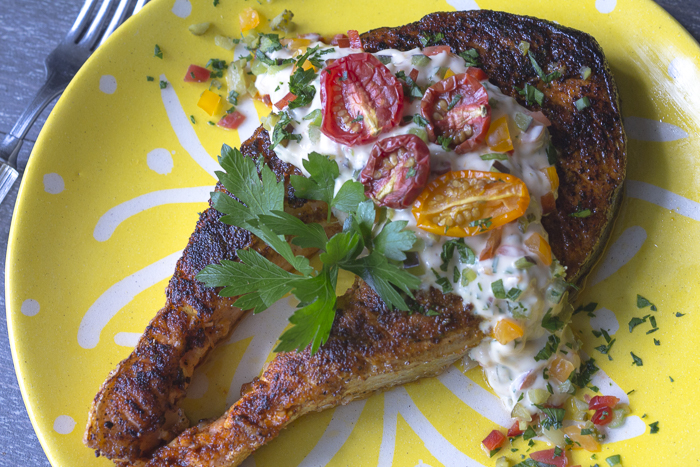 Modern Creole Tartar Sauce with Roasted Tomatoes over Grilled Salmon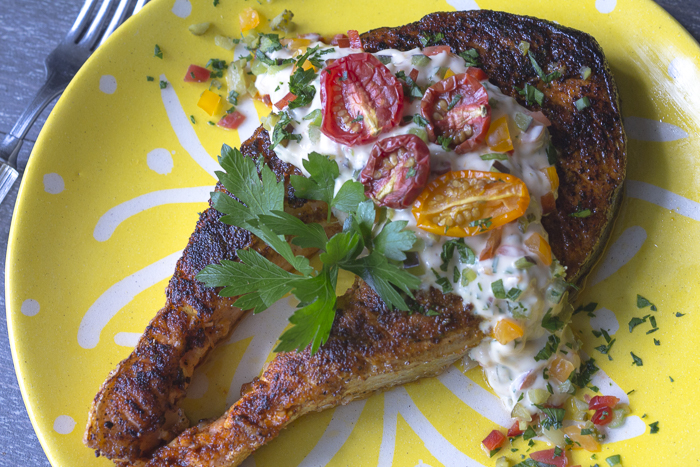 A delicious Modern Creole Tartar Sauce loaded with veggies and flavor!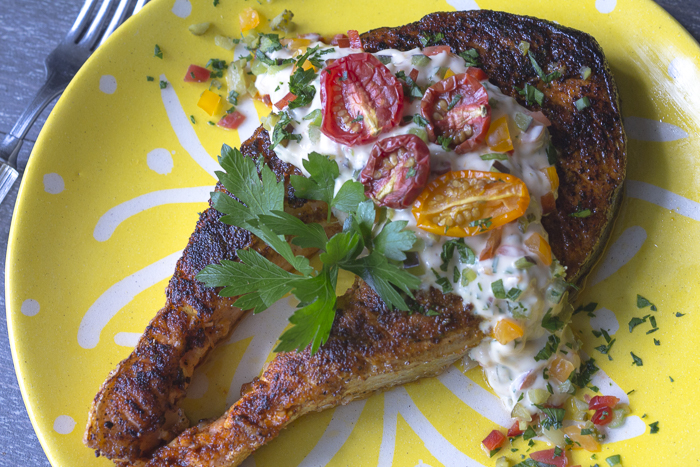 Ingredients
¾ cup mayonnaise, good quality or homemade
¾ teaspoon hot sauce
1 teaspoon whole grain mustard
1 tablespoon cornichons, chopped (small pickled gerkins)
¾ teaspoon fresh garlic, peeled and finely grated 
1 tablespoon scallions, chopped
1 tablespoon oven dried cherry tomatoes*, chopped
1 tablespoon fresh cherry tomatoes, chopped
2 teaspoons fresh parsley leaves, cleaned, chopped
Instructions
1
Method:
Combine all ingredients well to blend the flavors. Taste for heat, add more hot sauce if you like spicy. Add minced fresh hot peppers if you want a powerful kick.
Store in an airtight glass container.
Serve when cold, refrigerated at least 1 hour.
Keeps up to a week.
Great over Salmon Steaks** (recipe below) and crab cakes too!
2
* To Oven Dry Cherry Tomatoes:
Preheat the oven to 250 degrees. Line a small rimmed baking tray with parchment paper.
Brush parchment with extra virgin olive oil. Cut the cherry tomatoes from one pint in half and place them cut side up on the pan. Sprinkle with a few pinches of sea salt.
3
Slow-roast in the oven for about 1 hour until shriveled – this will sweeten and condense their flavors.
Store in an airtight container, will keep one week.
Use 1 tablespoon for this recipe, enjoy using the rest – toss with pasta, salad, top pizza or grilled cheese.
4
**Grilled Salmon Steaks:
Wash and dry 8 ounce, 1″ slices of salmon steaks. Heat a cast iron skillet until very hot over high heat.
Coat both side of the salmon in you favorite salt-free cajun spice. Add the salmon to the skillet and leave to blacken.
When darkened, turn over and reduce the heat to medium-low.
Cover and cook on the second side until the fish has just flaked, and is cooked through. Do not over cook.
Sprinkle with sea salt.
5
Serve the salmon with a generous dollop of Modern Cajun Tartar Sauce with lemon and lime wedges on the side.
This recipe may not be reproduced without the consent of it's author, Karen Sheer
Karen Sheer