Garlic-Garlic Vinaigrette (with my "Garlic Crisp" Recipe for Salads)
I'm Crazy About Garlic! This Amazing Zesty Vinaigrette uses Garlic Three Ways.
Minced Garlic ~ Softened Garlic ~ Garlic Oil. Tangy, Garlicky – Liquid GOLD! Drizzle Over Salads and more.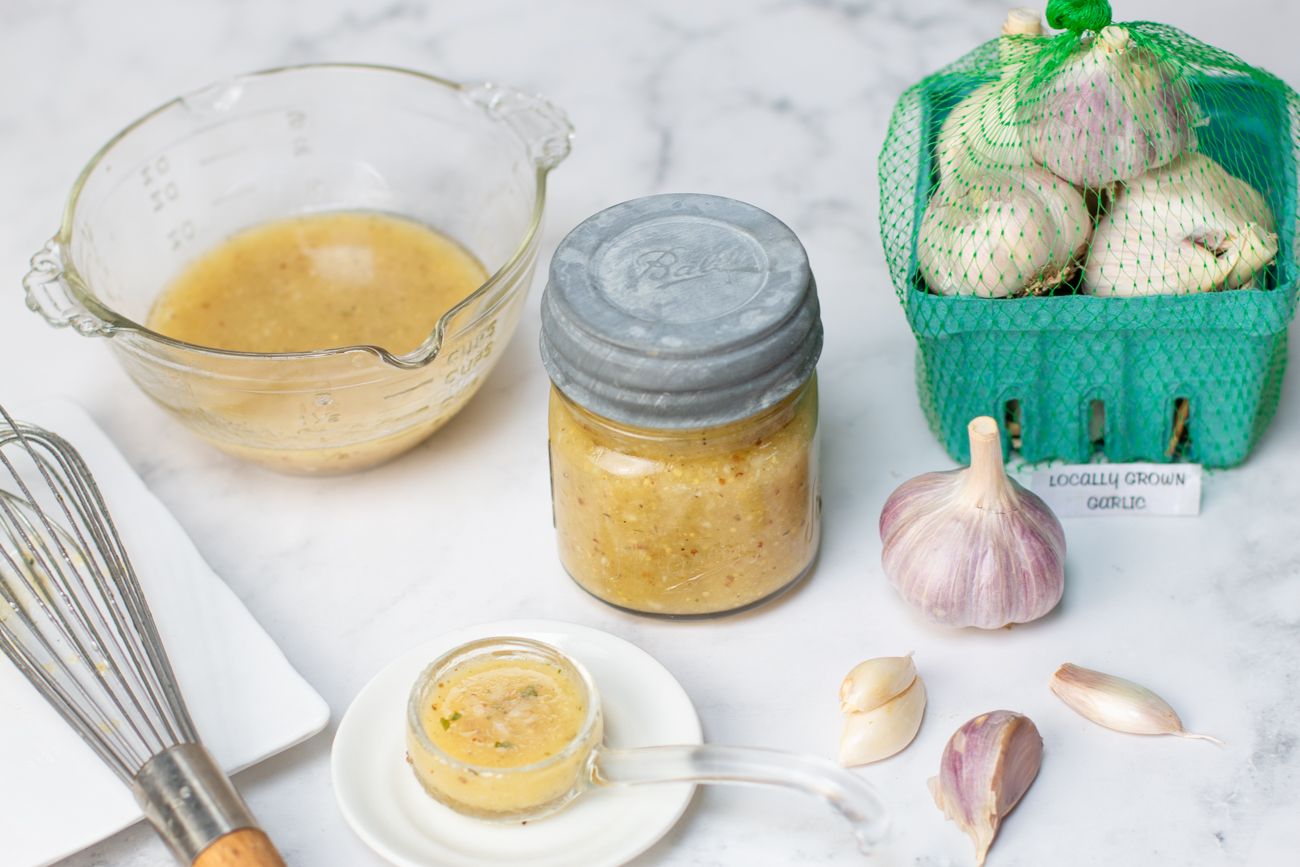 My Garlic-Garlic Vinaigrette uses GARLIC THREE WAYS:
Raw Garlic; finely chopped
Quick Garlic Confit; softened peeled cloves gently cooked in olive oil (a milder flavor with a creamy texture.)
Olive oil used in the confit – is used in the Vinaigrette for extra mellow garlic flavor! 
Whisks together in minutes: 
Apple Cider Vinegar (organic), Local Honey, Garlicky Olive Oil (from the Confit), Neutral Oil, Fresh Garlic, Softened Garlic, Grainy Mustard, Salt & Pepper, Italian Seasonings & Dried Parsley.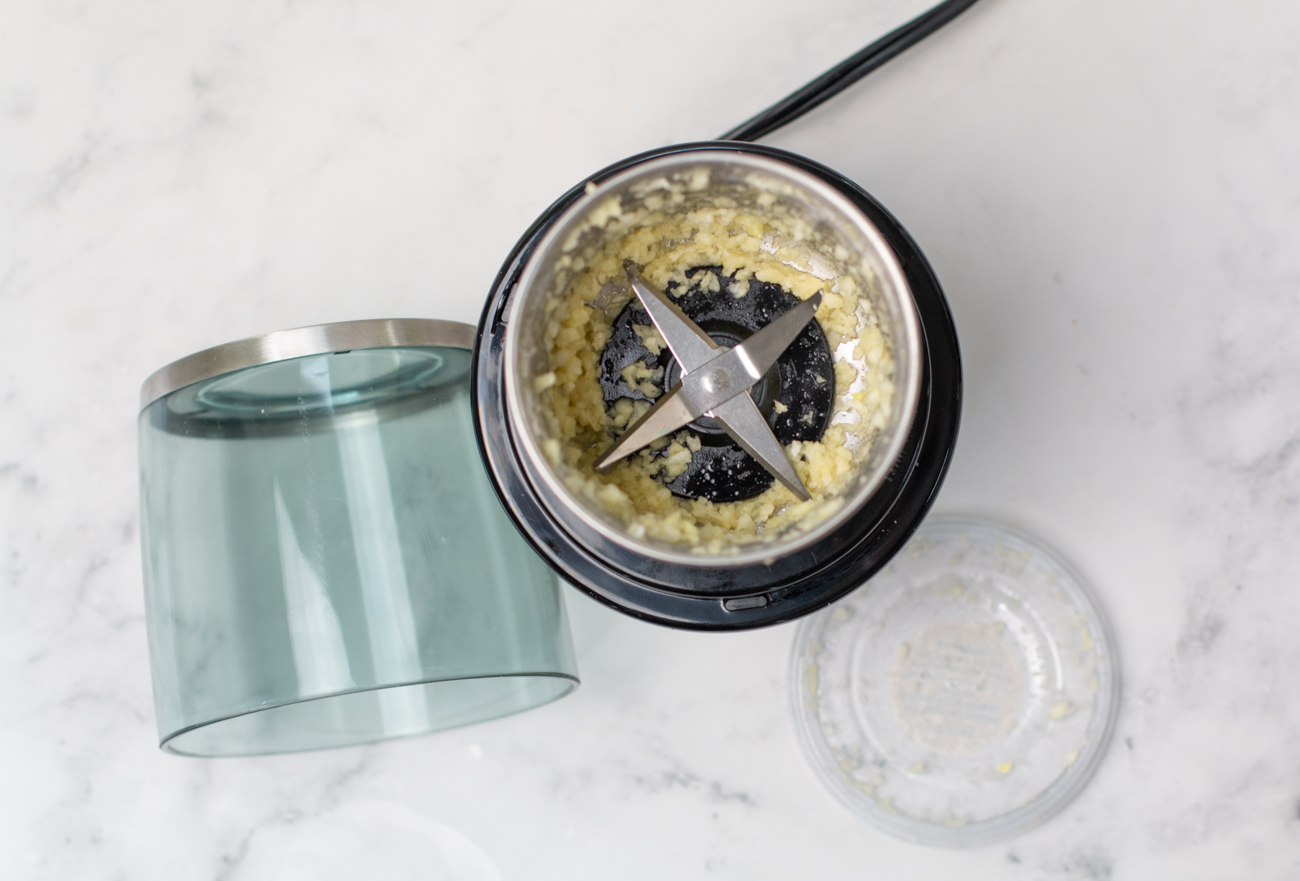 Garlic is rich in alliin. When garlic cloves are chopped or crushed, an enzyme called alliinase is activated, which can convert alliin into allicin: with strong antibacterial and anti-inflammatory effects.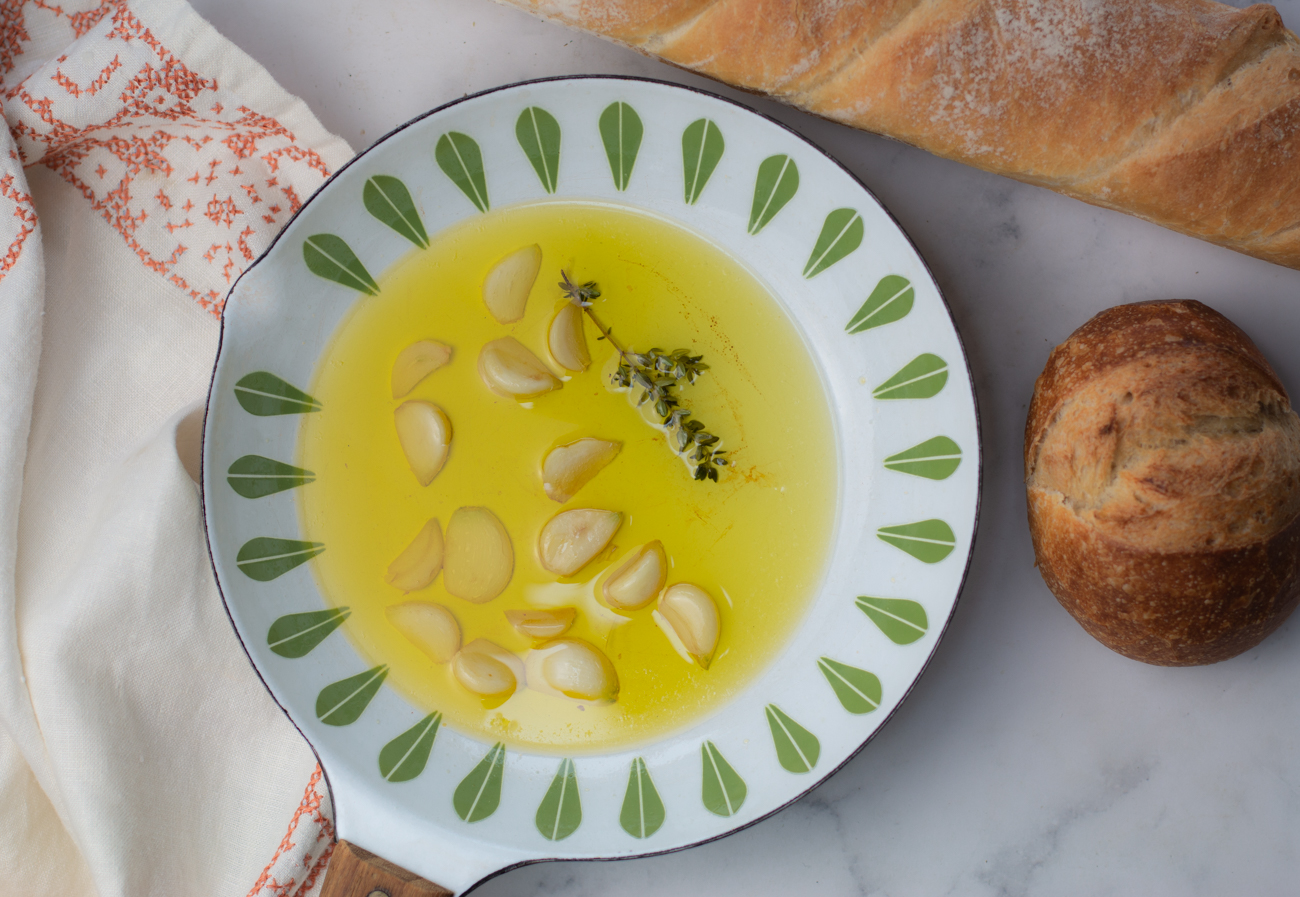 Raw garlic has a pungent, spicy taste – cooked garlic takes on a sweeter, mellow and nuttier flavor – with a creamy texture.
Other uses for the Garlic-Garlic Vinaigrette ~ Not just for Salads:
Pour over grilled proteins while warm: think grilled chicken, shrimp and tofu
Wonderful over vegetables ~ especially grilled
Adds jazz & zest to a potato salad
Whisk in to mayonnaise for a spreadable condiment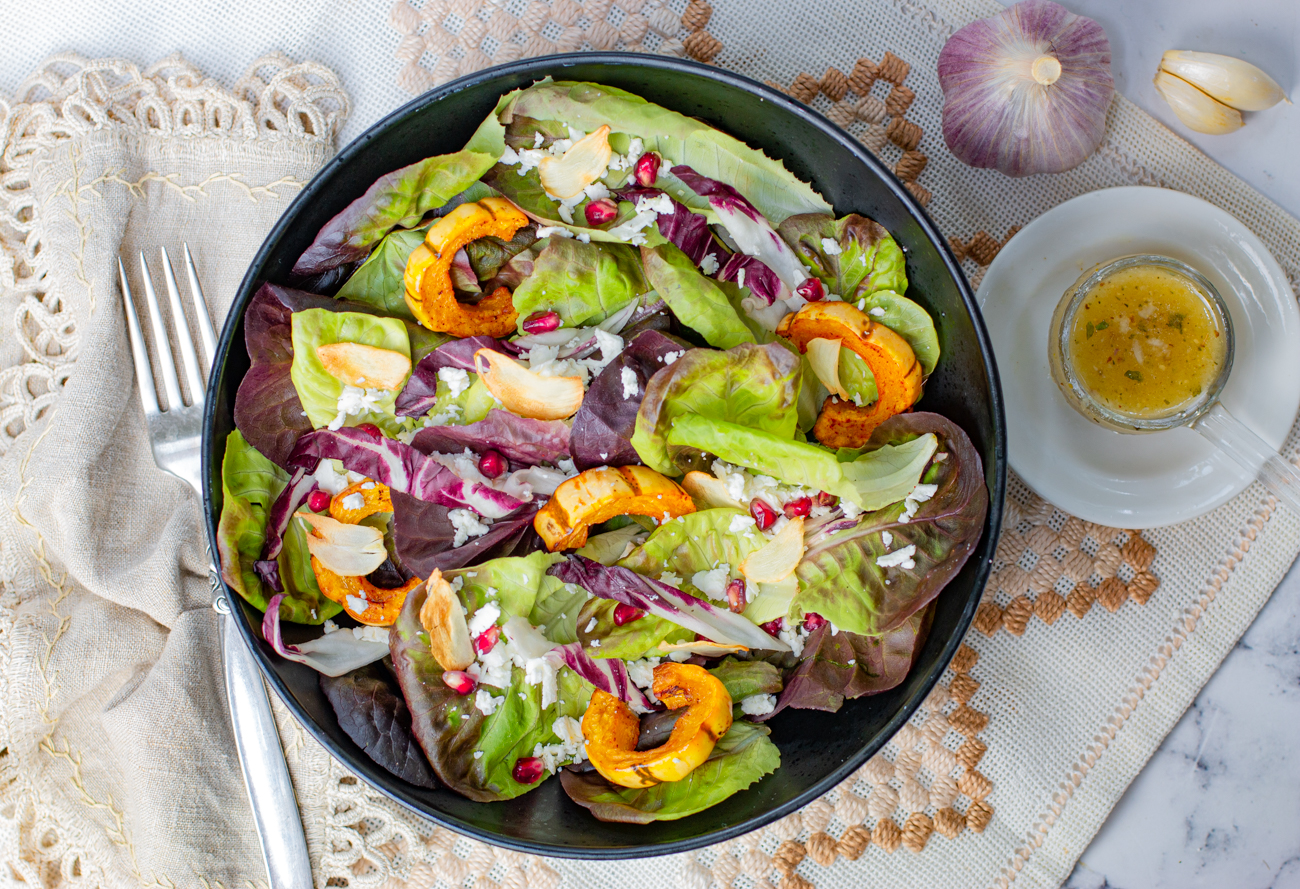 I'm using lettuce leaves (Earthbound Farm Organic Baby Red Butter), radicchio, roasted delicata squash, pomegranate seeds, grated feta and my Garlic Crisps.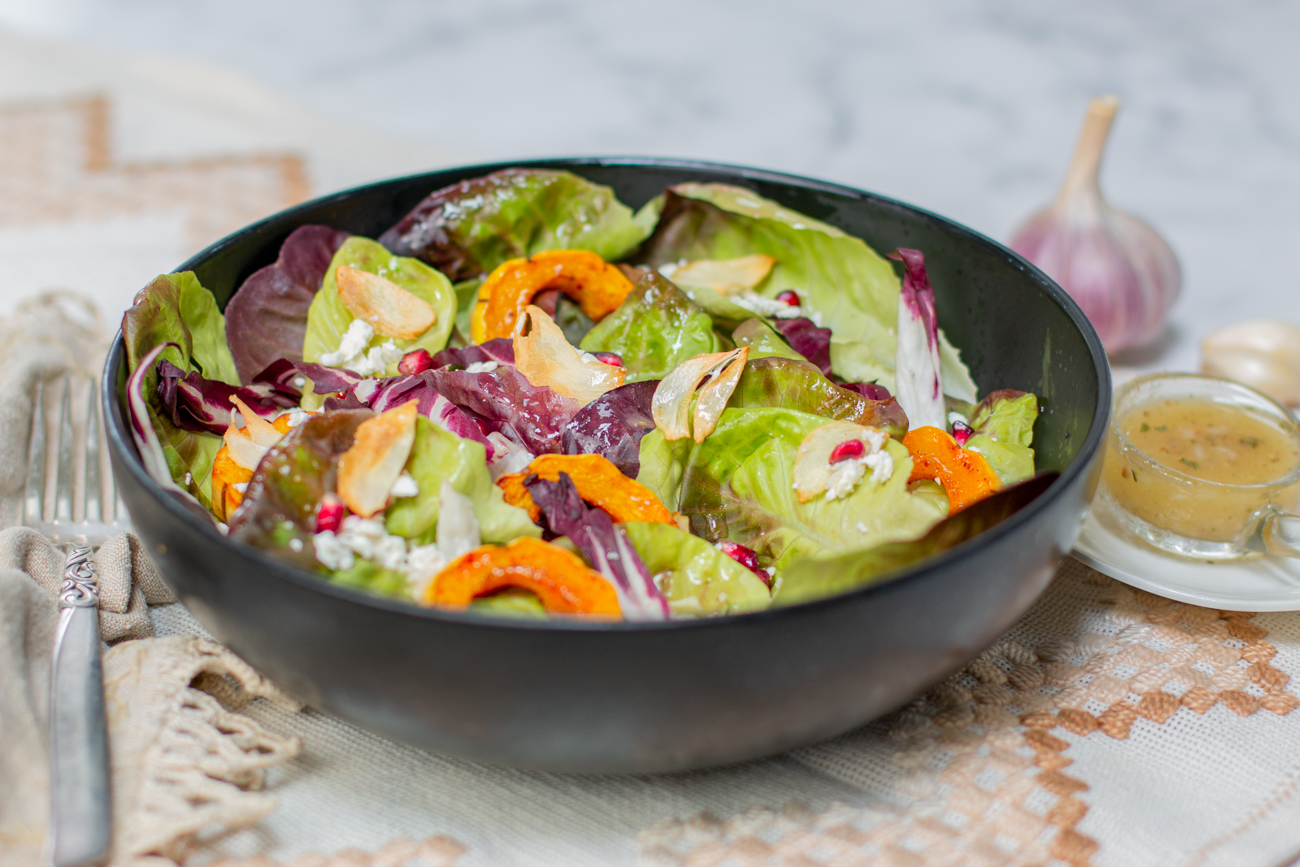 Garlic Crisps!
Another layer of yum for garlicky fans! I'm garnishing this Fall Salad with them.
Slice garlic evenly and thinly… this gadget makes the chore a breeze!
Place on a sheet pan line with parchment paper, brush with olive oil
Bake for 8 – 12 minutes (depending on their thickness.)
I have found 300 degrees using "convection bake" perfectly crisps the garlic.
Do not let them brown – just a little golden color, them remove them from the oven. They will crisp more as they cool.
Sure, you can patiently cut garlic into thin slices… but this gadget does wonders!
Leifheit Comfortline Gourmet Garlic Slicer is a game changer for simply slicing garlic razor thin evenly in seconds!
With a three year warranty, it also thinly slices hard cheeses and chocolate into shavings.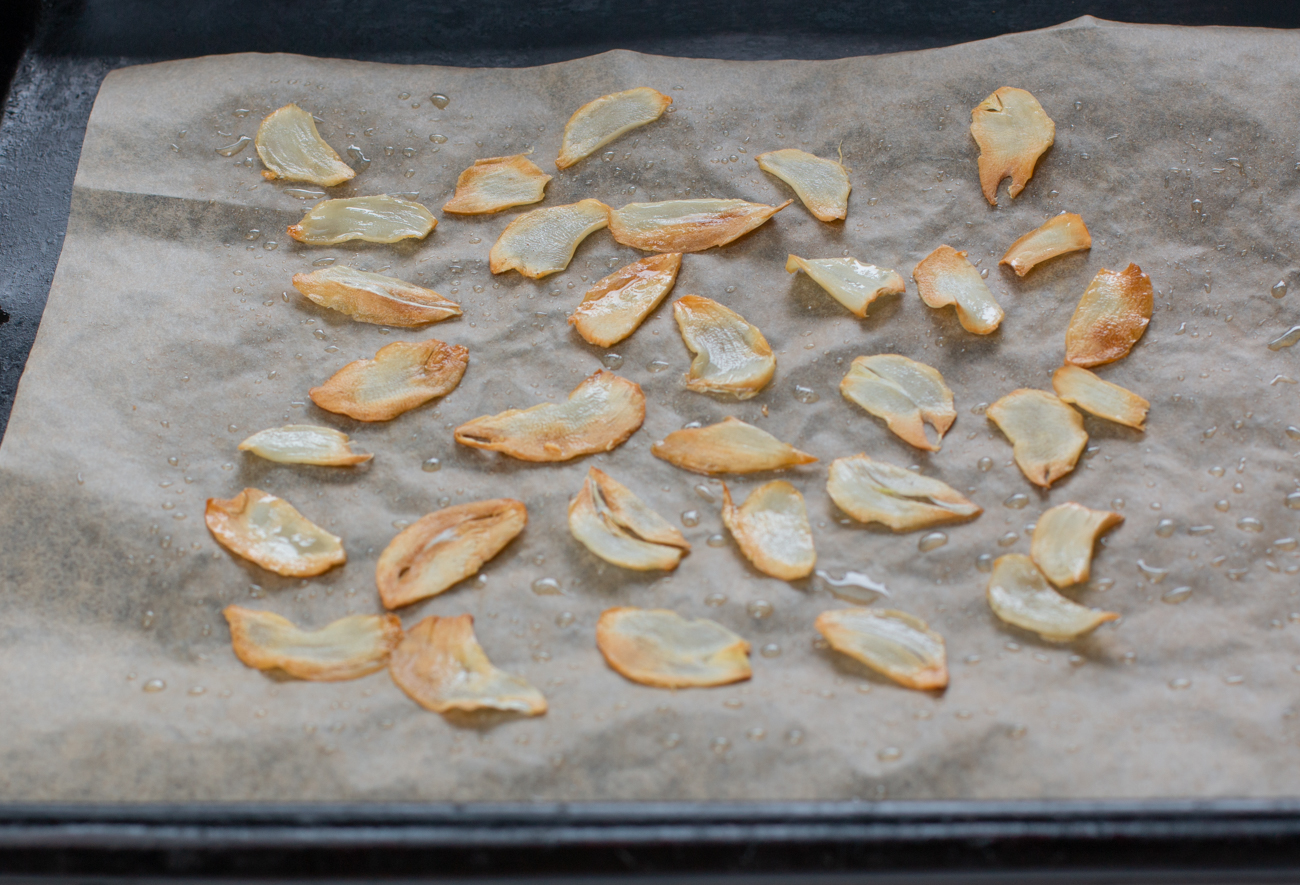 Secura Electric Coffee Grinder and Spice Grinder is one of my favorite kitchen tools! I chop garlic and herbs and grind spices for my own blends.
Dehydrated garlic is transformed into a powder in seconds. I love toasting cumin seeds too – and grind them for the best tasting ground cumin.
Garlic Quality:
The most important thing is the quality of the ingredients. The garlic is critical. There are dangers of garlic grown in China.
Please use Domestic Garlic! Imported Chinese Garlic (which is most common) is bleached. Garlic from China is sprayed with chemicals to stop sprouting, to whiten garlic, and to kill insects and plant matter.
You can tell the difference by looking at the bottom. If the roots are all removed, leaving a concave, clean spot, it is Chinese.
American garlic is richer in flavor than the Chinese one. Did you know that almost  50 -80% (reports vary) of all imported garlic comes from China?
Buy from a Farmers' Market, directly from the grower… or from a market where it is labeled: "USA." Or – ask where the garlic you are purchasing in grown.
Some Garlic Facts… Did you know?
This little bulb is a member of the lily family and a close relative to the onion and leek. Its use in cooking dates back more than 5,000 years so consider it a seasoned (and seasoning) favorite. In herbal traditions, garlic is considered a wonder drug.
One clove of garlic has less than 5 calories and contains calcium and B vitamins. You'd have to eat quite a bit in one sitting to get adequate amounts of those nutrients, but little amounts can add up over time. Garlic also has antibacterial properties thanks to the phytochemical allicin.
Allicin is a natural plant broad-spectrum antibiotic with strong antibacterial and anti-inflammatory effects, and has obvious inhibitory and killing effects on various pathogenic bacteria.
Eating raw garlic is said to have the effect of delaying the aging of the human body.
In folk medicine garlic has been said to cure just about everything from the everything from the common cold and flu to the plague!
I urge you to give this recipe a try. If you do then please leave a comment below and give the recipe a rating which helps others find the recipe on Google.
Also see my recipe: Karen's Garlic Confit ~ A Silky, Speadable Condiment ; a longer cooking softened garlic recipe for luscious softened garlic, cooks in 45 minutes.
Love Garlic? See my category I LOVE GARLIC! 
Print, Save, Make & Enjoy this recipe!
Karen
Karen's Garlic-Garlic Vinaigrette
I'm Crazy About Garlic! This Amazing Zesty Vinaigrette uses Garlic Three Ways. Minced Garlic ~ Softened Garlic ~ Garlic Oil. Tangy, Garlicky - Liquid GOLD! Drizzle Over Salads and more.
Servings:
24
1 tablespoon servings
Print Recipe
Pin Recipe
Rate this Recipe
Ingredients
1/2

cup

apple cider vinegar

organic, such as Bragg brand

2 1/2

teaspoon

minced garlic

2

teaspoons

raw honey

1

tablespoon

grainy mustard

I use organic

1/2

teaspoon

Italian seasonings

1/2

teaspoon

dried parsley

1/2

teaspoon

sea salt

1/8

teaspoon

freshly cracked pepper

2

teaspoons

softened garlic*

1/2

cup

neutral oil*

I used grapeseed oil, expeller-pressed**

1/2

cup

garlic oil

(from the softened garlic recipe)
Instructions
Make the softened garlic (recipe below) - will give a mellow flavor and nice texture.

Place 3 softened garlic cloves on a cutting board and mash with the side of a knife until well mashed and creamy.

Place the first 8 ingredients (vinegar through pepper) in a medium sized bowl. Stir well with a wire whisk. Add the mashed garlic, whisk in.

Measure the oils in a glass measuring cup. Add the oil in a stream while whisking. Start adding oil very slowly, when half is added, stream in all the oil until emulsified.

Store the vinaigrette in a clean glass container and refrigerate. Will stay for up to 3 weeks.
Notes
Quick Softened Garlic: Add 8 medium garlic cloves to a small 6" pot. Cover with 1/2 cup of extra virgin oil oil. Over low heat bring just to a simmer. Cover and cook slowly on the lowest simmer for  10 - 12  minutes until the cloves are softened but not colored. Check as they are cooking. Remove from heat, strain the cloves - save the "garlic oil" (and use in this recipe.) Extra softened garlic can be used in many other recipes, store in the refrigerator. 
** with concerns about gmo's and processing of oils, use a vegetable oil which has not been chemically treated, this is called "expeller pressed."
This recipe may not be reproduced without the consent of its author, Karen Sheer.
Nutrition Facts
Karen's Garlic-Garlic Vinaigrette
Amount per Serving
% Daily Value*
* Percent Daily Values are based on a 2000 calorie diet.
Karen Sheer