Lentil Soup with Middle Eastern Flavors and Meyer Lemons
Description
This Hearty Vegetarian Lentil Soup with Zesty Flavors Will Awaken Your Tastebuds!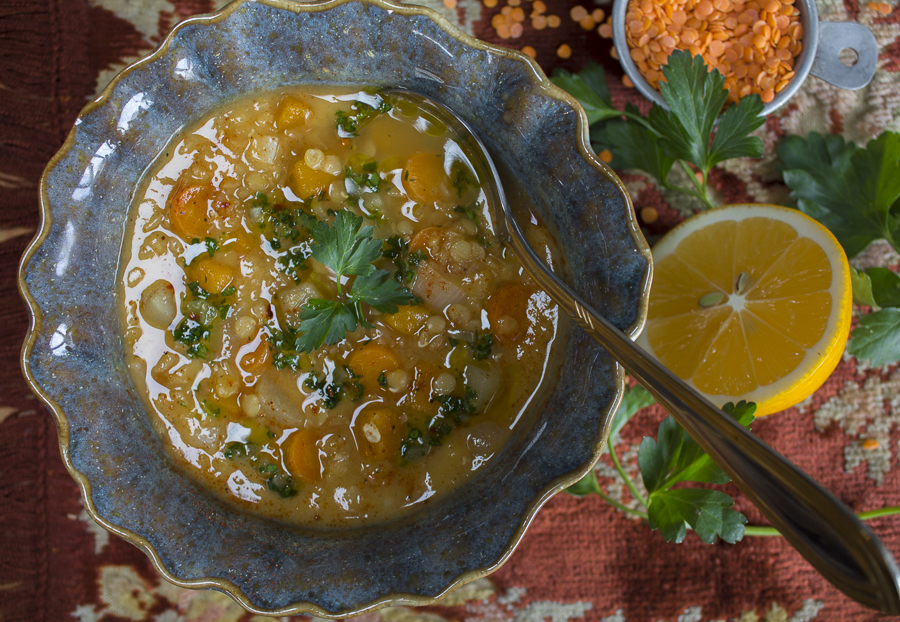 Ingredients
2

 

tablespoons

 

extra virgin olive oil

1 ½

 

cups

 

onion, peeled. 1/3″ dice

3

 

medium

 

garlic cloves, peeled and minced

2

 

cups

 

butternut squash, peeled, 1/3″ dice

½

 

cup

 

carrots, peeled, 1/3″ dice

½

 

cup

 

leeks, whites and light greens, cleaned and chopped

3

 

teaspoons

 

Baharat Seasoning*

2

 

cups

 

red lentils, rinsed and picked through

¾

 

cup

 

ripe pear, peeled, 1/3″ dice

8

 

cups

 

vegetable broth, preferably homemade (can use chicken broth if not vegan)

4

 

tablespoons

 

fresh meyer lemon juice, (from one ripe meyer lemon)

½

 

teaspoon

 

meyer lemon rind, finely grated

1 ½

 

teaspoons

 

sea salt, or to taste
Method
In a heavy soup pot, add the olive oil, raise the heat to medium. Add the onions and garlic, and cook for 5 minutes until softened, but not colored.
Add the butternut squash, carrots and leeks, give a stir and cook for 3 minutes.
Add the Baharat Seasonings and stir for 1 minute to incorporate the flavors.
Add the lentils, broth and pear. Bring to a boil, then lower the heat to a simmer and cover the soup.
Cook for 20 minutes, until the lentils have softened, and the vegetables are crisp-tender.
Add the meyer lemon juice, meyer lemon rind and salt (will depend on the saltiness of your broth), stir well.
Cool slightly, and whirl 1/3 of the soup in a blender until smooth. Add to the pot and stir well.
I like the soup with a creamy base, but with a lot of texture. Taste for salt.
Garnish:
I quickly make a Raw Gremolata.
In a small bowl mix together: 2 T. extra virgin olive oil, 1t. grated lemon rind, 1 T. lemon juice, 3 T. chopped parsley, a pinch hot pepper flakes, 1 t. minced onion and a pinch of sea salt.
To serve:
Ladle the warm soup into individual bowls. Swirl a teaspoon of Gremolata on top of the soup, garnish with a parsley sprig.
Enjoy!
*Baharat Seasoning- Middle Eastern Spice : A wonderful pungent blend of pepper, paprika, ground cloves, cumin, cinnamon, ginger, cardamom, coriander and chiles.
Can find online, at gourmet markets or at good specialty spice shops (http://www.thespicehouse.com/spices/salt-free-baharat)
Alternately, (if you can not find the seasoning- use a handful of the spices on the list to create a great flavor.
This recipe may not be reproduced without the consent of its author, Karen Sheer