Grilled Black Bass Fillets with Red Wine, Shallot & Rosemary Compound Butter
Seasoned and Grilled Outdoors – the mild, sweet fish holds its shape! Add a slice of Delicious Red Wine Compound Butter and let it melt into delectable sauce
Why I love this recipe:
Perfectly Seasoned Black Bass Fillets served warm with a slice of colorful Red Wine Compound Butter – which melts into the fish and creates a pool of delectable sauce!
How to Cook ~ Method:
Make the Compound Butter:
You will make a red wine reduction with shallots and herbs
This will be blended into softened butter and made into a log using waxed paper
The compound butter will be refrigerated until cold, then sliced onto of the warm "off the grill" fish
Season and Grill the Fish:
Rub the fillets with EVOO
Add seasonings and rub into the flesh
Grill over medium- hight heat, turning until very golden
Immediately add a 1/2" slice of cold Compound Butter – will melt and become a delicious sauce
Wild Caught Black Bass Fillets from The Local Catch bought at Greenwich CT Farmer's Market

Hint: To insure your fish does not curl on the grill – cut 3 small diagonal slits on the skin side of each fillet… or you can gently press the fillets on the grill with a metal spatula. 
Many Saturdays I am roaming the Greenwich CT farmer's market shopping for the freshest local ingredients straight from the farmer – and always stop at The Local Catch for fish.
Coming from Narragansett, RI – the fish was "just caught"… can't find better quality!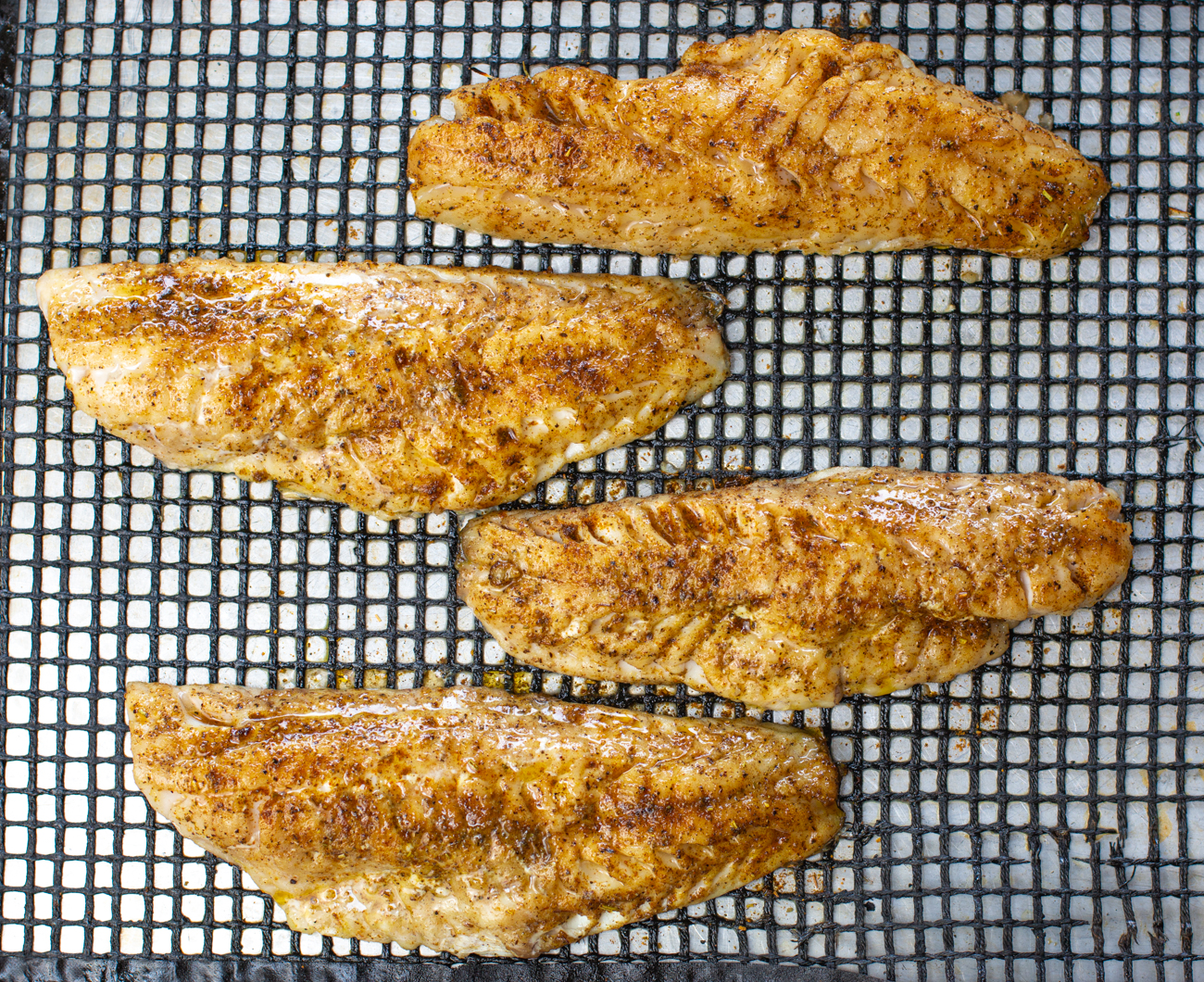 I use a grill mat to insure the fish fillets do not stick to the grates of the grill – and the turn easily too!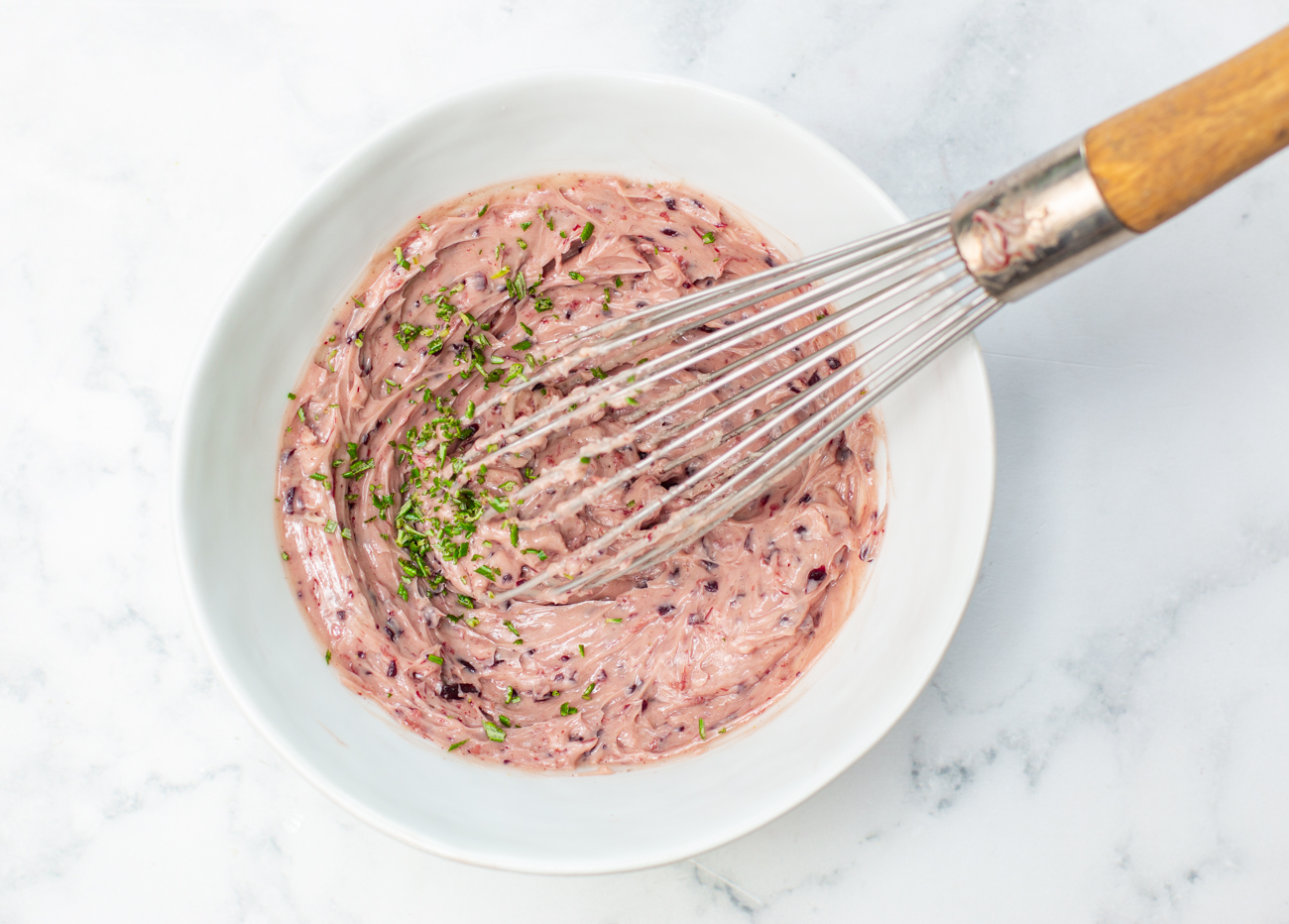 If you freeze the entire log – place in the refrigerator 24 hours before you intend to use it for easy slicing.
Let's Talk Fish:
Black Bass fillets work so well in this recipe and on the grill! The skin-on fillets are meaty and stay firm on the grill.
Black sea bass has pure white flesh that is very rich with a sweet, buttery  & delicate flavor
The raw meat is pale and translucent, turning bright white when cooked
It's highly versatile, both in manner of cooking and the flavors it can accompany
The fish will remind you of Bronzino and Striped Bass (both can be used in this recipe successfully)
Compared to Striped Bass – Black Sea Bass is a firmer fleshed fish with less oil, but has a similar mild flavor
Black sea bass is considered by experts to be a "Smart Seafood Choice", sustainably managed and responsibly harvested under US regulations
An excellent sources of two omega-3 fatty acids – these fatty acids help reduce the risk of cardiovascular disease by lowering blood pressure and reducing levels of cholesterol
A good low-fat source of protein and magnesium
Unlike Striped Bass, which winters in rivers and estuaries, Black Sea Bass purely swim in the ocean. Commonly found from Massachusetts to Florida, the greatest populations are caught off Mid-Atlantic States' coasts.
While it's getting harder to score big catches of winter flounder, fluke, cod and blackfish in Northeast waters, the robust stock of black sea bass has filled the void, even offering a great alternative for headboats targeting stripers and bluefish. "The black sea bass population is exploding in southern New England,"
From New Jersey to southern Massachusetts, where they're now most dense. Credit: Salt Water Sportsman
Enjoy!
Let me know what you think!
Karen
Grilled Black Bass Fillets with Red Wine, Shallot & Rosemary Compound Butter
Seasoned and Grilled Outdoors - the mild, sweet fish holds its shape! Add a slice of Delicious Red Wine Compound Butter and let it melt into delectable sauce .
Print Recipe
Pin Recipe
Rate this Recipe
Ingredients
Black Bass & Seasonings:
1 3/4

pounds

Black Bass Fillets

(4 large)

1 1/2

teaspoons

extra virgin olive oil

1/4

teaspoon

sumac spice

1/2

teaspoon

smoked paprika

1/8

teaspoon

freshly cracked black pepper

1/4

teaspoon

sea salt

(use just before cooking)
Red Wine Compound Butter:
1

stick

unsalted organic butter

(1/2 cup) room temperature
Reduction:
1/2

cup

red wine

full bodied

2

tablespoons

fresh shallots

peeled; minced

1 1/2

teaspoons

coconut palm sugar

1

sprig

fresh rosemary

1

sprig

fresh thyme
The Rest to Add:
1

teaspoon

fresh garlic

peeled and finely grated

1/8

teaspoon

ground cloves

1/8

teaspoon

freshly cracked black pepper

1/8

teaspoon

sea salt

2

teaspoons

fresh rosemary leaves

finely chopped
Instructions
Red Wine Compound Butter:
In a small 2 cup non-reactive pot add 1/2 cup red wine, shallots, coconut palm sugar, rosemary & thyme sprigs. Bring to a boil and reduce to a simmer. Cook until 2 tablespoons of liquid remains, about 12 minutes. Remove the herb sprigs; cool.

Mix the butter in a small bowl until creamy with a rubber spatula. Add the cooled wine reduction, garlic, cloves, pepper, salt and chopped rosemary. Combine ingredients with the spatula, then mix well with a wire whisk.

Cut piece of parchment paper 14 inches in length. Place on your countertop, add the compound butter in the center, about 2" wide x 8 inches long. Roll into a cylinder - twist the sides tight into a neat roll and refrigerate 2 hours. (place in a plastic bag for longer storage.) Will have remainder for another time.
Black Bass Fillets:
Clean and dry the fillets. Remove any pin bones with a tweezer. Add to a plate to fit, skin side down. Mix together seasonings: sumac, smoked paprika, pepper and sea salt.

Coat the top of the fillets with 1 1/2 teaspoons of EVOO. Mix in. Top with the seasonings and mix in.

Heat your grill to medium-hot flame. (Use a grill mat to insure the fish is easy to turn.) Add grill mat on top of the grated - brush with neutral oil. When hot; 400 degrees add the fish skin side UP. Close the grill and cook for about 4 minutes or until very dark golden. (Use your spatula to press down on the fish so it does not curl.)

Turn fish over and cook an additional 4 minutes until the fish has flakes and is cooked through. (Internal temperature at 145 degrees.) Remove to individual plates or a large platter, skin side down. Cut the cold compound butter into 1/2 inch slices and place over the warm fish immediately. Will melt nicely into the fish.

Garnish with extra rosemary leaves if desired.
Notes
Nutrition calculations use half of the compound butter.
This recipe may not be reproduced without the consent of its author, Karen Sheer. 
Nutrition Facts
Grilled Black Bass Fillets with Red Wine, Shallot & Rosemary Compound Butter
Amount per Serving
% Daily Value*
* Percent Daily Values are based on a 2000 calorie diet.
A great Grill Mat!                     A fabulous meat/fish Thermometer/ digital
The one I use:                           The one I use!
Karen Sheer