Vanilla Ice Milk & Peach Melba Parfaits
A lightened-up vision of a favorite dessert. You won't believe the texture and flavor of the Ice Milk!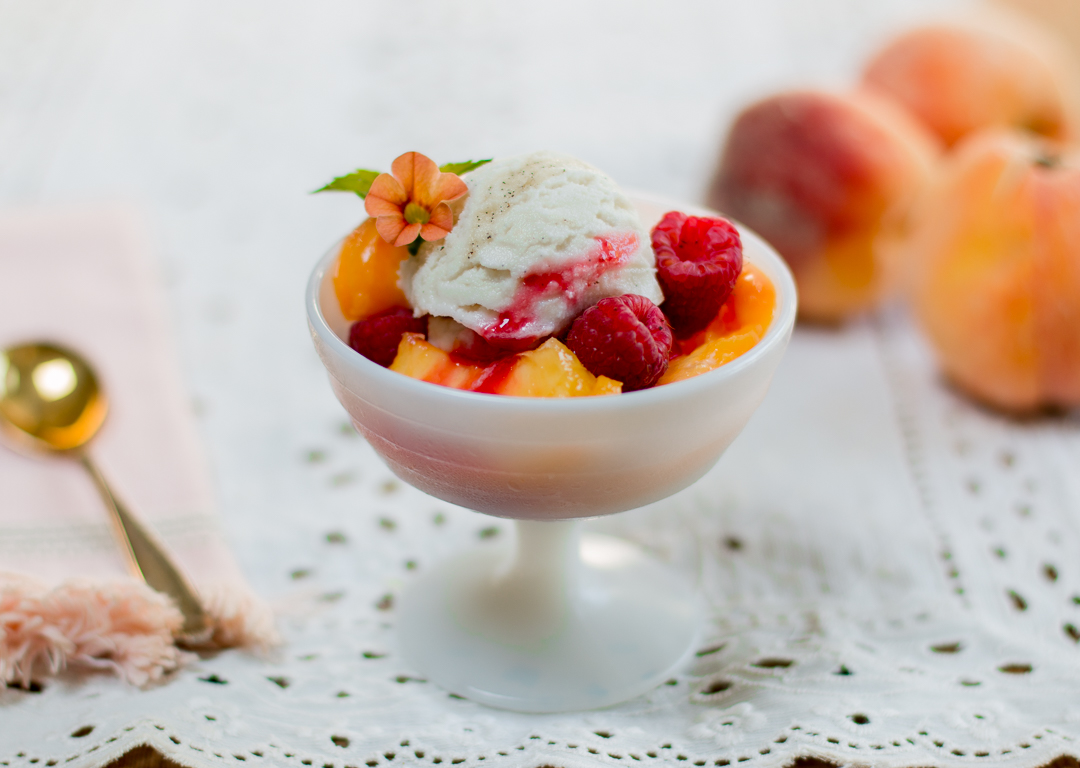 Ingredients
1 pint Vanilla Ice Milk (see recipe)
1 large ripe peach
½ cup raspberries, (for sauce)
2 tablespoons pure cane sugar
4 tablespoons almond granola, preferably home made
¼ cup raspberries (for serving)
Instructions
1
Make the Vanilla Bean Ice Milk.
2
Peach:
Add water to a 1 quart pot – halfway filled.
Bring to a boil.
Cut an "X" in the bottom of the peach. Drop into the boiling water and cover.
Check after 2 – 3 minutes, when the skin will loosens, remove to a clean plate.
When cool enough to handle, gently peel and discard the skin.
Cut the peach in half, remove the pit. Slice into 16 even slices, set aside.
3
Raspberry Sauce:
Add 1/2 cup raspberries to a glass or porcelain bowl. Add 2T. sugar.
Microwave until the sugar has melted and the raspberries soften, about 30 seconds.
Alternately, the mixture can sit on the countertop for an hour or two until the mixture has softened.
4
Strain the raspberries using a fine mesh strainer, with a small bowl underneath to catch the sauce.
Using a rubber spatula continue to stain and push on the solids, leaving only the seeds behind.
Makes about 1/4 cup of Raspberry Sauce.
5
Making the Peach Melba Parfaits:
Scoop Vanilla Bean Ice Milk in to individual ice cream bowls or parfait glasses.
Scatter 4 slices of peaches around. Top with a few raspberries.
Drizzle some Raspberry Sauce over, garnish with almond granola if you like.
Additional garnishes: edible flowers, mint sprigs.
Karen Sheer