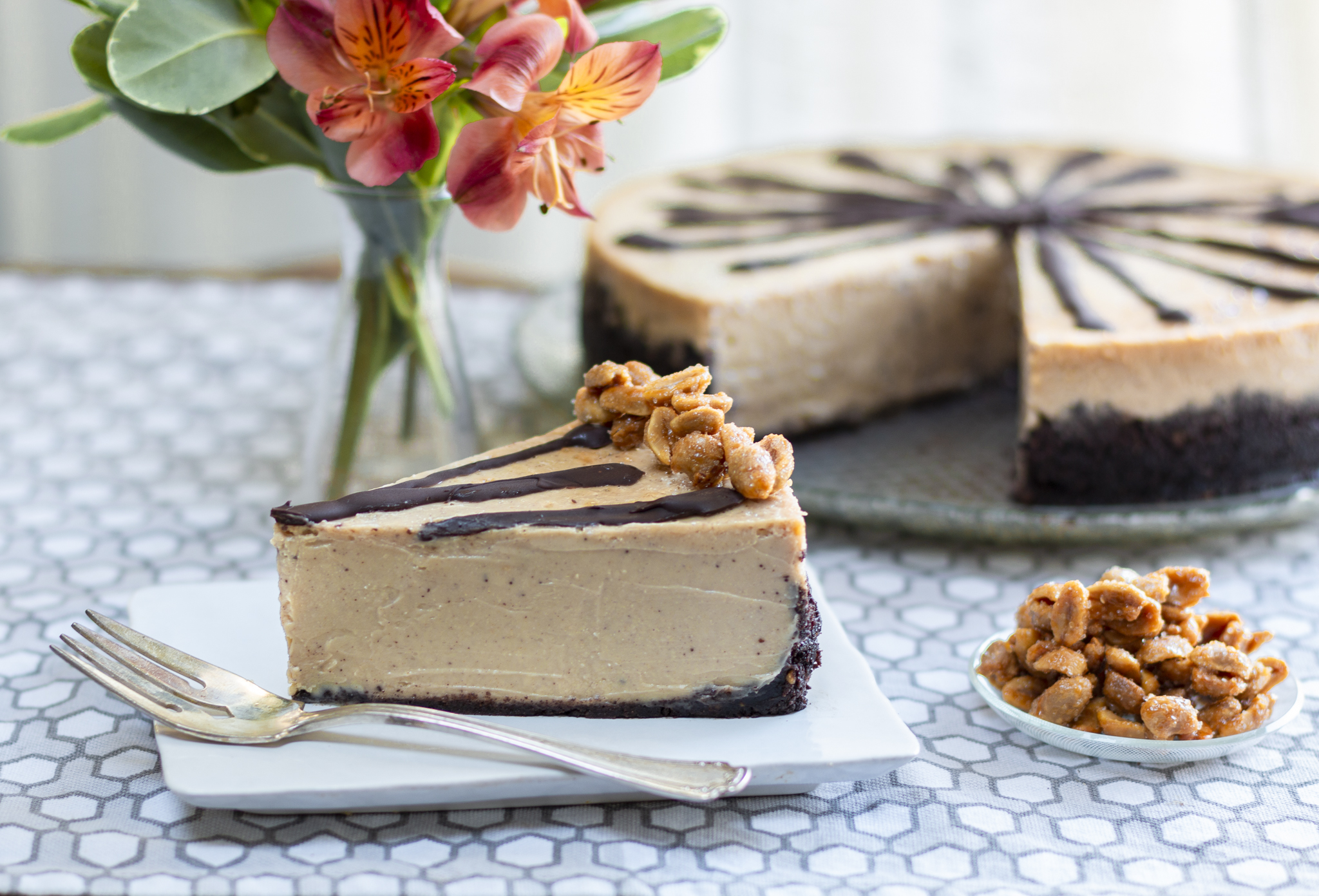 Lightened-Up Peanut Butter Cheesecake with Chocolate Biscotti Crust and Honey Peanuts
A Creamy Cheesecake made with Cottage Cheese – no cream cheese here!
Decadent and creamy – Make my recipe: Chocolate Peanut Biscotti for the crust and pile on some Honey Peanuts on top ~ see that recipe too!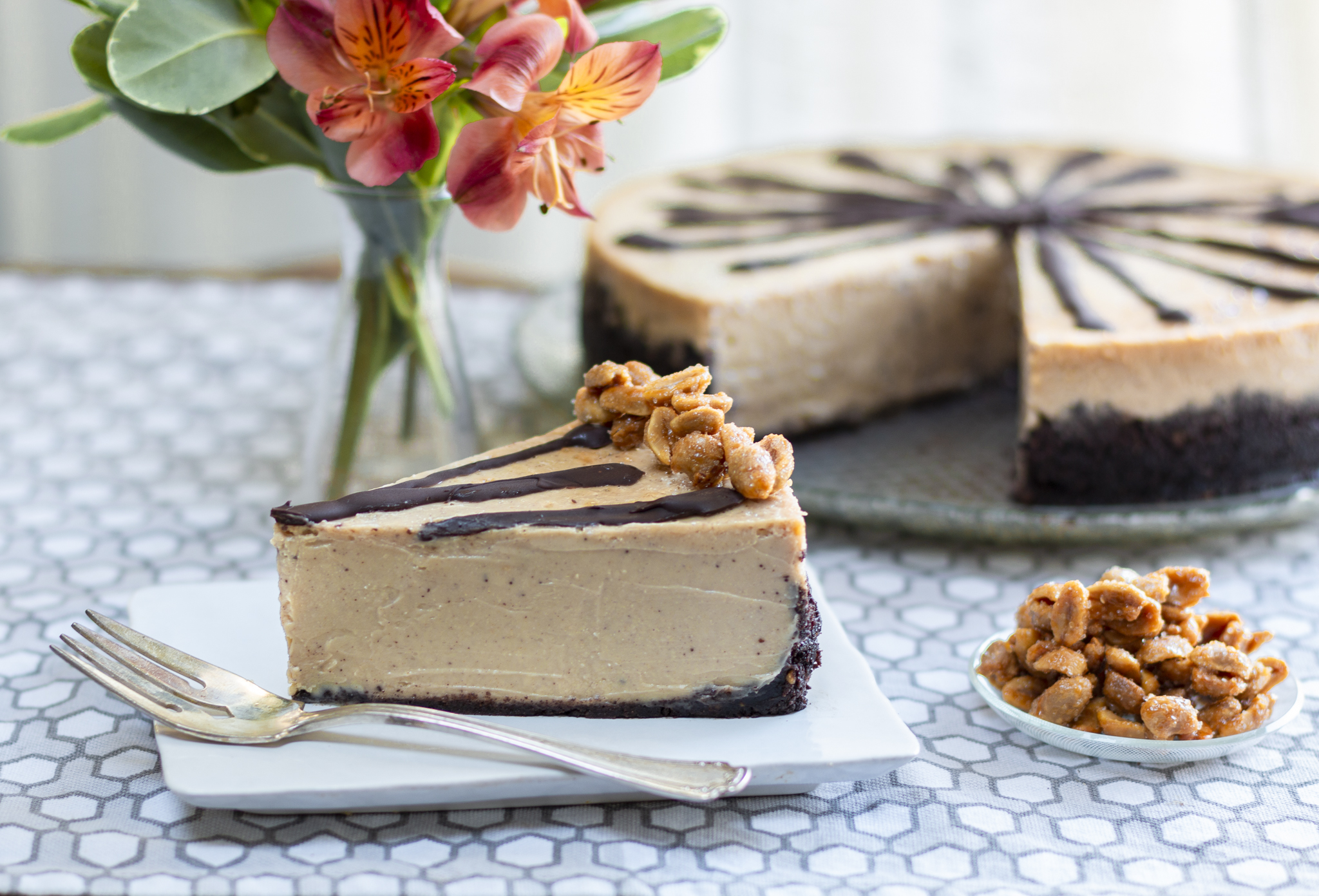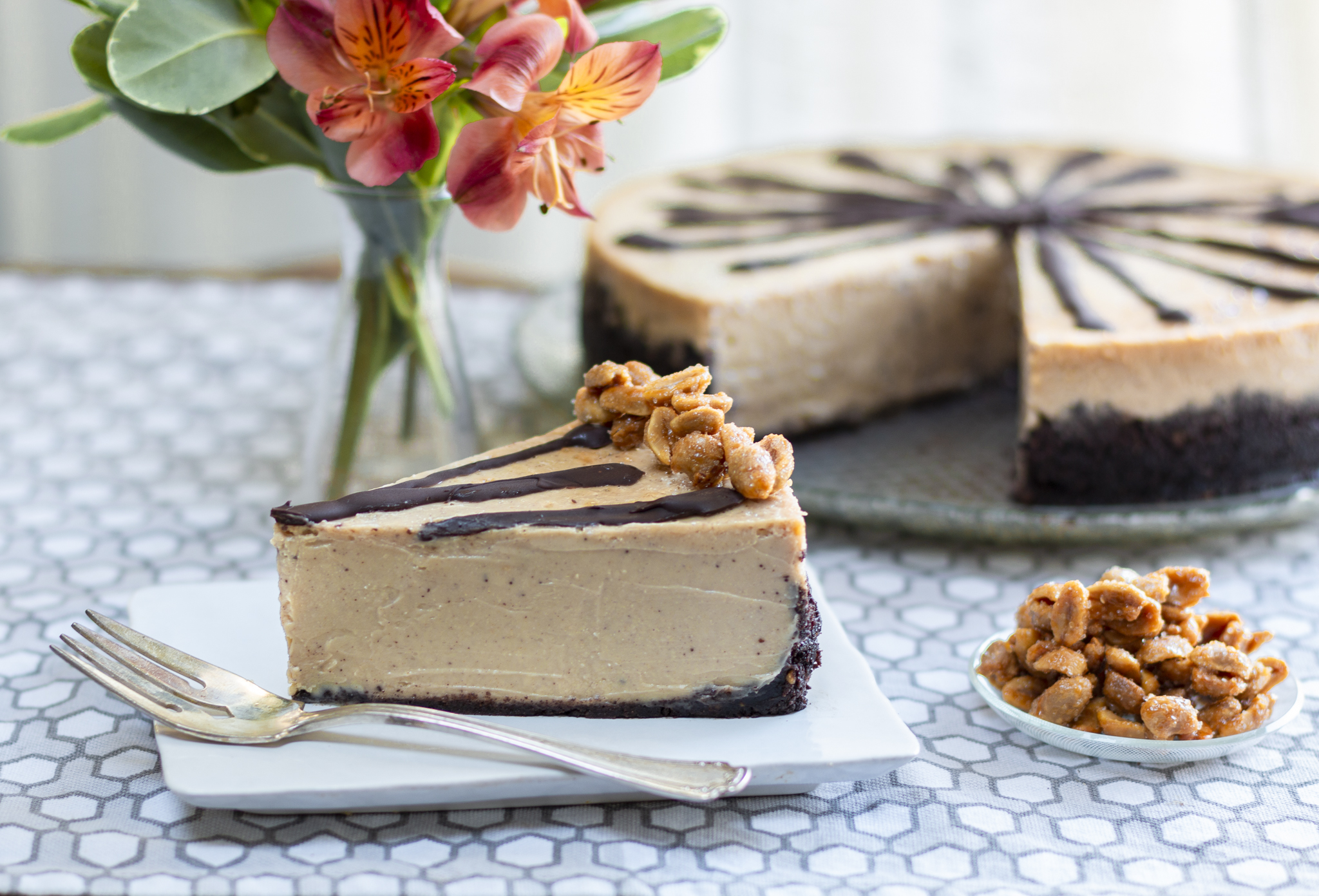 Ingredients
Peanut Butter Filling
48 ounces cottage cheese
(I used 4% fat)
6 large eggs, room temperature
1 cup sour cream
¾ cups smooth peanut butter, room temperature, I used a natural type; just peanuts
1  ½ cups pure cane sugar
1  ½ teaspoon pure vanilla
½ teaspoon sea salt
1 recipe: Karen's Honey Peanuts (see recipe)
Biscotti Crust
10 biscotti; 2  ¼ cups ground. See Recipe: Karen's Chocolate Peanut Gluten Free Biscotti
6 tablespoons unsalted butter
(I used organic)
Instructions
1
You will need:
1, 9″ springform pan, plus:
Large 12″ x 12″ (or up to 18″L ) pan with 2″ high sides
2
Add water to a kettle – bring to a boil, turn down to low so it is ready when you need it.
Turn the oven temperature to 325 degrees.
3
Make the Honey Peanuts for garnish.
4
Preheat oven to 350 degrees.
Wrap a 9″ springform pan with two layers of heavy foil.
5
Make the Biscotti Crumb Crust:
Grind biscotti (I use a 4 cup food processor) until finely ground.
Melt butter in glass bowl in the microwave. Add biscotti crumbs, blend with a
rubber spatula until combined.
Spoon crumbs into the pan, smooth the bottom evenly and build up and edge 1  1/2 inches.
Easiest way to do this – use the bottom of an one cup measuring cup.
6
Bake for 15 minutes until crisp. Set aside.
7
Add water to a kettle – bring to a boil, turn down to low so it is ready when you need it.
8
Turn down oven temperature to 325 degrees.
9
While the crust bakes: Make the filling:
Place all the cottage cheese in a fine mesh strainer over a bowl to fit to straighten out the moisture.
Use a rubber spatula and press gently on the cottage cheese, forcing the liquid to fall to the underneath pan.
Let stand for 15 minutes at room temperature.
10
Add the drained cottage cheese – will have 4  1/2 cups (1 cup liquid remaining for another us or discard)
to the carafe of a blender.
11
Add the remaining ingredients in the order written; eggs, sour cream, peanut butter, sugar  vanilla and sea salt.
12
Cover the blender – blend until very smooth, from low speed to medium speed (I use a Vitamix.)
Blend for 1 minute. Scrape down the sides with a rubber spatula and blend one more minute.
13
Pour the filling into the cooked crust. Place the cake into the larger pan with 2 " high sides.
Pour the boiling water into the pan, careful not to get any into the cake, place in the middle of the oven.
14
Bake for cheesecake one hour, then turn the heat off.
15
After 10 minutes, crack the oven door open half way, and let the cake settle for 20 minutes. Should feel firm, with a slight golden color.
16
Remove cake to a wire rack to cool completely.
Refrigerate until cold, covered with plastic wrap (I add a layer of waxed paper first.)
17
To serve:
I like to make a quick Chocolate Glaze to streak over the cheesecake and garnish the edges with the
Honey Peanuts.
18
Hardened Chocolate Glaze:
Place chocolate chips and coconut oil in a glass bowl, microwave until just melted; stir.
(1/4 cups chocolate chips (Ghirardelli 60% cocoa chips)
Spoon the glaze over the cold cheesecake in a decorative pattern – will harden in a few minutes.
Add honey peanuts all around the edge of the cheesecake and serve.
Make ahead of time:
Make the cheesecake up to 3 days ahead of time and refrigerate. (Can also make and freeze, then defrost.)
Decorate the cake with Chocolate Glaze and Honey peanuts before serving.
Good idea: If not serving the whole cake – cut a piece off and portion it, freeze and enjoy for days to come. Defrost in the refrigerator.
This recipe may not be reproduced without the consent of its author, Karen Sheer.
Karen Sheer