An elegant way to prepare fish – try my foolproof recipe to cook this classic dish. Paul Bocuse, the father of French gastronomy inspired the dish… I have added a wonderful Brown Butter-Garlic Drizzle with Parsley Oil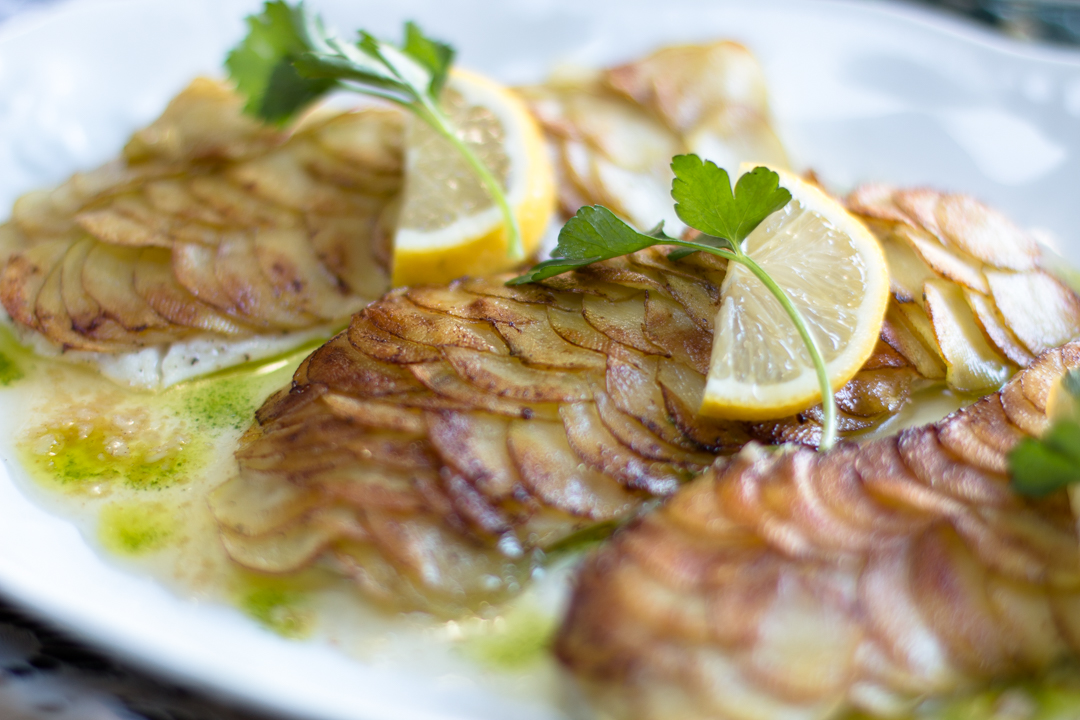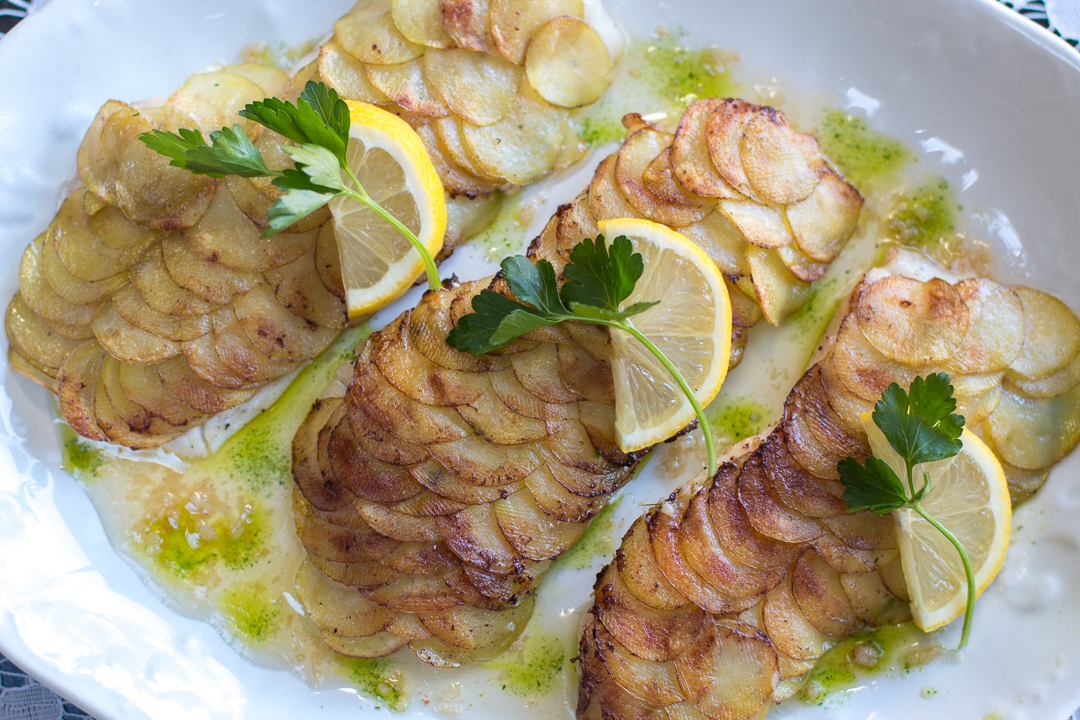 Potato Scaled Fish – oh so French.. oh so delicious!
Yes – you can learn how to prepare this Classic French Dish, for you, your loved ones or company. Big rewards, wonderful flavor… not too much butter!
Paul Bocuse died on January 20th – The most famous French chef since Escoffier was 91, and a man who did more than anyone else to turn the three-star Michelin chef into a celebrity. So, I was thinking of one of his classic fish treatments, and thought I would make potato scaled fish – so that any home cook could achieve great results.
I chose Black Sea Bass Fillets – a firm white fish with a pleasant, sweet flavor. Enough body to hold up under the potato scales without flaking. You can also try halibut (which is thicker) and remove the skin.
The fish must be fresh! Buy from a fishmonger you trust. Don't be embarrassed to ask "when did it come in?"
I bought my fish out in eastern Connecticut at Sea Well Seafood in Mystic. They sell what comes off the boats… everyday.
If you are unsure when the fish has been filleted – purchase a whole fish and ask to fillet it for you.
The recipe: The method is simple – just needs a little time to get it right!
~ Salt & pepper the fillets. Using a mandoline – cut cleaned fingerling potatoes very thinly. Add them to a steamer basket and steam for just 3 minutes until partially cooked and sticky. Sticky is good… that will help them stick to the fish.
~ Brush the fish with clarified butter, add the potatoes in tight rows to mimic the scales of  fish.
~ Brush all over the potato scales with a little clarified butter.
~ Add the fish to individual pieces of parchment paper on a plate and refrigerate until cold, about 30 minutes. (The paper helps you invert the fish – potato side down in the skillet.)
~ Cook the fish in just a bit of clarified butter until the underneath potatoes are golden and crusty.
~ Place the fillets on a baking pan and cook in the oven a few minutes to finish cooking the fish throughout.
~ Serve the fish with a simple and easy Brown Butter Garlic Sauce – I love to add some Parsley Oil and a big wedge of lemon.
Paul was the most decorated of them all, and not simply with Michelin stars, of which his restaurant, L'Auberge du Pont de Collonges "Paul Bocuse", near Lyons, had held three for over 50 years.
Paul Bocuse was born in 1926 and is widely credited with being the father of French gastronomy. Being one of the most important chefs associated with nouvelle cuisine (which stresses the importance of fresh and high-quality ingredients), his influence on the genre is immeasurable, and he's received many awards throughout the course of his career. Many of his students have become famous chefs themselves. During his extensive travels, across several decades, he's tirelessly promoted French cuisine and has established many restaurants and culinary institutions. The Bocuse d'Or has long been regarded as the world's most prestigious award for chefs.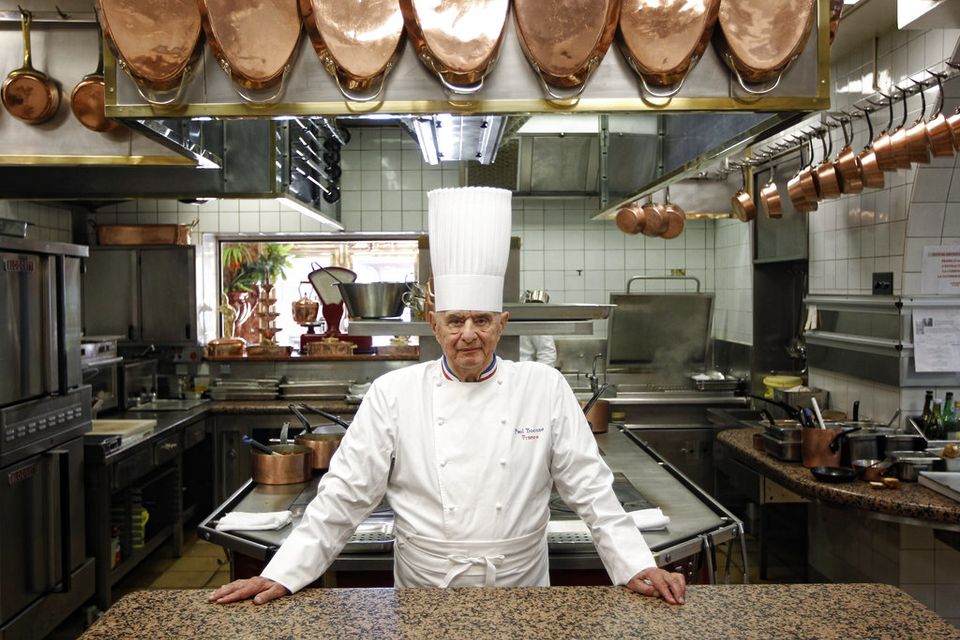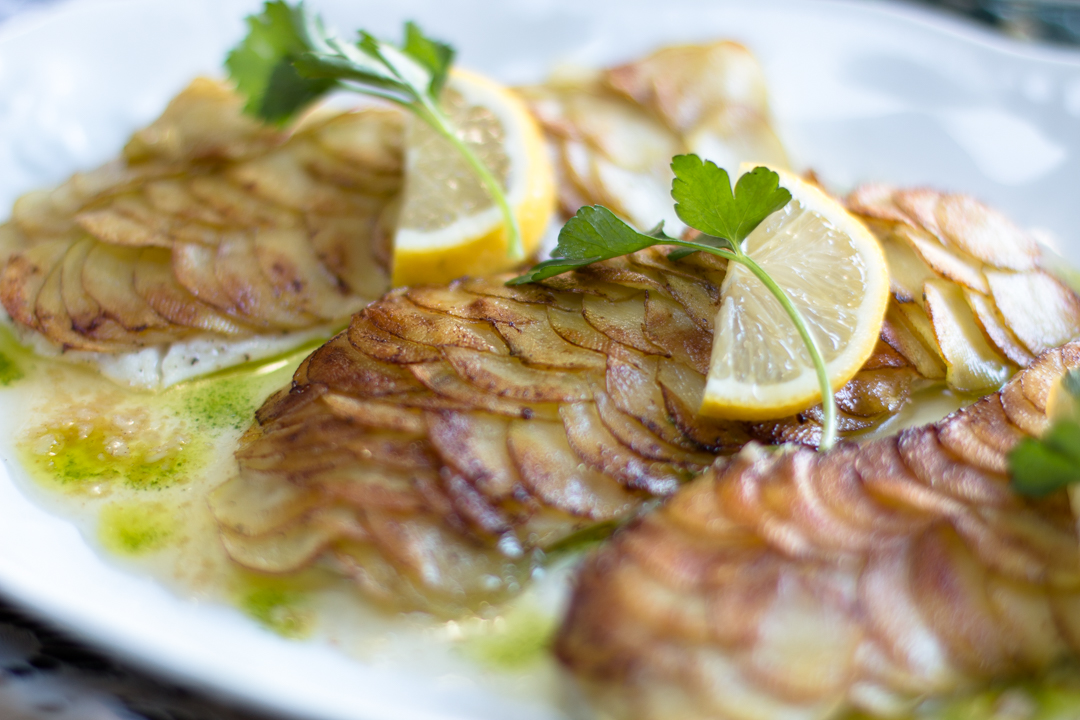 Some more accolades for this master chef:
In spite of a reputation for being the most flamboyant of his profession, his high standards as a master and creative chef have never faltered.
The Paul Bocuse menu always includes the bass-like fish called loup, in a pastry case shaped and decorated like a fish. It is one of his trademarks.
Situated on the outskirts of Lyon, this restaurant held 3-star since 1965, the longest in Michelin star history. It's a building that's hard to miss! The distinctive colouring and design makes it stand out like a… well, like a Paul Bocuse restaurant, I guess. The upmarket dining room is finished in late 19th century style, with gold and red the dominant colours.
Bocuse's third Michelin star came about after he had created his prestigious dishes — the Loup en croute a la mousse de homard (Sea bass with lobster mousse in pastry), Poularde de Bresse en vessie (Bresse Chicken in Pig's Bladder), and Soupe a la jambe Pavilion (Ham Soup Pavilion).
Enjoy!
Karen