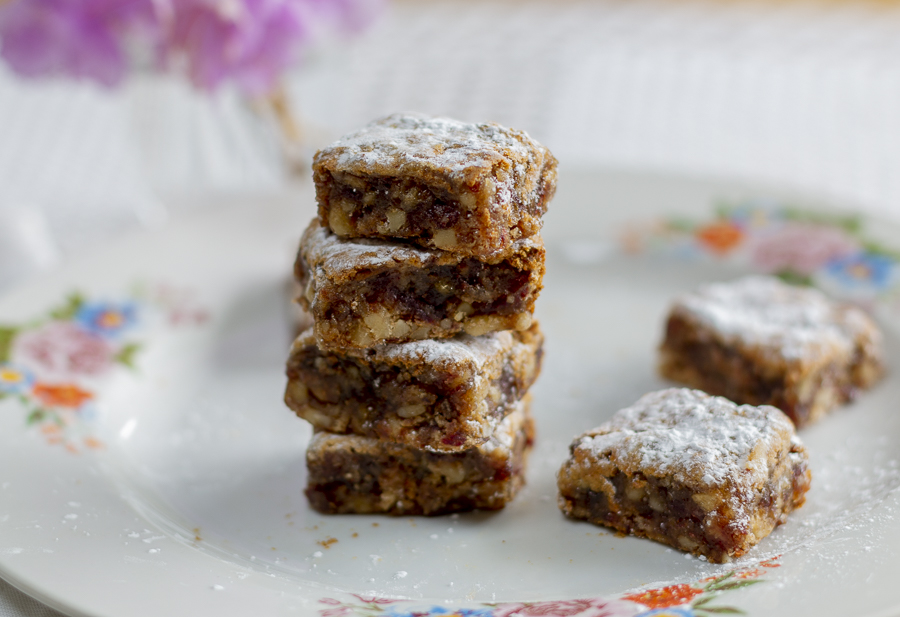 Delicious Date & Walnut Bars ~ Gluten Free
Easy and moist, these bars are simple to make and cut into 24 bars. Regular flour works great too!
See Passover substitutions below.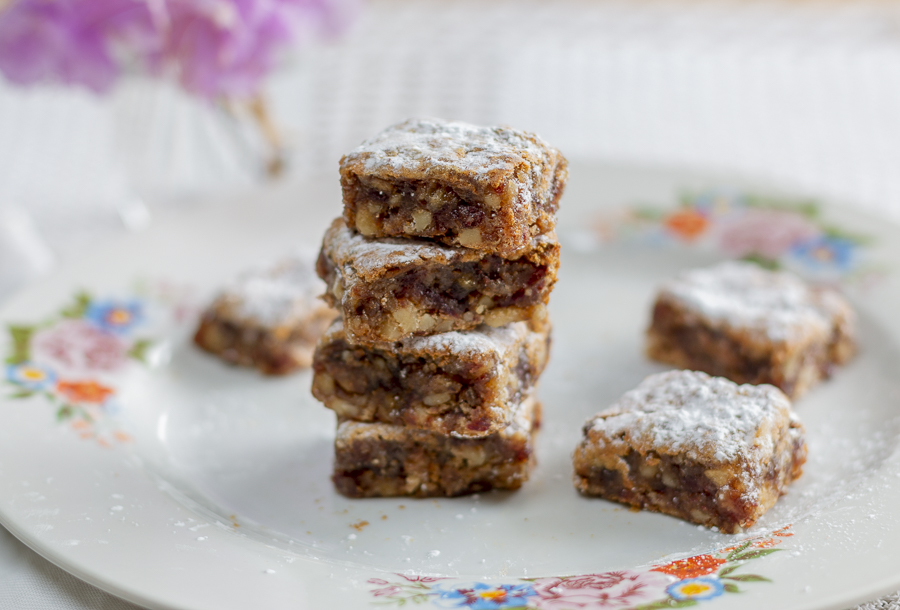 These irresistible bars are an updated version from vintage 1940 and 50's recipes – when baking was simple. My Date & Walnut Bars are gluten free and vegan.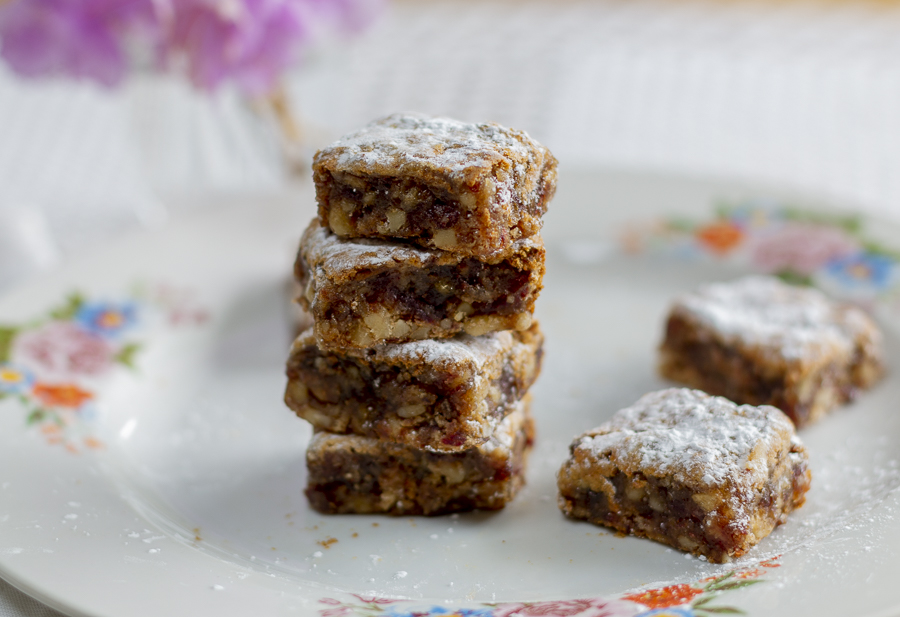 Ingredients
2 cups pitted dates, finely chopped (from about 16 very large dates)
1 cup walnuts, small chop (I pulsed 5 times in small food processor)
3 eggs, room temperature, separated
⅔ cup pure cane sugar
1  teaspoon pure vanilla
½ cup gluten free all purpose flour (can use regular flour!)
1 teaspoon baking powder
½ teaspoons sea salt
¼ cup confectioner's sugar
Instructions
1
Cut parchment paper to fit a 8″ x 8″ pan with extended sides for easy removal.
(I used a 7″ x 10″ pan I had.)
Lightly oil bottom and sides.
Preheat oven to 350 degrees.
2
In a stand mixer; add 3 egg yolks and sugar to the bowl fit with the paddle.
Mix at medium-high heat for 2 – 3 minutes until light colored and light.
Add vanilla, mix in.
Sift gluten free flour (or regular flour) with baking powder and salt – add to bowl, mix over low speed until just combined.
3
Add the chopped dates and walnuts, mix on low speed until just combined.
Whip the three egg whites until stiff peaks form, but not dry.
4
Fold the egg whites into the batter gently, not to deflate the egg whites much until just combined with a rubber spatula. Fold into the baking pan, leveling the top.
5
HINT: If using gluten for flour – the batter will be stiff. I used my hands to incorporate the egg whites, like you do with meat loaf. may sound strange, but works perfectly!!Using regular flour – a rubber spatula will do fine. 
6
Bake for 30 minutes until the top is golden, and the top feels just firm.
Crack open the oven, let stand for 10 minutes.
7
Remove to cool on a wire rack.
When still slightly warm, remove the bars from the pan, using the ends of the parchment paper. Cut into 24 even sized bars.
Dust the tops with confectioner's sugar when still a little warm.
8
Store in a container with a good seal, wrapped in waxed paper.
These freeze great! Bring to room temperature and enjoy.
*For Passover:
For 1 teaspoon of baking powder; you'll want to substitute in ¼ tsp of baking soda with ½ tsp of cream of tartar.
For 1/2 cup gluten free flour; use 1/4 cup matzo cake meal and 1/4 cup potato starch.
Source Kosher for Passover Confectioner's Sugar, like Gefen brand.
See BLOG for lots of photos and more information.
This recipe may not be reproduced without the consent of its author, Karen Sheer.
Karen Sheer