Crispy Chocolate Chip Cookies – Gluten-Free!
Finally… the perfect chocolate chip cookie that's deliciously gluten-free (you would never know they are!) Chocolate Hazelnut Butter adds depth ~ add plenty of Bittersweet Chocolate Chunks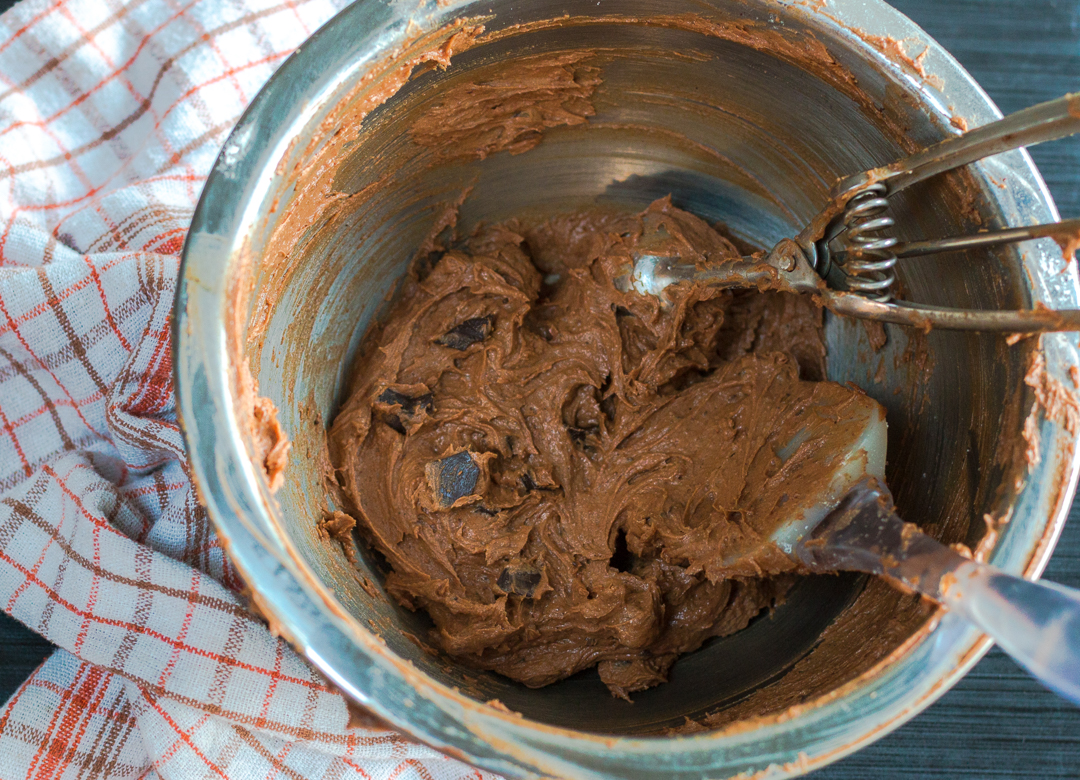 Delicious crispy cookies with a melt-in-your-mouth texture
Ingredients
1 stick unsalted butter, softened, organic
½ cup coconut palm sugar, organic
¼ cup raw cane sugar, organic
½ cup chocolate hazelnut butter, I used "Justin's" brand
1 large egg, room temperature, cage free
1 teaspoon vanilla
½ teaspoon sea salt, use ¼ t. if desired
3 ounces bittersweet chocolate bar*, cut into chunks, about 1 cup 
¾ cup gluten free all purpose flour, I used "Pamela's" brand
½ teaspoon baking soda
Instructions
1
Preheat the oven to 350 degrees. Line a cookie sheet with parchment paper. Lightly grease (use wrapper from the butter.)
2
Bring butter to room temperature. Carefully do this in a microwave, should be very soft, but not melted.
3
I make the dough by hand:
Add butter to a large bowl. Add both sugars, use a wire whisk (called a french whisk) and mix for a minute until very creamy.
Add the hazelnut butter, whisk to combine. Add the egg, vanilla and sea salt – mix in to combine.
4
Fold in the flour and baking soda with a rubber spatula until partially mixed in.
Add the chocolate chips (the flour will coat the chips) and mix until all the ingredients are combined.
5
Scoop out mounds with a cookie scoop (also called an ice cream scoop) – I used a 1 1/2″ sized one, onto the prepared cookie sheet. Space out, they do spread a bit. I added 13 cookies. (Will make a second sheet.)
6
Flatten with watered hands, or smooth tops to flatten to 2″ around with the back of a small spoon.
If you do not flatten, they will not be thin & crispy!
7
Bake until flattened about 15 minutes. You will notice they will be lightly golden around the edges.
Cool on the baking tray (keeps them crispy!) Then remove them to a cooling rack.
8
Bake the second batch – whipe the parchment paper clean with a paper towel, re-grease.
9
Store cookies in an airtight container.
10
* I used: I've used Endangered Species Fair Trade Dark Chocolate – 88% Cocoa Bar. And cut into chunks.
Please see BLOG for much more information (including healthier ingredient choices.)
This recipe may not be reproduced without the consent of its author, Karen Sheer.
Karen Sheer