Sweet and Sour Baba Ganoush – Eggplant Caviar with Pomegranate Molasses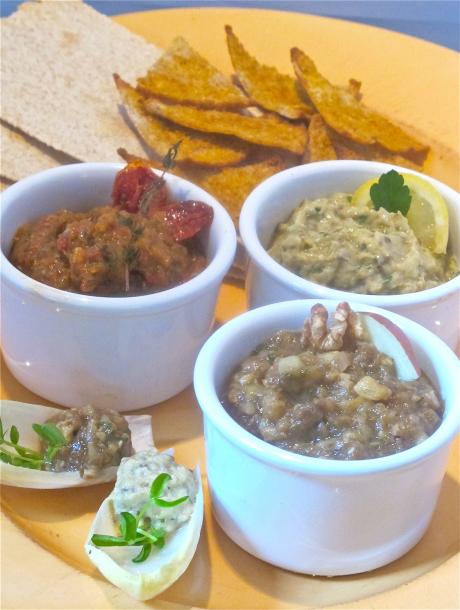 Description
Wonderful and unexpected ingredients create a delicious dip. Walnuts add some crunch.                See photo – bottom right.
Ingredients
1

 

large 

eggplant, about one pound

2

 

tablespoons 

extra virgin olive oil

2

 

medium 

scallions, cleaned, trimmed, 1/4″ chop

½

 

cup

 

fresh apples, peeled, 1/4″ chop

¾

 

teaspoon 

fresh garlic, peeled and minced

2

 

tablespoons 

pomegranate molasses

1 

teaspoon 

sugar

2

 

teaspoons 

honey

½ 

teaspoon 

salt

1/4 cup walnuts, toasted, chopped fine

1 t. zahtar seasoning

2

 

tablespoons 

pomegranate seeds, optional for garnish
Method
Preheat oven to 400 degrees. Prick eggplant all over with a fork, and place it in a baking sheet over a silpat liner or parchment paper. Cook until it has started to roast, darken and flatten – about 20 minutes. Carefully turn over and continue to roast until softened all over, 30 – 40 minutes total. Meanwhile heat 2T. olive oil in a small skillet, add the scallions and apples, cook over low – medium heat until softened, but not browned five minutes. The Baba Ganoush will have the best flavor if the flavoring ingredients are combined while the eggplant flesh is still warm. Cut eggplant in half lengthwise, scoop the flesh from the skin onto a cutting board. Discard the seeds. Scrape the eggplant from the skin well, there is a lot of flavor close to the skin. Chop fine and place in a medium sized bowl. Add the scallions and apples, garlic, pomegranate molasses, sugar, honey, salt, walnuts and zahtar seasoning. Mix well. Taste for seasonings. Add additional olive oil for a richer dip. Serve with a drizzle of oil on top. Garnish with pomegranate seeds (optional.)
Notes
Pomegranate Molasses is a natural reduction of the fruit's juice. It is flavorful, yet a little sour.
Serve with Perfect Toasted Pita Triangles, crackers of your choice, or mound onto endive spears.
Servings : 8