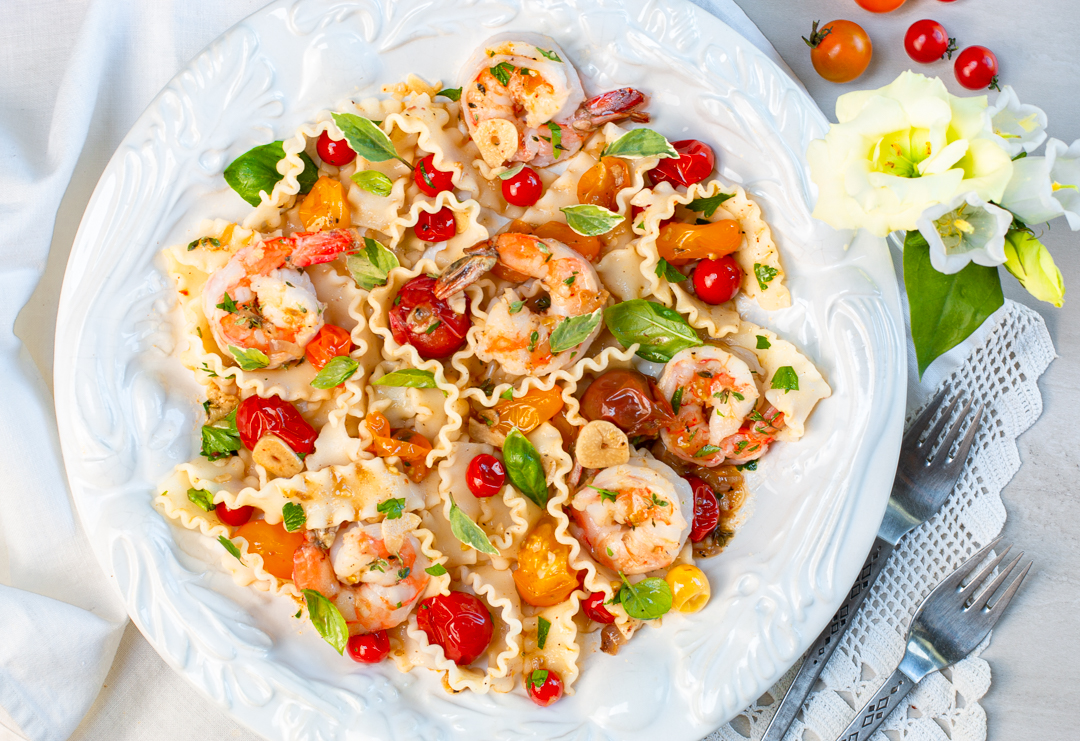 Mother's Day Recipes – Let's Celebrate Mom!
Spoil Mom this Mother's Day with some delicious home cooking.
If you have been making the same recipes for years… Have I got some tempting ideas for you!
Always healthy, true ingredients & inventive.
Something for everyone! Brunch Ideas ~ Main Courses ~ Creative Salads ~ Something Sweet for Mom
Brunch Ideas ~ In Season & Delicious: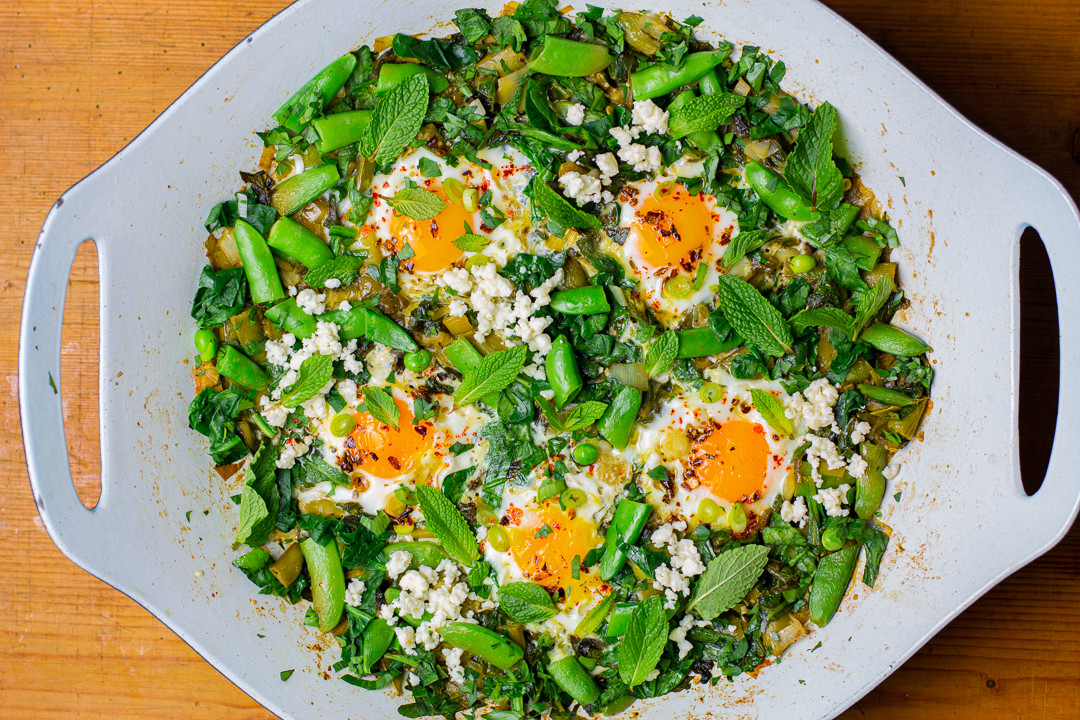 Gather the ingredients you will need and pump up the green antioxidants in this one-pan dish.
Healthy and satisfying with mild heat. My favorite Brunch recipe!

Green Shakshuka Sauce uses Tomatillos as its base. They are are sweet, tart and a little earthy (the main ingredient in salsa verde.) They make an incredible creamy base to which other green ingredients will be added.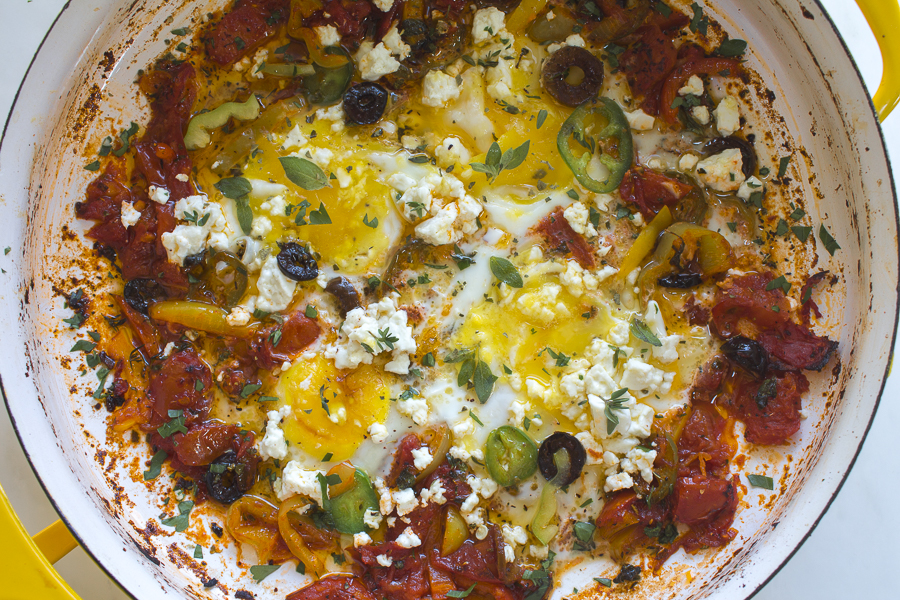 THE new Brunch classic – a hearty vegetarian spin on Huevos Rancheros filled with Greek flavors to enjoy anytime of the day!
Think Shashuka with a twist. Serve with your favorite toast or pita bread.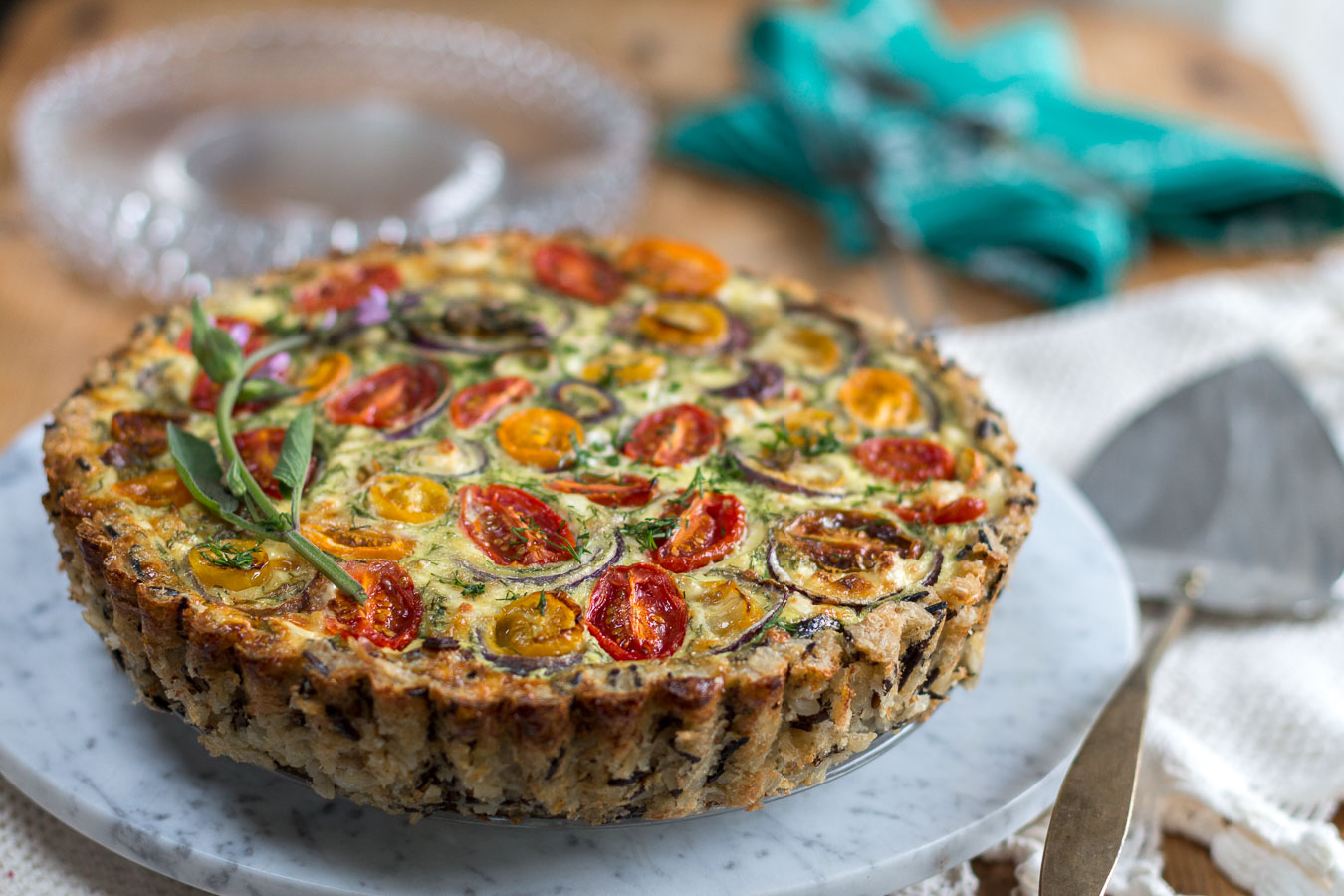 Bursting with Flavor and Color – this Naturally Gluten-Free Quiche makes the perfect hassle-free brunch, lunch or healthy dinner.
The quiche is layered with Feta Cheese, Sautéed Spinach with Garlic, Egg, Milk & Dill Custard with Red Onion Rings and Tomatoes baked into the top.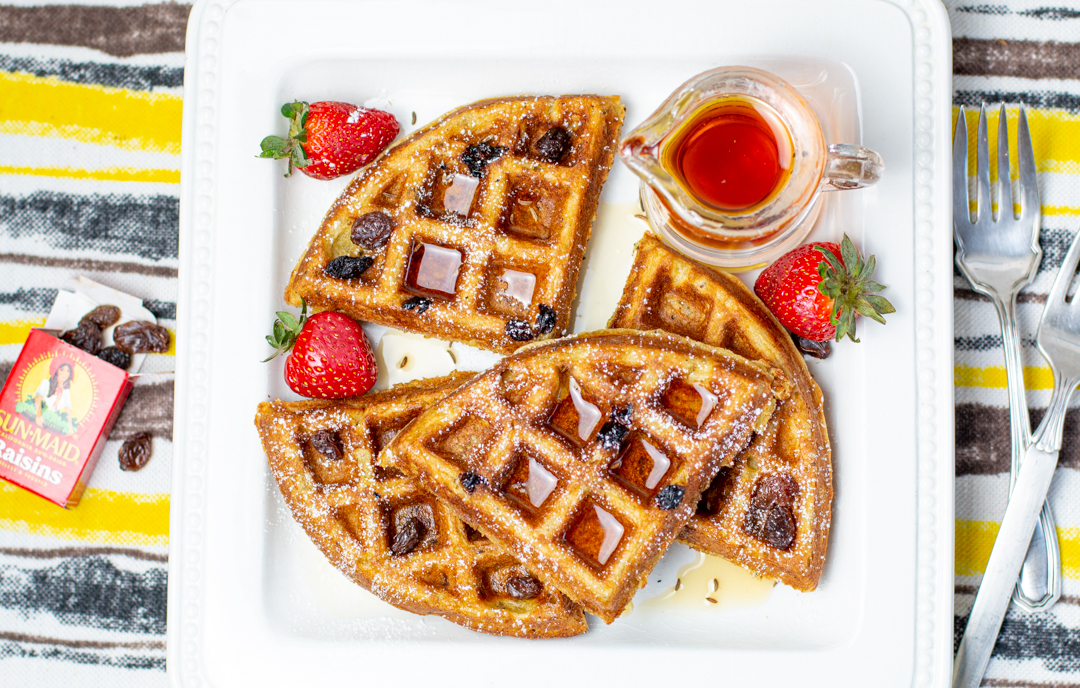 All the flavor and crunch of Irish Soda Bread – but delicious waffles!
Buttermilk based waffles with a boost of caraway seeds and raisins – great for breakfast, brunch, or the ultimate snack… I can't stop eating them! Works perfectly with regular flour or gluten free!
A great waffle recipe~ can substitute you favorite add-in flavors.
The perfect Latke recipe, crispy on the outside, tender inside. Serve with my homemade pink applesauce. Who can resist a delicious potato pancake? See applesauce recipe.lesauce. These are a year-round hit!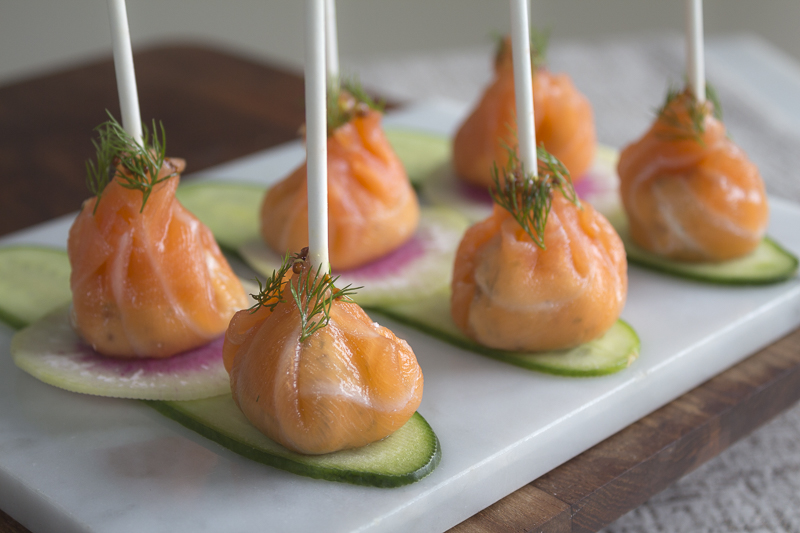 No one will be able to resist these savory lollipops. Thin sliced, luminous smoked salmon around zesty cream cheese – the perfect little pick-up to serve alongside your other treats. See my Vegan cream cheese recipe too!
Main Courses ~ In Season & Delicious: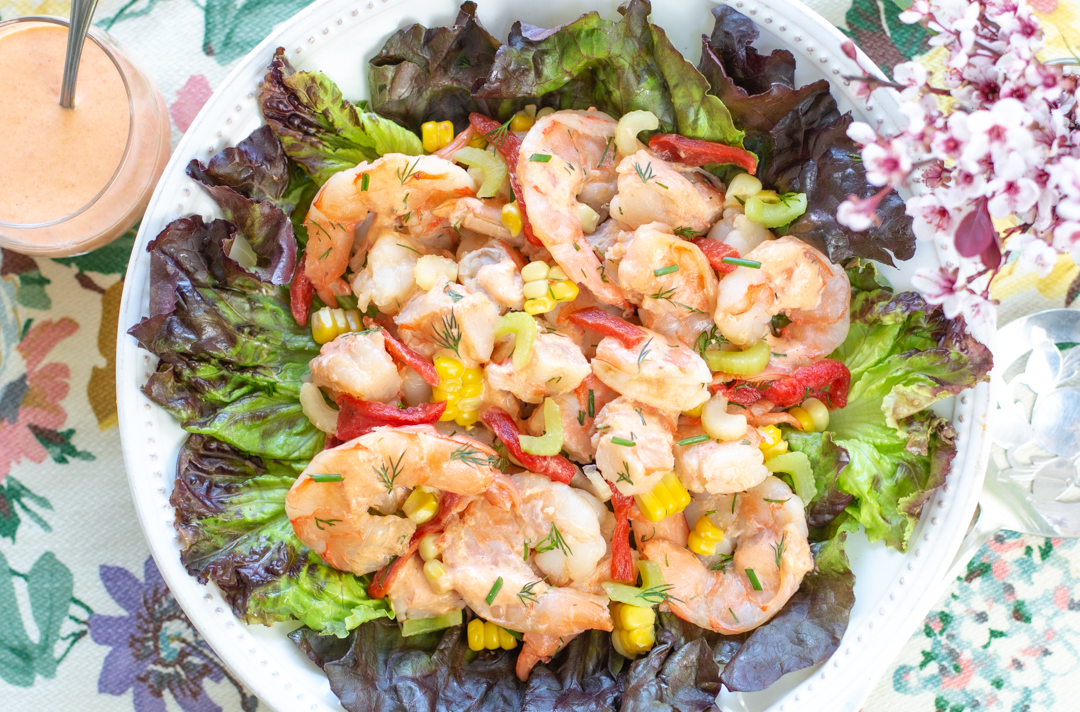 A light and delicious salad… Perfectly Cooked Colossal Shrimp paired with a Roasted Pepper Mayonnaise with Crunchy Corn & Celery with Roasted Pepper Strips tossed in. Learn how to make mayonnaise by hand!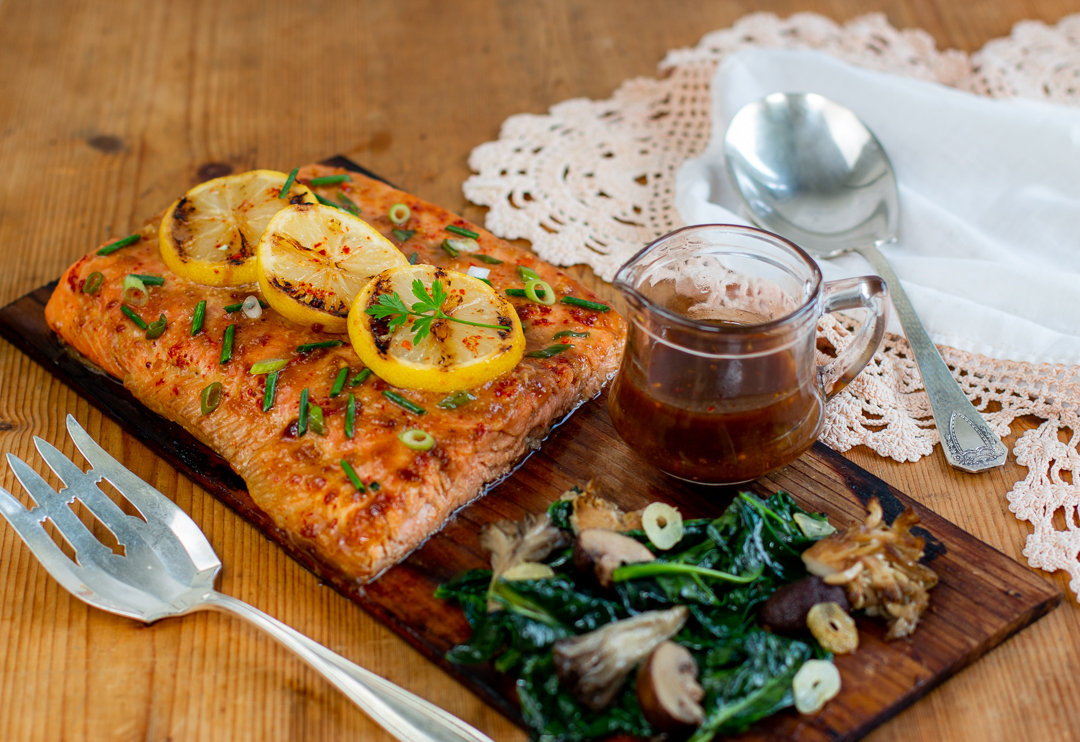 Tender Fillet Of Salmon gets a smokey essence from the cedar plank – but most of all the texture is outrageous and silky smooth! An easy whisked Asian-inspired Marinade also becomes the Glaze!No cedar plank – no problem… roast in the oven for wonderful results.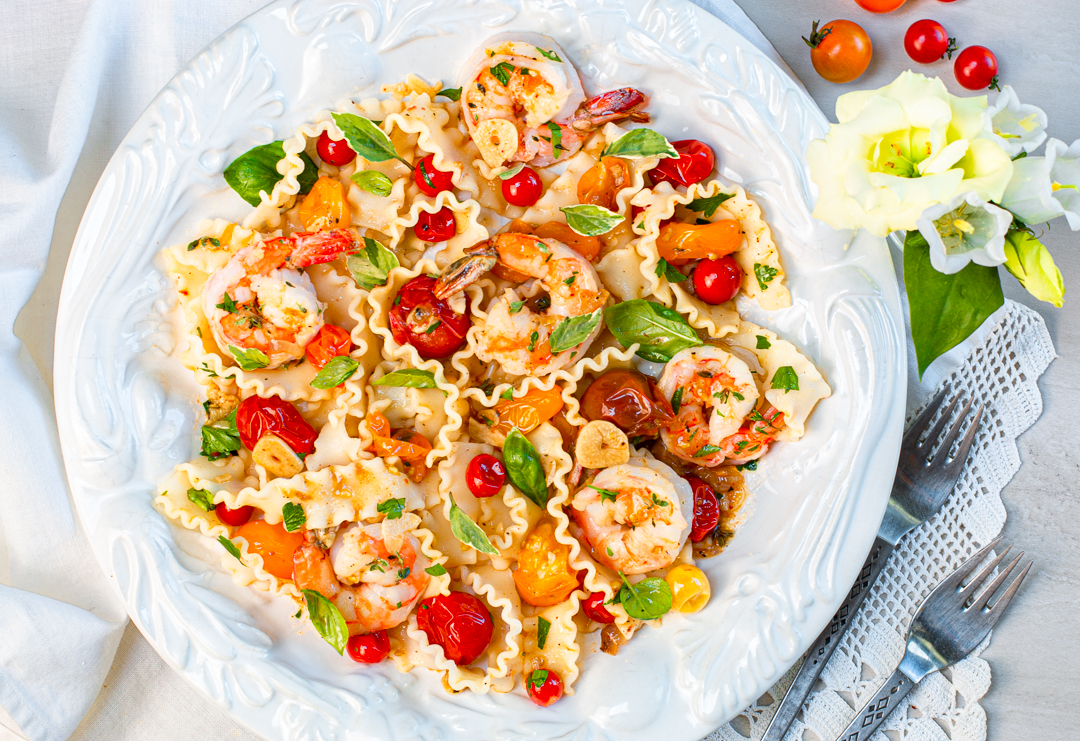 Who would not love a great shrimp & pasta combo?
Good quality multi colored cherry tomatoes from Mexico are easily found at better grocery shops.
Create a Quick Sauce with Heirloom Cherry Tomatoes to Toss With Pasta and Shrimp.
Tomatoes "burst" – fall slightly apart with all of their natural sweet juices.An easy whisked Asian-inspired Marinade also becomes the Glaze!No cedar plank – no problem… roast in the oven for wonderful results.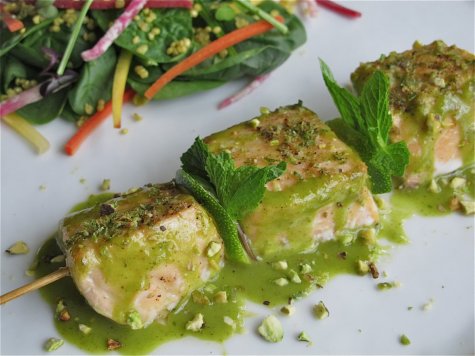 I've added this recipe because this is exactly what I want to eat on Mother's Day!
Includes SUPER FOODS : salmon, green leafy vegetables, fresh mint leaves, crunchy raw multi-colored carrots, watermelon radish, micro greens, quinoa and pistachios. A bonanza of health!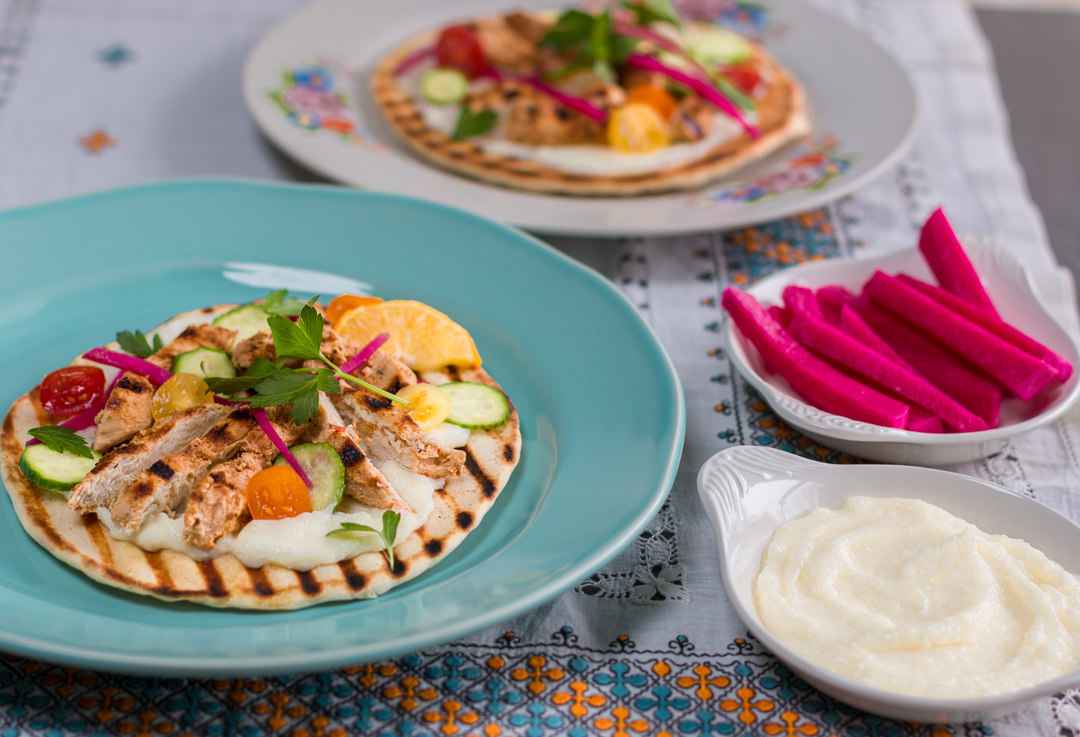 Yogurt Marinated Chicken, Lebanese-Style Garlic Sauce, Harissa Sauce and Pickled Turnips come together for the ultimate healthy Middle Eastern Feast at home.
Topped with plenty of healthy and crunchy vegetables – a Mediterranean treat!
Healthy and Oh-So Colorful! A Zesty But Light Sauce enriches many recipes and perfect with my Grilled Chicken Skewers. This is a versatile sauce that is the perfect accompaniment to many Mediterranean dishes. You can also slather it on your sandwiches; or simply use it as a dip with warm pita and your favorite vegetables.
Creative Salads: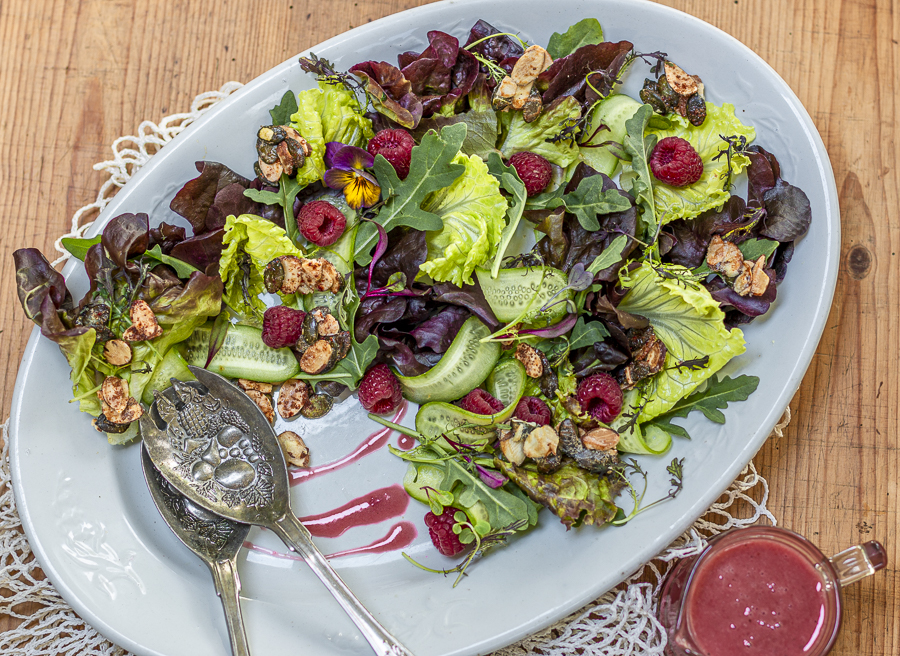 I'm in love with this salad! Crispy, Crunchy & Sweet ~ a brilliant, colorful, healthy salad. Make the dressing ahead and adorn with my Nut and Seed Crunch (see recipe)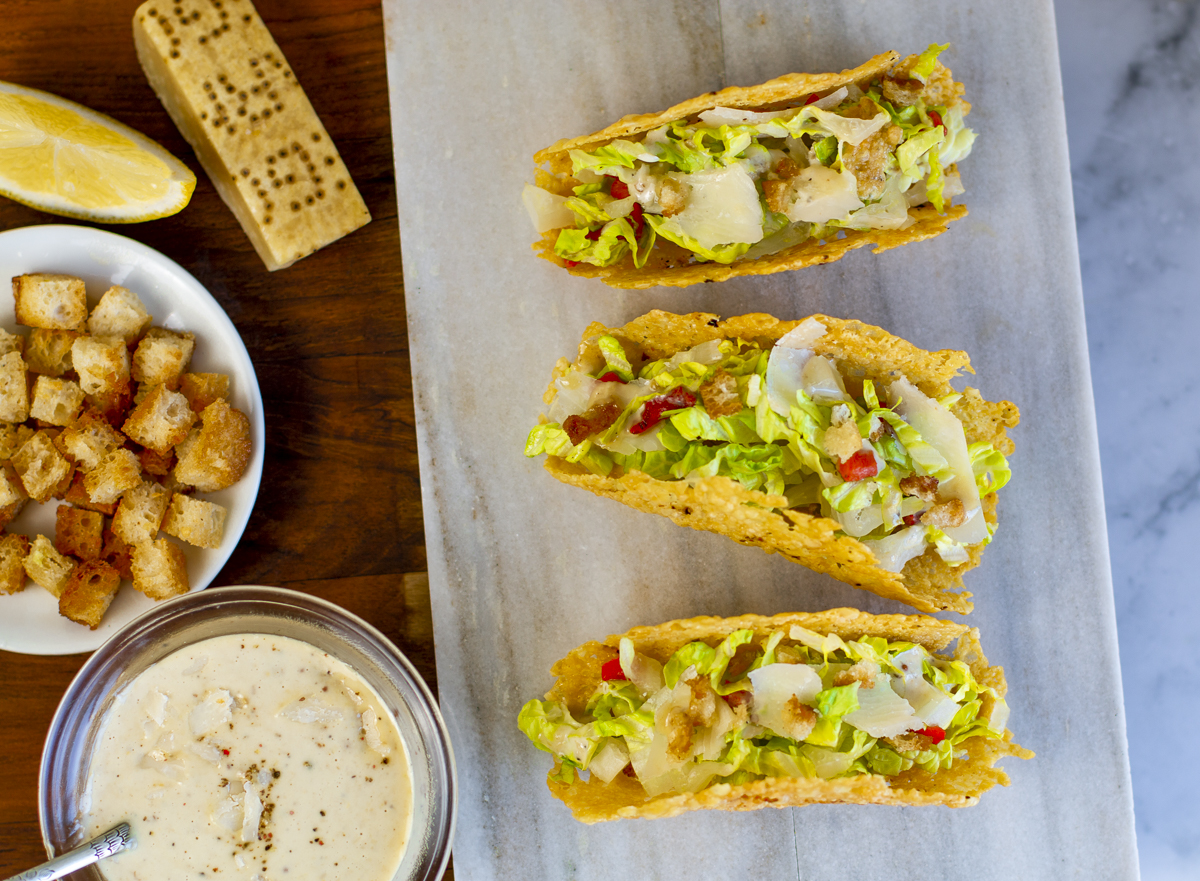 Ready for a Umami-rich treat? A creative genius recipe that is so delicious and low in carbs!
All your favorite Caesar Salad Ingredients – I love to add roasted red peppers too.
Gluten Free – no problem! I have used gluten free bread for the garlic croutons.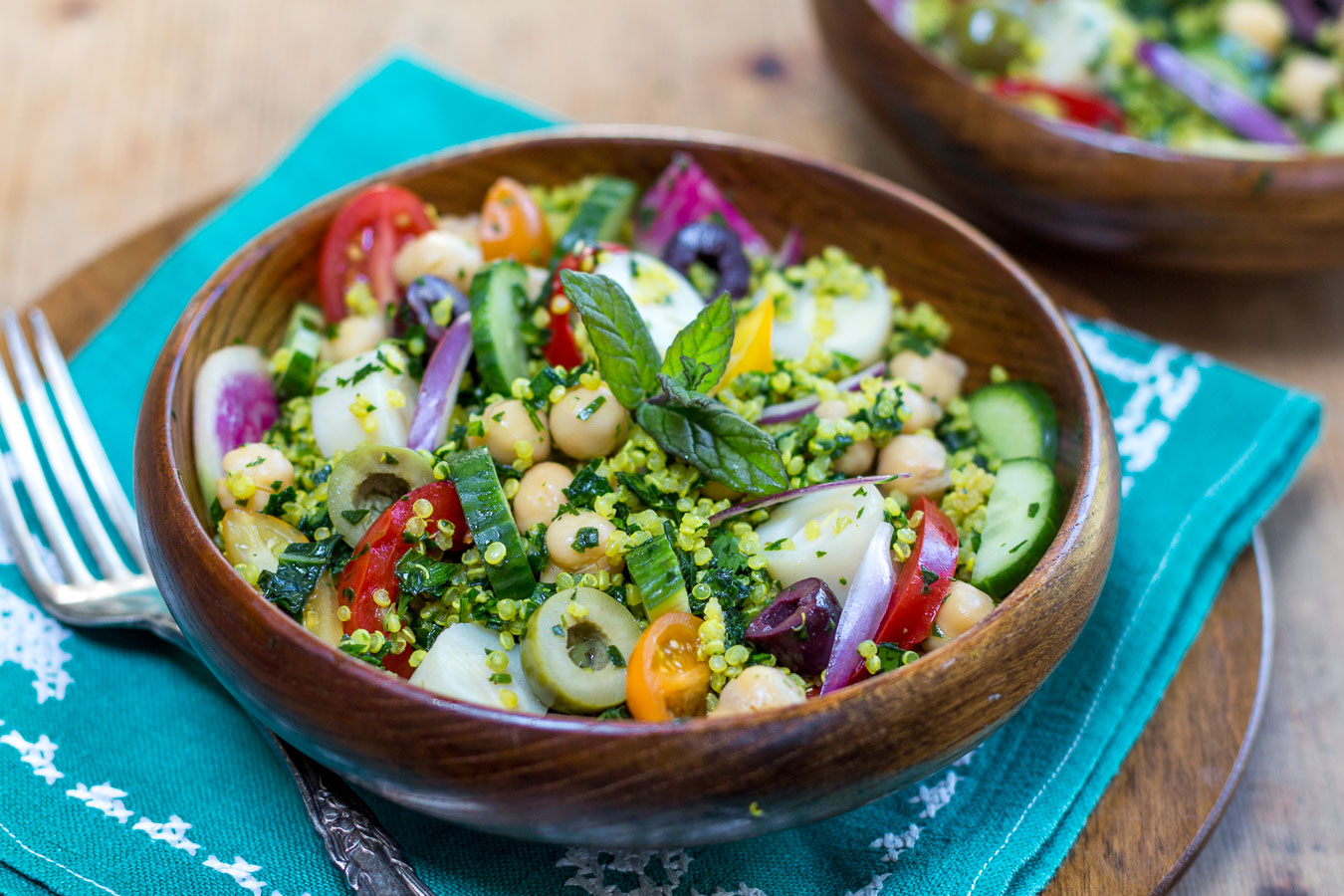 My version of they healthy Middle Eastern Salad spiked with a melange of Vegetables is tossed in a Zesty Lemony- Scallion Dressing. One of the healthiest salads you can eat. Refreshing and Addictive!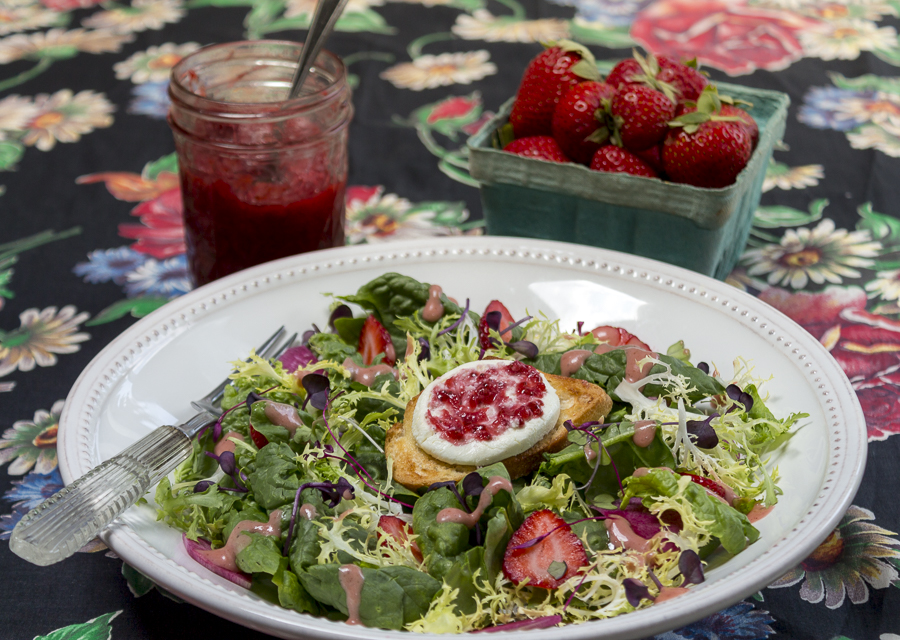 It's Strawberry Season and I've created three recipes: 30 Minute Strawberry Jam, Spinach & Frisee Salad with French Baguette topped with Goat Cheese and Strawberry Swirl, and a zesty Strawberry Vinaigrette.
I've reinvented a classic french salad where a slice of garlic rubbed baguette slice is topped with goat cheese (baked until warmed through) and sits on top of greens with a vinaigrette dressing.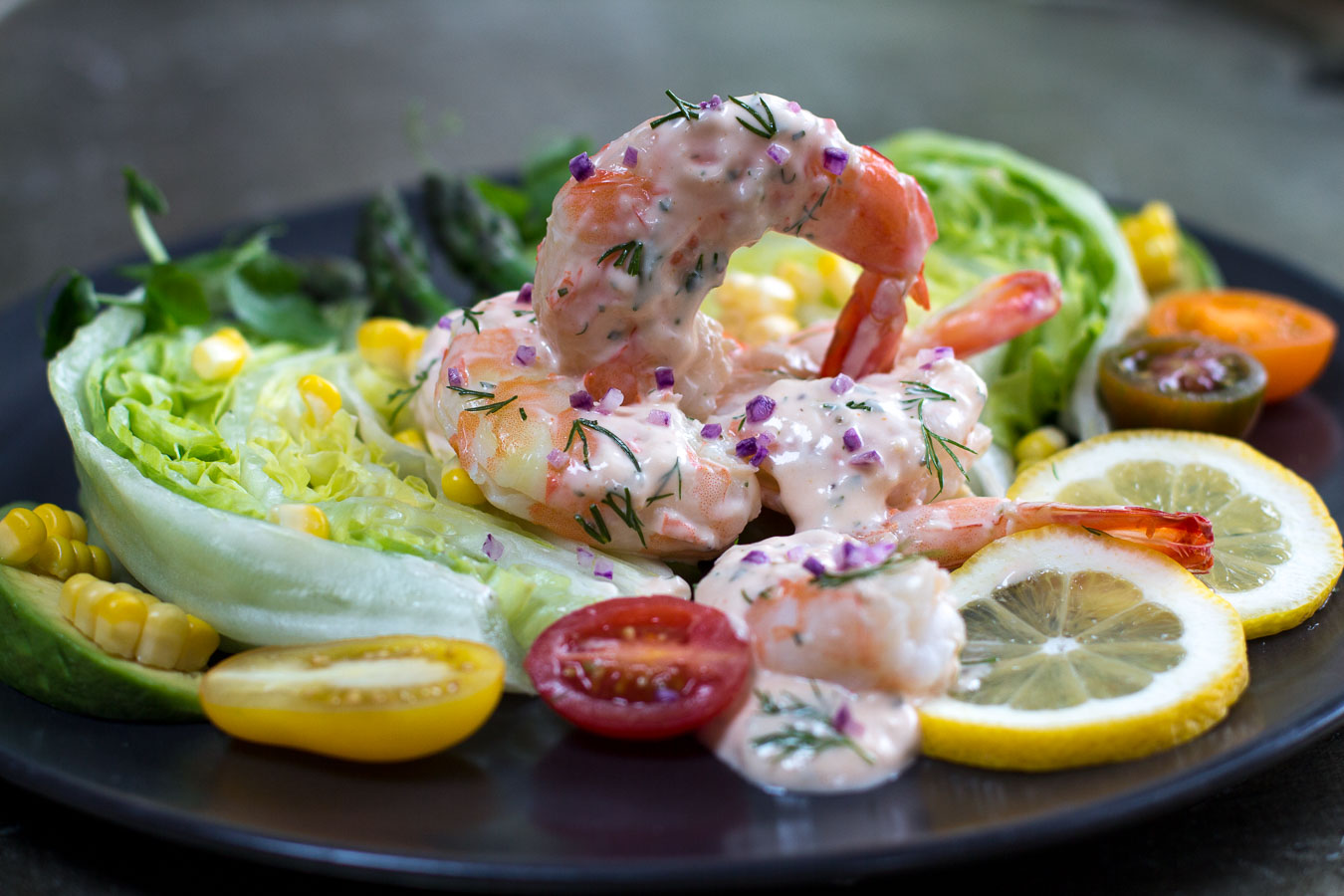 Love shrimp as much as I do?
A Comeback for a Classic Dish! This fresh, seafood-rich trendsetter recipe of the early 20th century takes on a modern flair with Fresh (not frozen) Pink Shrimp and a zippy Louis Sauce 
A delightful Shrimp Louis Salad for today's palate; healthy and refreshing!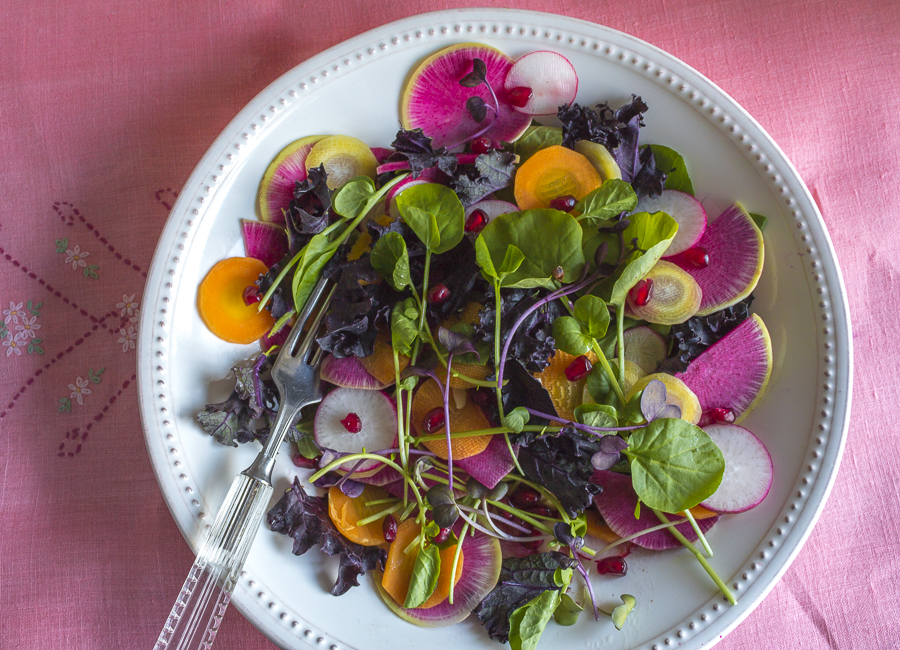 A Gorgeous and Healthful Salad and Dressing Bathed in the Hues of a Sunset. The Sunset Vinaigrette has an ombre color effect when it stands, pomegranate juice helps creates a beautiful hue. Use crisp watercress, with its peppery bite team with torn purple curly kale, thinly shaved watermelon radishes and rainbow carrots, microgreens, toasted almonds and pomegranate seeds.
Something Sweet for Mom: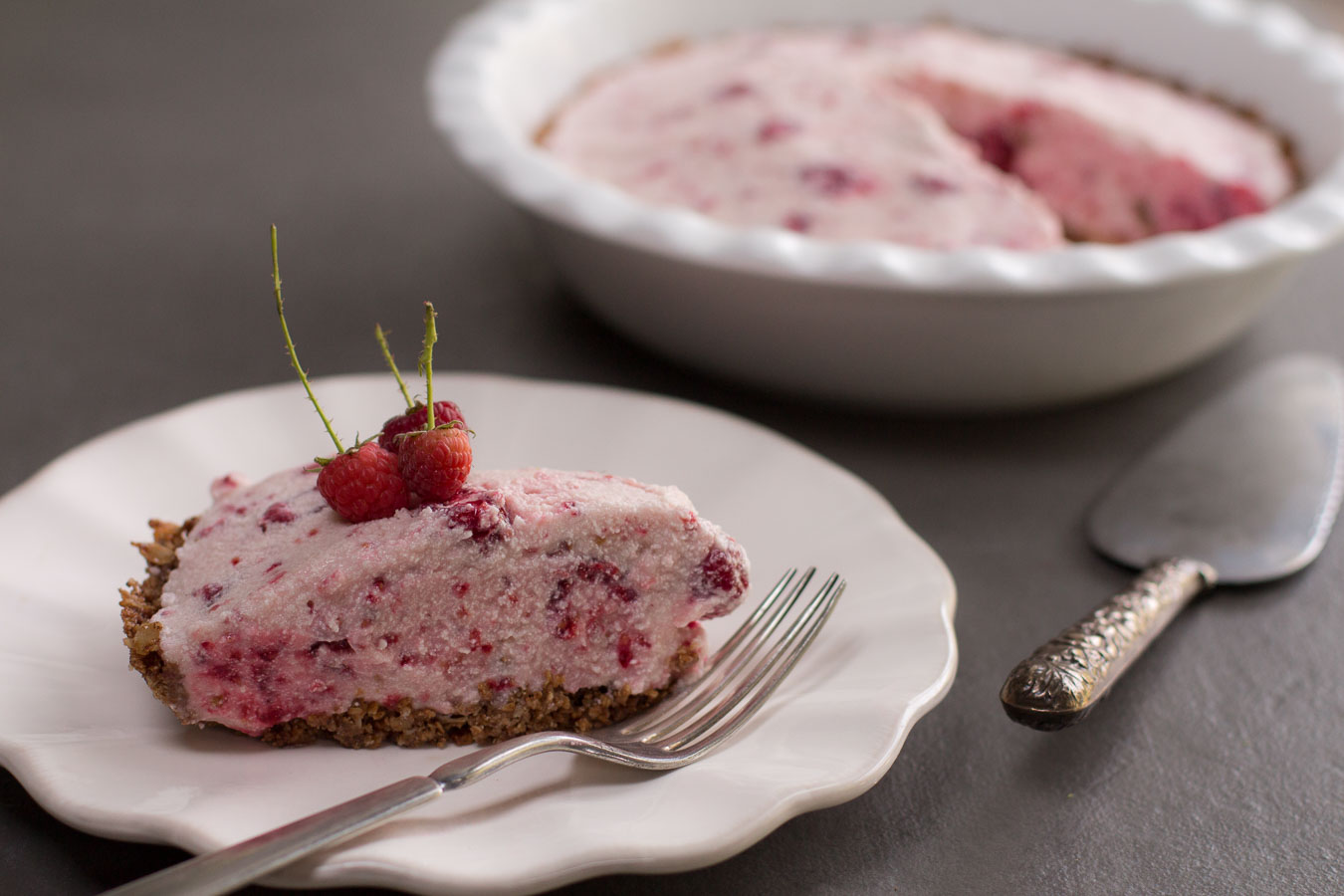 Make this pie! Just made it again for a family get-together… devoured! An Unbelievable, Simple Pie with only 4 ingredients and a press-in Granola Crust.
Dream-like light filling with plenty of fresh raspberry flavor.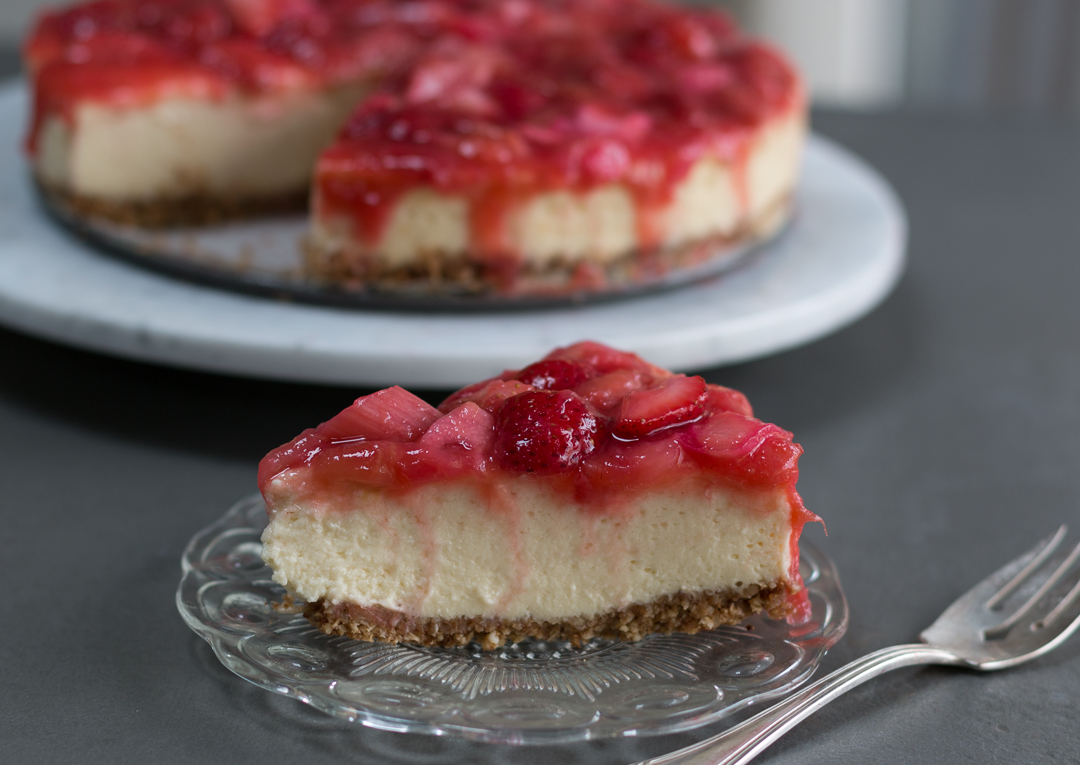 Yes all cottage cheese – no cream cheese!
You'll fall in love with the lighter texture of this amazing cheesecake.
A simple topping with luscious Spring Rhubarb and Strawberries add just the right tart-sweet flavor and gorgeous color!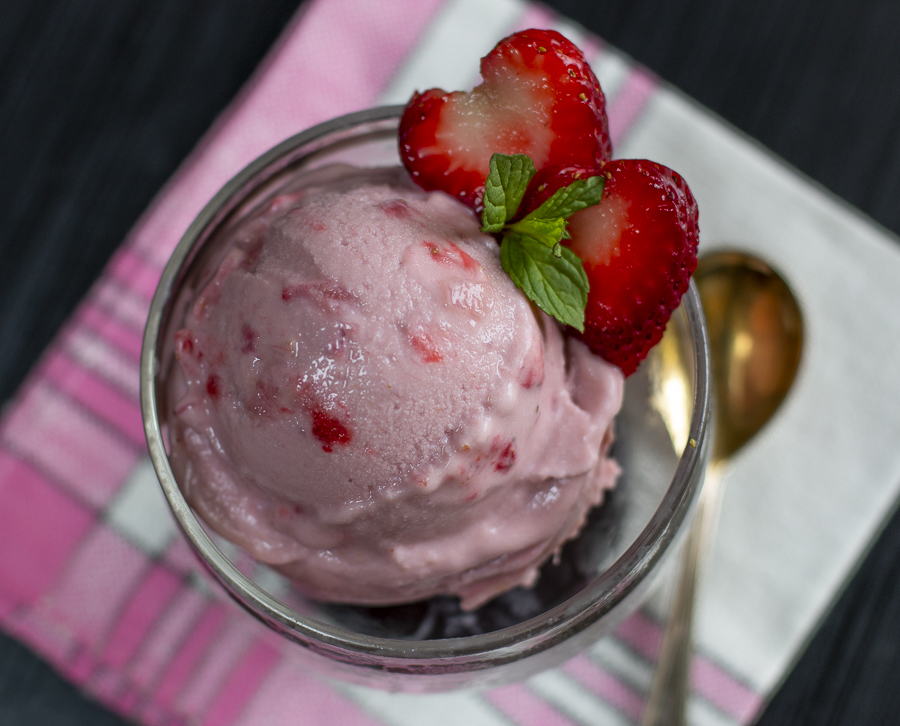 I'm not Vegan… yet love the flavor and texture of this homemade ice cream.
I'm a rhubarb fanatic! Perfectly blended into a fabulous creamy dessert. It's sweet-tart flavor and gorgeous pinky hue sets off the sweeter strawberries.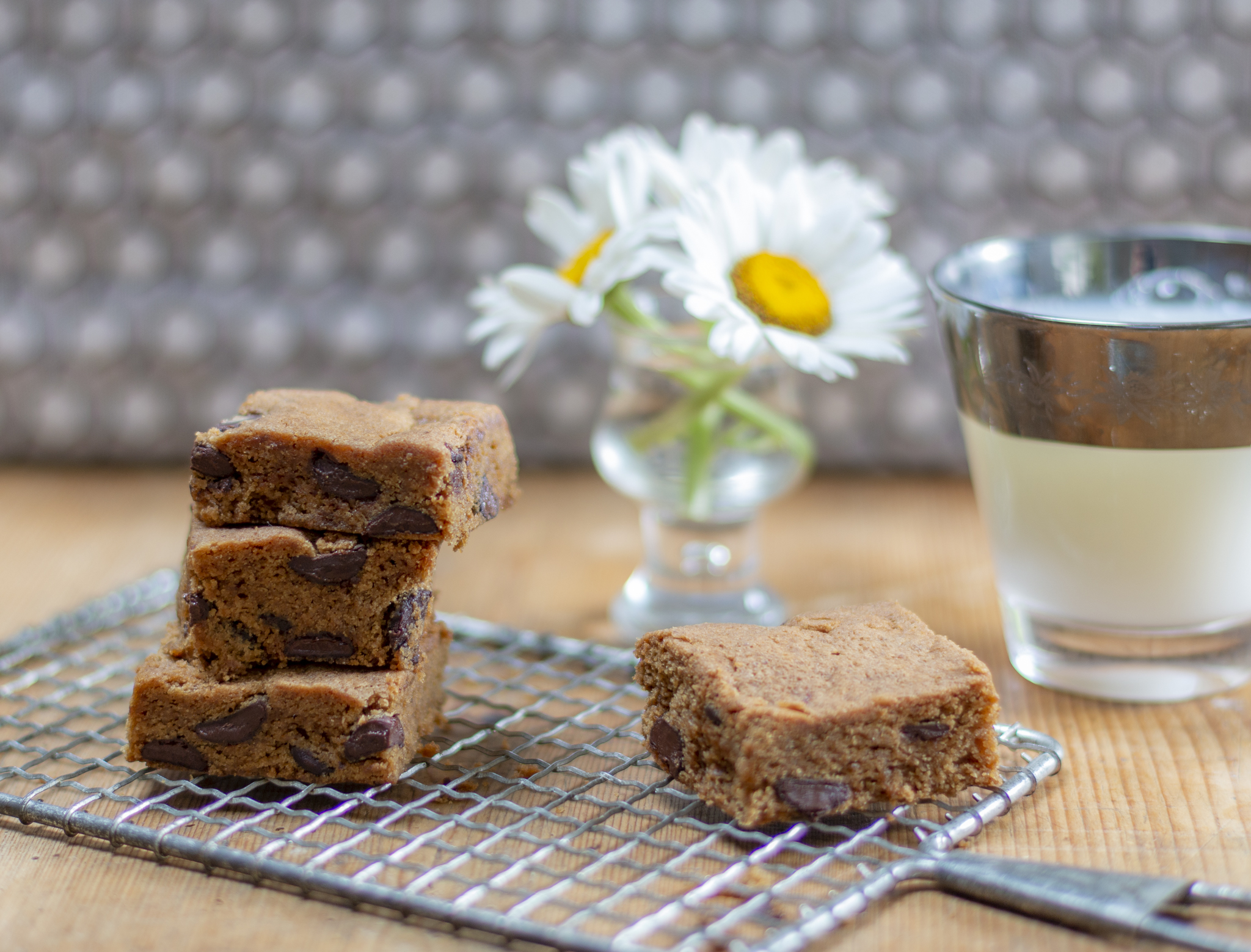 A "Blonde Brownie" with a rich caramel- butterscotch like flavor dotted with chocolate chips.
Keep the recipe – you will make it many times to come…
Baked in a pan – you cut them into squares or rectangles. Simple to make and a family favorite of mine!
Sure – you can use regular flour too!
Happy Mother's Day!
"Mothers hold their children's hands for a short while, but their hearts forever."
Shrimp Salad with Roasted Pepper Mayo & Veggies
A wonderful Shrimp Salad with a Roasted Pepper Mayonnaise you make from scratch! See my instructions for how to make mayonnaise by hand - fun & easy - take it slow. Roasted peppers add a lovely color and flavor - veggies and crunch & color.
Print Recipe
Pin Recipe
Rate this Recipe
Ingredients
2

pounds

large shrimp

I used "colossal" 13 - 15 a pound; defrosted*
For the Roasted Red Pepper Mayonnaise:
1

large

red pepper

about 3/4 pound

1

large

egg yolk

I use pasture raised

1

cup

safflower oil

expeller pressed, or other oil

3/4

teaspoon

grated or minced garlic

1/2

teaspoon

dijon mustard

1

teaspoon

fresh lemon juice

more to taste

1/4

teaspoon

sea salt

2

tablespoons

sweet onion

finely chopped; such as Vidalia

1/2

large

roasted red pepper

(from pepper above)
Ingredients for the Salad:
1/2

large

roasted red peppers

cut into thin strips

1/2

cup

celery

peeled, thinly sliced

1

large

ear fresh corn

steamed 2 minutes; kernels removed

8

large

red leaf lettuce leaves

1 to serve each portion (optional)

1/3

cup

micro celery or microgreens

optional, but love!
Instructions
Note:
You will make 1 cup of homemade mayonnaise - using 1/2 cup for this recipe.
Cook the shrimp
Add water half way up a 3 quart pot. When comes to a boil, add the defrosted shrimp and cook, stirring until opaque, cooked through and bright pink - about 4 minutes. THE COOKING TIME will depend on the size of the shrimp. (Smaller shrimp will cook faster.)Drain the shrimp in a colander in the sink; run cold water over until they are very cool. Peel and devein the shrimp (my shrimp have been already deveined - a time saver.)

Place in a bowl to fit, cover, and refrigerate while you continue the recipe.
Roasting the Red Pepper
Roast the pepper over a gas flame, turning until charred all over. Place in a paper bag and seal tight. Leave in the bag until it has completely cooled - adds more flavor.

Remove the black charred skin in the sink with running water, pushing the skin away; discard the core. Dry very well - cut pepper in half.

HALF the pepper will be used for the mayonnaise; the other half used in the salad.
Step-by-Step: How to make Homemade Mayonnaise:
Add the egg yolk into a very clean 2 or 3 cup bowl. Place a damp paper towel on your work surface - add bowl on top - this stops it from slipping!

Measure 1 cup of oil in a 2 cup measuring cup.

Add egg yolk to a 2 cup bowl, whisk until light colored, about 30 seconds. With a balloon whisk in hand add oil - just 2 small drops at a time, whisking in-between. DO NOT add more oil at this step - GO SLOW! Continue until about 1/4 cup of oil has been used - drop by drop until the mayonnaise gets thicker - changes to a much lighter color and thicker mass.

Only at this point can you add the oil in a thin stream. For the beginner - go slow drop by drop until really thickened before streaming in the remaining oil.

When all the oil has been absorbed - you will have a beautiful, thick & glossy mayonnaise - Bravo!

Add HALF the mayo to a small food processor - save the other half for another recipe (you will be happy to have it!)
Roasted Red Pepper Mayonnaise:
Add HALF the mayo to a small food processor - save the other half for another recipe (you will be happy to have it!)

Add all the remaining ingredients for the Mayo - garlic through 1/2 of the roasted pepper to a small food processor and pulse until well combined and smooth. Refrigerate in a clean container - will thicken in the refrigerator.
Finish the Salad:
Cut the shrimp into large pieces; 3 per shrimp. Alternatively - can cut shrimp (some or all) in half or leave whole. Add to a mixing bowl to fit.

Add half of the Roasted Pepper Mayonnaise (1/4 cup) and mix well. Add celery, roasted pepper strips and corn, mix in.
Serve the Salad:
Add the salad to a large serving bowl - OR line each plate with a nice lettuce leaf, and tip with the Shrimp Salad.

Pour remainin 1/4 cup Roasted Red Peper Mayonnaise over the salad.

Top with micro celery or microgreens and serve!
Notes
* Large Shrimp,

I used "colossal" 13 - 15 a pound; defrosted 

This recipe may not be reproduced without the consent of its author, Karen Sheer.
Nutrition Facts
Shrimp Salad with Roasted Pepper Mayo & Veggies
Amount per Serving
% Daily Value*
* Percent Daily Values are based on a 2000 calorie diet.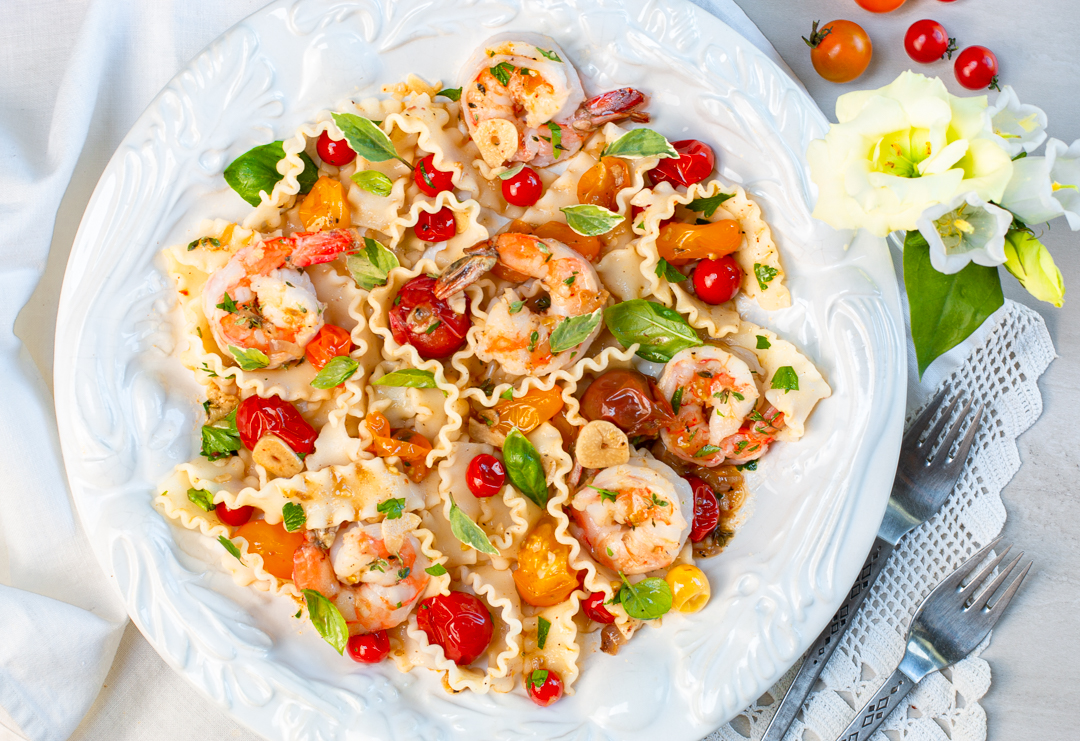 Karen Sheer