Memorial Day – 20 Inspiring Recipes and 3 Menus I Love
Best Memorial Day BBQ Recipes: creative, inspiring and something for everyone! 
Beyond Hamburgers and Hot Dogs – there are so many healthy & tasty Memorial Day recipes to explore… plan ahead and Heat Up the Grill!
Three Fabulous MENUS I am recommending are:
The Perfect Healthy ALL AMERICAN BBQ Menu
Global Flavors – The Ultimate BBQ Menu
A Vegan Menu with a Twist
The Perfect Healthy ALL AMERICAN BBQ Menu
Lets grill some awesome Chicken! (Press on each recipe title)

Smoked Vinegar Mop and Sauce with Onion and Garlic (featured recipe)
A North Carolina Style Barbecue Mop and Sauce ~ Baste this vinegar-based Mop on chicken as you grill… adds flavor and moisture. A wonderful layer of lingering smoky pungency.
Basting Mop Sauces are not sweet. They are slathered over meat, usually a slow-cooking process where a sweet, thick barbecue sauce would burn. You might have read in many BBQ recipes "baste with sauce only at the end of cooking". Not with a Mop – baste often – this adds flavor and moisture.
The recipe call for a stove-top smoker – yet you can grill them too; great if you use smoking chips.
Lettuce Wrapped Chicken Burger with Zesty Ranch
The Ultimate Grilled Burger Wrapped in Lettuces with Onion and Heirloom Tomatoes ~ Homemade Ranch Dressing
Add the just-off-the-grill homemade Chicken Burger to Boston Lettuce and Radicchio Leaves, an Onion Slice, Zesty Ranch Sauce (see recipe) and a few slices of Heirloom Tomatoes. Heaven!! Great for an everyday meal ~ special enough for a backyard BBQ party!
Start with this!


Fried Summer Zucchini with Garlic – Lightened-Up
A lightened-up Fried Zucchini Recipe inspired from the famous Il Mulino Restaurant in New York City.
A healthier yet delectable version! My master recipe is Gluten-Free. Pairs well with anything off the grill.
Raw Slaw
The best coleslaw ever!! Raw seasonal market vegetables chopped with a light, creamy dressing (non dairy) ~ perfect addition to any BBQ menu.
You will never think of coleslaw the same after trying this recipe! Chopped veggies – the freshest available team with a simple vegan mayo dressing laced with celery seeds, for that old fashioned, classic flavor.
A simple and yummy cornbread, which is gluten-free adaptable.
An easy cornbread recipe… delicious with fresh corn kernels! Eat some, freeze some for another day. Serve with Honey Butter.
Here's another cornbread recipe you'll love: Skillet Jalapeño Cornbread
Look no further for the perfect all American peanut butter cookie recipe – for eating & gift giving!
These are gluten free! Or ~ use regular flour too. Bakery quality cookies you'll love.
Global Flavors – The Ultimate BBQ Menu
Two Appetizer Ideas ~


Skewered Shrimp Scampi Appetizer
Sautéed Shrimp in a Hearty Garlic Herbal Butter Sauce Skewered with a Cube of Sourdough Bread to Soak up the Flavors.
I'm loving how the toasted bread cube sits in the perfectly delicious (and easy) scampi sauce. Who is going to resist these??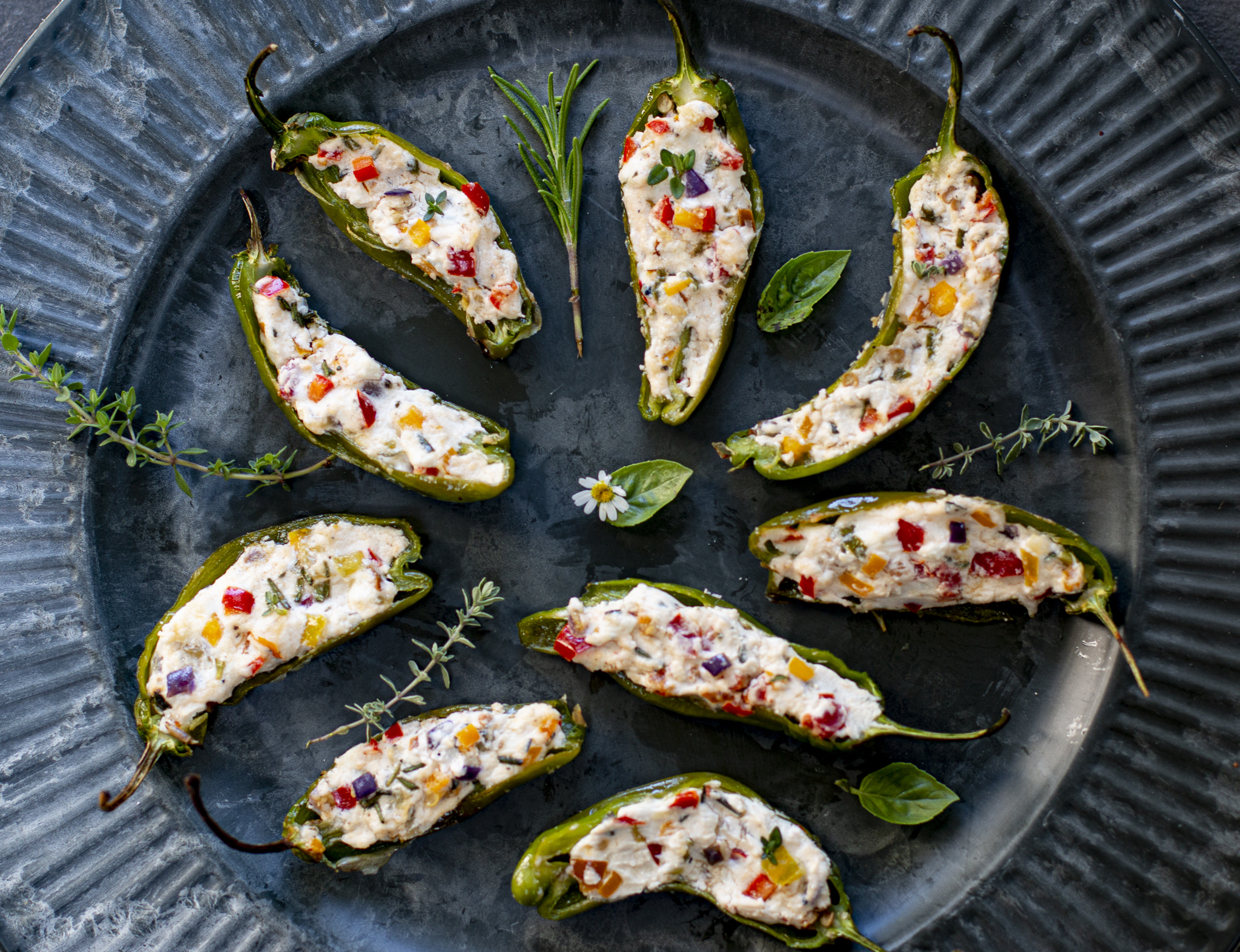 Mediterranean Stuffed Shishito Peppers
Blistered Peppers are stuffed with a medley of Mediterranean ingredients for an addictive appetizer.
Stuffed with softened goat cheese, vegetables and herbs, then broiled one minute.

Blackened Halibut with Cajun Seasonings and Caper Remoulade 
Homemade Cajun Seasonings encrust Fresh Halibut finished with a Quick Caper Remoulade Sauce.
A New England Fish: Halibut – gets a Southern treatment with spicy Cajun Seasonings. Served with Dirty Rice Cajun Style and Seasoned Corn. Try with my Dirty Rice recipe too.

Karen's Best Cajun Seasoning Blend
The most flavorful Cajun Seasoning Blend with a nice spicy kick! For seasoning and blackening – it's BBQ season!
See the important ingredients that make it special.
Salt-free ~ add salt when needed.

Chicken and Veggie Tacos with Mulato Chile Sauce
Delicious with Authentic Flavors!
Warm and Zesty Grilled Chicken & Vegetables are bathed in a Flavorful Chile Sauce.
Have fun layering the ingredients… but the Mulato Chile Sauce is a must! See recipe.

Glazed Hoisin Salmon and Shaved Carrot Slaw
A quick and easy meal with amazing flavor! Make my homemade Hoisin Sauce… a game changer for any cook!
Shaved Carrot Slaw is colorful, crunchy and delicious.
Another Global BBQ main I love: Fabulous Iraqi Grilled Chicken with Iraqi Pesto and Preserved Lemon Relish

Grilled Corn in the Husk with Tomato-Basil Butter
Baste corn with bursting flavor – cover with husk and grill outdoors.
Grilling corn in its husk keeps the corn kernels pump and juicy, while imparting a gentle smokey essence.

For Dessert – who can resist a truly American Pie?

Fabulous Black Raspberry Pie!
Summer Black Raspberries lie under a buttery & flaky lattice crust. Perfection with every bite. You will not believe the crust is Gluten Free!
A pie to savor ~ I've added a handful of red raspberries for color contrast. This recipe makes 2 smaller 6 inch pies ~ double the recipe for a full sized pie.
Use red raspberries too!
A Vegan Menu with a Twist
 Grilled Asparagus & Hearts of Palm Salad with Chimichurri
A creative and healthy stunning salad with my master Chimichurri sauce/condiment.
To make – cut the asparagus and hearts of palm the same lengths – add to a platter in a"quilted pattern" and spoon over some Chimichurri.
The ultimate Veggie Burger with Falafel Seasonings and Lemon-Tahini Sauce.
Stack the burger on buns with sliced tomatoes, cucumber and a luscious lemon-tahini sauce – all will devour!

Fingerling Potatoes and Crispy Kale in Foil Packets
The ultimate grilled potato side dish. Perfectly seasoned with caramelized shallots and garlic… and kale that comes out crispy!
Fold packets and grill when ready. Can make ahead!

Charred Sugar Snap Peas on the Grill with Hazelnut-Sesame Sauce
Tender crisp with a smoky essence ~ these peas are finished with a zesty and spicy nutty sauce… time to heat up the grill!
Ready to dig in – charred sugar snap peas are garnished with a flavorful Hazelnut-Sesame Sauce, Toasted Hazelnuts and Purple Radish Sprouts.

Vegan Strawberry Rhubarb "Ice Cream"
I'm a rhubarb fanatic! Perfectly blended into a fabulous creamy dessert. It's sweet-tart flavor and gorgeous pinky hue sets off the sweeter strawberries.
Super creamy and luscious!

Lemon Poppy Linzer Cookies – Vegan & Gluten Free
Ever wanted to explore Vegan Baking? These cookies pack flavor and crunch… and yes – a little zesty!
Crispy delightful cookies all can enjoy with a melt-in-your-mouth texture.
Have a Delicious & Safe Memorial Day Weekend,
Karen
See All My Recipes Here: https://azestforlife.com/recipes/
Smoked Vinegar Mop and Sauce with Onion and Garlic
Baste this vinegar-based Mop on chicken as you grill… adds flavor and moisture. A wonderful layer of lingering smoky pungency. North Carolina Style.
Servings:
8
servings; 1 1/4 cups
Print Recipe
Pin Recipe
Rate this Recipe
Ingredients
1/2

large

onion

4

large

garlic cloves

cut almost in half, skin on

1

teaspoon

extra virgin olive oil

1/2

teaspoon

freshly creacked black pepper

1/4

teaspoon

marash pepper

or your favorite spicy ground chili pepper

3/4

teaspoon

sea salt

1

tablespoon

ketchup

(no high fructose corn syrup!)

1/2

teaspoon

chipotle in adobe

or more for spicier

2

tablespoons

pure maple syrup

1 1/2

cups

organic apple cider vinegar

(I use Braggs)
Instructions
Place 1  1/2 T. of your desired smoking chips on the bottom of a Camerons Stove Top Smoker*. In ten minutes, it will be smoking and ready. Smoke the onion and garlic on the rack for 10 – 15 minutes until softened and a nice golden color. Cool. Remove peels, coarsely chop.

In a 2 quart non-reactive pan, add the oil, the chopped onion and garlic. Sauté over low heat for a minute then add the seasonings: Pepper, marash pepper, salt, ketchup, chipotle and maple syrup. Cook for 1 minute to blend the flavors.

Add the vinegar, bring to a boil. Reduce the heat to a simmer, and cook uncovered to reduce slightly by a fourth, about 10 minutes.Cool slightly and puree in a blender – leave a little chunky with some texture – just 10 seconds. Place in a clean glass container and refrigerate. Will last a few weeks.
How to use the Mop:
Baste a spatchcocked (flattened) chicken with the mop as it cooks. Use as a side sauce as well.I cook skin side down until lightly charred, over high heat, then turn grill down to low and cook slowly until done – basting with the Mop.

Marinate chicken breasts in the Mop for up to 6 hours. Oil your grill, and cook until strong grill marks appear on the first side, turn over with tongs – turn heat down to low. Cook on the second side about 10 minutes, depending on the size, until just cooked inside – basting with the mop! Slice the chicken and top with some fresh chopped thyme, and sliced garlic chives, if available.

Serve some Smoked Vinegar Mop on the side for dipping.

* I highly recommend this smoker and use it often. Alternatively (without smoker), sauté onion and garlic in the first step until slightly caramelized, add a pinch of smoked paprika. Or - cook onions on grill with soaked BBQ smoking chips on a rack or in a foil pouch on the coals.
Nutrition Facts
Smoked Vinegar Mop and Sauce with Onion and Garlic
Amount per Serving
% Daily Value*
* Percent Daily Values are based on a 2000 calorie diet.
Karen Sheer