Want to make the best tasting meatballs? I've got you covered. Just-ground turkey with loads of veggies – and a technique that adds ton of flavor, and yields a tender meatball!
I have been making meatballs for more years than I can count.
Always experimenting with different ingredients and techniques – – –
I am now reporting THIS is the most delicious method ~ and what really counts too are the quality of ingredients.
I'm using freshly ground turkey (thigh) – It makes a DIFFERENCE!! No chemical additives and just-ground.
TASTE is the reason to source this out. Its superior! Case closed.
No off flavor, and a not "gamey" flavor like some pre-ground packaged products which sit on the shelves for many, many days (with preservatives – see below…)
To the freshly ground turkey I add:
Fresh bread crumbs (which I like better than dried or panko), onion, garlic, carrot, zucchini, spinach, parsley, egg and seasonings; oregano, chipotle chile, salt & pepper. Loads of veggies!

I mince or grate the veggies and pulse the spinach and a slice of bread in my small food processor. (I used gluten free bread!)
Then simply mix all together well and refrigerate.
The technique: brown in a skillet, then cover with sauce and bake
I make the balls with the add of a large cookie scoop, so they are all similar size, then roll them with watered hands.
I freeze the tray of meatballs for 15 minutes then brown in a cast iron skillet, with a little olive oil – shaking the pan.
Next, the meatballs are covered in sauce in a baking pan, and cooked in the oven until cooked through and tender.
What is "rosemary extract" in all ground turkey packages??
Ground Turkey sold in supermarkets now all have 2 ingredients:
Turkey and Rosemary Extract. "Rosemary Extract" sounds pleasant, like the former added ingredient; "Natural Flavorings" (which are chemicals.)
So, what's the big deal? Rosemary extract is a preservative – prepared using acetone or ethanol as the extraction solvents. We, the consumer really do not know what this is??
Whole Foods sells freshly ground IN STORE ground turkey for $5.99 a pound.
Now that's a deal – no additives!
While I did not see it on the shelf in my store (like I've seen before in some of their stores), I asked the butcher. They sell many brands of ground turkey and do not always grind – in-store.
But he did for me!! Luckily, they were making homemade turkey sausage – and ground two pounds for me.
Use a slice of gluten free bread in the recipe, like I did – for a gluten free meatball, or a slice of any sliced white bread like Italian or Sourdough.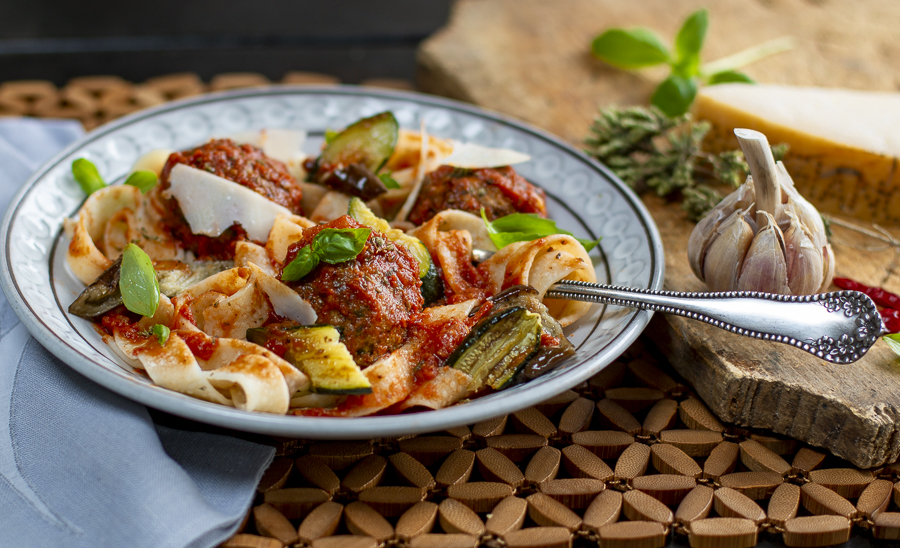 Some research on additives:
Rosemary extract (in most "ground turkey") is obtained from ground dried leaves of Rosmarinus officinalis L using food‐grade solvents, namely, acetone or ethanol.
So – rosemary extract prepared using acetone or ethanol as the extraction solvents.
Rosemary extract is characterised by its content of phenolic diterpenes, carnosic acid and carnosol, the principal antioxidative agents.
Extracts of rosemary are produced from dried rosemary leaves by acetone extraction, filtration, purification and solvent evaporation, followed by drying and sieving to obtain a fine powder or a liquid.

Oxidation in fresh ground meat can lead to discoloration – rosemary extract solves this problem, and the ground meat seems fresh.

So – see if your butcher can grind turkey fresh for you – you'll taste the difference! (Without added chemicals.)
Enjoy this timeless recipe (you'll make again and again),
Karen

See RECIPE:
RECIPE: This is how you make the BEST Turkey Meatballs!