A Moroccan feast! Perfectly balanced with aromatic spices. "Tagine" recipes are slow-cooked savory stews rich with delicious Mediterranean spices such as, saffron, cumin, cloves and cinnamon.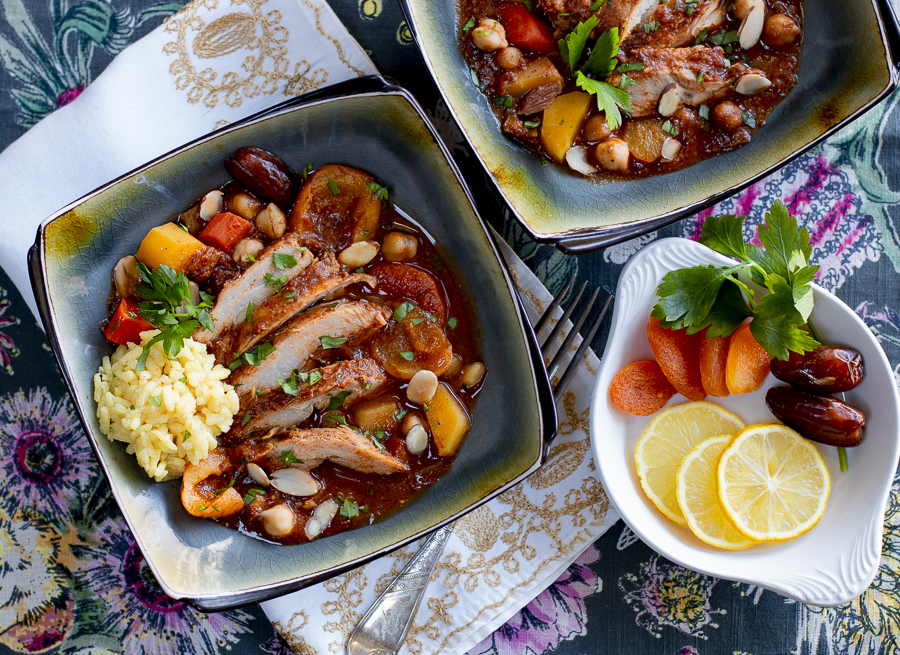 A rich broth with chopped tomatoes, chicken stock, carrots and chunks of dried dates & apricots with aromatic global spices ~ this is a stew to make again and again! Top with crunchy sliced almonds and parsley.
Robust flavors with tender chicken ~ a warm-up comfort bowl of tagine.
The recipe might see exotic, yet it's quite easy to prepare!
Serve the Tagine with Couscous or Rice… or mix it up and serve with Quinoa or even Mashed Potatoes! I served mine with Turkish Baldo rice with Saffron.
Just thinking of Moroccan food conjures thoughts of spicy, slow-cooked meat dishes cooked gently – typically cooked in magical pot: a tagine.
You don't need a traditional tagine vessel to cook a tagine recipe! Use a Dutch oven or another lidded pot instead, as long as the lid fits tightly.
Moroccan and Algerian tagine dishes are slow-cooked savory stews, typically made with sliced meat, poultry or fish together with vegetables or fruit.
Because the domed or cone-shaped lid of the tajine pot traps steam and returns the condensed liquid to the pot, a minimal amount of water is needed to cook meats and vegetables.
The traditional tajine pottery, sometimes painted or glazed, consists of two parts: a circular base unit that is flat with low sides and a large cone- or dome-shaped cover that sits on the base during cooking.
The name of the dish and the name of the meal cooking inside of it are the same. The benefit to cooking a tagine (the meal) in a tagine (the pot) is the pot seals in all of the flavorful ingredients that usually have a bit of moisture from sauce and vegetables, then that moisture goes up the sides of the lid and back down over the ingredients, creating a self-basting, flavor-enhancing cycle of deliciousness.
Places of Origin: Middle East and North Africa
This recipe reheats well and makes 4 – 6 servings.
Want to make a vegetarian or vegan tagine? Substitute a few cups of vegetables for the chicken in the recipe.
This recipe is naturally gluten free.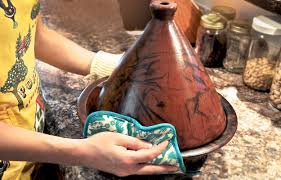 Enjoy!!
Karen

See RECIPE: Tagine Chicken with Apricots, Dates and Chickpeas