A light and hearty Mediterranean "Sauce" for Chicken, Fish and beyond. An Extra Virgin Olive Oil Based Pan Sauce combines Garlic, Shallots, Five Herbs and Fresh Corn.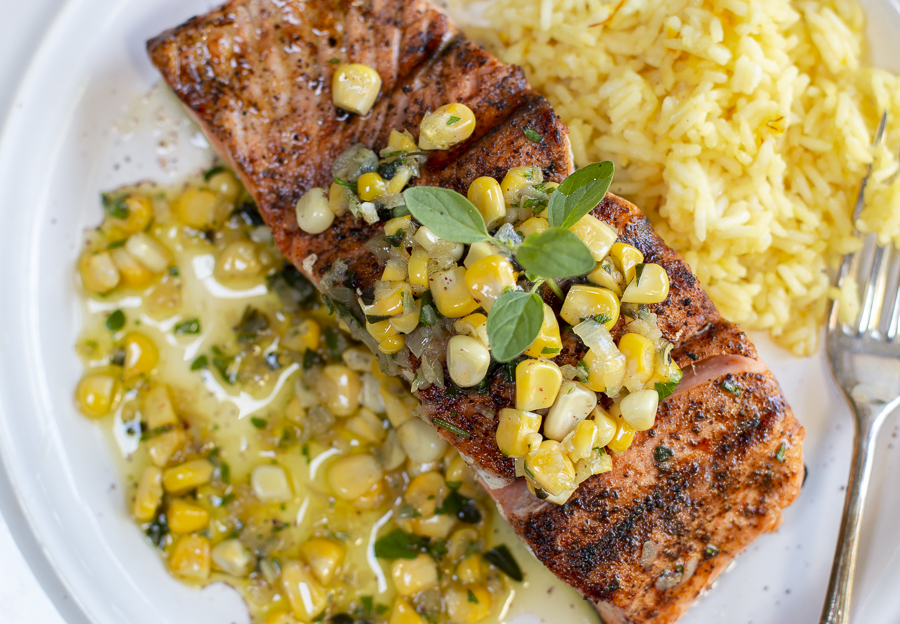 A super-quick and healthy sauce you whip up in a skillet in minutes.
What does this sauce work with? … well everything!
Perfect topping grilled proteins, yet mingles well with vegetables, grains and pasta.
I would recommend smothering grilled vegetables – just-off-the-grill with this flavorful sauce, and let the flavors soak in.

Would be a wonderful dish to serve for a crowd –
Looking for some Father's Day inspiration?
The "Sauce" in this recipe takes just minutes to prepare. Mediterranean seasonings – Sumac and Smoked Paprika are rubbed into the chicken and salmon, then simply grilled.
The sauce is so delicious starting with a good quality, fruity olive oil. The oil is warmed in a pan, then grated garlic and chopped shallots are added and set aside to flavor the oil.
After the lean proteins are grilled – add corn and herbs to the pan and cook for a mere 2 minutes – to lightly cook the corn – and mingle the flavors of the herbs into the sauce. That's it!!
I'm growing many herbs ~ so I have added five of them to the sauce… so yummy! Mediterranean herbs in the sauce: Fresh Parsley, Oregano, Thyme, Basil and Rosemary.
I'm loving some saffron rice to serve with this dish.
AND – you can add any vegetables to like to the olive oil sauce, even diced fresh tomatoes would be wonderful.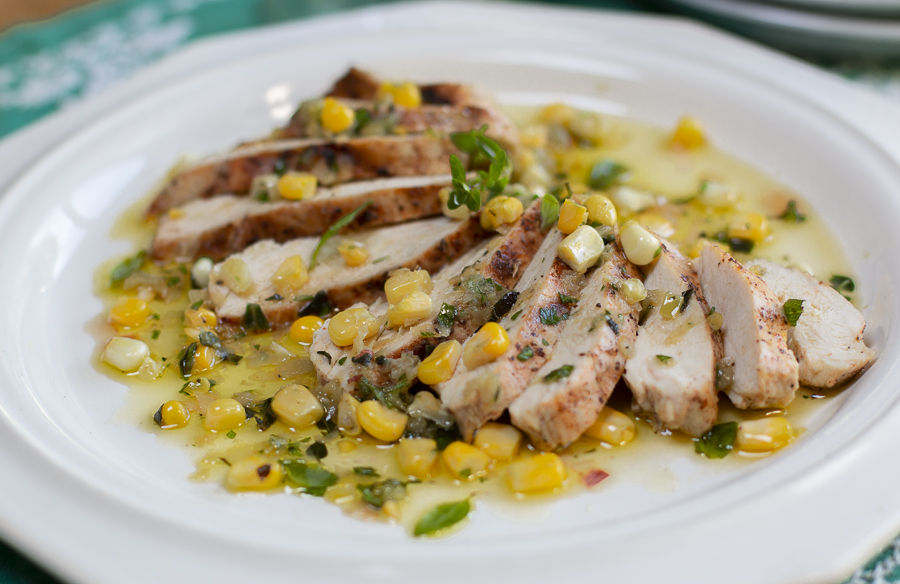 Extra Virgin Olive Oil's olives are cold-pressed and barely processed (hence the "extra virgin" name), the oil contains a higher amount of those protective antioxidants than the additionally processed stuff—the olive oil.
I find it very easy to stay healthy cooking for myself at home. I have control over the quality of ingredients – compared to eating out often. I do purchase organic and non GMO ingredients as much as possible, so I know what I'm consuming. And – I shop in season at Farmers' Markets, buying directly from each farmer.
A problem with eating out too often is the heavy hand of salt, fat and sugar.
The Mediterranean Diet proves that good taste and good health go hand-in-hand. People living in the countries that border the Mediterranean Sea eat sensibly and a lot of vegetables, fruits, nuts, seeds, legumes, potatoes, whole grains, herbs, spices, extra virgin olive oil…. eat fish, poultry, eggs, cheese, yogurt in moderation and red meat and sweets occasionally.
The focus is on healthy fats as well as plant-based foods, avoiding anything processed, refined or unnaturally sweetened.
Many of the world's populations with the longest life expectancies live along the Mediterranean coast, and research backs up the claim that it has to do with their diet.
So, extra virgin olive oil is composed of mainly monounsaturated fat (a great fat), meaning it helps to balance our blood sugar levels, which supports anyone with metabolic syndrome (i.e. diabetes, polycystic ovarian syndrome, obesity, and other insulin resistant syndromes). It also supports healthy cholesterol levels by decreasing bad cholesterol and increasing good cholesterol, helping our bodies find the appropriate balance.

Enjoy this wonderful recipe – great for everyday, special enough for company,
Karen

See RECIPE: Mediterranean EVOO Herb & Corn Sauce for Chicken and Fish