Inspiring & Healthy Barbecue Recipes for Every Taste!
Grilling is a simple way in the summer to get dinner on the table in lightning speed.
Pay special attention to marinades, sauces and salsas – and use the freshest ingredients you can find.

Summer is finally here and that means the grilling ideas are absolutely endless ~ I'll help you out with creative recipes you can be successful with. Yes, it's officially the start of dining alfresco!

Soaking wood chips – and adding them to a V-shaped metal smoking box transforms a gas grill to something special… a smoky essence that lingers
Asian-Style Satay Sauce made with Sunflower Seed Butter for a nutty-sweet flavor, yet nut free and Vegan. Easy blended sauce for Noodles and Grilled Chicken Skewers. Top with Sunflower Seeds and Sunflower Sprouts!
Cedar Planked King Salmon is an Easy Summer-Time Dish with a lush, smokey essence ~ the Flavorful Gremolata takes only minutes to prepare
A smoking hot grill makes the most delicious pizza! The crispy crust lies underneath a garden-fresh tomato "raw sauce." Top with cooked sliced garlic, cherry tomatoes, fresh mozzarella and basil leaves … the possibilities are endless!
A Quick Healthy Summer Meal Served Hot Off the Grill. Make the Zesty Gingery-Miso Dressing ahead for a speedy recipe. Pineapple is wonderful grilled and adds natural sweetness to the dish.
Baste corn with bursting flavors – cover with husk and grill outdoors. Grilling corn in its husk keeps the corn kernels pump and juicy, while imparting a gentle smokey essence. Corn is sweet and satisfying and a perfect addition to a balmy summer barbecue.
This Jerk Marinade EXPLODES with Flavor! A spicy Jamaican mixture including hot chili peppers, allspice, cinnamon, and thyme. The essence of Caribbean flavor ~ Jerk chicken is easily Jamaica's best-known culinary export, and is truly one of the great culinary delights of the world.
The ultimate Veggie Burger with Falafel Seasonings and Lemon-Tahini Sauce. Want a Veggie Burger thats loaded with flavor, and holds together for the grill? Try this recipe – its base starts with ebony colored, earthy portobello mushrooms for amazing texture. The Burger recipe is gluten free.
Middle Eastern Za'atar is a delightful zesty-herbal mix made even more special and pungent with Fresh Thyme and Fresh Oregano. Baste it on my Vegetable & Halloumi Cheese Skewers, and Grilled Halibut with Garden Tomatoes.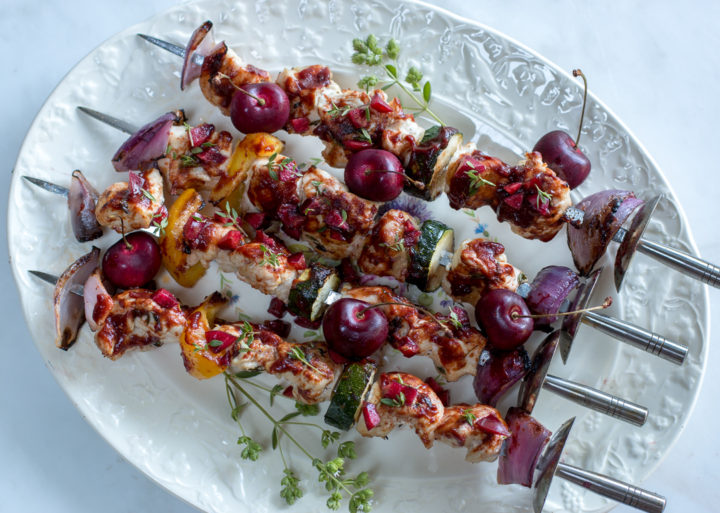 A fabulous Basting and Dipping BBQ Sauce to make During Cherry Season! A gorgeous color with Fresh Cherry Flavor. I've added a fraction of sugar called for most recipes and rely on the natural sweetness of Fresh Cherries. For a naturally-smokey flavor canned chipotles in adobe sauce do the trick beautifully.
Learn how to Char Tomatoes over a wood fire to make the perfect light Summer Salsa. The salsa has few ingredients – all the flavors will shine.
I'm loving the salsa with warm pasta, as a base for crostini and as a topping for your favorite grilled foods.
A great dip too for organic tortilla chips, or as a base for Mexican recipes.

Hope you are enjoying the Summer… and the Thrill of the Grill!
Karen

See RECIPES:
Sunflower Satay Sauce ~ for Noodles and Grilled Chicken Skewers (Peanut-Free)
Cedar Planked Salmon with Pistachio-Tarragon & Lavender Gremolata
Grilled Pizza with Raw Garden Tomato Sauce
Grilled Shrimp & Pineapple with Gingery-Miso Dressing
Grilled Corn in the Husk with Tomato-Basil Butter
Karen's Amazing Jerk Chicken
Portobello Mushroom Burgers
Za'atar Seasoning Mix with Fresh Thyme and Oregano & Grilled Skewers of Halloumi Cheese, Fresh Spring Asparagus and Scallions
Fresh Cherry BBQ Sauce ~ Over Chicken & Veggie Kebobs
Summer Charred Tomato Salsa Over Brined Grilled Chicken