Treat Mom to a Tasty & Delicious Healthy Meal
The tartness of the Rhubarb balances nicely with the tang of the goat cheese, and earthiness of the fresh herbs in the Bruschetta. The Vinaigrette adds a toasted, mellow shallot essence and a hint ground cloves to the lettuce leaves. Make the easy Rhubarb Vinegar, which is special!
A composed salad is a salad of many ingredients that are not tossed together but, instead, conscientiously arranged, whether in a pile or side by side, on a plate or in a bowl, with attention to complimentary flavors and colors.
These salads can be a meal in themselves, or served as a salad course, a lunch, etc. Although a composed salad might be "composed" of many different ingredients this does not mean that your salad is elevated because you claim to have "composed" it, as many chefs seem to think. Flavor comes before presentation.
Here are some of my favorite recipes for main course and side salads, from the artfully composed Modern Shrimp Louis to a Spring Salmon Brochette Salad with Minted Lime Dressing, Toasted Quinoa and Pistachios.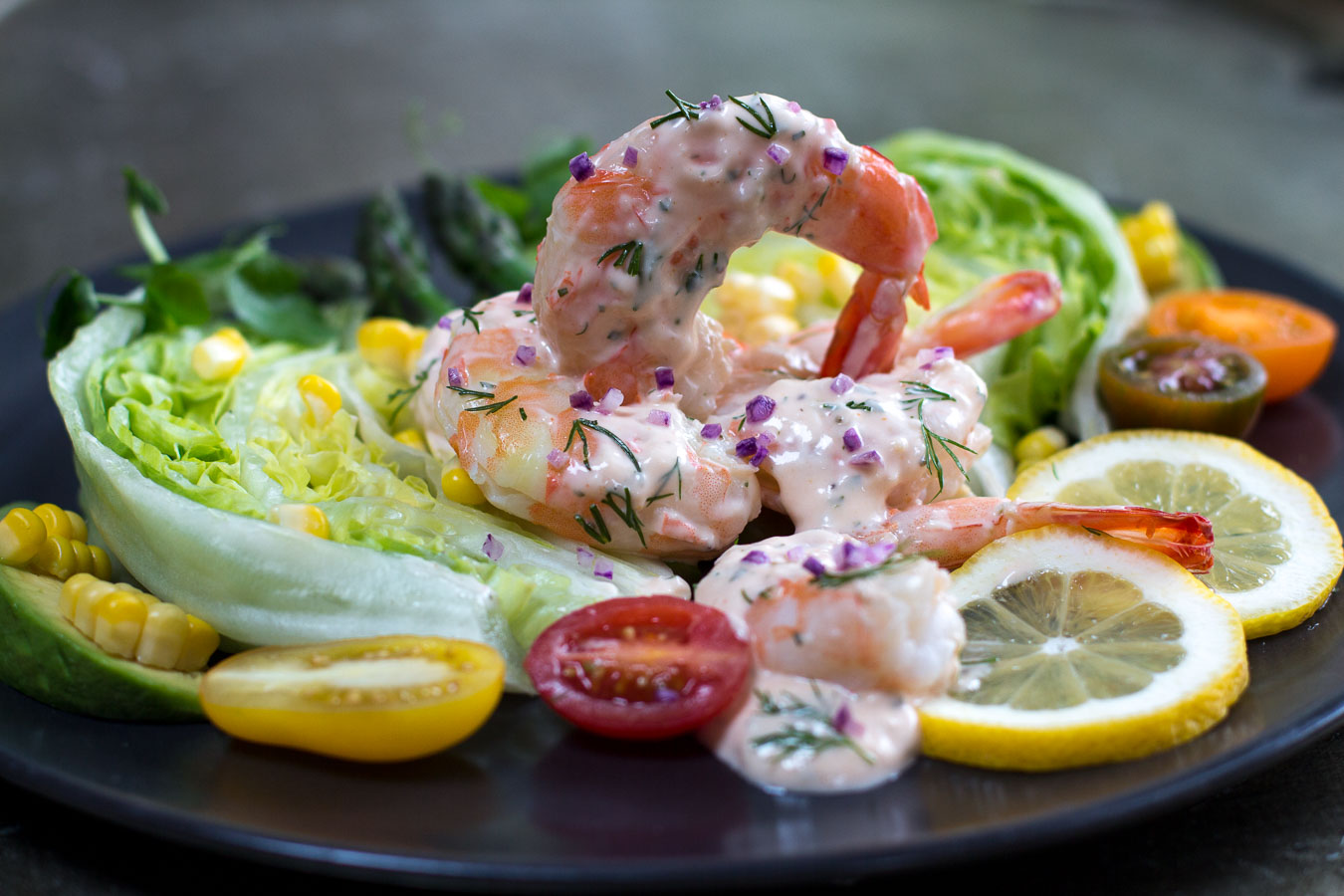 A Comeback for a Classic Dish! This fresh, seafood-rich trendsetter recipe of the early 20th century takes on a modern flair with Fresh (not frozen) Pink Shrimp and a zippy Louis Sauce
The perfect restaurant quality Spring Salad! Choose fat asparagus and cook indoors in a grill pan – or outdoors in warmer weather.
You could add grilled chicken to the seasonal, glistening vegetables! Pita bread is toasted in the oven with olive oil and Za'atar seasoning and tossed into the salad. Finish with a Zesty Lemony Sumac Dressing.
Simply Delicious ~ Wood Fired Infused Smoked Beets easily prepared on your grill. Finish the Salad with Petite Greens and a Zesty Avocado-Citrus Vinaigrette. A Mother's Day Irresistible Salad!
Add some crunch with Garlic- Parmesan Toasts. I use baguette slices and bake until crisp. A pinch of fresh thyme on top adds a great bonus flavor, and pairs well with citrus. You can crumble them over the salad too.
It's Strawberry Season and I've created three recipes: 30 Minute Strawberry Jam, Spinach & Frisee Salad with French Baguette topped with Goat Cheese and Strawberry Swirl, and a zesty Strawberry Vinaigrette.
This recipe includes many antioxidants: salmon, green leafy vegetables, fresh mint leaves, crunchy raw multi-colored carrots, watermelon radish, micro greens, quinoa and pistachios. A bonanza of health!
Buddha bowls are trending for good reason – they're one bowl meals packed with grains, veggies, protein, a homemade dressing and finished with seeds or nuts. Use ingredients you have on hand, love ~ or follow my delicious recipe.
Heirloom Tomatoes ~ Bite-Sized, Team up with Creamy French Feta Cubes with a Zesty Vinaigrette for a Simple Summer Salad It's prime tomato season ~ I'm loving all sizes and especially the sweetness of the smaller sized varieties.
Happy Mother's Day!!
"A mother is the one who fills your heart in the first place." — Amy Tan
Karen

See RECIPES:
Rhubarb and Goat Cheese Bruschetta Over a Salad with Rhubarb & Shallot Vinaigrette
Modern Shrimp Louis Salad
Spring Grilled Asparagus Salad ~ Blood Orange Buttermilk Dressing
Fabulous Fattoush ~ A Middle Eastern Salad with Vegetables and Toasted Bread
Wood Fired Beet Salad with Avocado-Citrus Vinaigrette
Little Gem Salad with Cara Cara Caesar-ish Dressing with Garlic Parmesan Toasts
Spinach & Frisee Salad with French Baguette topped with Goat Cheese and Strawberry Swirl
Spring Salmon Brochette Salad with Minted Lime Dressing, Toasted Quinoa and Pistachios
Buddha Bowl With Beets, Quinoa and a Bevy of Vegetables
Simple Tomato & Feta Salad with Dill and Radish Vinaigrette