A healthy version ~ crispy on the outside, tender inside and filled with good-for-you ingredients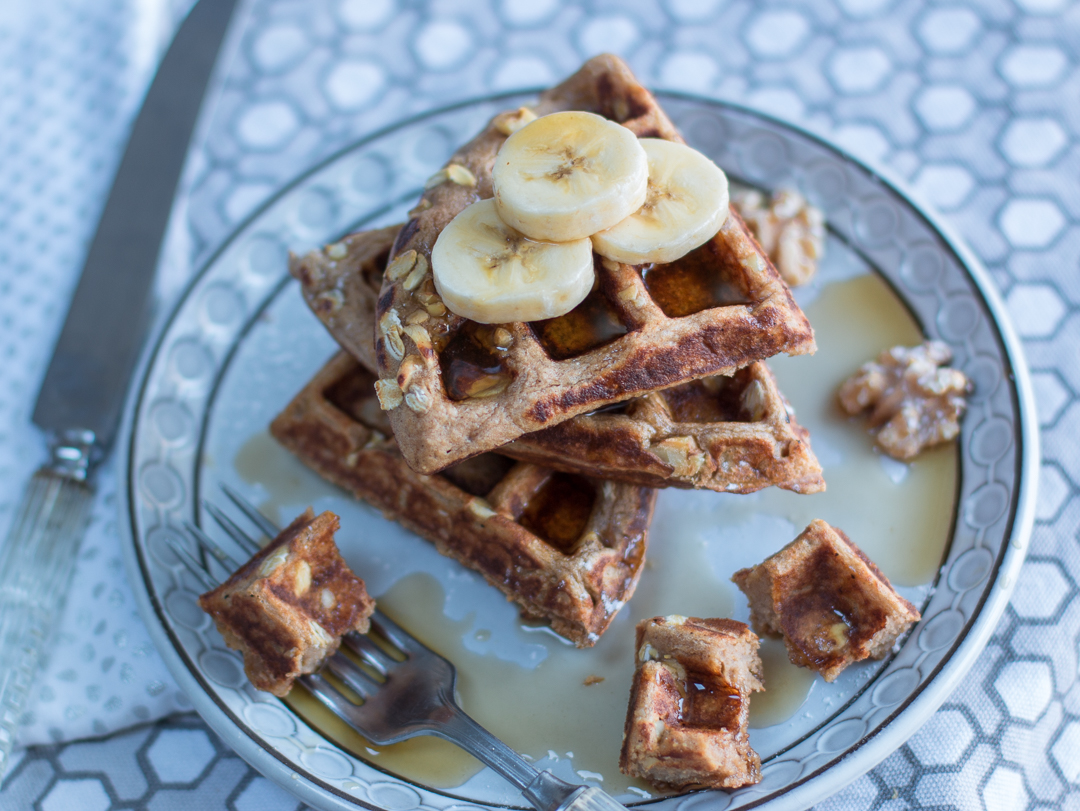 Seriously – a genius recipe! Place ingredients in a blender, whirl until smooth – heat up the waffle iron… and the ultimate, healthy waffles are minutes away!
My waffle maker is seriously over 20 years old! Making waffles at home is fun, easy – and with quite impressive results.
I'm so happy to offer a delicious waffle recipe without a drop of flour.

The ingredients: oats (they thicken the batter when blended), any type of milk, eggs, coconut palm sugar (low on the glycemic index), fresh bananas, cinnamon, sea salt, natural vanilla, neutral oil and walnuts.

The walnuts are added last and pulsed in until a little coarse. Pour into the very hot waffle iron, close and – you will not believe the warmed-spiced smell wafting through the kitchen!
The waffles will be crisp on the outside and tender on the inside.
Eat them right away, or add to a sheet pan and reheat in the oven. These freeze beautifully! Wrap in waxed paper and store in an airtight container in the freezer for another time. This makes 5, large 7″ waffles, that can be separated into 4 individual triangles each.
The recipe is gluten free – make sure the package of oats states this: (no gluten is processed in the same plant.)
Also, easily dairy free! Use any milk you like including non-dairy types like nut milks or soy milk.

The nuts are optional – I love the crunch and flavor… reminds me of my childhood days at IHOP, banana nut pancakes were my dad's favorite.

Top your waffles with slices of banana, chopped walnuts, a few shakes of confectioner's sugar and a good pour of the best real pure maple syrup.
Enjoy this recipe, share with your friends!
Karen

See RECIPE: The Ultimate Banana, Oat & Walnut Waffles – Naturally Gluten Free