A quick and easy meal with amazing flavor! Make my homemade Hoisin Sauce… a game changer for any cook! Carrot slaw is colorful, crunchy and delicious. The perfect side dish.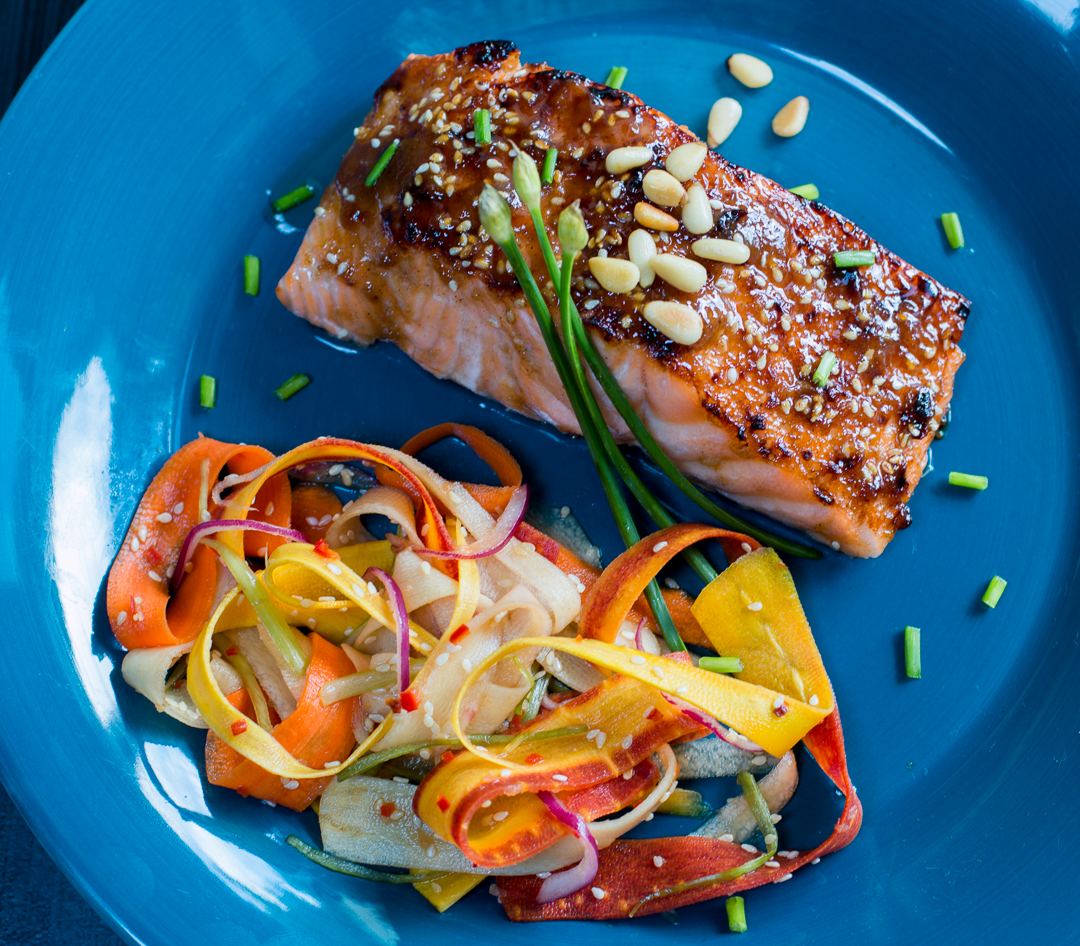 Hoisin sauce is a thick, fragrant sauce commonly used in Chinese cuisine as a glaze for proteins, an addition to stir fries, or as dipping sauce. It is darkly colored in appearance and sweet and salty in taste.
With simple, fragrant ingredients – Homemade Hoisin sauce is a game changer for any cook… ginger, garlic, miso, tamari sauce, Chinese five spice powder, chiles, honey, rice vinegar and sesame oil are cooked together and blended. EASY and great to have on hand for many culinary creations!
Here – it's simply basted on top of salmon and broiled close to the heat source. The top caramelizes and flavors concentrate. Then, its finished in the oven just until it flakes and is tender.
Great for weekday meals, special enough for company.
I'm loving this versatile Hoisin Sauce!
Thick, satisfying and better than store- bought without chemicals or preservatives. Hint: You'll want to double the recipe and use it for many recipes… great for a stir-fry and dipping sauce too!
Typical Hoisin Sauce Ingredients:
Sugar, water, miso (water, soybeans, rice, salt, alcohol), plum puree, naturally brewed soy sauce (water, wheat, soybeans, salt), garlic, vinegar, caramel color, modified corn starch, fermented wheat protein, salt, spices, xanthan gum, citric acid, natural flavors.
Why make your own:
Mine is gluten free and organic.
Questionable Ingredients: 
Sugar does not need to be the most promenade ingredient! I use raw honey.
I use an organic, gluten free soy sauce (It's actually tamari… (see recipe.)
Caramel color is a big no-no! Never buy a product with this artificial ingredient – this includes Balsamic Vinegar! It adds dark color and no flavor… a darling ingredient in the food packaging industry.
"Caramel color, added to many soft drinks and some foods to turn them brown, may sound harmless, even appetizing. But in no way does it resemble real caramel. Some types of this artificial coloring contain a potentially carcinogenic chemical called 4-methylimidazole."

Fermented wheat protein, as far as I know it is a preservative and an extended shelf-life stabilizer for food products with gluten complications.
Natural flavors – I've written about this "ingredient" for a long time. I never buy a product with this "cheat" ingredient! Adds an unnatural fake flavor, made by flavorists.
Also see:
Enjoy this recipe!
Karen
Recipes: