A blue corn crust adds interest – a creamy corn center with truffle cheese is savory, sweet and scrumptious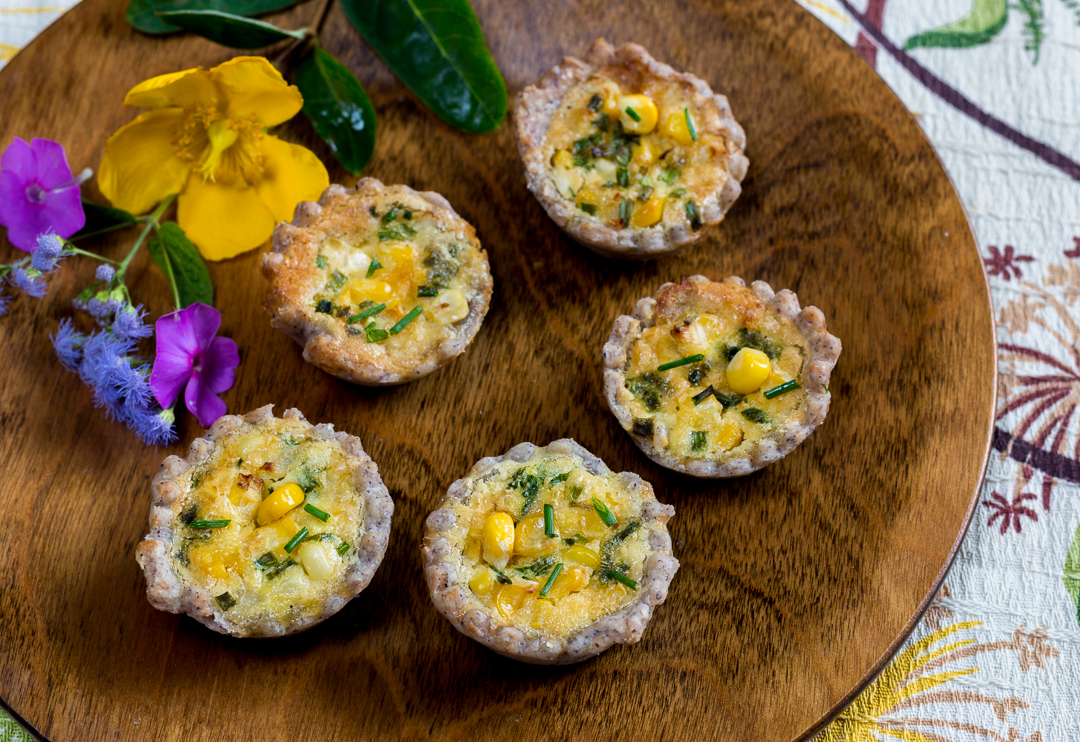 Miniature savory quiches are the perfect pick-up appetizer for brunch, lunch, snack or any party your planning.
Deliciousness in every bite!
This summer's corn has been a wonderful crop – don't think I've had a bad ear all summer!
Take advantage now and stock up on some ears of corn – cut the kernels from the cob and freeze in ziplock bags or sealed glass containers and enjoy for weeks to come. My favorite: bicolor "butter-and-sugar" variety.
Add to stews, stir-fries, sauté or – make these yummy quiches!
The freshest ingredients produce the best tasting quiches.
If you are a baker, then a quiche recipe will come naturally to you.
Otherwise, my recipe will teach you how to make a flaky pastry dough, how to handle it, and the best way to cook it successfully.
In my method – the dough is cut into circles, added to tart pans, pricked (so the dough does not fall down) and pre-baked just a bit. Yes, you can use a bought pie pasty for the quiches – I always make my own, have control of the ingredients… and can be creative. Here I added some blue corn meal for and extra corn-flavor- and the have a nice lilac color!
The corn custard is full of flavor – after sautéing the corn with onion and chopped poblano chili – I add 1/4 of the batch to the milk-egg mixture in the blender. Really adds some extra corn flavor, and the custard will be a bit thicker.
Poblano peppers have a lovely flavor, slightly smokey, yet mild. I blacken over a gas flame, then rub off its skin and chop. You could use canned green chiles (try to find one without preservatives.)
Grated cheese is then added to the pastry cups, followed by the corn custard – then dotted with fresh cut chives.
They bake quickly – done when the rise up and are firm. And – they freeze beautifully for about one month.
Did you know?
Quiche is considered a classically French dish, yet it actually originated in Germany. It started in the medieval kingdom of Lothringen, under German rule, which the French later renamed Lorraine. The word 'quiche' is from the German word 'kuchen', meaning cake.
Enjoy these end of summer bite-sized savory treats!
Karen
RECIPE: