A lightened-up vision of a favorite dessert. You won't believe the texture and flavor of the Ice Milk… and it's not loaded with sugar!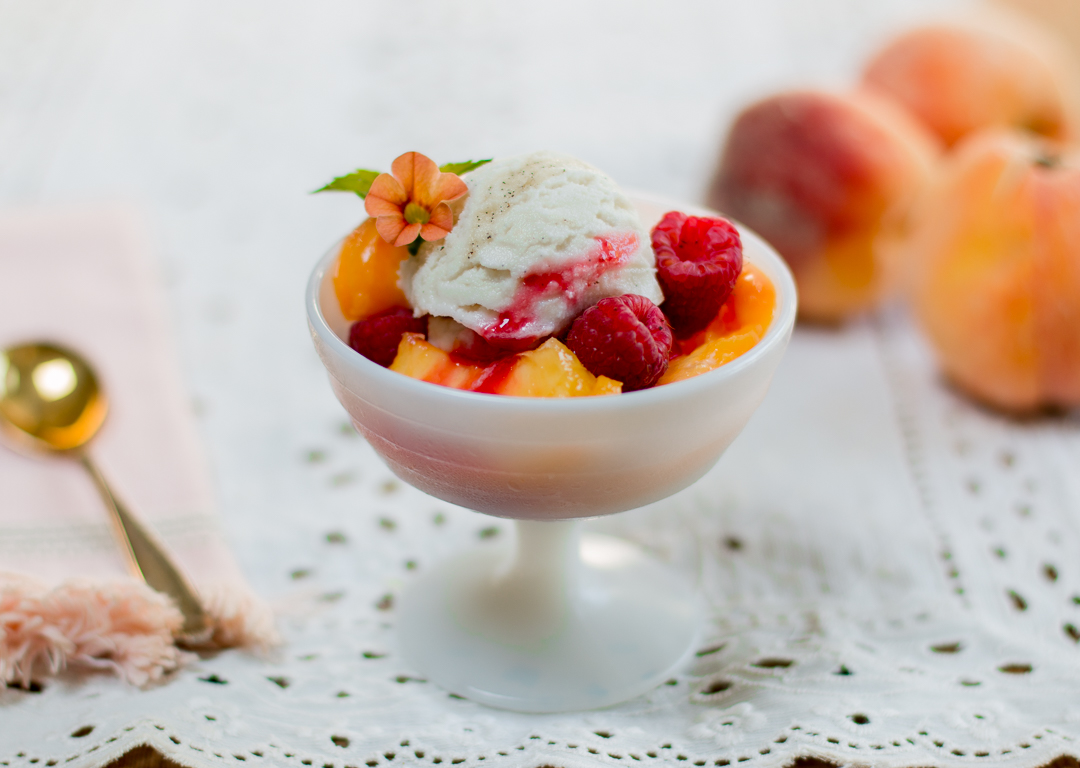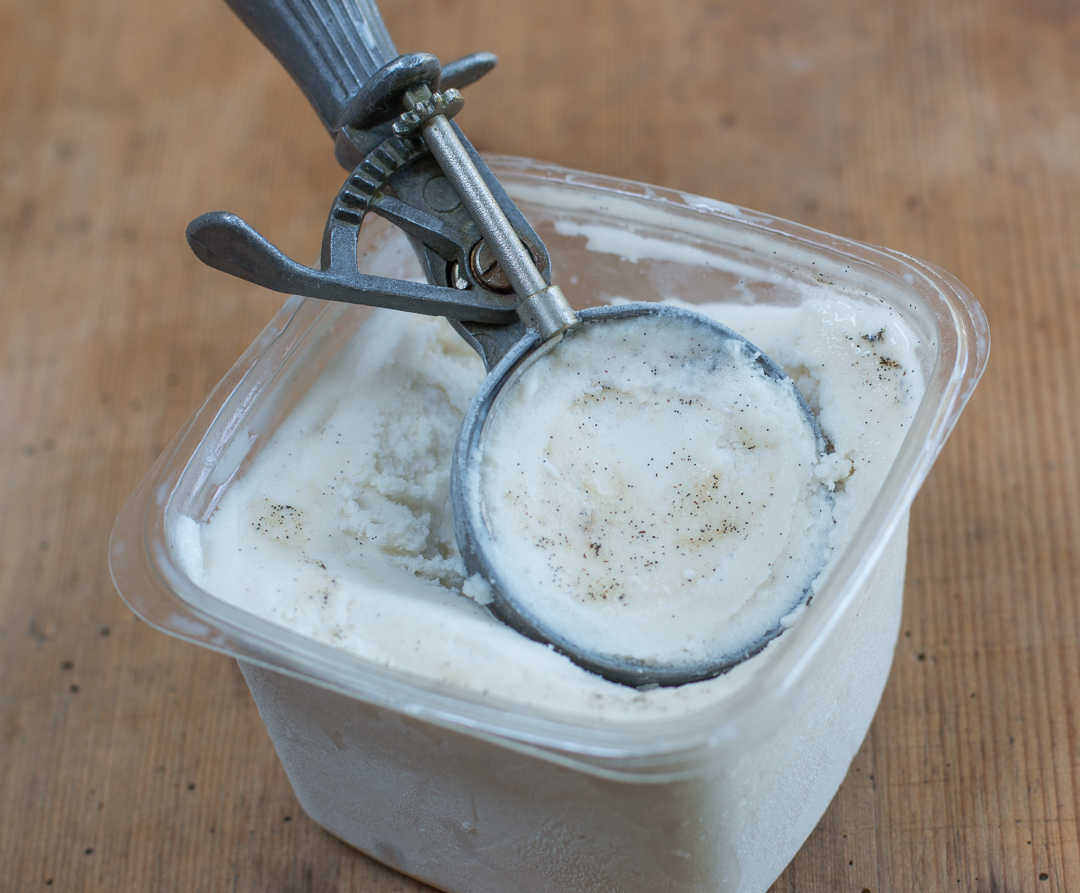 A Summer refreshing treat!
It's been an exceptionally hot & humid summer – I've been testing this recipe that's lower in fat, won't weigh you down – but is cooling and satisfying.
The texture has a luscious quality – "icier" than full-fat ice cream but totally satisfying with exceptional full-body.
I really enjoy ice milk for it's simplicity and straightforwardness. It's not trying to be anything other than it is – it's not trying to taste like full-fat ice cream. It succeeds in texture and flavor…adding just a bit of coconut cream gives the ice milk a full bodied bite – not icy yet creamy. A revelation!!!
I add 1/2 cup natural coconut cream to 2 1/2 cups of full-fat milk for a creamy Ice Milk.
Ice Milk: a sweet frozen food similar to ice cream but containing less butterfat.
Frozen Treat Facts:
Products containing less milk fat but higher sweetener content are sold as sherbet, and products with no milk fat or are sold as sorbet. Products which use nonfat or low-fat are sold as frozen yogurt.
The original version of Peach Melba is a peach, halved, poached and skinned, then sliced, sprinkled with sugar and cooled.
I like to poach a peach and slip off it's skin – slice the fruit and add to the parfait. You could as well make a simple syrup and add the sliced peaches to it – a bit sweeter, but a way to preserve the peaches form discoloring.
A raspberry sauce is made with the seeds strained out, and lightly sweetened. Ice milk is put into a serving dish, the sliced peaches are arranged on top, then the dessert is drizzled with the raspberry sauce, and dotted with raspberries.
Some versions halve the peaches instead of slicing them, and sometimes poach them in a sugar syrup.
Add a topping of almond granola if you like – a great crunchy addition.
Historical notes:
Peach Melba was created by the chef Georges Auguste Escoffier (1846 – 1935) for Nellie Melba, the singer. Melba Toast was also named in Melba's honor.
To make recipe in home freezer: pour blended mixture into 13 x 9-inch baking pan. Freeze for 1 hour or until partially frozen. Spoon mixture into blender or food processor; cover. Blend until smooth. See recipe for more information.
Enjoy!
Karen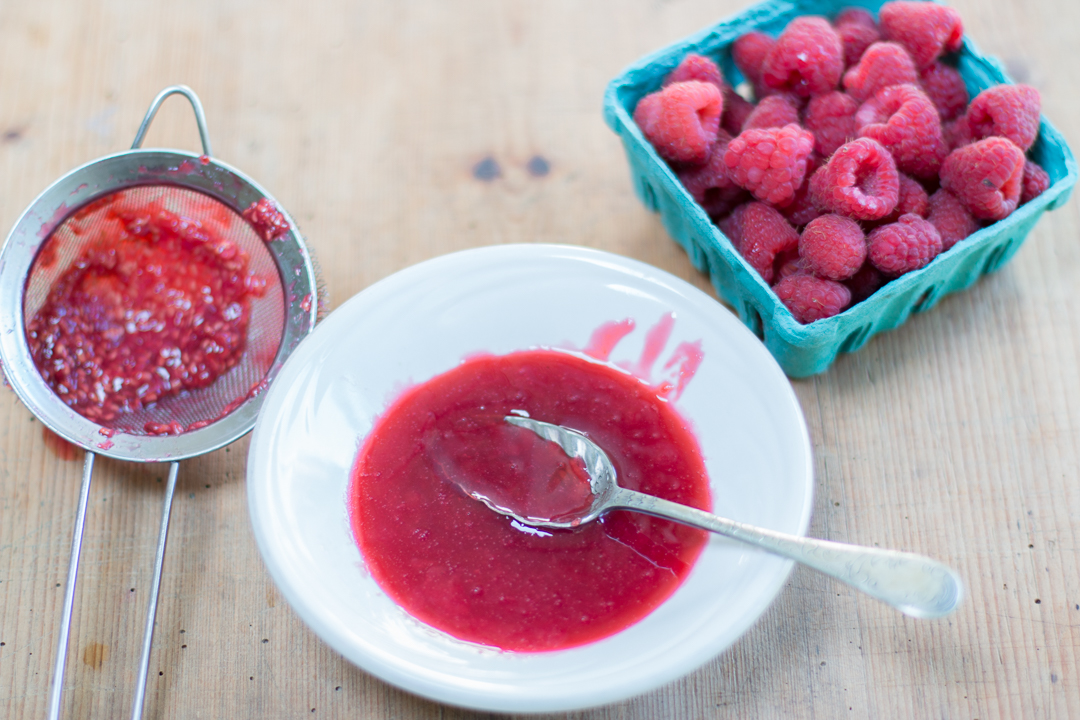 See RECIPES: