These individual crisps are bursting with strawberries and an almond lace cookie top. Totally crunchy! If I do say so myself – these crisps are genius… not loaded with sugar with a top layer that cracks – like Crème Brûlée! Gluten-Free.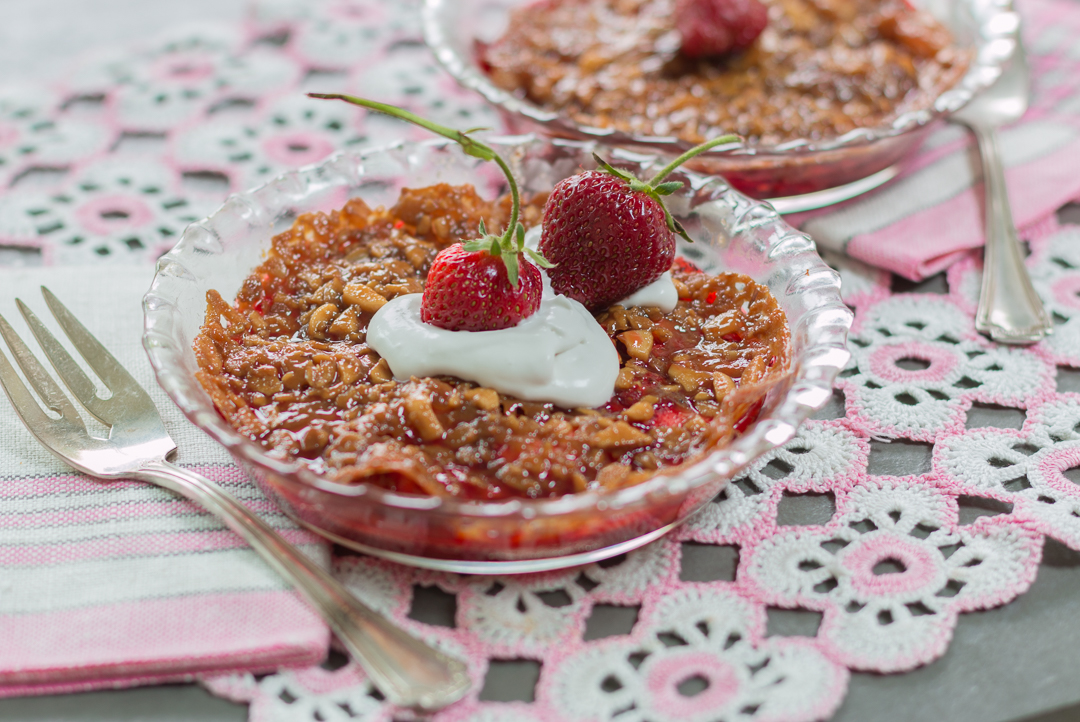 What a wonderful little dessert using in-season fruit… not-too-sweet, easy to prepare and gluten-free.
Strawberries are baked first, then, before eating, lace cookies are baked and draped on top. This forms
an unbelievable crispy and flavorful shell. Easy, gluten-free with much less calories than your average dessert.
Last week I visited my local Farmers' Market to see what Spring produce has been picked. Strawberries were looking luscious, and after one taste, I knew I would take home a quart of them… and whip up something. Gazy Brothers Farm in Oxford, CT never disappoints me with glorious fruits and vegetables, they have 25 planting acres.
I've made so many interesting crisps, cobblers, buckles and pies in the past, now I was looking for a new approach, eyeing these beautiful crimson berries with their stems attached, piled up in their aqua, molded pulp basket.
My Idea:
Using my vintage 5″ glass Pyrex individual glass bakers (you can use metal ones or large ramekins) I had an idea – bake the strawberries first solo, instead of adding a topping. Next, I thought of topping with some sort of cookie… would it be soft to crispy? Thick or thin? Crumbled or flat?
So I tested large cut pieces of strawberries, mixed with orange juice & rind, arrowroot starch for thickening and only 1T. of pure cane sugar per crisp. I spooned this into the individual pans and baked them on a rimmed baking pan. After 12 minutes, they were bubbling, thickened, without the strawberries being too soft.
Next, I made the almond lace cookies. Spacing them far apart anticipating spreading – 1T. of dough was enough to make  5″ circled cookie. After 1 minute out of the oven, they were cool enough, I picked them up with a spatula – and draped each one over the strawberries. Pretty quickly they hardened.
I noticed that cookies stayed crispy for about 2 hours, and then started to moisten.
So – after the cookies are baked and are covering the berries – they should be eaten in 2 hours.
Have fun making these crisps, devour these just-sweet-enough dessert, bursting with flavor.
Enjoy!
Karen
RECIPE: