Make the most of your Thanksgiving leftovers with this healthy & tasty salad. Use what you have! Drizzle with this Cranberry Sauce Vinaigrette (it takes minutes to prepare!)
Like me, you have extra turkey meat from your Thanksgiving feast.
A Chef Salad is a great way to use up leftovers! – and a great alternative (and carb-free!) to the classic turkey sandwich.
Use what you have – compile it into individual bowls for a main course, healthy meal.
Here's what I used: Butter Lettuce, Arugula, Julienned White Meat Turkey, Julienned Swiss Cheese, Sunflower Spouts, Sliced Sugar Snap Peas, Roasted Sweet Potatoes and Thinly-cut Watermelon Radishes.
Use ingredients you have from Thursday's big meal.
The options are endless… depending on leftovers at hand, and what's in your crisper bin!
Want to add tomatoes, hard boiled eggs, olives, croutons… change up the cheese? You decide.
This recipe is what I enjoyed.
I actually make 2 turkeys… One large roasted, and one turkey breast (which I smoke on my outdoor grill.)
A turkey lover – I make extra just to have some for the upcoming week.
(I do love heating up a bit of stuffing, carve turkey on top, and serve with lots of warm gravy too.)
What's in a typical Chef Salad?
A classic American large salad served as a complete meal, a Chef Salad is sure to appeal to many, and a quick dinner option.
To make the salad appear as appetizing as any other main course, the Chef Salad is a composed salad, a cornucopia of greens that are then topped with meats and cheeses either julienned or cubed, quartered eggs, and other diced vegetables artfully arranged on top.
By mid-1930, The Chef Salad  was a standard menu item across the US.
What chef created the Chef Salad?
The actual creator is still unknown… but its popularity can be tracked by its inclusion in the 1936 edition of The Joy of Cooking.
By the 1980s, salad bars appeared in many restaurants – for the diner to take "a "trip" there and make your own combination as  a meal.
The Chef Salad had come to seem like a quaint relic from the past, its cholesterol-rich inclusions of cheese, eggs, and meat laughably out of step with the times.
But good food has a way of coming back, as our tastes have changed in the last few decades – so has the availability of fresher, local ingredients. Today, it can be a healthy choice.
I do not serve ham in my salad, and add a bevy of crunchy vegetables and sprouts in its place.
What kind of dressing compliments a Chef Salad?
So many I would say. This depends on your taste preferences, and thickness desired… French, Blue Cheese, Italian Vinaigrette?
I love this tart and just a touch sweet ~ Cranberry Sauce Vinaigrette, which takes seconds to prepare.
With that said – the cranberry sauce (from Thanksgiving) I used has a nice dose of fresh ginger and pineapple in it; the perfect base for a vinaigrette (I use 3 tablespoons in the dressing.)
Enjoy this yummy and lightened-up post Thanksgiving recipe,
Karen
RECIPE: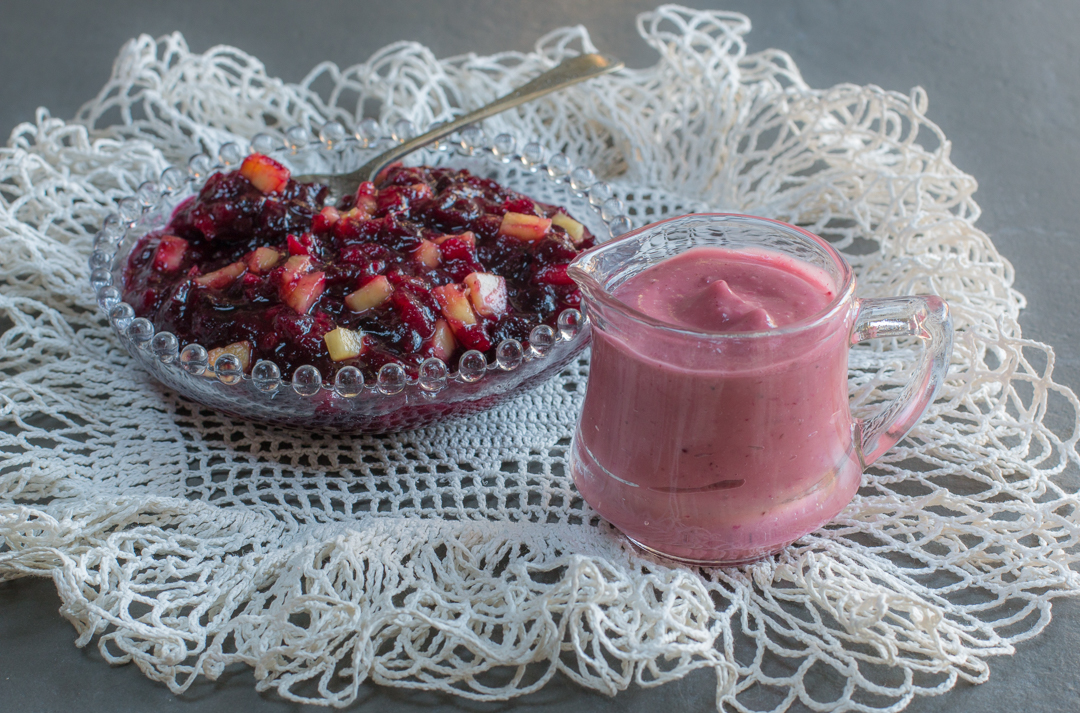 Also see these other After Thanksgiving Recipes:  
Thanksgiving Leftover Frittata with Greens, Sweet Potatoes and Fontina (great for Brunch & Lunch.)
Gluten-Free Turkey Tetrazzini