A delicious and healthy Fall Salad with Caramelized Pears, three Greens, julienned Purple Carrots, Pecan Halves, Pomegranate Seeds and an awesome Zesty Garlic Confit Vinaigrette.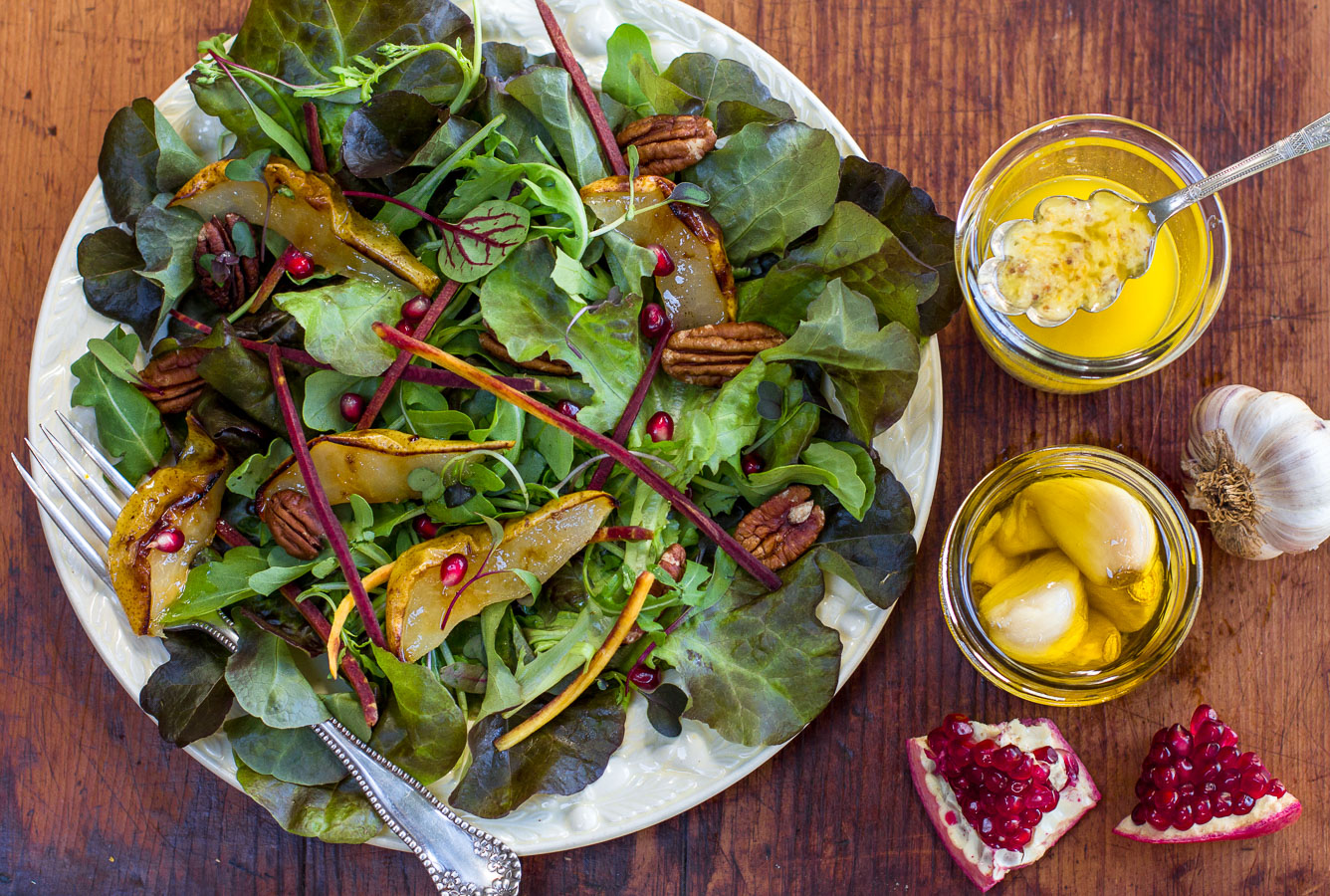 One of my favorite recipe savers: Garlic Confit… makes a luscious vinaigrette and teams beautifully with fall ingredients.
Fall's produce comes together in this simple salad with bold flavors.
Add a drizzle of Zesty Lemony Garlic Confit Vinaigrette (you made my Garlic Confit, right?) and serve.
I'm loving the color, flavor and texture of Red Oak Lettuce Leaves (available at Whole Foods), and pairs nicely with the sharpness of arugula, and bold, yet mellow microgreens.
Add some crunch with julienned strands of Purple Carrots and tart Pomegranate Seeds and Pecan Halves. Colorful antioxidants in abundance!
Make it special by adding slices of Caramelized Bosc Pears. Simply core and cut into 12 wedges. Brush with Honey and Garlic Oil (from the confit) and broil for a few minutes. You don't need much to brush with – let the natural sweetness of the pears shine through.
You can always elevate the textures and flavors by adding you favorite cheese (crumbled goat or feta) on top.
The Zesty Garlic Confit Vinaigrette takes only moments to whisk together – seeing that you have made Garlic Confit!
I've used Meyer Lemons which are in season in the fall and winter. Not as sharp as lemon juice, with a sweet-kissed flavor resembling mandarin oranges… but still zesty!
Enjoy the Flavors of Fall!
Karen