Cedar Planked King Salmon is an Easy Summer-Time Dish with a lush, smokey essence ~ the Flavorful Gremolata takes only minutes to prepare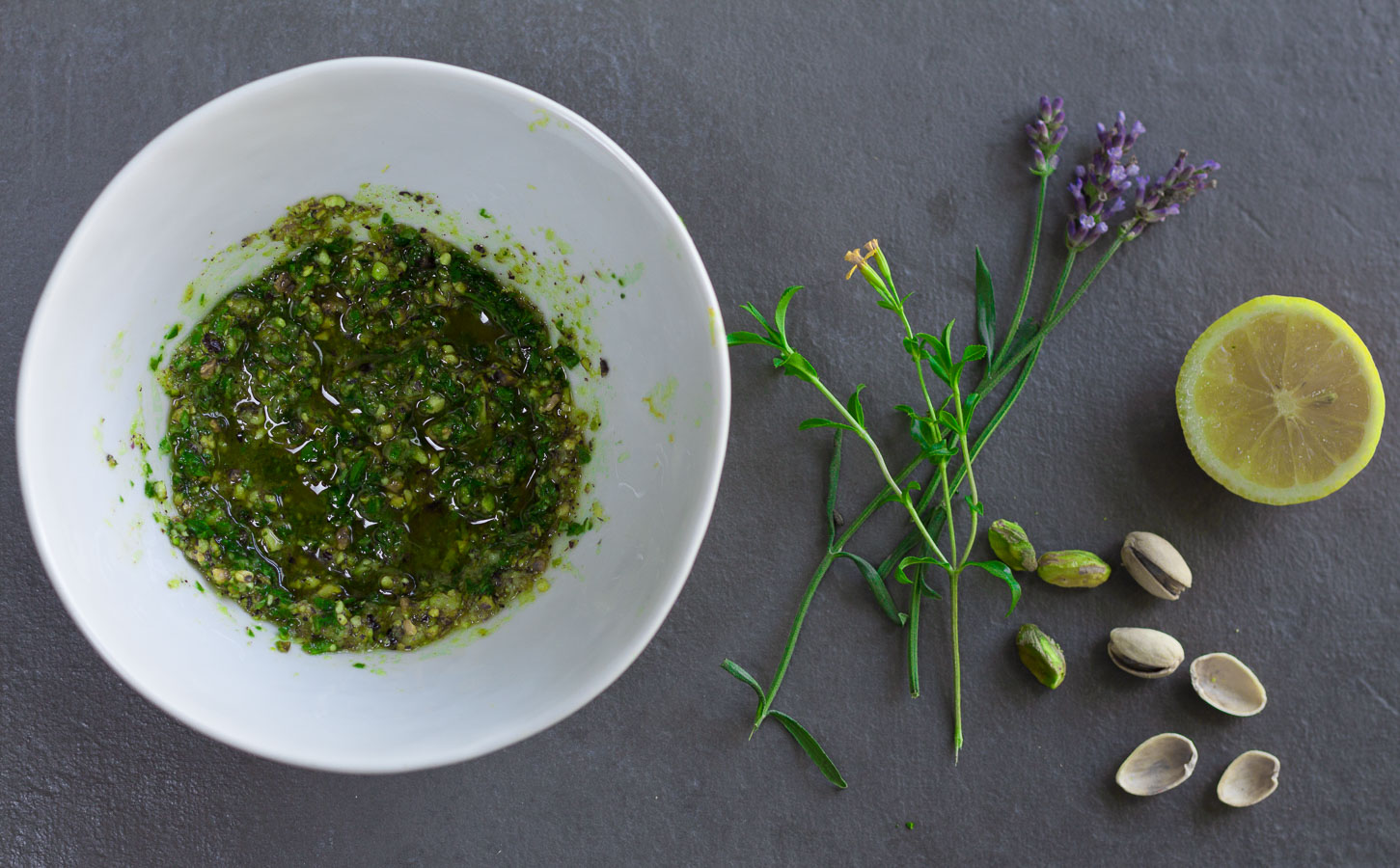 One of my favorite and most flavorful way to cook salmon – is on a cedar plank.
Cedar plank grilling is an easy way to infuse salmon with a lush, smoky, aromatic flavor.
Gremolata, unlike pesto sauce is prepared by chopping the ingredients and whisking them in a bowl – no food processor needed (although you can chop the pistachios in one for ease.) Intense zesty flavor ~ a little "wonderful sauce."
Wild King Salmon is worth your while trying for it's superb color, flavor and texture – a good sustainable fish to eat.
Chinook Salmon (usually named "King Salmon" at your fish market) are the largest salmon, and are commonly known as "Kings" or "Tyee" (which means "chief" in Chinook jargon).
Some interesting facts: the steely gray-blue chinook is born in freshwater streams and marine inlets, then travels to sea, where it lives most of its life, until it travels back upstream to its origin, where it spawns and dies. During spawning time, the fish changes to a bright red on its sides. Chinook salmon can grow up to nearly 5 feet (1.5 meters) in length.
They are native to the Arctic and North Pacific Oceans.
Grilling on soaked cedar planks has a lot of benefits: the planks char lightly, creating cedar smoke that delicately perfumes the food, and fish doesn't stick to the grill grates because it's on the planks.
The technique isn't terribly difficult to master, either. Just pick up some cedar planks at a good seafood shop, kitchen supply store or online and use them as a platform for grilling. You'll need to soak the planks in water for a few hours beforehand.
The salmon is topped with a Pistachio-Tarragon & Lavender Gremolata with citrusy notes.
Easy to prepare ~ zest some lemon peel, add to a bowl with extra virgin olive oil, lemon juice, chopped pistachio nuts, fresh tarragon and lavender (fresh or dried.) Let sit a few minutes for the flavors to meld – and spoon over the warm salmon, right off the plank.
Why I love – King Salmon (Chinook Salmon):
The meat is almost always red, never pink. Assertive flavor, but not overwhelmingly fishy.
Fresh mainly in the summer and early fall, though the timing varies by area and fishery.
Has a pronounced buttery, rich taste. They are the most highly prized salmon in the culinary world.
Enjoy!
Karen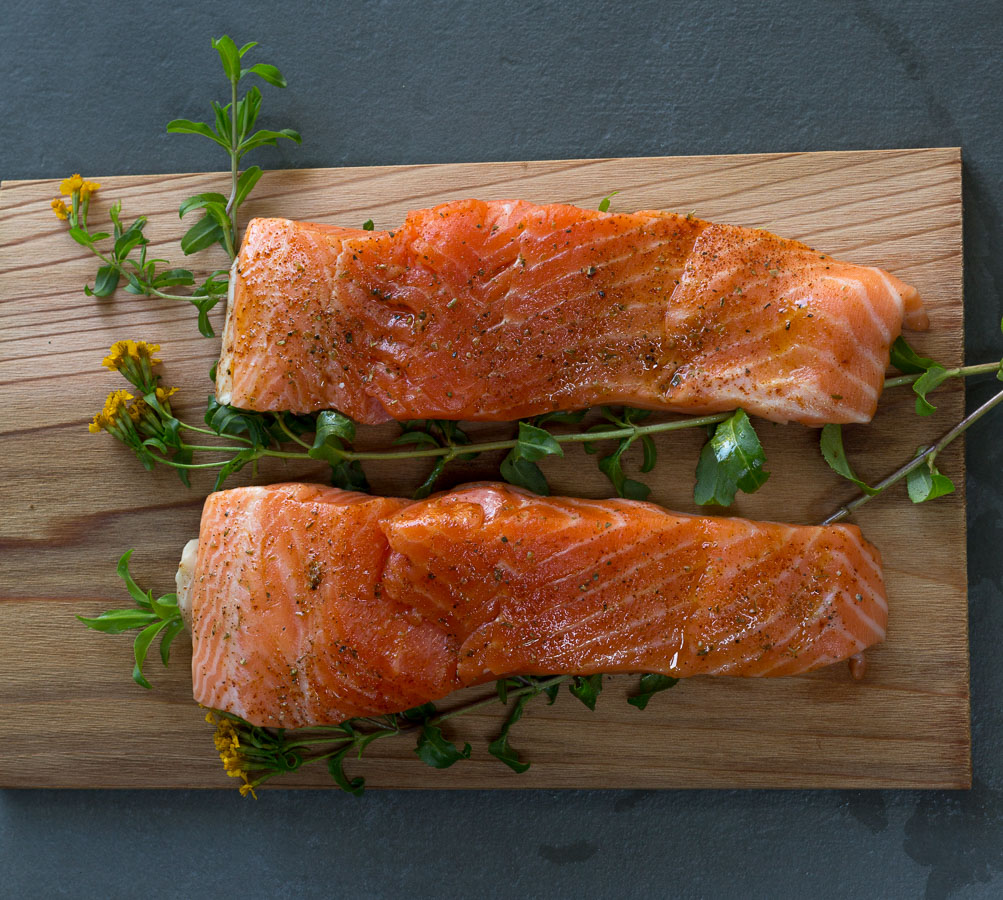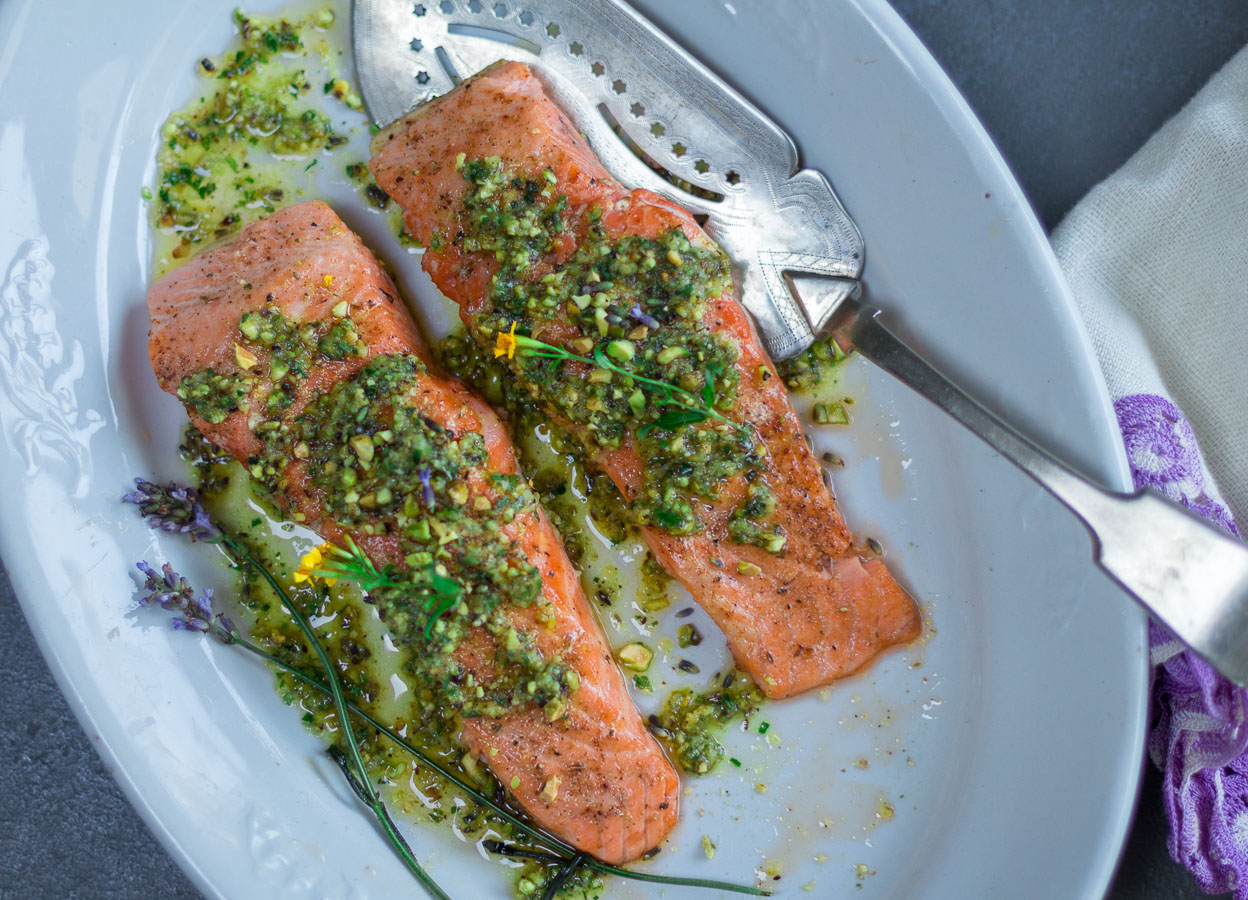 Enjoy!
Karen