The Ultimate Grilled Burger Wrapped in Lettuces with Onion and Heirloom Tomatoes ~ Homemade Ranch Dressing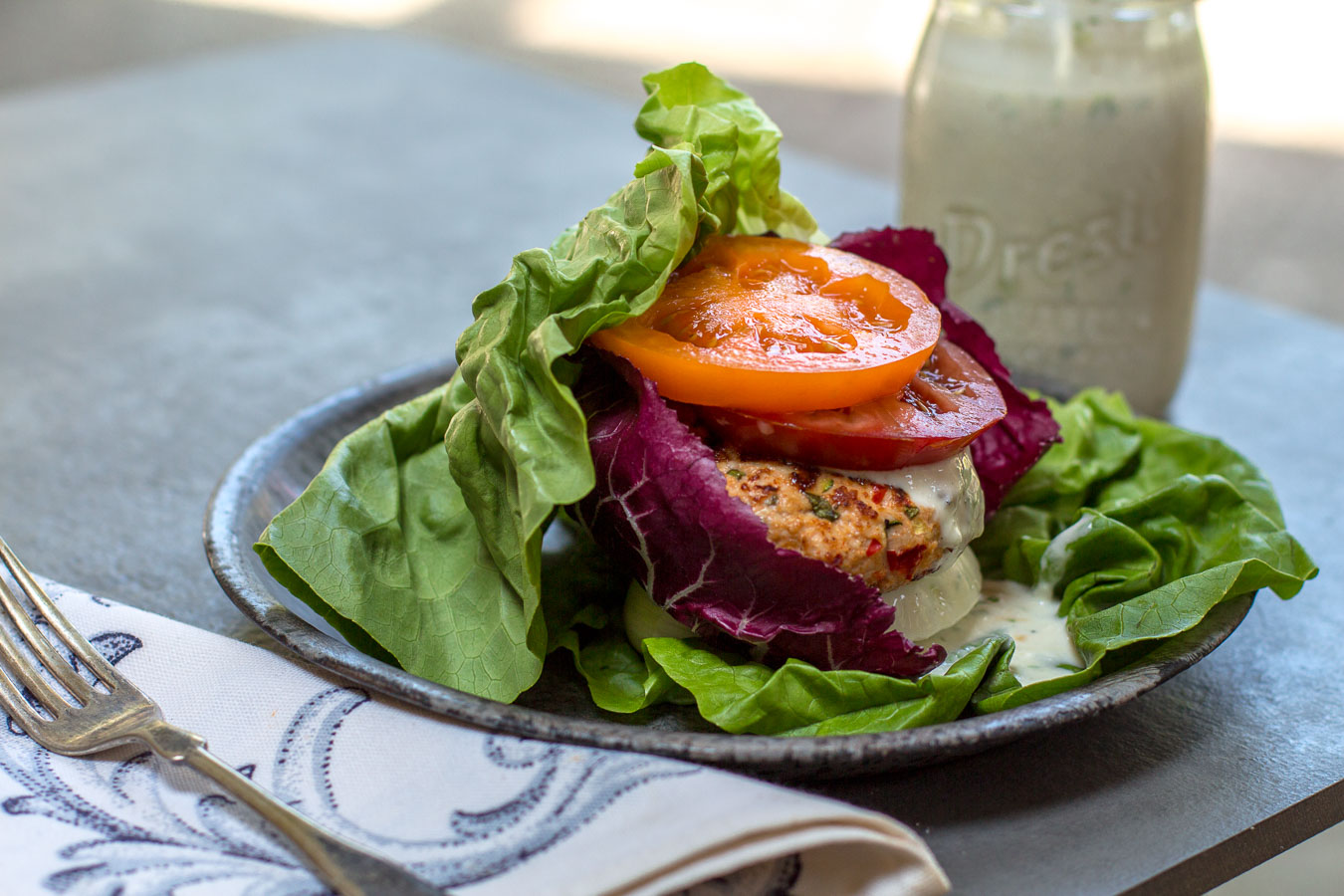 The perfect Summer burger – healthy, hearty, gluten free & carb-free (just has 2 T. of quinoa flakes for 6 burgers.)
Add the just-off-the-grill homemade Chicken Burger to Boston Lettuce and Radicchio Leaves, an Onion Slice, Zesty Ranch Sauce (see recipe) and a few slices of Heirloom Tomatoes. Heaven!! Great for an everyday meal ~ special enough for a backyard BBQ party!
In Summer – it's the prefect time to go "bunless." The cool lettuce leaves are a great healthy option and add some nice crisp crunch around the just-off-the-grill chicken burger. My homemade Ranch Sauce adds the right amount of creamy mouth-feel and totally satiates.
You'll notice the difference of GRINDING your own chicken.. and it's so easy to do!
Chicken tenderloins are white meat (the part that's attached to the breast) and are very tender – as the name implies.
The burgers will stay naturally moist, no thigh meat necessary.
Add vegetables zucchini, roasted red pepper and garlic, seasonings: fresh oregano, smoked paprika and salt & pepper. Adding a little quinoa flakes (or ground oats) helps with texture of the burger.
No need to melt cheese on the burger – the Ranch Sauce has grated Aged Gouda Cheese grated in it!
My Homemade Zesty Ranch Dressing is super-easy to make, just whisk all ingredients together.
It's creamy without being heavy, with a good herbal kick and a subtle garlic presence – grated Aged Gouda Cheese makes it special.
Make it into a dressing! ~ Simply add some fresh lemon juice and stir.
Enjoy this delicious recipe!
Karen