Asian-Style Satay Sauce made with Sunflower Seed Butter for a nutty-sweet flavor, yet nut free. Easy blended sauce for Noodles and Grilled Chicken Skewers. Top with Sunflower Seeds and Sunflower Sprouts!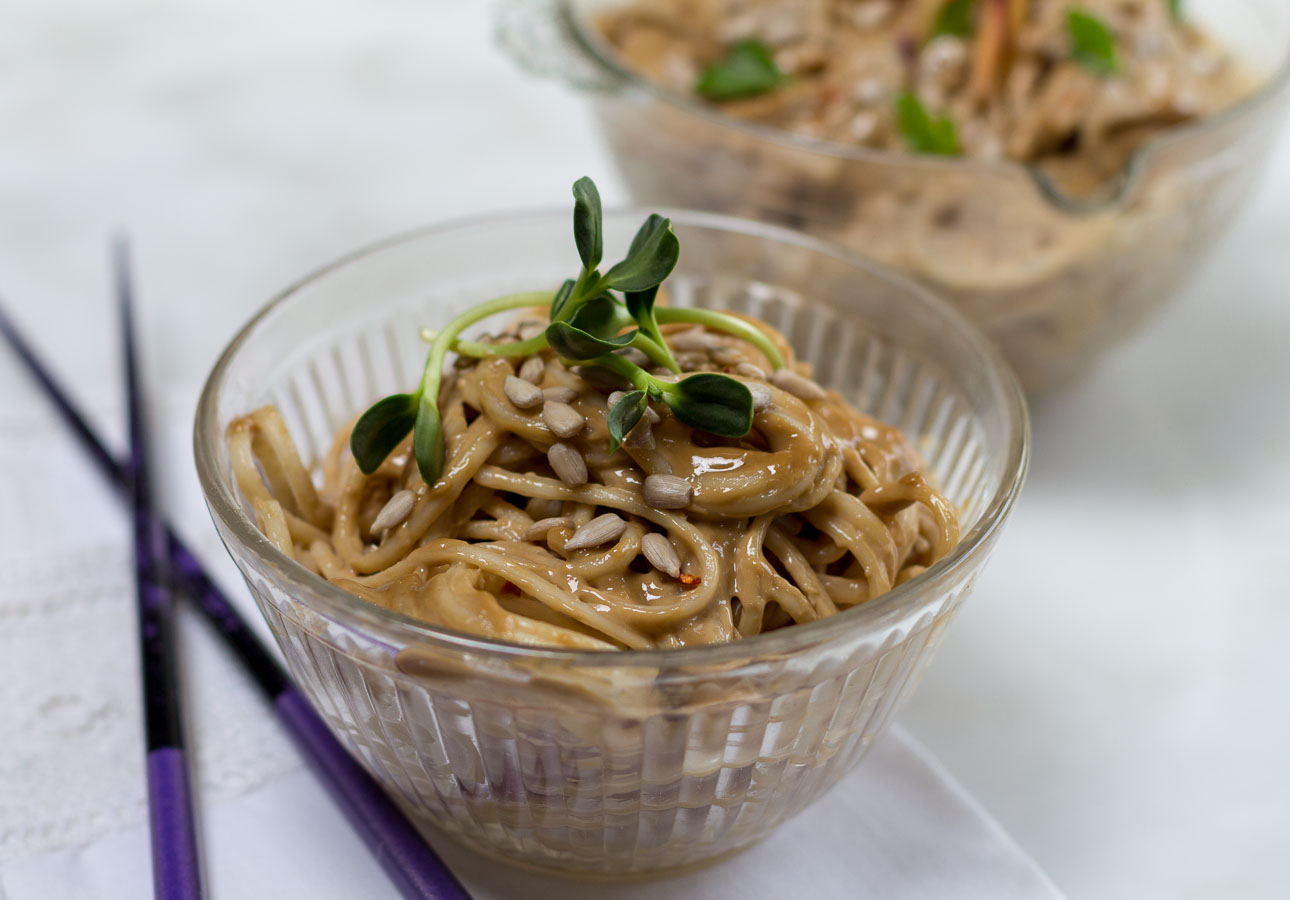 Sunflower Satay Sauce – Make in a small food processor, easy to prepare and full of garlicky-ginger flavor.
If you like peanut- sesame noodles ~ this recipe is a variation (nut-free), using my favorite new pantry staple:
Organic Sunflower Seed Butter. Made from ONE ingredient: Roasted Sunflower Seeds!
Creamy with a naturally sweet-nutty flavor, great by the tablespoon, and in this delectable, full- flavored sauce.
Sunflower Satay Sauce is made in a little food processor and takes just a few minutes to blitz into a spicy, creamy sauce perfect for topping noodles with julienne raw vegetables, grilled chicken kebobs – even grilled tofu.
Satay sauce is the base for the chicken marinade too, thread the chicken and cook until tender with strong grill marks.
Sunflower Satay Sauce only takes minutes to make and is a simple to prepare with pantry staples. The options are endless. So quick and simple, yet packs the most amazing flavor punch to any dish you serve it with.
Sunflower Seed Butter is free from the top 8 food allergens: peanuts, tree nuts, soy, milk, eggs, wheat, fish, and crustacean shellfish. Use gluten-free soy or tamari sauce (easy to find) in this recipe if you have a wheat allergy.
Enjoy the Memorial Day Weekend!
Karen