My version of they healthy Middle Eastern Salad spiked with a melange of Vegetables is tossed in a Zesty Lemony- Scallion Dressing. One of the healthiest salads you can eat. Refreshing and Addictive!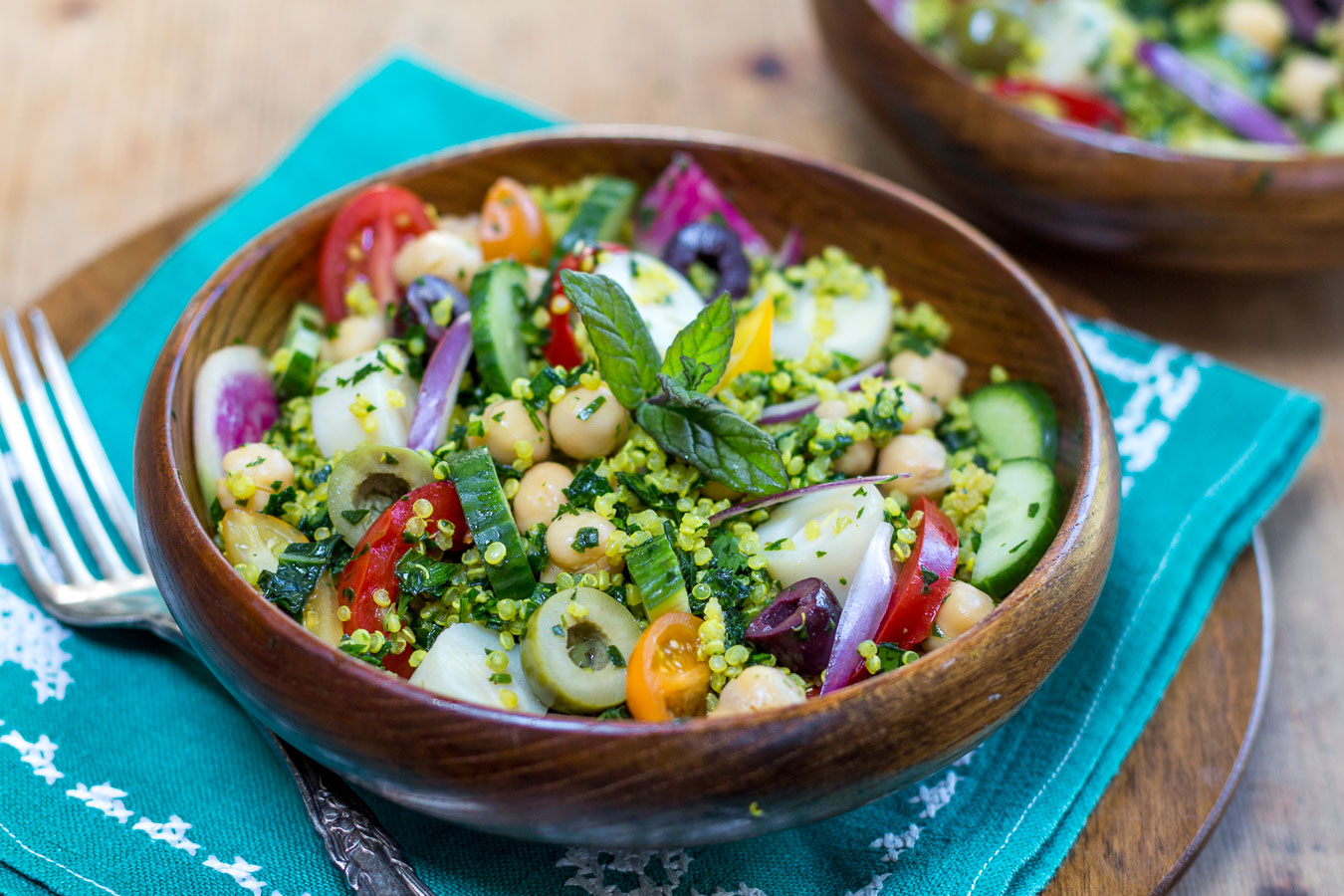 Tabbouleh/ Tabouli, is probably the most famous recipe in the Lebanese cuisine.
The Middle Eastern salad is a labor of love as it requires some time in the kitchen to chop ingredients to perfection.
Traditional Tabbouleh ingredients include: Soaked Bulgur Wheat, Tomatoes, Parsley, Mint and a Lemon Olive Oil Dressing … Cucumber is a more recent addition.
Quinoa is a wonderful substitution for bulgur – its gluten-free, and will soak up the lemony-dressing beautifully like bulgur does. As Vegetarian and Vegan Cuisine becomes more popular and recognized – my version of Tabbouleh is by no means "classic," it's a salad I can eat every day, for lunch and dinner – and savor every bite.
My version is fresh and light; adds a bevy of farm-fresh vegetables: Parsley and Kale are added to the Quinoa; Tomatoes, Cucumbers, Red Onion, Roasted Red Peppers, Watermelon Radishes, Olives and Hearts of Palm are tossed in, as well as Garbanzo Beans (I can't resist adding a good dose of protein.)
Fresh Mint is essential and adds a bright flavor.. a Lemony-Scallion Dressing adds a zesty punch.
Sometimes I add grilled proteins to this colorful Tabbouleh salad, such as chicken, shrimp to tofu.
Why I add good quality vegetables to every meal: Vegetables benefit your skin and bones by supplying highly bioavailable nutrients that work together synergistically for optimal health and beauty. They contain a plethora of phytonutrients that help guard against aging by preventing cell damage from stress, ultraviolet light, and environmental toxins.
The most time-consuming part of making tabbouleh is preparing the parsley — washing, drying and hand chopping. Over chopping can bruise the parsley and create a limp, mushy salad. It is challenging to chop parsley in a food processor (it needs to be super-dry – and the curly variety stands up better to the blades of the processor.) So – I use a sharp knife and tightly bunch the parsley with its tender stems and chop away on my cutting board.
Parsley is a nutritional powerhouse, rich in vitamins A (beta carotene), C and K, and packed with health-promoting flavonoids. Tabbouleh is meant to clean the palate and freshen the breath.
Many recipes include a flavorful seasoning – Lebanese Seven Spice mix: stir together black pepper, cumin, paprika, coriander, clove, nutmeg, cinnamon, and cardamom together until evenly blended. This mix can be found at specialty spice shops and a few pinches can be added to the dressing.
Traditionally, tabbouleh is a part of mezze (appetizers) — eaten by hand scooped up with a romaine lettuce leaf, white cabbage or fresh vine leaves.  The Lemony-Scallion Dressing combines fresh lemon juice with seasonings and minced scallions, extra virgin olive oil is whisked in. The salad should be moist but not drenched.
Enjoy they healthy, vitamin-packed salad. One to make all summer long.
Karen