This fresh, seafood-rich trendsetter recipe of the early 20th century takes on a modern flair with Fresh (not frozen) Pink Shrimp and a Zippy Louis Sauce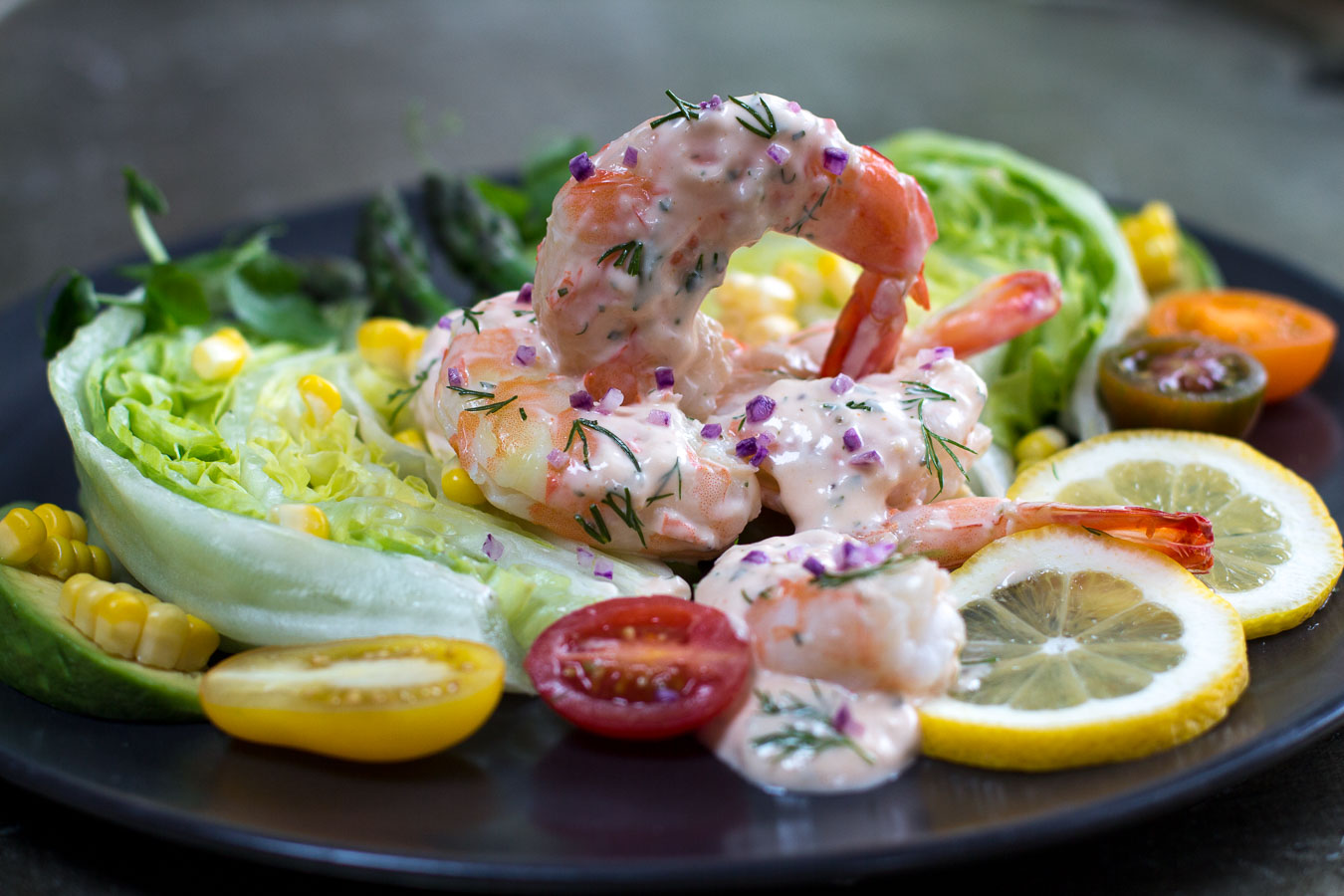 Also spelled Shrimp 'Louie', it's always pronounced in the French way, "loo-ee," the origins of this salad are from the West Coast in the early 1900s.
It's almost like a retro dish. It's kind of been synonymous with tourist restaurants – yet I love simple dishes like this.
The popularity of Crab Louis has diminished since its heyday in the early to mid-1900s, but it can still be found on menus throughout the U.S.  Shrimp Louis is a variation of the salad, and is served where fresh shrimp is abundant.
What makes is modern, for today's flavors; are its ingredients. Fresh, not frozen shrimp are found more easily today at quality fish shops. I bought some flown in from Florida; they are extra-sweet with a lovely pink-blush color.
Organic vegetables taste fresh, without pesticides – you can improvise with the ingredients – little gem lettuce can replace iceberg (although I love the crispy-crunch of organic iceberg I used.) The accompaniments to the shrimp I like are: avocado, multi-colored baby tomatoes, fresh corn, asparagus and lettuce. Gorgeous purple Asian radishes add a colorful garnish. Some like to add hard boiled eggs and olives.
Today there are as many versions of this famous salad as there are cooks.
The West Coast is still the best place to find Louie/Louis salads–sometimes all Dungeness Crab, sometimes all Bay Shrimp, and sometimes a combination of both. The seafood needs to be plentiful and super fresh.
Let's move on to the Louis dressing. It's pretty simple, I've kicked it up a notch by using freshly grated horseradish root, ground arbol chile, scallions, grainy mustard and lemon juice stirred into mayonnaise and ketchup.
The salad can either be assembled in a large serving bowl or in individual plates.
History-Crab Louie/Louis Salad:
Credit for the origin of Crab Louie/Louis Salad depends on who you talk to and which state of the West Coast you are in.  Most historians agree that the salad began appearing on menus of finer West Coast establishments between the turn of the 20th century and World War I.  Other historians suggest that the salad was named after King Louis XIV.
Some credit the origin of Crab Louis Salad to the chef at Seattle's Olympic Club in Washington; 1904.
It is also said the salad was created in San Francisco by either the chef at Solari's Restaurant; 1910.
The Davenport Hotel in Spokane, WA claims that the original founder and owner, Louis Davenport, created this dish for the hotel restaurant in 1914.  The salad is still on their menu today.
The Palace Hotel in San Francisco, California is noted as making the salad famous in 1950.
Time to reinvent this classic!
Karen