Yes, you have been making hard boiled eggs all wrong!
In this single technique, you will steam them – SO EASY TO PEEL!!
Try this awesome Recipe: Deviled Eggs with Purple Scallions and a
Crisp Cheese Frico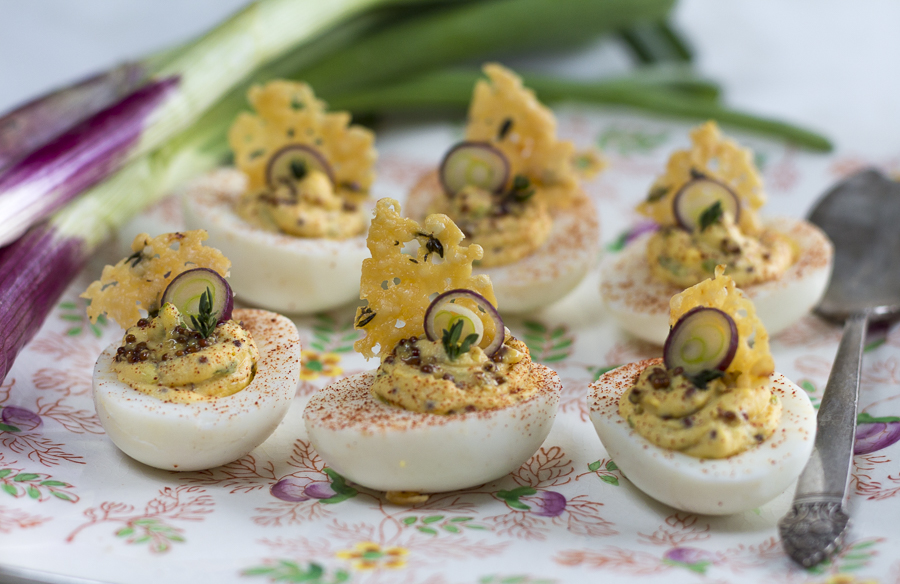 Yes, you have been making hard boiled eggs all wrong!
Try this single technique today – steam them – SO EASY TO PEEL!!
All sources, on line and in books instruct you to boil your eggs – to cover them by 1 " of water.
NOT the best method… read on.
I've been joyfully cooking for over 30 years, and yes, I have struggled to peel an egg!
Many will instruct you to use "older" eggs.. keep them for 7 to 10 days, they will be easier to peel.
Well, while I do agree, (and do this) I still was struggling.
Very fresh eggs can be difficult to peel. The egg white also shrinks as the egg ages, allowing more air between the egg and the shell.
Then the AH-HA moment: I tested STEAMING them – Wa-lah:: the shells just slipped off!!
I hope this brings many a better, more efficient way to peel an egg!
Why is there sometimes a green ring around the egg yolk?
This results from a reaction between sulfur in the egg white and iron in the yolk. It occurs when eggs have been cooked for too long or at too high a temperature.
Properly steaming and cooling solves this problem ~ do not overcook the eggs.
Deviled Eggs:
There are so many flavors of which to enrich the egg yolks, and pipe them into the egg white halves. They are so easy to make, and so many times, we use our favorite pantry items.
I have added purple scallions, which are just hitting markets in early spring and grainy mustard (they look like little caviar pearls.) Try making these baked cheese fricos, they are lacy and crispy – and I add some thyme leaves for a zip of extra flavor. I love their baked flavor on the eggs – cut them into quarters or halves.
I hope I have made the task of peeling eggs easier for you!
Now, go ahead and make a batch of delicious and tasty deviled eggs!
Enjoy,
Karen