Chicken on the bone is marinated in yogurt and spices and cooked in Ghee, then added to a vibrant sauce of tomatoes, coconut milk, cashews, ginger and a bevy of staple Indian spices – until the chicken falls off the bone. Magnificent!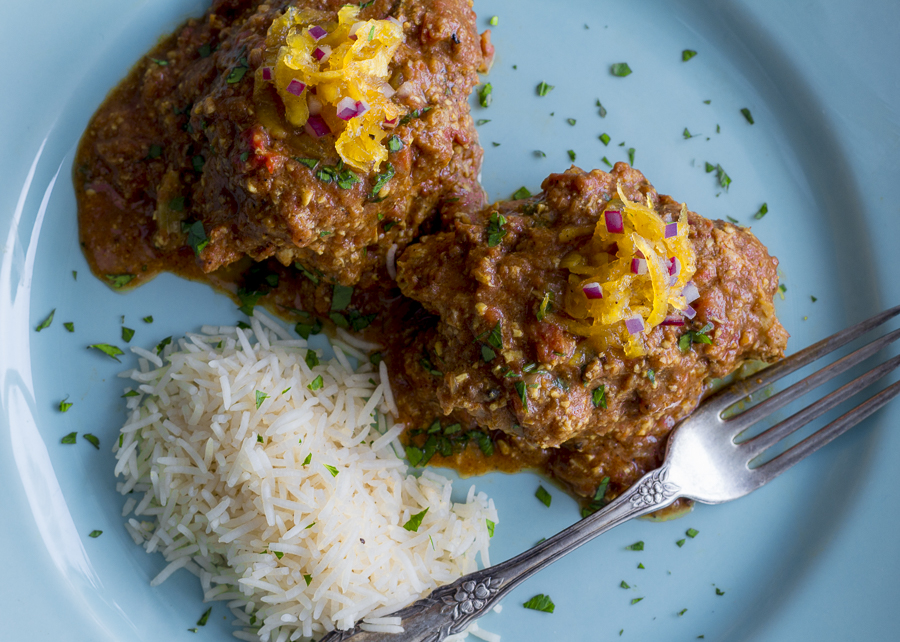 Butter Chicken is India's signature gift to the world.
Butter chicken is a dish popular in countries all over the world where Indian restaurants are found. The dish was invented by accident at Moti Mahal Restaurant in Daryaganj, New Delhi. While the dish's general recipe is well known, the actual flavor can vary from restaurant to restaurant even within Delhi. Every chef puts his or her stamp on their creation, using different methods, ingredients and spices.
If you're wondering exactly what it takes to make a worldwide sensation, one taste of Butter Chicken, the way it's prepared in a quality Indian restaurant, will make you wonder no longer. Making it at home takes time, but the results are rewarding.. and the aromas are heavenly!
I use coconut milk instead of heavy cream in many classic recipes… I think it's delicious. This recipe is well worth the time – the second time you prepare it, it becomes easier. Fresh spices add to the lingering flavor of the dish.
Start ahead and marinate the chicken in yogurt and spices over night. Sauté in Ghee (Indian-style clarified butter -see recipe) and set aside. To the skillet – add the seasonings and stir until fragrant. Add tomatoes and a shallot – cashew mixture, then lemon juice and coconut milk. The chicken gets buried under the sauce and gently simmers for an hour, until the sauce has thickened and falls off the bone.
Serve with Sweet and Sour Mango Chutney (see my easy recipe) and Basmati Rice.
The brilliance of the dish lay in the skillful combination of tomatoes and dairy fat – I have kept the butter, yet use it sparingly, and swap coconut milk for heavy cream.
The original butter chicken was made with leftover tandoori chicken bone-in, only two-thirds cooked.
The history of Indian cuisine is as enticing as its exotic aromas and flavors.
Enjoy cooking this famous dish at home… well worth your time  and quite addictive!
Karen